Best hikes near Seattle: from urban to untamed in under two hours
Our guide to the best hikes near Seattle will have you ditching your street shoes for hiking boots to explore rainforests, tumbling cascades and rugged peaks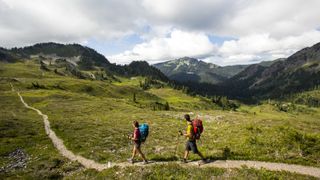 (Image credit: Jordan Siemens)
We've already extolled the wonders of the Pacific Northwest with the best hikes in Olympic National Park, but no one would blame you for wanting to spend some time in Washington's urban jewel, Seattle. After all, the birthplace of grunge is known for its thriving coffee scene and for foodies, there are few things more intoxicating than a stroll through Pike Place market. But one of the best qualities of Seattle is how quickly you can leave the hustle and bustle behind and be out in the wilderness, whether you're visiting one of the nearby National Parks, out on the islands or up in the Cascades. Our list of the best hikes near Seattle will have you ditching your trendy Vans for a pair of hiking boots and heading out into old growth rainforests, tumbling cascades and snow-capped peaks, all within two hours of the city.
Best hikes near Seattle: Seattle
Believe it or not, you don't actually have to leave the city limits to get off the concrete with Discovery Park, a 534-acre natural park on the shores of Puget Sound in the Magnolia neighborhood.
Discovery Park and Lighthouse Loop
Distance: 4.4 miles
Difficulty: Easy
Discovery Park is on the water, across from Bainbridge Island and can be reached by bus or a short drive to the Visitor Center. The Discovery Park Loop is a designated National Recreation Trail that takes you through forest and meadows, with lovely views and opportunities for bird watching as well as hiking and trail running.
Best hikes near Seattle: Snoqualmie Pass
Snoqualmie Pass in the Cascades is under an hour's drive east of Seattle. In the winter months, it's a wonderland for skiers and snowshoers, but in the summer the trails dry out and offer beautiful mountain hiking for urbanites looking to escape the city heat.
Franklin Falls
Distance: 2 miles
Difficulty: Easy
Franklin Falls is one of many stunning Washington waterfall hikes that begins at Snoqualmie Pass and is popular due to its short distance on a paved trail as well as its proximity to Seattle. The trail features a number of stairs but is easy for the whole family and keeps you cool under a dense forest canopy. The towering falls are framed by two tall viaducts and the three tiers have a total drop of 135ft, the last 70ft drop can be admired from the hiking trail. The trail itself is mostly through dense forest so it's great on a summer's day, though the rock does get slippery, so take care. Due to this trail's popularity, it's advisable to hike it early in the day.
Kendall Katwalk
Distance: 12 miles
Difficulty: Challenging
Kendall Katwalk begins from the pass below Kendall Peak and leads you to a ledge blasted into a steep rock face with stunning views. From the Pacific Crest Trail parking lot, head up the trail and go right at the T junction. You'll hike through lush vegetation for the first couple of miles and might be able to snack on blueberries in mid-summer. Once you enter the Alpine Lakes Wilderness, you'll reach a talus field where there are a couple of stream crossings and a beautiful waterfall before you enter the shade of old growth forest. For the last two miles, the trail is steep, rocky and exposed until you reach the Katwalk – a 150yd narrow rock ledge with views of Gold Creek Valley and the nearby peaks. Don't worry – if you don't feel comfortable crossing the ledge, you'll still get incredible views.
Snow Lake
Distance: 6.7 miles
Difficulty: Moderate
This popular hike offers a chance to visit a tranquil alpine lake without too much energy expenditure. Park in the main lot for Alpental Ski Area and find the trail at the north end. The initial steep climb up log steps soon ends and you'll enjoy the gentle climb through the forest that follows. Upon breaking out onto a scree field after a mile, you'll be treated to rugged mountain views of Chair Peak – Snow Lake is nestled into its base. After another 3/4 mile there's another short but steep climb before you start to see the lake in the distance. Soon you'll descend down to the lakeshore, passing an old cabin, and you can stop for lunch and enjoy the reflection of Chair Peak in the pristine waters here or continue on along the shore to the far side.
Best hikes near Seattle: Snoqualmie Valley/North Bend Region
North Bend is nestled in the foothills of the Cascades in the upper valley of the Snoqualmie River, around 30 miles east of Seattle.
Rattlesnake Ledge
Distance: 5.6 miles
Difficulty: Moderate
Hop on 90 eastbound and about 40 minutes later you can be on a forested trail that delivers lovely views of the Cedar River watershed, Mount Si, Mount Washington and Rattlesnake Lake. Park in the parking lot for Rattlesnake Lake and walk around to the northwest shore of the lake to find the trailhead. Hike through enormous mossy boulders to the ledge for almost two miles until you reach a junction. The ledge is just off to the right and is above a sheer cliff so proceed with caution while you enjoy the views.
Mount Si
Distance: 7.5 miles
Difficulty: Challenging
Less than 45 minutes from Seattle, this very popular and beautiful hike takes you up a rugged peak that is a training ground for those wishing to climb Mount Rainier – it gains over 3,000ft in under four miles. Park at the Mount Si parking lot and immediately begin climbing switchbacks until you reach an old growth forest where the trail flattens out. Catch your breath here amongst the trees because the climb soon resumes, taking you to a talus slope with views of Mount Rainier. After heading back into the forest, you'll break out for views of the Snoqualmie Valley, Seattle, and the Olympic Range. Due to this trail's popularity, it's best to hike it early.
Best hikes near Seattle: Bainbridge Island
Puget Sound is the term both for the system of interconnected marine waterways here as well as the surrounding area including cities like Seattle and Tacoma. The inlet is home to several notable, beautiful islands such as Bainbridge and Whidbey.
Grand Forest
Distance: up to 7 miles
Difficulty: Easy
Bainbridge Island is the native land of the Suquamish tribe and can be reached by ferry from Seattle in about an hour. Grand Forest is in the center of the island and offers an extensive network of meandering trails that offer an idyllic retreat perfect for hiking and trail running.
Best hikes near Seattle: Wallace Falls State Park
Wallace Falls State Park is on the western side of the Cascades just north of Gold Bar about an hour's drive from Seattle. It is accessible year-round for hikers and snowshoers.
Wallace Falls
Distance: 5 miles
Difficulty: Moderate
Wallace Falls, which made our list of best winter hikes in Washington, is actually a set of nine different cataract waterfalls that are beautiful to visit in the early morning. This hike to the breathtaking cascades begins on a scenic, wooded trail along the Wallace River. For the first couple of miles, you can enjoy a gentle walk through lush vegetation while the steeper climbing only begins once you reach the falls. There are three main falls – lower, middle and upper – and you can turn back at any point if you become tired.
Best hikes near Seattle: Mount Rainier National Park
Of the three National Parks in Washington, Mount Rainier is the closest to the city at around a two-hour drive. An active volcano, Mount Rainier dominates much of the landscape in Washington and is a serious hike, but there are plenty of day hikes in the park to choose from and still be back in the city for dinner.
Crystal Lakes
Distance: 6 miles
Difficulty: Moderate
Crystal Lakes are two lakes framed by rugged peaks. The hike to the lakes winds through old and new growth forest and offers frequent, tantalizing glimpses of a snow-capped rainier through the trees. When you reach the junction, you can pop down the peaceful lower lake which is closer then turn back, or proceed to the upper lake, which is larger and offers a more dramatic mountain backdrop.
All the latest inspiration, tips and guides to help you plan your next Advnture!
Julia Clarke is a staff writer for Advnture.com and the author of the book Restorative Yoga for Beginners. She loves to explore mountains on foot, bike, skis and belay and then recover on the the yoga mat. Julia graduated with a degree in journalism in 2004 and spent eight years working as a radio presenter in Kansas City, Vermont, Boston and New York City before discovering the joys of the Rocky Mountains. She then detoured west to Colorado and enjoyed 11 years teaching yoga in Vail before returning to her hometown of Glasgow, Scotland in 2020 to focus on family and writing.