Best camping mattresses 2023: tested for comfort and warmth
The best camping mattress or airbed is the must-have luxury – here are the models we've enjoyed snoozing on most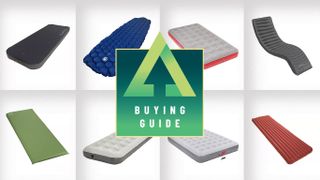 (Image credit: Future)
The best camping mattresses bring the coziness and comfort your bed and deliver it to the campsite. They're often generously proportioned, meaning you'll sleep higher above the ground with plenty of support beneath you. Every camper knows, the further you are from the ground, the less chance you'll have of suffering a chilly night.
It's important to point out the distinction between the camping mattress and their skinnier brethren: the sleeping pad. When it comes to a sleeping pad, think lightweight backpacking missions and mountain expeditions. Whereas, with a camping mattress you're somewhere in the realms of car camping and even glamping.
For us, the best camping mattress overall is the Big Agnes SLX, which is big enough for two sleepers to get warm and comfy, and allows you to customize how firm you want it to feel. If you're car camping, the Robens Polarshield 120 is seriously luxurious, and so plush and comfortable you won't miss your bed at home.
If you're unsure which is best for you, we pit the minimal against the luxurious in our sleeping pad vs air mattress feature. If you've already made your mind up and camping mattresses have come out on top, read on.
The best camping mattresses
Best camping mattresses for couples
Sweet dreams for two happy campers
Specifications
Size:
127cm-101cm x 198cm / 50in-40in x 78in
Pack size:
15cm x 28cm / 6in x 11in
Reasons to buy
+
Accommodates two sleepers
+
Customize firmness
+
Pump sack, stuff sack and repair kit included
+
Tapered design
Reasons to avoid
-
Expensive compared to some models
At the end of a hard day on the trail, sleeping on hard, uneven ground with an unnoticed rock pestering your back, is far from a dream-like experience, and rolling off a skinny mat is a common complaint from disgruntled campers. The generously thick SLX tent floor pad cradles both you and your partner in cushioned comfort. Even if you sleep spread out like a starfish, there's still room for two, so you don't have to be on particularly intimate terms with your camping buddy. Though you may have to snuggle up if you take it out in winter, as it's three-season rated.
The tapered design (wider at the shoulder and narrower at the feet), fits a standard two-person tent, and the weight is comparable to the combined weight of two high-end single backpacking sleeping mats. The quilted top offers a comfortable surface for sleeping if you decide to leave your favorite pillow at home. An upcycled stuff/pump sack, and a repair kit are both included, which makes inflation easy and gives you peace of mind in regards to punctures. The valve arrangement allows you to customize firmness with a few micro adjustments for personal preference. An antimicrobial treatment on the pad's internal surfaces prevents growth of nasty microorganisms. Overall, this is one of the most thoughtfully designed and best camping mattresses out there.
Read our full Big Agnes SLX review
2. Coleman Extra High Queen Airbed
A sumptuous sleeping pad, easy to inflate and fit for a royal night's sleep
Specifications
Size:
198cm x 147cm / 78in x 58in
Pack size:
25.5cm x 51cm / 10in x 20in
Reasons to buy
+
Heavy duty construction
+
Pump included
+
Plush sleep surface
Reasons to avoid
-
Heavy
-
Takes up a lot of space
Waking up to a partially sagging bed is super frustrating. Coleman's Double Lock Valve first seals in air during the inflation process, then locks the air tight for a good night's sleep uninterrupted by a deflating mattress. Featuring 48 inner coils constructed of durable PVC, and topped with a velvety soft cover, the 9.5in / 24cm thick mattress feels as comfortable as your bed at home.
A battery powered pump inflates the mattress quickly and the bed's AirTight system is checked at the factory for leak proof performance. The Double Lock valve lets you set the level of firmness to match your personal sleep style. Well-suited for car camping adventures, just bring queen-sized sheets if you want a reminder of home.
Best self-inflating camping mattresses
A big, thick, warm, supportive self-inflating mattress for year-round camping comfort
Specifications
Style:
Thick, self-inflating air mat
Weight:
2.43kg / 5lb 35oz
Usable Dimensions:
200cm x 77cm / 79in x 30in
Pack size:
39cm x 28cm / 15in x 11in
R-value:
5.0 (-19°C / -2.2°F)
Variants:
Also available in 80mm thickness
Compatibility:
Four-season car camping, festivals, garden and inside use
Reasons to buy
+
Luxuriously comfortable
+
Self inflating
+
Quick to pack
+
PFC free
Reasons to avoid
-
Bulky to set up
-
Costs more than most
Featuring Robens' innovative and easy-to-use Peak Valve, the Polarshield 120 camping mattress self inflates surprisingly quickly for such a sumptuously thick mat. This valve appears almost suspiciously simple, but on test it worked perfectly and repeatedly. To operate it, pop open the cover and push the mini diaphragm in to start the self-inflation process (which takes a few minutes, during which time you can be doing various other tasks around the camp site) and when that's done, simply pull the valve forward to seal it, after which you can still blow air in to adjust the firmness of the mat. To quickly deflate, push the valve back to the open setting and roll the whole thing up, squeezing the air out.
We feared the pop-open cover would fail, but there was no sign of that happening, and the mat stayed inflated all night. The design features vertical cut outs, which both reduce the carry weight and create a row of rounded air pocket on the sides, which contribute an extra 2cm to the thickness of the mat, making it extra comfortable. The durability of the TPU materials seems good (time will tell, and we will report back) and the camping mattress is pleasingly PFC free. It comes with a carry bag, and although the Polarshield 120 is too heavy and bulky for backpacking, it's certainly much more compact and easy to transport and use than any other car camping mattress we have tested.
Read our full Robens Polarshield 120 review
A grand all-season crash pad for a variety of camping, outdoor and indoor overnight scenarios
Specifications
Style:
Self-inflating air mat with insulated foam
Size:
200cm x 76cm / 79in x 30in
Pack size:
77cm x 20cm / 30in x 8in
Reasons to buy
+
Deep, thick and supportive
+
Generously wide and long
+
Good next-to-skin comfort
+
Self inflates
Reasons to avoid
-
Relatively ulky
-
Heavy to transport
The Comfort Grande from Vango is a big thick, versatile sleeping solution and a comfortable crash pad for all sorts of scenarios (except hiking – because it is a sizeable beast of a bed, and you don't want to be hulking it over the hills). For car camping trips, festivals, overnight garden adventures and sleepovers, though, it is one of the best camping mattresses out there.
Features include Polyester Peach Top Fabric, which is both warm to the touch and comfortable to sleep on, and 75D non-slip polyester base fabric, which means the pad will stay in place on a tent (or other) floor during the night. It self inflates reasonably quickly and the 7.5cm thickness of the pad provides plenty of padding for even the most sensitive pea-hating princes and princesses out there. In the morning, the cyclone valve means you can squeeze the air back out of it quite quickly, although it I a bit a wrestle to get it all rolled away neatly, because of its size. It comes with a repair kit and, at a stretch, the carry bag can be stuffed and used as a pillow.
Read our full Vango Comfort 7.5 Grande review
Best lightweight camping mattresses
A super-comfortable air mat with generous dimensions but svelte pack size and weight
Specifications
Style:
Non-insulated air mat
Weight:
560g / 1lb 3.75oz
Size:
191cm x 57cm / 75in x 22.5in
Pack size:
18.5cm x 12cm / 7.3in x 4.7in
Reasons to buy
+
Generous dimensions
+
Lightweight and packable
+
Good value
Reasons to avoid
-
Not very warm
-
No pump sack
-
Concerns over durability
The UL80 has a curved construction, designed to cradle your body and prevent you from rolling off the mat overnight. Although it is only available in one size, the dimensions are very generous, with a longer length than most mats. Its light weight and pack size are both similarly impressive, particularly in its price bracket.
It's easy to set up and pack, thanks to a handy dual one- or two-way valve that makes inflation and deflation easy, though it takes a while. The mat itself is made from 40-denier ripstop nylon fabric, which should be very durable. It's comfortable, with plenty of lofty thickness to take care of lumps and bumps, though a little bouncy. And unlike many mats with a transverse baffle design, the UL80 is fairly stable and doesn't collapse at the edges unless you really put a lot of weight there.
It's not insulated, so is only really suitable for camping in the warmer months. For summer use, however, or on warmer spring and fall nights, it offers comparative luxury and cracking value.
Read our full Trekology UL80 Inflatable Sleeping Pad review
A cleverly designed, insulated air mat that offers excellent comfort levels
Specifications
Weight (medium):
850g / 1lb 14oz
Size:
183cm x 55cm / 72in x 21.6in
Pack size:
15cm x 24cm / 6in x 9.4in
Reasons to buy
+
Extremely comfortable
+
Versatile
+
Warm enough for three-season use
+
Five-year guarantee
Reasons to avoid
-
Not quite as stable as some mats
-
Pump sack sold separately
The Vaude Hike 9 sleeping pad is a thick, plush mat that promises maximum comfort whilst also balancing other factors like warmth, weight, pack size and price. It is filled with a synthetic insulation that gives the mat an R-value of 2.5, which makes it suitable for two to three-season use, down to temperatures approaching freezing.
The mat employs a rectangular 3D construction, with pronounced sidewalls. This gives a noticeably larger sleeping surface, so while its overall dimensions are similar to many of the other mats we tested, the Hike 9 feels a lot roomier. It's almost like sleeping on a conventional mattress. It also means that a pair of these mats butt up neatly together, eliminating annoying gaps – great if you want to create a "double" bed.
The impressive 9cm thickness made it one of the best camping mattresses to keep you comfortable all night long, though the longitudinal baffles don't feel quite as stable as some other mats. It's easy to blow up and deflate but it does take a fair bit of puff. Although it is compatible with a pump sack, you need to buy that separately.
Read our full Vaude Hike 9 review
Swipe to scroll horizontally
Best camping mattress comparison chart

| Camping mattress | RRP | Weight | Style |
| --- | --- | --- | --- |
| Coleman Extra High Queen Airbed | $75 (US) | 4kg / 9lb 2oz | Pump inflatable airbed for 4-season use |
| Big Agnes SLX | $300 (US) / £265 (UK) | 2.22kg / 43oz | Double air mat for 3-season use |
| Robens Polarshield | £190 (UK) / €233.95 | 2.43kg / 5lb 35oz | Self-inflating mattress for year-round camping comfort |
| Vango Comfort 7.5 Grande | £90 (UK) | 3.2kg / 7lb | Self-inflating air mat with insulated foam for 4-season use |
| Trekology UL80 | $100 (US) / £50 (UK) | 560g / 1lb 3.75oz | Non-insulated air mat |
| Vaude Hike 9 | £100 (UK) | 850g /1lb 14oz | Insulated air mat |
How we test camping mattresses
Our reviewers test camping mattresses overnight in a range of outdoor conditions and temperatures. Specific features (pack weight, dimensions, comfort, warmth, size, packability) are tested against claims made by the brand. Factors such as ease of inflation/deflation, durability and value for money are also assessed.
For more details, see how Advnture tests products
How to choose the best camping mattress for you
Comfort tends is the obvious factor to think about when choosing a camping mattress, but there are other important considerations to take into account too, before you make a decision.
Quality and durability
Many people will have experienced that familiar sinking feeling of a camping mattress deflating during the night, sending occupants rolling into one another or spilling them out onto the ground. Buying cheap camping mattresses is often a false economy, if they puncture easily or the valve lets them down. Better to invest in a more robust product that you can get many more nights out of than to skimp and send multiple cheap plastic mattresses into landfill when they fail.
Comfort
Getting a comfy night's rest isn't just down to finding a mattress that offers plenty of depth and stays inflated. It's worth looking at the pressure the bed can be inflated to (which will govern the firmness) and the materials used on the sleeping surface – a brushed fabric will be a whole lot more comfortable (and less sticky and squeaky) than shiny plastic.
Weight and inflation
If you only ever intend using your camping mattress for garden sleepouts, putting friends up for the night or car camping adventures where the vehicle is close enough to plug a pump into its 12v outlet, then a classic plug-in airbed like the Coleman Extra High Queen is a good choice. If, however, you intend to use the mattress in more remote situations such as canoe camping, then a self-inflating model like the Robens Polarshield 120 or Vango Comfort 7.5 Grande would be ideal. Hikers and bikers who want comfort in a lightweight package will need to look at products like the Trekology UL80 or Vaude Hike 9.
All the latest inspiration, tips and guides to help you plan your next Advnture!
A journalist specializing in outdoor recreation, Lou has covered product design innovations, participation trends and environmentally sustainable manufacturing for over 20 years. On the other hand, he's had some less than successful outdoor adventures: once, completely spent after a hard day on the trail, he managed to set a vintage MSR Whisperlite stove ablaze before accidentally kicking the burning contraption into a lake. A published author, his book about invasive fish threatening the Great Lakes watershed will be published in 2021. craftedwords.com