When is the best time to go running?
Is it better to run in the morning, at lunchtime, evening or at night?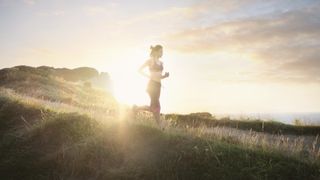 (Image credit: Getty Images)
There are many factors to take into account when choosing the best time of day to go running. In addition, most people have a personal preference for their preferred time to pull on their best trail running shoes, whether morning, lunchtime, evening or night-time.
Is the morning the best time to go running?
Many people like to run in the morning, before going to work or attending to other daytime tasks.
Getting up and out early can make you feel really good about your routine. It is often quieter in the morning before other people are up and about, too.
It's claimed that a morning run gives the metabolism a boost – and that this boost, which burns calories, will last long into the day. The way this works is that after a workout, such as a run, your body increases oxygen consumption and, as a result, this will increase your metabolism
Running in the morning also means you can feel good because you have done your exercise and that is something ticked off you "to-do" list.
In hot weather, a morning run is usually cooler, plus you may get a lovely sunrise view if you are out early enough.
However, for some people a morning run is not the best time to head out. You need to rise early enough to eat and drink to fuel your run, plus running from a cold start can leave you more prone to injuries.
Just after getting out of bed, joints may feel stiff, while muscles will be tense and inflexible. You should ensure you do a good warm up before running in the morning.
What about a lunchtime run?
Many people find that midday is the best time to go running. You should still be feeling energised and not too tired from the day's activities.
It is easy enough to ensure you are fuelled and hydrated by lunch-time because you can time your food and water properly before a lunch-time run.
Trying to run straight after eating lunch might not be the best idea so it is recommended that you eat a nutritious snack before your run and then have a lunch ready prepared for afterwards.
Lunchtime is a convenient half-way point in the day and if you work, it's the perfect time to take a break.
For busy people, a lunchtime run is an ideal way to slot exercise into a day, especially if you have family or hone life commitments later in the day.
In addition, if you run at lunchtime you may be able to find other people, especially colleagues, who can join you for an outing.
The hottest part of the day is often at lunch-time so you should be careful of over-heating.
Is the evening the best time to go running?
An evening run can be a great way to de-stress after a busy day. Many people find that running is brilliant as a way to enhance their mood.
Since your body is still active, even after a day of work, it means that muscles and joints are ready for exercise. It's still a good idea to do a warm-up routine but you will have less chance of injury during an evening run.
If you enjoy company, or you like attending a running club, the chances are the evening will be the best time to run.
Running in the evening, ion you leave it until later on, might be cooler, especially in the summer compared to running in the day-time.
However, if you run too late in the evening it can make it hard to fall asleep afterwards, which may lead to you getting fewer hours of sleep.
Also, if you have a busy family life, the evening can be a tricky time to go running because of other commitments and demands on your time.
Night-time running as an option
Some people find it easier to go out for a run after dark. It could be that this is the optimum time for you in a busy day of activities. After everything has been done for the day, a night-time run will allow you to relax and switch off.
The disadvantage of running at night is that you may end up so tired by the time you plan to run that you find you lack the motivation to get out the door. Running after dark brings some dangers, so make sure you have a headlamp (see our guide to the best headlamps for some good options) and wear reflective clothing.
Unless you have keen after-dark friends, running at night might end up being a solo outing and if you struggle to sleep after exercise, the night time could be the worst time for you to run.
Whatever time you choose for a run, try to make it part of your routine so that you get used to this being your time for exercise.
All the latest inspiration, tips and guides to help you plan your next Advnture!
Fiona Russell is a widely published adventure journalist and blogger, who is better known as Fiona Outdoors. She is based in Scotland and is an all-round outdoors enthusiast with favourite activities including trail running, mountain walking, mountain biking, road cycling, triathlon and skiing, both downhill and back country. Her target for 2021 is to finish the final nine summits in her first round of all 282 Munros, the Scottish mountains of more than 3,000ft high. Aside from being outdoors, Fiona's biggest aim is to inspire others to enjoy the great outdoors, especially through her writing. She is also rarely seen without a running skort! Find out more at Fiona Outdoors.