Camping cots vs air mattresses: which is best?
We weigh up camping cots vs air mattresses to help you find the comfiest solution to catching Zs and waking up refreshed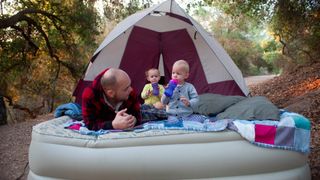 (Image credit: Jade Brookbank / Getty Images)
Many of us would try camping if only it wasn't for the part where you sleep on the cold, unforgiving ground. If you balk at the idea of trying to sleep on a paper thin sleeping pad that looks like some kind of ancient torture device and packs down to the size of a Nalgene, the good news is that the world of camping isn't closed to you. So long as you're going car camping, or even glamping, you'll have plenty of room to bring a more substantial camping bed, such as a camping cot or an air mattress.
But which do you choose? We know how important it is for you to get a solid night's sleep at camp, so we weigh the differences between camping cots vs air mattresses to help you find the comfiest solution to catching Zs, and waking up refreshed and ready to seize the day.
Camping cots vs air mattresses: what's the difference?
A camping cot, known as a camp bed in the UK, is a lightweight single bed made with a robust material like nylon or canvas stretched over a folding steel or aluminium frame that keeps you elevated off the ground. It looks a lot like a sun lounger that you lie on at the pool.
An air mattress, on the other hand, is an inflatable mattress with no frame that is inflated by using a pump that can be operated by hand, foot, battery or electricity, while some are pumpless and self-inflating. The best air mattresses range from one to two-person and can be anywhere from three to nine inches thick.
Camping cots vs air mattresses: comfort
Clearly, if you're reading this, you're thinking first and foremost about comfort. Though that's always a subjective factor, overall, an air mattress feels the most like sleeping on your bed, and even with a single, you can often sleep in the same position you would at home. Further, you can alter the level of inflation for a softer or firmer mattress and some even come with in-built coils to improve comfort.
Camping cots keep you entirely off the ground, which many people would argue is a point for comfort, and therefore keep you warmer. However, the material is quite taut, making it very firm, and the weight of your body may cause it to sag down a little in the middle, causing it to be harder to roll over and less comfortable for stomach sleepers. Some campers place a camping pad on top of their cot to increase comfort.
We'll let you decide on this one, but most people find an air mattress comfier.
Camping cots vs air mattresses: weight
When it comes to weight, clearly a camping cot will weigh more with its steel or aluminum frame, and they often weigh between 15 and 20lbs while an air mattress will usually weigh less than 10lbs. That said, you may also have to factor in the weight of the pump with your air mattress, and since both of these items are only appropriate for car camping and not backpacking, we're not sure you really need to lose any sleep over it.
Camping cots vs air mattresses: packability
Again, since you'll be traveling in a car or a van with both of these options, packability isn't as important as it is for backpacking, but it's still a deciding factor if you have a small car or a lot of gear. In terms of surface area, a deflated camping mattress will fold up into a smaller package than your camping cot, but you may have to factor in the pump with the air mattress.
Even though a camping cot folds into a large square, it's the type of item that you can fairly easily slide in behind the front seats, or between two storage bins in the trunk of your car.
Camping cots vs air mattresses: ease of use
Camping gear can be fiddly to use, from pitching your tent to figuring out how to use your camping stove, so you want your sleep system to be as simple as possible to set up. Camping cots are definitely easy – you just unfold them, throw your best sleeping bag on top and it's bedtime whenever you want it to be.
Air mattresses that require the use of a pump have definitely gotten simpler, but there can be irritating difficulties, from faulty valves to dead batteries or lack of electricity that can potentially turn your sweet dreams into a nightmare sleep. So, camping cots win this round.
Camping cots vs air mattresses: durability
Even though the quality of the product you buy and how you treat it will play into its durability, we feel fairly confident in saying that a camping cot will last longer. Materials like canvas and aluminum are sturdy, and the metal portion is usually rust-proof. There are hinges and coils that can break over time, but not easily if you're taking good care of it.
Meanwhile, there's always the potential of rips, punctures and broken valves with an air mattress, and by nature they won't last as long and the plastic material will degrade faster. Definitely check your air mattress before you hit the road and always travel with your air mattress repair kit!
Camping cots vs air mattresses: cost
Both camping cots and air mattresses vary widely when it comes to pricing, so this criteria is another tie which is good news for you, because it means that you don't have to make such an important decision based on budget alone.
Swipe to scroll horizontally
Camping cots vs air mattresses

| Header Cell - Column 0 | Camping cots | Air mattresses |
| --- | --- | --- |
| Comfort | Keeps you off the ground and usually firm, but can sag in the middle and not great for front sleepers | The most like your own bed, and you can adjust the inflation to suit your needs |
| Weight | Usually 15 - 20lbs | Usually under 10lbs |
| Packability | Don't pack down very small, but slide easily behind front seats or between gear boxes | Pack down relatively small, but often come with a pump |
| Ease of use | Easy: just unfold and you're ready to sleep | Issues with the pump can make them more difficult to set up and use |
| Durability | Very durable | Can be easily punctured or develop leaks in the valves |
| Cost | Range from budget friendly to pricey | Range from budget friendly to pricey |
Camping cots vs air mattresses: the verdict
Given that weight and portability don't matter all that much and the price seems to be comparable with camping cots and air mattresses, we honestly think that you can boil this one down to which you find the most comfortable. Sure, there are factors like durability and ease of use that may be more important to you, but you can reduce the risks of a puncture by storing your air mattress properly.
Ultimately, we'd advise heading to your local outdoor gear shop and asking to lie down on a couple of different options to find the best one for you. Either way, you're going to be happier than you would be on an old school sleeping pad. Decided you're going backpacking instead? Check out our comparison of inflatable vs foam sleeping pads.
All the latest inspiration, tips and guides to help you plan your next Advnture!
Julia Clarke is a staff writer for Advnture.com and the author of the book Restorative Yoga for Beginners. She loves to explore mountains on foot, bike, skis and belay and then recover on the the yoga mat. Julia graduated with a degree in journalism in 2004 and spent eight years working as a radio presenter in Kansas City, Vermont, Boston and New York City before discovering the joys of the Rocky Mountains. She then detoured west to Colorado and enjoyed 11 years teaching yoga in Vail before returning to her hometown of Glasgow, Scotland in 2020 to focus on family and writing.