What is glamping? We indulge in the aspects of glamorous camping
What is glamping? All you need to know about glamping, including how environmentally friendly it is and how to create your own DIY glamping experiences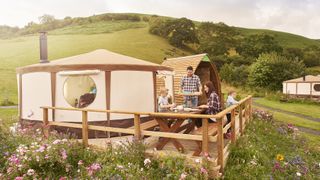 (Image credit: Getty)
What is glamping? What does glamping mean? The word itself is a fusion of glamour and camping. We all know what camping is and, let's be honest, rarely do we associate it with the word glamour. Think glamour and visions of red carpets, expensive clothes, dazzling jewellery and affluence or luxury spring to mind. Glamping is where these two seemingly disparate worlds collide.
Glamour is defined as: an attractive or exciting quality that makes certain people or things seem appealing, or more archaically as enchantment, magic. It could be argued that any camping trip can bring a certain level of excitement, enchantment or magic, especially a successful wild camp.
But even the most pleasant experience in your best camping tent comes with a fair amount of effort and the foregoing of creature comforts. These are the aspects that clearly don't appeal to everyone and certainly don't fit our preconceptions of what glamour is. Even though the perception of activities like wild camping have shifted due to social media, the reality of such an expedition is far removed from the kind of relaxing experience many seek in their leisure time.
So, what is glamping?
This is where glamping comes in, but exactly what is glamping? Well, glamping removes all the faff and potential discomfort of a camping trip, giving the camper (or glamper, if you will) hotel-like luxury in a setting that still enables them to reconnect with the great outdoors. Forget wrestling with your 4-person tent to hastily pitch it in the rain, or eating a boil in the bag meal from a packet while hunched in your shelter's porch, or having to walk half a mile to source your water, glamping does away with all of this.
Glamping accommodation is typically pre-installed – could be a yurt, tipi, safari tent, bell tent, converted van, pod, cabin or tree house – and often features heating, an actual bed rather than a sleeping pad, mains electricity, a fully equipped kitchen and proper bathroom facilities. The setting will have been handpicked, so you can expect some beautiful views from your refined backcountry bolthole.
As with any accommodation type, the level of lavishness – and by extension, the price – varies greatly. At one end of the spectrum is glamping that still gives you something of a back-to-basics approach, simply removing the hassle of putting up your tent and bringing all your camping utensils and equipment. On the other end of the spectrum, we've got saunas, lakeside decking, banqueting tables and power showers, as well as things like yoga classes and other activities. You might even be lucky enough to have a hot tub from which to take in the splendour of your surroundings, probably while enjoying a glass of something fizzy.
It's easy to see what die-hard campers might turn their nose up at glamping, as we explored in our in defence of glamping feature. But we reckon you'd be hard pressed to find anyone on this planet of ours who doesn't want to indulge in a bit of luxury once in a while. We don't scorn those who stay in guesthouses, B&Bs and hotels so why should we judge anyone who wants to replicate these comforts while being a bit closer to nature?
Is glamping eco-friendly?
What does glamping mean for the environment? On a glamping trip, you'll probably use more resources than on a standard car camping trip. For a start, it's likely you'll have access to electricity and if you're firing up a hot tub every evening, this will obviously use a lot of energy. So, it's fair to say that glamping is usually less eco-friendly than a back-to-basics camping trip.
Having said all of that, glamping is often more eco-friendly than a stay at a hotel or similar, using less water and electricity. Glamping sites are generally managed by people who have an appreciation for the outdoors and the environment, and many are set up with sustainability as a key part of their ethos. Solar panels are a common sight at glamping locations, covering a large part of their energy use.
As well as this, if you're looking for somewhere to take the kids, a glamping vacation will give them a taste of the great outdoors and hopefully nurture a desire to protect it in a way that other vacations might not. Meanwhile, glamping can provide a bridge or gateway to eventually embarking on traditional camping trips for many would-be campers, who would perhaps otherwise be put off by the perceived lack of home comforts.
DIY glamping
Glamping is generally much more expensive than camping and sites are often pricier than nearby hotels and guesthouses too. If you like the idea of glamping but are put off by the price, with a bit of ingenuity you can create your own glamping experience. Today's best family tents are spacious enough to give you heaps of comfort and loads of customisation opportunities.
Arrange electrical hook up with the campsite and bring along all the gadgets, hairdryers and kitchen equipment you desire. Comfort can be achieved with bean bags, camping chairs, air beds, duvets, pillows and a foldable table for dinner time. Bring a tent heater along for those chillier nights and cook your meals on a double-burner camping stove. There's nothing wrong with bringing proper plates, cutlery and glassware too, as long as you pack them thoughtfully. The only limit here is the size of your car, as anything you can squeeze in the boot, you can bring along on a DIY glamping trip.
Of course, for showers and toilets, you'll still need to stroll across to the campsite's facilities. Do some research ahead of your trip to make sure they have decent modern facilities and keep an eye out for extra bonuses like an affiliated swimming pool or a nearby pub, restaurant or bar.
All the latest inspiration, tips and guides to help you plan your next Advnture!
Alex is a freelance adventure writer and mountain leader with an insatiable passion for the mountains. A Cumbrian born and bred, his native English Lake District has a special place in his heart, though he is at least equally happy in North Wales, the Scottish Highlands or the European Alps. Through his hiking, mountaineering, climbing and trail running adventures, Alex aims to inspire others to get outdoors. He is currently President of the London Mountaineering Club, training to become a winter mountain leader, looking to finally finish bagging all the Wainwright fells of the Lake District and hoping to scale more Alpine 4000ers when circumstances allow. Find out more at www.alexfoxfield.com