Best sleeping pads and mats: guarantee a great night's sleep while camping or backpacking
We've spent nights outdoors testing the best sleeping pads, mats and camping mattresses to help ensure you sleep soundly wherever you pitch up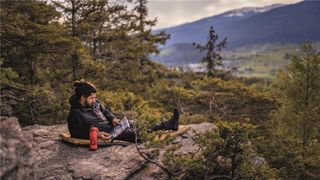 (Image credit: Robens)
The best sleeping pads or mats help to insulate your body from the cold ground, minimising heat loss, keeping you warmer and ensuring you enjoy a better night's sleep.
Your camping mat is a vital element of your sleeping system, and picking the right option is just as important as selecting the right sleeping bag. However, that's not as easy as it might sound, because sleeping pads have come a long way since the basic, foam roll mats you might remember from family camping trips.
There are hundreds of mats on the market now, and we've spent dozens of nights under canvas in a range of conditions – from sultry summer nights to sub-zero temperatures – testing a range of options from established and emerging brands.
We've picked out the best sleeping pads and mats for adventurers of all breeds, whether you're trekking in hot and humid climates or wild camping in deep midwinter. Similarly, we've taken a range of needs into account, balancing factors such as comfort, warmth, weight, durability and price.
The selection ranges from technical, lightweight mats that deliver decent comfort and warmth while minimising weight and pack size, through to plush, campsite-friendly mattresses that will ensure your next camping or glamping weekend is just as comfortable as sleeping in your own bed back at home.
All of the following best sleeping mats have been featured on merit, but the Ether Light XT Insulated is the most comfortable lightweight camping mat we've ever slept on, while Exped's SynMat HL Winter matt is an excellent all-weather performer and Robens Trailguard 50 is a great self-inflating mat available for a bargain price.
The best sleeping mats and pads you can buy today
US outdoor brand Klymit is known for its innovative mats, and the Insulated Static V-lite is typically unusual. This mat utilises V-shaped central baffles, while the pad has raised edges, intended to offer superior comfort and stability. The rectangular profile is certainly accommodating, and the mat has a generous inflated thickness too. Despite the slightly odd sensation compared to smoother-faced pads, which admittedly takes a little getting used to. (We slept soundly on test – the odd squeak notwithstanding.) In addition, we were impressed by the mat's real-world warmth, which corresponds with its R-value of 4.4. That makes it suitable for use in sub-zero conditions. It's a genuine all-season pad that is priced far more attractively than premium options from rival brands.
Tipping the scales at 425g and measuring just 11 x 24cm when rolled away in its stuff sack, this mat is light and packable enough to take on any backpacking trip, yet delivers luxurious levels of comfort thanks to an extremely generous inflated thickness of 10cm. This depth makes it ideal for side sleepers, providing superb cushioning for hip bones and shoulders. Despite its heft it's still stable thanks to its unusual dot welded air sprung cells, employing similar principles to a pocket sprung bed. This means that unlike many baffle-constructed sleeping pads, it doesn't feel overly bouncy or collapse at the edges. It also has a great twin valve design that makes it easy to inflate and deflate. The supplied stuff sack has an integrated pump sack, so you don't have to rely on lung power to inflate it. This also means that moisture from your breath doesn't get inside the mat, so it should suffer less from mould and mildew problems. In terms of warmth, it features high-loft Thermolite insulation, giving the mat a competitive R-value of 3.8. That's not quite as impressive as some, but still plenty warm enough for spring, summer and autumn camping trips, even if the temperature dips below freezing. But look after it – though the 30/40D nylon face fabric is reasonably tough, it's not the burliest and will require more care to avoid puncturing than some other mats.
Thermarest originated the concept of the self-inflating camping mattress, way back in the early 1970s. The NeoAir UberLite is one of the most recent additions to the range and claims to be the lightest insulated air mat available, anywhere. In terms of weight and pack size, it is both remarkably light and impressively compact. It rolls away to about the size of a beer can and tips the scales at a mere 250g. Those figures have been achieved through a combination of clever design, the use of lightweight 15-denier fabrics and a determination to save weight wherever possible, which has meant eliminating the internal reflective layer found in other NeoAir models. As a result this mat is not quite as warm as some others, reflecting its intended use for warm-weather trips. It is comfortable though, even for side sleepers, and the transverse chamber design is fairly stable, though it does have a slight tendency to collapse at the very edges. You also need to watch that thin face fabric – we wouldn't risk packing this mat without also remembering to take the (included) repair kit. And though there's nothing wrong with Thermarest's valve design, compared to other mats it isn't as easy to inflate or deflate, especially using a pump sack. However, if you're a dedicated ultralighter – the sort of adventurer who likes to head to the hills for a stealthy overnighter with nothing more than a daypack on your back – this is the mat for you. It's the ideal pairing for a backpacking quilt or minimalist down bag if you're looking to create a superlight but very comfortable two-season sleeping system.
This well-designed mat has plenty of unusual features that will appeal to cold-weather backpackers, wild campers and other winter adventurers. Firstly, it delivers plenty of warmth in a lightweight and compact package, with a high R-value of 5.2 and a pack size that beats many three-season mats. It utilises a longitudinal baffle design filled with synthetic insulation, internally laminated to both upper and lower surfaces of the air-filled chambers for long-term durability. The two edge baffles are also slightly oversized, which helps to keep you securely in the middle of the mat. In addition, the soft-touch surface fabric is overlaid with a honeycomb grip pattern, reducing the risk of slipping off the mat in the night. This mat has a low-profile valve design that sits discreetly out of the way but allows for rapid inflation using the supplied pump sack. It's not quite as easy to use in the confined space of a tent as some systems but does work effectively. It's also placed on the underside of the mat, which makes it a little tricky to tweak the level of inflation.
Lastly, although the dimensions of the medium mat appear similar to rivals, this mat is highly tapered, giving less room for your hips and feet. It is best suited for slimmer builds – otherwise, take a look at the Medium Wide version, which offers additional space from shoulders to feet, with a slight increase in weight and pack size. On the other hand, the streamlined cut is a highly effective weight-saver, particularly for a full-on four-season mat that will be warm enough for winter camping in temperatures way below zero. In fact, few other mats can compete in terms of overall warmth for weight, making this a stand-out option.
This technically advanced all-season mat from Robens is our top self-inflating mat (SIM) pick – though arguably it could also be considered an insulated air mat. That's because it utilises a hybrid zoned construction, with an internal foam base and twin air-filled edge chambers, designed to maximise thermal efficiency and comfort. The central area of the mat has a foam core, providing effective insulation for the torso, while strategically placed cut-out sections at the extremities help to reduce overall weight. This all contributes to the mat's impressive R-value, while also delivering a reasonable weight and pack size that means this is still a practical option for backpacking and trekking, if a little bulkier than its absolute top-end rivals.
The Trailguard 50 is comfortable in use, thanks to generous dimensions and a squared-off mummy cut that gives plenty of room to relax. It also boasts a very stable 50mm thick base, soft polyester face fabric and those chunky side rails that cradle the body effectively, making it virtually impossible to slide off the mat in the night. However, it's also robust and durable, with a hard-wearing underside that is far less delicate than many ultralight mats. Inevitably, it's not quite as plush as an air mat, but on the other hand it's quicker to inflate, as the foam core tends to expand naturally, requiring just a few breaths to top it up to optimum levels of cushioning.
A relative newcomer to the camping market, Trekology is an innovative start-up company out of Portland, Oregon – the outdoors capital of the Pacific Northwest. The product range has been consistently upgraded and enhanced since launch, and the UL80 is no exception. The latest version for 2020 has proved a popular choice among wild campers and backpackers, and for good reason – the plush 10cm thickness absorbs uneven ground very well, while the curved construction cradles your body to ensure a better sleep and prevent you from rolling off the mat overnight. Though it is only available in one size, the dimensions are generous, with a longer length than most mats – ideal for taller adventurers.
In addition, a redesigned and enlarged valve permits faster inflation and deflation, while upgraded 40D ripstop nylon fabric offers additional durability. Overall weight and pack size are both impressive, particularly in this price bracket. As an air mat, blowing it up and packing it away are both more time-consuming than with SIMs or closed-cell foam mats. That's pretty much par for the course, although unlike most outdoor brands, Trekology have not developed a pump sack or similar system to make this task a little less laborious. You'll have to reply on lung power alone if you're camping anywhere that makes an electric pump impracticable. The other major drawback is its limited warmth – this mat is not insulated, so is only really suitable for camping in the warmer months. For summer use, however, or on warmer spring and autumn nights, it offers comparative luxury and cracking value.
When it comes to tried and tested outdoor kit, few products compare to Thermarest's renowned Z-lite mats. They've been used and abused all across the globe and are loved by outdoor adventurers of every ilk. That's primarily because they're super durable – as a closed-cell foam mat, even if they get ripped or punctured, they'll still work. As a result, you don't have to be so careful with campsite selection, and if your options are very limited – like a climbers' bivvy, for example – it's one of the few genuinely practical mats available, and one that'll still prove more comfortable than lying on bare rock. The Z Lite is therefore supremely versatile as well as being very lightweight, if slightly bulky. Of course, sleeping on 2cm of foam padding will never be as comfortable as sleeping on 8cm of lofty air. But the Z-lite SOL does the best it can with what it's got, thanks to a dual-density foam that is softer on top for extra comfort and denser on the bottom for extra durability. The design also incorporates unique dimples that are designed to trap more heat, while the SOL's shiny ThermaCapture coating also helps to reflect body heat, which according to the brand can increase overall warmth by nearly 15%. The mat folds up concertina-style, so it can easily be strapped to the outside of a trekking pack or slotted down the side of a large rucksack. With an R-value of 2.0, it works well for two-season camps. It can also be used as a secondary layer underneath a self-inflating or air mat to boost the warmth of your sleep system.
If you're looking for a versatile self-inflating sleeping pad that'll work for anything from car camping to moderate backpacking in all but the coldest seasons, the Kelty Cosmic SI is a solid choice. It's a 2.5cm-thick mat with a foam core that takes care of most lumps and bumps, plus generous dimensions in terms of both length and width as well as relaxed contouring that should accommodate even the most starfish-style sleepers. The reliable brass valve is easy to operate and shouldn't leak air or come unscrewed at 2am, and it's quick to inflate, requiring only a few puffs. As with most self-inflating mats, deflation is slightly more involved, but hardly an arduous task. It stows away neatly into a simple stuff sack too. The high-quality construction and materials – consisting of 20-denier ripstop nylon, promises decent durability. Admittedly, at about an inch thick, it's not quite as plush as some air mats, and therefore better suits those who tend to sleep on their backs rather than their sides. But it has a competitive R-value, delivering plenty of warmth for three-season adventures. It's also lightweight, and while the pack size is marginally bulkier than some, it's still reasonably compact and will sit nicely in the bottom of a trekking pack.
If space in your pack is at an absolute premium but the thought of spending big bucks on a camping mat makes your eyes water (and let's face it, that's most of us), the Vango Aotrom is the ideal solution. It's very light and packs down to about the size of a Coke can. Its construction utilises air-filled welded channels, which are designed to mould to the contours of the ground and your body for a more comfortable night's kip. At its thickest, it's about 5cm, though the welded points offer considerably less padding than that. However, if you tend to sleep on your back, it is surprisingly comfortable. It's made from 20D ripstop nylon and uses modern TPU fabric lamination, which is lighter and allows for a smaller pack size than traditional PVC (as well as being better for the planet). Unlike some ultralight pads, which are let down by a bulky air valve, the flush fit air lock is unobtrusive but works well, allowing for quick inflation/deflation. The major drawback is that as an non-insulated air mat, warmth is limited. As such, this is a sleeping pad suitable for strictly summer camping only, but in that capacity it is a very compact and lightweight option that would be ideal for Duke of Edinburgh's Award expeditions, weekend camping trips and wild camps in the hills.
A relatively new sleeping pad from US brand Sierra Designs, the Granby Insulated pad is a sister mat to the company's lightweight Shadow Mountain, with an additional layer of lightweight synthetic sheet insulation that increases the R-value to 2.1, making it suitable for a wider range of temperatures. It is still not a cold weather mat, but could be paired with a closed-cell foam mat like the Thermarest Z-lite SOL to create an all-season sleep system. What it does bring to the table – sorry, tent – is practicality, convenience and decent levels of comfort. The mat has a great 'burrito-style' stuff sack that makes it really easy to pack and unpack. Inflation and deflation are also a cinch.
The design employs an unusual chambered baffle system that proved comfortable whether you sleep on your back or turn on to your side, and when fully inflated the mat is thick enough to avoid 'bottoming out' even at common pressure points like the hips and shoulders. We had some minor worries about the valve design – though it works well, the tight fit means it requires a fair amount of pressure to pull it open, which seems to place a lot of stress on the surrounding fabric. The valve also protrudes a little from the mat, and we found it tended to snag on our other bits of sleeping gear. Otherwise, however, the Granby is a well-made pad constructed from high-quality materials. It's pretty lightweight too, and the pack size, while not the most compact option around, is not unreasonable. The rectangular cut is also very accommodating and will appeal to campers who dislike tapered mummy-style pads.
The Vaude Hike 9 is one of our favourite insulated air mats thanks to its considered design. It employs an unusual rectangular 3D construction, with pronounced side walls. This gives a larger sleeping surface and it also means that a pair of these mats butt up neatly together, eliminating annoying gaps and maximising space if you and a partner are sharing a tent. This design approach does introduce extra seams, which might pose a potential failure point, but the mat has a limited five-year guarantee and is supplied with a field repair kit. It's very comfortable to sleep on, with an extremely plush inflated thickness of 9cm, though the longitudinal tubes are not quite as stable as some other transverse or multi-chambered designs. It's reasonably light and packable too – not the lightest in its class, but hardly bulky either. It is filled with a synthetic insulation that gives the mat an R-value of 2.5, which is suitable for two to three-season use down to temperatures approaching freezing. The valve plug has a handy pointed tip that can be inserted to hold the one-way valve open, allowing for rapid deflation. It's just as easy to inflate and is compatible with a pump sack, though this is sold separately rather than being bundled with the mat. But the Hike 9 strikes a good balance between warmth, comfort, weight, pack size and price.
Choosing the best sleeping pad for you
Sleeping mats are available in a huge number of different shapes and sizes, and as with all categories of camping gear, different people have different needs according to where, when and how they intend using their kit.
Quick guide
Closed-cell foam mats: very stable, easy to use, extremely durable and cheaper, but slightly bulky and not as comfortable.
Self-inflating mats (SIMs): Often featuring a foam core, these are fairly robust and offer good warmth, but they're usually thinner than air beds.
Insulated air mats: Offering the best mix of warmth and comfort for minimal weight, the main worry is the risk of puncture (carry a repair kit or repent during a sleepless night).
Non-insulated air mats: extremely lightweight and very compact, good for ultralight enthusiasts, adventure racers and hardy summer campers.
Also consider the following when selecting the best sleeping mat for you:
1. Shape
Though many mats utilise a basic rectangular profile, others are contoured in a mummy shape to reduce weight and pack size without unduly affecting overall sleeping comfort. Taller trekkers should consider mats that offer large and/or wide sizes. Similarly, petite users or ultralight campers can choose mats that come in a small or a three-quarter size. Some brands make specific women's sizes that are contoured to better suit the female frame. In some cases they are also slightly warmer, with a higher R-value (as women typically sleep colder than men).
2. Design and materials
The design and construction of the mat will affect its comfort levels. A thicker mat that provides plenty of cushioning is generally more comfortable than a thinner mat, but – especially if you're going for an air mat – make sure it isn't so squashy that you 'bottom out' and hit the floor. Thicker tubes or baffles help to prevent this, but reduce stability. Closed-cell foam mats or self-inflating mats with a foam core are usually very stable and extremely durable, but much thinner, which means compromising on comfort (especially if you're a side sleeper) and warmth.
Self-inflating mats (SIMs) are usually equipped with a valve and foam core. Once they are unrolled and the valve has been opened, the design draws air in by itself, though they usually require a few 'top-up' breaths for full inflation.
Insulated air mats require careful use, as they're liable to puncturing – they often come with repair kits to enable quick fixes in the field.
3. Warmth
Self-inflating mats or insulated air mats are warmer than closed-cell foam mats. All
sleeping mats are given an R-value, which measures an insulating material's thermal resistance. In sleeping mat terms, it basically indicates how warm a mat is. Look for a mat with an R-value of 1.0 to 2.0 for summer use, rising to 3.0 for three-season camping and 4.0 or even 5.0+ for winter camping. Of course, there's much more to warmth than a sleeping pad's R-value. Consider it as just part of a sleep system that also includes what you wear to bed, your sleeping bag, tent or other shelter, the ground you're lying on, overnight temperatures, and of course, your own physiology.
4. Ease of use
The best sleeping mat should be easy to use. With a closed-cell foam mat, you can simply unroll or unfold it and hit the hay. It's a little different with a self-inflating or air mat however, and ease of use often depends on the valve design. Many now have a double valve that helps you to inflate them fast but also expel air quickly for rapid deflation.
5. Weight and pack size
A good three-season the best sleeping mats should weigh around 600g (or around 20oz). Four-season mats with a higher R-value will typically be heavier, while ultralight mats (some of which aren't insulated at all) can cut that figure in half. Pack sizes and volumes also vary widely, but ideally a three-season mat should have a packed volume of no more than 2 litres. Closed-cell foam mats are bulkier, although given their extreme durability most backpackers carry them strapped to the outside of a pack, making their size less of an issue.
6. Value
Consider this: how much value you attribute to getting a good night's sleep? In our experience, it's worth spending a little more on a good quality mat as it makes a huge difference to how comfortable your camping experience is, and therefore how much you enjoy your time in the great outdoors. If cost is a restricting factor, however, then entry-level mats can still offer good overall performance, and in some cases come with only a small increase in weight and bulk. Expect to pay more for better insulation. As always, shop around – you can almost always pick up the best sleeping mats for far less than the RRP.
All the latest inspiration, tips and guides to help you plan your next Advnture!
Thank you for signing up to Advnture. You will receive a verification email shortly.
There was a problem. Please refresh the page and try again.