Best camping stoves: for fresh brews on the hill and hot meals by the tent
Our selection of the best camping stoves will help you wave goodbye to tepid tea from a flask and cold campsite meals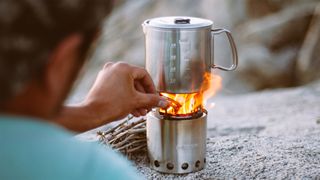 (Image credit: Solo)
Don't think it's worth investing in one of the best camping stoves? The luxury of a piping hot drink and the satisfaction of a hot meal at the end of the day on the trail make it highly surprising that more walkers don't pick up a good quality, light, portable stove. Our round up of the best camping stoves includes models that can boil water in seconds, like the perennially popular JetBoil, cook enough pasta for a pair of ravenous hikers, like the Primus, and fry bacon for the tastiest possible start to the day. The best camping stoves are light, efficient and easy to use – so simple that you'll wonder why you haven't carried one for years.
The best camping stoves you can buy
Optimus Vega
An award-winning lightweight stove designed for four-season use
RRP: $95 (US)/£105 (UK) | Fuel: Butane/propane | Weight: 178g/6.3oz | Dimensions (folded): 130mm x 70mm x 65mm/5.12in x 2.76in x 2.56in | Power: 1,400W-3,700W | Boil time: 4 mins 30 secs for 1 litre of water | Accessories: Stove bag, windfoil
Year-round use
Capable of cooking in -20°C/-4°F
'Turbo Boost' cuts cooking time by 20%
Other stoves are lighter and fold up smaller
A serial winner of outdoor magazine gear tests, the Optimus Vega is one of the few stoves designed to take winter temperatures in its stride. Flip the gas canister upside down (there are support legs to hold it in place) and the heat gets a 'Turbo Boost' – ideal for cold temperatures or if you need to cook in a hurry. Boiling or cooking in sub-zero temperatures may sound extreme, but Scotland's Munros in winter and early mornings on Alpine summits in summer can see the mercury tumble. This winter mode does burn more fuel, so for summer it's wiser to save gas and have the canister the right way up. The stove itself sits low to the ground, which makes it more stable, and a foil windshield shelters the flame from a breeze.
A lightweight wood-burning campsite stove with an intelligent design
RRP: $90 (US)/£90 (UK) | Fuel: Twigs, pine cones | Weight: 255g/9oz | Dimensions (folded): 97mm x 108mm/5.7in x 4.25in | Power: N/A | Boil time: N/A | Accessories: Stove bag
Fun to use
No worries about gas running out
Robust
Heavier and bulkier than most stoves
Slower boil time
You need to find your fuel
Solo Stoves bring out the hunter-gatherer in campers, due to their fuel source – twigs. Children will love foraging around for dry tinder to burn, and there's something deeply satisfying about being self-sufficient, rather than relying on gas. However, there's always the risk that heavy rain will have soaked available twigs or that there's no combustible material around (an alcohol burner is available as an accessory for £22.50/$20). The Solo Stove has a double combustion process – oxygen drawn in through the bottom vents feeds the main combustion, while heated air rising through the double wall is fed through the top vents for an extra oxygen boost, enhancing the stove's efficiency. Cooking pots and kettles then perch on top. This stove is slightly heavier than others, but you save weight by not having to carry fuel.
Primus FireStick
A neat, clever, backpacking stove with a minimalist design
RRP: $90 (US)/£90 (UK) | Fuel: Propane/butane | Weight: 105g/3.7oz | Dimensions (folded): 36mm x 103mm/1.4in x 4.1in) | Power: 2,500W | Boil time: 3 mins 30 secs for 1 litre of water | Accessories: Storage pouch, piezo igniter
Light
Neat fold-up cylinder shape
Wind protection from pan supports
Canister-top stoves are typically less stable than hose-mounted stoves
As all experienced backpackers know, the pointy edges of a stove can stick out in a backpack and burners are vulnerable to knocks. Primus has solved both of these issues with the innovative FireStick, which folds into a cylinder similar in size to a fat tube of sweets, with the arms that support a pan during cooking clicking together, protecting the burner. The stove screws on to a gas canister, creating a tall, reasonably wide platform, and a regulated valve lets campers adjust the flow of gas and thereby control the temperature. The wide arms also provide a degree of wind protection. If saving weight is a priority, a titanium version of the same stove shaves off 16g (0.6 oz) and costs $30 (£30) more.
A compact stove with a built-in piezo lighter
RRP: £30 (UK) | Fuel: Propane/butane | Weight: 274g/9.6 oz | Dimensions (folded): 110mm x 110mm/4.3in x 4.3in | Power: 2,900W | Boil time: 3 mins 45 secs for 1 litre of water | Accessories: Hard plastic case
Easy connection to canister
Compact size
Built-in piezo ignition
Competitive price
Less choice of Campingaz canisters
With its 'Easy Clic' connection to the gas bottle and in-built ignition system (the piezo or P) the Campingaz Twister Plus PZ is a quick and simple stove to set up, and there's no fumbling around for matches or cursing as the wind blows out a match before you've had a chance to light the burner. A neat heatshield protects your fingers from the flame as you turn the knob that adjusts the supply of gas and heat. When not in use, the hard, plastic case provides more protection than many carry solutions for stoves. Just be aware that it will only work with canisters that have the Campingaz Easy Clic valve.
A complete backpacking cook system, with stove, pot, sleeve and lid
RRP: £75 (UK) | Fuel: Propane/butane | Weight (stove, pot and lid): 486g/1lb 1oz | Dimensions (folded): 204mm x 136mm/8in x 5.4in | Power: 2,200W | Boil time: 4 mins 30 secs for 1 litre of water | Accessories: 1 litre pot with lid and neoprene sleeve
Stove and gas canister fit in the pot for carrying
Piezo for lighting burner
Complete, compact cook system
Works best with its own pot
Heavier than other hose-mounted stoves
It's deeply satisfying to be able to pack up a cook system into a compact bundle, rather than have a separate stove, pot and gas canister. With the FyreStorm PCS, the stove and a small gas canister fit inside the pot for great portability. In use, the long hose keeps the gas canister away from the stove, the piezo ignition delivers a match-free spark to the gas, and the wind shield shelters the flame from the breeze. The heat is adjustable, allowing for a vigorous boil or a simmer, while the lid and neoprene sleeve provide extra precaution against accidental scalding. So that's all bases covered for campsite chefs.
Jetboil Flash
The FluxRing heat exchanger element transformed the boil speed of backpacking stoves
RRP: $110 (US)/£120 (UK) | Fuel: Propane/butane | Weight (stove, pot and lid): 371g/13oz | Dimensions (folded): 104mm x 180mm/4in x 7in | Power: 1,320W to 2,640W | Boil time: 1 min 40 secs for 0.5 litres of water | Accessories: 1-litre pot with lid and neoprene sleeve
Lightning-fast boil time
Gas and stove store inside the pot
Push-button ignition
Only works with Jetboil FluxRing pot
Better for boiling water than cooking
For any backpacker in urgent need of a cuppa, there's only one place to turn. The Jetboil Flash is astonishingly fast to boil water, its FluxRing roaring away like a… well, jet. This makes it ideal for rehydrating dried meals, as well as brewing a tea or coffee (an optional £15/$20 coffee press turns the pot into a cafetiere). Fold-out legs attach to the base of the gas canister, improving stability; push button ignition starts the fire without faffing with matches; and a colour-change heat indicator shows when water is boiling (if plumes of steam haven't given you a clue). For portability, the stove and a small gas canister slide into the pot, while a small bowl protects the FluxRing.
We've been using a first generation Jetboil Zip for almost a decade, the stove sounding the death knell for our flask, and it's still a pack essential for any long day in the hills.
Choosing the best camping stove for you
Getting some warm sustenance into your system after a day of hiking is a hugely important factor in making any backpacking or camping trip a success, so choose your stove carefully. These are the most important factors to consider when buying a camping stove.
1. Boil times
The equivalent of a car's 0-60mph acceleration time, most manufacturers will advertise how long it takes a stove to boil 0.5 litres of water. The time is only a guide, and depends on how much gas is left in the gas canister, the ambient temperature, the strength of the wind (and the effectiveness of any windshield), the type of gas (typically propane/butane), and even the shape and insulation (lid) of the pan.
Note: Water boils at 100°C (212°F) at sea level, but for every 150 metres (500ft) you ascend the boiling temperature drops by about 0.5°C (just under 1°F). At 2,400 metres (8,000ft), about halfway up Mont Blanc, water boils at just 92 °C (198 °F).
2. Ignition
A built-in piezo igniter, similar to the spark-creator of a domestic gas hob, is most convenient for lighting gas, but some stoves rely on matches.
3. Windshield
A decent breeze can seriously impact a stove's performance, so a protective windshield around the burner is a useful feature.
4. Size and weight
On the one hand you don't want to be lugging a gas cooker up and down hills; on the other, a strong, stable stove with a wide diameter burner and a broad pan support is very reassuring when you're trying to cook a vat of pasta in boiling water. Most of the weight will be in the gas canister anyway, so it's the stove's fold-up size that matters more – some will encase the burner and gas canister inside their cooking pot.
5. Burn control
Boiling water may be a race to 100 degrees, but there are occasions when it's very handy to be able to regulate the heat for more sensitive cooking. Campsite chefs will want easy access to the flame-control valve.
6. Canister compatibility
Most stoves will connect to a screw-thread canister, but some, such as Campingaz, have a non-thread connection, so will only work with a non-threaded, Easy-Clic canister, which could be limiting if you need re-supplies in a far-flung area. If you're concerned, small adapters are available.
7. Fuel type
Most stoves burn a mix of propane and butane. Propane is better for colder temperatures, and butane for warmer weather. Some multi-fuel stoves can also burn paraffin (kerosene) and unleaded petrol, which work better at higher altitude and can be easier to source in remote areas of the world.
All the latest inspiration, tips and guides to help you plan your next Advnture!
Thank you for signing up to Advnture. You will receive a verification email shortly.
There was a problem. Please refresh the page and try again.