Friday 5: record-breaking Munro bagger Hazel Strachan
The extraordinary mountain walker answers five questions as we continue our popular quick-fire interview series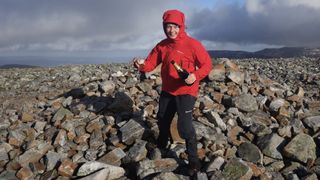 (Image credit: Hazel Strachan)
Hazel Strachan, of Bathgate in West Lothian, is a record-breaking walker who has summitted Scotland's 282 Munros – Scottish mountains with a height of more than 914m/ 3000ft – an incredible 10 times. She has her sights set on an 11th round finish once Covid restrictions allow.
Hazel, who holds the female record for the Munros, enjoys solo hiking, wild camping, and packrafting.
If you could keep only one item of all your outdoor gear, what would you keep and why?
Without a doubt I'd keep my Alpacka Classic Packraft. I presume I can keep my Celtic collapsible paddle as well? I've had so much fun with my packraft.
I can combine walking and paddling trips and this has changed my relationship with the landscape. The blue areas on the maps are no longer inaccessible and out of bounds when travelling across a landscape.
I've followed rivers from near their sources out to the sea, gazing up at the summits with the knowledge of the mountain plateaus and summits, which are the sources of the rivers I've paddled. I've loved learning about the nature of water, how it flows and pools and how I move on it.
My packraft weighs just under 6lbs; it's a robust piece of kit. It easily fits in my rucksack when deflated. It's inflated with a simple bag: 13 bags of air and about 13 big breaths of air from me to top it up. Simple!
I could use it as a mattress and sleep on it and, propped against a log, I could also use it as a shelter. What incredible freedom my packraft has brought me.
What's your pet peeve in the outdoors/adventure space?
Fire rings that haven't been dismantled after use are my current pet peeve. I dislike being in a remote place and suddenly coming upon an abandoned fire ring.
One autumn I paddled up Loch Cuaich heading for a couple of days to climb Beinn an Aodainn and Sgurr na Ciche. It's not a place that is often visited as it takes a lot of effort to reach there.
After three hours' paddling I came to the end of the loch. I pulled my packraft on to the shore and walked up a bank to investigate a potential camping spot. There in front of me was a discarded fire ring. I felt deflated and annoyed that there was an intrusion into the remoteness of the area.
I revel in the remoteness of the places; it's exciting to feel that you could be the only person to have stood on a spot up some of the remoter glens and that feeling is taken away when I am reminded of the crassness of human behaviour.
What is wrong with folk who are too lazy to dismantle a simple fire ring and scatter ashes to leave a wild camping area as they originally found it?
There is, however, a wider problem with fires: cutting down live material (which won't burn anyway because it's too wet), not properly extinguishing fires or starting a fire on a bed of peat, which will continue to burn out of sight.
I don't build fires because it doesn't feel right to light a fire that is not required for heat or cooking on, or to exhaust a local supply of firewood.
All of us individually have a responsibility for our actions because they play out on a bigger scale.
If you could be instantly transported to the start of any adventure, what would it be, where and why?
I'm standing in an aircraft hangar in the remote Alaskan village of Arctic Village. I've just been weighed. My kit – packraft, camping and walking gear along with three weeks of food – has also been weighed and I'm nowhere near the weight limit that the aircraft can carry.
The pilot is undertaking the final checks on the small single propeller DeHavilland Beaver aircraft, which will drop me off on a remote gravel bar on the north side of the British Mountains of the Brooks Range in the Arctic National Wildlife Refuge.
I'm going to be paddling down the Kongakut River away from the dramatic limestone mountains across the coastal plain to the Beaufort Sea. The paddling is going to be challenging, as is the exceptional remoteness of the river and landscape I'll be passing through. It's an absolute thrill and something I've been honing my skills towards for years.
The permafrost stops excess water from draining away and the rivers can become very turbulent as all water drains into them after rain.
This is a trip to experience landscape on its terms; to observe and be in rhythm with an elemental landscape where there are few named topographical features on maps.
But this isn't a barren Arctic landscape. The biodiversity of the area is astonishing. I'd love to catch a sight of the migrating Porcupine caribou herd, which is the longest land mammal migration in the world.
If only! I had better start saving up now for this trip.
We're sitting round a camp fire. Tell us a funny or entertaining story about one of your adventures.
I've seen and heard a few strange happenings in the hills, such as spirit guides playing, ghosts or possibly evil entities from the other side. Be aware, be very aware. There are more than us in the hills.
An example of when something out of this world happened to me was when I was climbing Beinn Bheoil next to Ben Alder. It's a remote place.
There's a story of a haunted bothy where the gamekeeper hung himself on the back of the door of the cottage in Alder Bay. The area has a spooky reputation.
I was on my second Munro round so I wasn't exactly inexperienced or wary of being in such a remote place by myself.
I remember the day well. The weather was sunny, warm and windless. I was approaching the summit when I heard a strange noise. At first I thought it was the noise of an estate vehicle but then I thought, "Hang on – there are no roads around here! I'm miles away from any roads."
The noise drifted up from Lochain Bhealaich Bheithe and grew louder and louder the closer it raced towards me. All of a sudden an invisible "ball" of noise passed in front of me and headed over the summit towards Loch Ericht.
The sound was a jumble of low rasping and grating noises, nothing of which is to be found in our human realm.
It was extraordinary and unexplained. I'll need to leave my story unresolved because I don't know what it was.
Is there any gear that's on your shopping list at the moment?
Absolutely nothing. I bought a lot of kit for a cancelled trip last June. I was due to paddle nearly 500 miles on the Yukon River in Canada and cross into Alaska. The kit has all been packed away for this June.
All the latest inspiration, tips and guides to help you plan your next Advnture!
Fiona Russell is a widely published adventure journalist and blogger, who is better known as Fiona Outdoors. She is based in Scotland and is an all-round outdoors enthusiast with favourite activities including trail running, mountain walking, mountain biking, road cycling, triathlon and skiing, both downhill and back country. Her target for 2021 is to finish the final nine summits in her first round of all 282 Munros, the Scottish mountains of more than 3,000ft high. Aside from being outdoors, Fiona's biggest aim is to inspire others to enjoy the great outdoors, especially through her writing. She is also rarely seen without a running skort! Find out more at Fiona Outdoors.