Best women's walking boots: for country walking, day treks and hut-to-hut hikes on any budget
By Sian Lewis
Our best women's walking boots are comfortable, waterproof and ready to tackle the great outdoors with you in any weather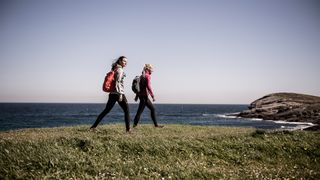 (Image credit: Hanwag)
A pair of the best women's walking boots is an absolute must for a comfortable day out on the trail, whether you're walking mountain high or valley low. Waterproof, breathable and hardy boots designed specifically for walking and hiking will see you through the miles blister-free, and it's worth investing in a well-made pair that will last you for years of walking adventures to come. We've reviewed ten of the best women's walking boots on the market, suitable for all weathers – and most budgets.
You'll find our full guide to what to look for in the best women's walking boots below, including whether to pick leather or fabric boots and how to find walking boots that can withstand cold and rain.
All of our top ten picks are sturdy, waterproof and comfortable, but we've also specified which boots are best for different seasons and types of terrain. Our top all-rounder fabric boot on test is the excellent Scarpa Mistral, and we recommend Ariat's Skyline Summit if you're looking for a warmer leather boot.
The 10 best women's walking boots available right now
Scarpa's latest female walking boot, the Mistral, is a flexible fabric model designed with hillwalkers in mind. A suede and fabric upper material makes the Mistrals comfortable from the get-go, and these tough boots pack a technical punch, with a built-in Gore-Tex membrane keeping feet totally dry.
Vibram Energy II soles offer great stability and grip, even on wet rock, making these boots versatile enough to take higher onto mountain paths. Cushioning soles give a pleasantly springy feeling to each step you take in the Mistrals, even if you're covering long distances.
We did find the neck of the boots on the wide side – you'll need to lace them up tightly for good ankle support and to avoid any rain seeping in. If you find most hill-happy hiking boots are too stiff for you or if you want to invest in just one great pair of walking boots that can deal with a range of trails as well as walking holidays, these are a great investment.
The deliciously comfortable Keen Terradora IIs feel as light and forgiving to wear as your favourite pair of trainers – if comfort is top of your wish list, these lightweight boots are ideal. The upper fabric may be soft and tactile, but it's still waterproof to deal with sudden showers, and Keen's own-brand All Terrain soles offer decent grip on less challenging terrain (but won't stand up to scrambling over wet, slippy rock).
The Terradora IIs are highly breathable and keep feet comfortably cool in hot weather, but don't offer much warmth in cooler months – they're built with summer hikes in mind. Anti-odour insoles are definitely effective at reducing, if not eliminating, sweaty smells after long days of walking, making these boots a good choice for multi-day backpacking routes. Multiple cheerful colourways also make the attractive Terradora IIs stand out in a sea of boring brown and grey hiking footwear.
There's a lot to like about this high-performing boot. The Skyline Summit has all the benefits of warm, naturally waterproof full-grain leather without requiring any breaking in, and is reassuringly comfortable straight out of the box. A Gore-Tex membrane keeps the leather and nylon panels dry even in heavy rain, but still offers enough breathability to make these boots work from autumn right through until late spring – and we found the Skyline Summits warm enough to keep feet cosy even on frosty winter walks.
A great lacing system and high, narrow neck makes the boots feel very stable and snug underfoot – ideal if you find most hiking boots don't support your ankles properly. Supportive, cushiony insoles add to that feeling of stability, and stop the boots feeling too heavy when you're covering long distances. They may be one of the pricier boots in our round-up, but you get what you pay for – if you're investing in your first proper pair of hiking boots, these are an easy choice.
These rather luxurious nubuck leather beauties look and feel like great quality – if you want to invest in boots that will last you for years of adventures to come, the Banks could well be worth their steeper price tag.
Hanwag have been making premium hiking boots for 100 years (and the Banks model for 15) and it shows in thoughtful design and solid construction. They recommend their popular Banks boot for flatter walks and hut-to-hut hikes, and we would have to agree – on test we found them waterproof enough to wear in the mercurial British winter, but breathable enough to keep you cool on longer trail days.
Vibram soles with well-placed lugs make these boots reliable even on wet, uneven trails, and thick, mesh-lined ankle padding keeps your foot in place as you stride along. We like that three widths are available – the narrow version of the Banks is ideal if you find most models too roomy.
You'll barely feel these fantastically lightweight boots on your feet – at just 310g per boot, the LIMs (which fittingly stands for Less is More) are a world away from clunky traditional walking boots. Despite that barely-there feel, these boots are still waterproof enough to withstand a sudden rain shower, but where they really excel is on warm, dry, summer days, especially if you're planning on covering long distances – the soles are grippy enough to be reliable on established hill and country routes, and thick enough so that you won't feel the ground under your feet.
That said, these lighter numbers wouldn't offer you enough support on scrambles or off the beaten path. The light weight and flexibility of the LIMs make them easy to pack for international travels or backpacking. If you already own a workhorse leather boot and want something freeing and light for the summer, these are a great pick. We're not sure about the salmon pink colourway, but the tan and black versions are very smart-looking.
Decathlon's hiking boots offer some of the best value for money around, and these no-nonsense boots are our top pick from their women's walking boot range. The Forclaz Trek 100 has a built-in waterproof membrane that we found offered enough protection from steady rain on shorter hikes or dog walks, and the good-looking leather outer material punches above its price point when it comes to suppleness and comfort. A padded neck offers a nice sock-like fit around the ankles, and the soles offer good enough grip to see you through walks on flatter terrain in fair or foul weather.
The Forclaz Trek 100 isn't the most breathable boot we tested, and your feet would definitely overheat on a blazing summer's day, but they offer great bang for buck for cooler weather adventures – a good casual boot to choose for beginner hillwalkers, or if you already own a more technical mountain-bound boot and want something less technical for more regular trail use.
Danner's boots have accrued a hipster fan club for their beautiful looks and their starring role in the 2014 film Wild – but there's plenty of substance as well as style packed into these all-American boots. Our favourite model is the Jag, which is a great marriage of fabric and leather. The Jags are pleasingly lightweight at 411g, and a waterproof liner proved weatherproof and breathable enough to work brilliantly in spring, summer and autumn when we tested them in the wild.
The Jag's cushioning insoles and light, flexible outer soles are comfortable underfoot, but don't offer enough grip to deal with rocks, roots and scrambles – these boots will only excel on country lanes and easier routes in the hills. Some reviewers have found Danner's sizing off-kilter, so it could be worth trying on a few sizes around your usual fit. Those handsome retro looks make these boots versatile enough to wear in town as well as in the country, which goes further to justify the stiffer price tag.
The sheer amount of choice on offer when you're shopping for women's walking boots can be overwhelming, but you can't go wrong with Brasher's classic favourite, the Country Walker. Unsurprisingly perfect for country walks (clue in the name), this suede boot ticks all our boxes for autumn and winter rambles: it's warm, waterproof and sticks to wet trails like glue thanks to Vibram soles. We really rate the Country Walker's slim-fitting high ankle, which laces up to feel reassuringly solid and sturdy.
These are the heaviest boots we tested, and might start to weigh you down after ten miles or so – but for laid-back countryside strolls on crisp autumn days, you won't find a better companion, and you definitely won't get cold toes thanks to plentiful insulation. The Country Walkers also look rather fetching, in a warm brown suede, but be warned – you'll need to clean them regularly if you venture onto muddy trails.
The Zodiac is that holy grail - a tall trail boot that doesn't come with the weight or lack of flexibility of a more mountain-focused design. Lightweight and athletic enough to go trekking and backpacking – but waterproof and sturdy enough to inspire confidence on the mountains, scrambling or even on Via Ferrata routes – this is a brilliant boot to invest in if you want a great hiking boot to progress higher into the hills with.
Scarpa's 'sock fit' technology makes the boot fit snugly to your foot with no bunching around the tongue, and the supple suede outer is tough but still flexible, and moulds nicely to your foot. Our tried-and-trusted combo of Gore-Tex's breathable and waterproof membrane coupled with reliably sticky Vibram soles means you can hike confidently on varied trails and hold your own on wet, slippy surfaces. If you're getting serious about your walking adventures, these are worth the spend.
Aku's Trekker Pro stands out for its wonderfully stability underfoot – if you have weaker ankles or tend to lose balance when the trail starts to tire you out, these boots will give you a supported feeling even when you're testing yourself and covering big distances. That said, there isn't tons of padding around the ankle – if you're used to more cushioning, you may want to pair these boots with thicker socks. That same lack of warm padding means these boots are best worn from spring to autumn.
At almost £200 you'd expect great build quality, so it's no surprise that deep-lugged Vibram soles and Gore-tex waterproofing are both built in to keep your feet dry (so dry that we successfully forded a river in the Trekker Pros) and squarely on the ground. We like the wide rubber toe rand and the thicker shock-absorbing heel, ideal for taking the boots further into rough, rocky terrain.
Choosing the best women's walking boots for you
There's a huge selection of women's walking boots on the market, and the sheer range can be bewildering, but the following considerations should help you make the best selection of the best women's hiking boots for the adventures you intend to go on.
Leather or fabric?
The first decision to make when choosing from our list of the best women's walking boots is whether you want to plump for leather or fabric boots. Leather is warm, long-lasting and naturally waterproof, while fabric boots tend to be lighter and more breathable. Insulated leather is better for winter use, and breathable fabric performs best in warmer weather – so if you can afford to, it's a good idea to own a pair of each, so that you can tackle hikes in all seasons. Stiff leather boots have traditionally required some breaking in, although these days many leather boots feel comfortable right out of the box. Lightweight fabric boots are definitely more comfortable to wear, though, and can feel as light and comfy as your favourite trainers. Leather boots tend to require more care to avoid them cracking or splitting, but if you look after them, they should last you for years.
Waterproofing
If you're going adventuring in all kinds of weather, you're going to need boots that can reliably withstand the elements. Look for hiking boots that are branded as fully waterproof (rather than just 'water-resistant'). Waterproof boots use a membrane that lets sweat out, so your feet can breathe, but blocks water getting in. Some boots use branded or own-brand waterproofing technology – Gore-Tex is one of the best known (and best performing). If your boots start to lose their waterproofness, you can re-waterproof them with a product such as Nikwax.
Breathability
You're likely to be covering many miles in your best women's hiking boots, so they need to be as breathable as possible to stop your feet overheating. Look for a pair with a built-in breathable membrane, and if you want to wear your boots on backpacking adventures in warm climates or for summer trekking trips, pick a lightweight fabric pair.
Soles
The soles of your new hiking boots are one of the hardest-working components, so pick sturdy ones that offer good grip. Good soles should be tough and grippy, even on slippy surfaces, but still lightweight and bouncy enough to feel comfortable when you're walking over long distances. Many bootmakers use branded soles – if in doubt, hardwearing Vibram soles are always a good choice. Look for deep 'lugs' (the indentations on the bottom of your boot's soles) – these indicate that the boots give good grip.
Fit
It's important to make sure your hiking boots fit perfectly – there's nothing worse than getting blisters halfway through a trek you've been looking forward to tackling. Try on boots while wearing thick hiking socks, and check that they feel snug but without any rubbing or tight points anywhere, especially around the toes and heel. There should be plenty of room for your toes to flex, but when laced up, your feet shouldn't slip around within the boot. If you have wide feet or suffer from bunions, it's a good idea to look for models that are designed specifically for your feet.
All the latest inspiration, tips and guides to help you plan your next Advnture!
Thank you for signing up to Advnture. You will receive a verification email shortly.
There was a problem. Please refresh the page and try again.