Glamping vs camping: which is right for you?
We take on the heated debate of glamping vs camping to help you decide between a luxury escape and a rustic retreat into the woods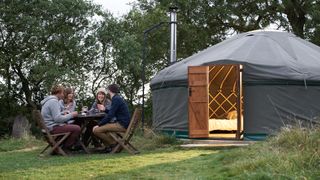 (Image credit: Mike Harrington)
In recent years, a new experience of sleeping wild has emerged called glamping, and while it's captured the imagination of many people who had never previously dreamed of camping, it's got hardcore traditional campers all riled up. So is one really better than the other? We might not be able to answer that question, but we take on the heated debate of glamping vs camping to help you pick the best one for you.
Glamping vs camping: what are they?
Camping, as you no doubt know, is the activity of spending the night outdoors, traditionally in a tent. Camping can take the form of car camping, where you drive into a campsite with all your gear, or backpacking, where you carry it in your backpack. Camping has also expanded to include cabin, van and RV camping and even glamping, as we explain in our article on the different types of camping. But when we say camping, we're generally speaking about traditional camping, AKA roughing it a little. Sleeping on the ground, cooking all your own meals and getting back to nature – that sort of thing.
In contrast, glamping, or glamorous camping, takes all the hard work out of camping. In place of a rustic retreat into the woods, glamping offers a luxury escape from urban life, where you sleep in heated pods, yurts or permanent tents and enjoy facilities like real beds, a proper kitchen and perhaps even a yoga studio. Camping diehards wouldn't be caught dead glamping, but many people quiver at the thought of sleeping on the cold, hard ground and much prefer the idea of a warm pod. So which of these two is for you? Let's pit the two against each other when it comes to criteria like cost, effort, amenities and accessibility and help you decide.
Glamping vs camping: cost
If you want to get down to brass tacks, you're definitely going to spend more on a glamping trip than camping. The nightly price for glamping runs the gamut from comparable to a roadside motel to hundreds of dollars a night, whereas the most expensive campground is only likely to run you about $20 a night and your additional costs will be limited to gear purchase, the fuel it takes you get there and the food you buy. If you're on a tight budget, you can camp on BLM land in the US or go wild camping in the UK to bring your costs down even more.
Glamping vs camping: effort
Why pay hundreds of dollars a night for glamping, you ask? Well, in short, because when you arrive, just about everything is done for you. There's no need to pitch your tent, blow up your sleeping pad or fire up the camping stove at dinner time. Instead, arrive to find camp all set up, drop your bags and enjoy a steady supply of warm beverages at your command and a dinner bell to summon you to your meals to help you sustain that dreamlike state that comes with being pampered and having zero responsibilities.
Camping, on the other hand, is hard work. You need to set up your tent and cook all your meals and you might even find yourself chopping firewood if you want to stay warm. Plus, if you're backpacking, you'll be carrying all of your gear each day on your back. No sherpas here, folks.
Glamping vs camping: comfort and amenities
These two criteria can't really be separated. Glamping will come with most or all of the amenities you might expect from a hotel: heated tents or yurts, you might have a real bed and you'll definitely have running water meaning lovely, warm showers. All of this means that you'll be nearly as comfortable as you are in your own home.
Wild camping has no amenities whatsoever, while car camping in a developed campground might come with some bathroom facilities that may or may not include running water. Regardless, there won't be a bed or a heated tent and you'll be sleeping on the hard ground so any comfort you derive will need to come from you getting the best tent and sleep system possible.
Glamping vs camping: accessibility
On the face of it, glamping seems more accessible than camping because it doesn't require you to own or operate any technical gear, and even those who don't have any experience with camping can confidently get outdoors with glamping. You can also argue that glamping is more accessible year-round, thanks to the heated tents, though there are lots of great tents and sleeping bags meant for winter these days. But of course, you have to be able to afford glamping in the first place which definitely excludes anyone on a budget.
Camping, on the other hand, does require that you rent or buy gear and you do need to learn how to use it, plus some outdoor safety skills lessons will go a long way, but in terms of travelling, it's about the cheapest method of exploring you can find, so from a financial aspect, it's more accessible.
Swipe to scroll horizontally
Glamping vs camping

| Header Cell - Column 0 | Glamping | Camping |
| --- | --- | --- |
| Cost | Runs the gamut from comparable to a roadside motel to hundreds of dollars a night | The most expensive campground is only likely to run you about $20 a night plus gear, fuel and food |
| Effort | Everything is done for you | You do everything from tent set up to chopping firewood |
| Comfort and amenities | Running water, heated tents and maybe even a real bed | Sleeping on the ground, often no running water and no heat |
| Accessibility | No skills required but you need to be able to afford it to access it | Gear and skills required, but much more affordable |
Glamping vs camping: the verdict
So, what will it be? Do you want to dip your toes into the wild without giving up the luxuries you're so fond of, or do you want to get your hands in the dirt and get back to basics? Only you can decide, but in our opinion, you don't necessarily have to. Camping is always there for you when you want to get away from it all or if you're on a budget, but if you're nervous about doing it for the first time, glamping is a terrific introduction to retreating into nature.
Speaking of retreats, if you're going with a larger group, glamping might take a lot of the pressure off you and allow people of all experience levels to relax, and is definitely more unique than staying in a hotel. Meanwhile, camping certainly offers you more versatility in where you go and you might feel more connected to nature. Ultimately, you can decide based on the situation, and we're certain you'll have an amazing experience round the campfire either way.
All the latest inspiration, tips and guides to help you plan your next Advnture!
Julia Clarke is a staff writer for Advnture.com and the author of the book Restorative Yoga for Beginners. She loves to explore mountains on foot, bike, skis and belay and then recover on the the yoga mat. Julia graduated with a degree in journalism in 2004 and spent eight years working as a radio presenter in Kansas City, Vermont, Boston and New York City before discovering the joys of the Rocky Mountains. She then detoured west to Colorado and enjoyed 11 years teaching yoga in Vail before returning to her hometown of Glasgow, Scotland in 2020 to focus on family and writing.