Gloves vs mittens: which is best for winter sports?
By Julia Clarke published
We throw down the gauntlet on the issue of gloves vs mittens to help you decide which is best for your cold weather adventures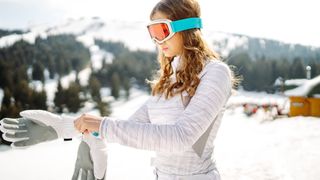 (Image credit: bojanstory)
Are you in love with gloves? Or smitten with mittens? We throw down the gauntlet on the long raging debate over gloves vs mittens to help you decide which is best for you. After all, once you've chosen a winter sport to keep you adventuring through the colder months, it's time to set yourself up for success with the best gear. No matter whether you're snowshoeing uphill or skiing downhill, you of course want to make sure your hands are warm, protected and can handle your equipment.
Gloves vs mittens: which is best for winter sports?
As the saying goes, there's no such thing as bad weather, only the wrong clothing, and cold hands can really make the difference between a memorable powder day and a painful experience you'd sooner forget. A good pair of hand warmers is a worthy investment and will make sure you can focus on the spectacular scenery around you instead of blowing on your frozen fingers. But do you go with gloves or mittens? The choice largely comes down to what you plan to do in them, however there are three main factors to consider when it comes to gloves vs mittens.
Gloves vs mittens: Dexterity
The principal argument for choosing gloves over mittens is that they offer more dexterity by separating your fingers. This is important if you're picking a winter sport where you'll need to handle your gear frequently, such as the fastenings on your back country boots and bindings, cross country ski poles and GPS devices. In any of these scenarios, it could be annoying to have to keep pulling your mittens off and in sub-zero temperatures, potentially dangerous. Needless to say, the thinner the glove, the better the dexterity.
All that said, if you're resort skiing or snowboarding and the most you need your hands for is pulling the bar down on the chairlift, or snowshoeing and mostly just handling your poles for balance, then a pair of mittens will work just fine.
Gloves vs mittens: Warmth
What you gain in dexterity in a pair of gloves, you sacrifice a little when it comes to warmth. Because your fingers are touching inside your mittens, they are able to generate and retain more heat than when they're separated by glove fingers. Mittens then are a better choice if you have poor circulation, or for very cold resort days when you don't need a lot of dexterity. But again, if you're engaging in an activity where you're really working up a sweat anyway, like skate skiing, then mittens may be too warm.
Gloves vs mittens: Touch screen capability
Though this is of less concern than dexterity and warmth, it's possible that you're looking for something that doesn't need to come off each time to want to access your phone for GPS navigation, using your favorite route finding app or snapping the perfect pic. Lots of winter gloves and mittens are being made with touch screen capacity now, meaning pads on the fingertips that your phone screen can detect. These come in varying degrees of effectiveness, but as you might expect, it's much easier to swipe and tap in gloves than it is in mittens, so if you want to use your phone, gloves are your best bet.
The 3-in-1 glove and mitten
If you're still not sure which to choose, there's actually a third possibility, known as the 3-in-1 glove and mitten. This is a versatile glove and mitten hybrid which you can wear as a glove with the mitten option tucked away into a small pocket or vice versa, or wear the gloves as the under layer with the mitten pulled over the top for optimum warmth.
Gloves vs mittens: the verdict
As is so often the case when it comes to long-running debates, your choice might simply come down to personal preference. Whichever option you choose, you'll want to make sure it fits properly, leaving about 1/4 inch at the end of your fingers, and has the best insulation, waterproofing and durability for the activities you plan to use it for. If you're gearing up for cold weather walks, make sure to read our article on how to dress for winter hiking so you stay warm from head to toe.
Julia Clarke is a staff writer for Adventure.com. She is an author, mountain enthusiast and yoga teacher who loves heading uphill on foot, ski, bike and belay. She recently returned to her hometown of Glasgow, Scotland after 20 years living in the USA, 11 of which were spent in the rocky mountains of Vail, Colorado where she owned a boutique yoga studio and explored the west's famous peaks and rivers. She is a champion for enjoying the outdoors sustainably as well as maintaining balance through rest and meditation, which she explores in her book Restorative Yoga for Beginners, a beginner's path to healing with deep relaxation. She enjoys writing about the outdoors, yoga, wellness and travel. In her previous lives, she has also been a radio presenter, music promoter, university teacher and winemaker.
All the latest inspiration, tips and guides to help you plan your next Advnture!
Thank you for signing up to Advnture. You will receive a verification email shortly.
There was a problem. Please refresh the page and try again.