Snowshoeing for beginners: a first-timer's guide to hiking in the snow
By Julia Clarke
Enjoy the beauty of winter with our tips for snowshoeing for beginners, from the benefits of snowshoeing to how to get started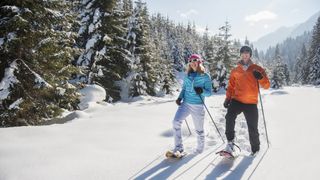 (Image credit: Westend61)
Snowshoeing is a bit like having an all-access pass to the backcountry in winter, and it doesn't require a lot of expensive equipment or expertise. Our guide to snowshoeing for beginners covers the benefits of snowshoeing, how to pick the right snowshoes and some basic techniques for getting started when the trails are covered with the white stuff.
What is snowshoeing?
Snowshoeing is simply a means to hike or walk in the snow. If you've ever tried hiking through deep snow, you'll be familiar with 'post holing' – the alarming and frustrating vertical plunge your foot takes down into the snow, leaving you struggling to get out. It makes for a pretty miserable hike, but a pair of snowshoes is all you need to have a good time in the snow.
Snowshoes are a type of footwear that you attach to your feet over your hiking boots that feature a wide frame with netting which helps to distribute your weight over a larger area, reducing the pressure applied by your bodyweight, and allowing for 'flotation' on the snow. Snowshoes have been used by humans for many centuries, and were essential for fur traders and trappers living in areas with lots of snow. Old school snowshoes rather resembled tennis rackets and it's hard to think that walking in them wouldn't have been burdensome at best.
Today's snowshoes are designed for sport and are based on those pioneered in the early 1970s for mountaineers. As technology has advanced, snowshoes have become lighter, smaller and more durable. Today's snowshoes feature an aluminium frame with neoprene netting and usually have a toe crampon that you can dig into the snow on your way uphill to help you climb.
Who can enjoy snowshoeing?
It's not unfair to say that many winter sports, like skiing and snowboarding, are rather exclusive to able-bodied people with the means to buy or rent gear and afford a lift pass, whereas snowshoeing is a relatively democratic and accessible activity, according to Andreas Threimer, a representative for Tubbs snowshoes which has been making snowshoes since 1906.
"Snowshoeing is for everybody! This is the beauty – anybody can do it. No matter what age, no matter how fit or sporty you are, everybody can experience being outside, being in nature, a group experience or just by yourself – all is possible! The amount of adventure you want to experience is just up to you."
What are the benefits of snowshoeing?
Like hiking, snowshoeing is a superb form of low impact physical exercise, giving you a great cardiovascular workout, strengthening your legs and burning calories. It's a great activity for keeping your hiking season going year-round, so you don't feel like you're starting over again each spring, and it makes a good alternative to other snow sports like skiing which require more equipment, training and often the expense of accessing skiable terrain. Snowshoeing is the perfect activity for beginners to snow sports and certainly one of the more affordable options for having fun in winter.
What gear do you need for snowshoeing?
You'll essentially wear what you would for any winter hike, with layers of moisture-wicking materials and the typical items to keep your extremities warm like wool socks, gloves and hat. In addition, you'll need the following:
What is the best snowshoe for beginners?
The best approach is probably to rent some snowshoes and poles before you buy. This way you can get a feel for whether or not you like snowshoeing, and you can find the style you like best.
You'll want to find snowshoes suitable for the terrain you plan to trek on – some are made for flat terrain while others are intended for uphill use, and if you're planning on snowshoeing in deep powder then the wider the better. You'll also want to check the maximum load of your snowshoes to make sure they can hold up under the weight of you plus your backpack.
Where can you go snowshoeing?
You can go snowshoeing anywhere with snow, really. You can snowshoe on a flat trail through a forest or up a hill or mountain. Any trail you would hike in the summer, most ski resorts, state parks, national forests and cross country ski trails all offer terrain good for a snowy adventure.
Is there a technique for snowshoeing?
While, like hiking, snowshoeing does essentially involve putting one foot in front of the other, there is some technique to it. First, Threimer advises not to try too hard:
"Try to walk your natural way. Most likely you will step onto the snowshoes when you first try it. Make sure your feet are slightly wider. Do not lift your feet too much and try to "pull" the snowshoes."
Further, on the way uphill, you'll want to lead with your toe to use the crampon – dig it in, plant your poles and up you go. On the way downhill, you'll want to plant your poles a bit in front of you and lead with your heels. In deep powder, the effect is like weightlessly gliding across the surface and very enjoyable.
Julia Clarke is a staff writer for Adventure.com. She is an author, mountain enthusiast and yoga teacher who loves heading uphill on foot, ski, bike and belay. She recently returned to her hometown of Glasgow, Scotland after 20 years living in the USA, 11 of which were spent in the rocky mountains of Vail, Colorado where she owned a boutique yoga studio and explored the west's famous peaks and rivers. She is a champion for enjoying the outdoors sustainably as well as maintaining balance through rest and meditation, which she explores in her book Restorative Yoga for Beginners, a beginner's path to healing with deep relaxation. She enjoys writing about the outdoors, yoga, wellness and travel. In her previous lives, she has also been a radio presenter, music promoter, university teacher and winemaker.
All the latest inspiration, tips and guides to help you plan your next Advnture!
Thank you for signing up to Advnture. You will receive a verification email shortly.
There was a problem. Please refresh the page and try again.