What are winter sports? 8 ways to adventure in snowy months
What are winter sports? We take a look at some of the various ways to take advantage of the challenging cold weather conditions and keep you outdoors year-round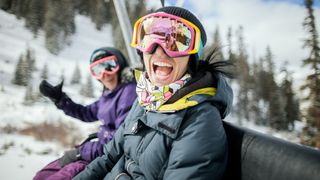 (Image credit: Daniel Milchev)
It goes without saying that many of us get our first taste of the outdoors during the summer months, when the weather is fine and the trails are dry. But what happens when the outdoor bug has well and truly bitten you and winter rolls around? If simulating hiking on a stairmaster at the gym isn't your thing, there are an increasing number of winter sports that take advantage of the challenging cold weather conditions and can keep you outdoors year-round. So what are winter sports? Here, we take a look at some of the best ways to enjoy the outdoors once summer ends.
What are winter sports?
The Winter Olympics now lists 15 winter sports, from bobsledding and luging to figure skating and ski jumping. Oh and let's not forget the biathlon event, which involves target shooting while you're cross country skiing. On the surface, winter sports seem a bit on the extreme side compared to summer's hiking and trail running, and you wouldn't be alone in feeling a bit intimidated.
While it's true that winter sports generally involve more gear and therefore, more expertise and expense, they're not all geared towards adrenaline junkies. In fact, winter sports really run the gamut in terms of commitment and accessibility and once you get comfortable, they can honestly be a lot of fun. So let's take a look at some of the best winter sports for you to try this cold season.
Skiing
We'll start with the most obvious winter sport, skiing. Gliding across the snow on two planks can be used for recreation, transport and sport. There's evidence that humans have been using skis to get around for thousands of years, but it only became a recreational sport in the 18th century and today, North America alone has over 800 ski resorts drawing people from all over the world.
Though skiing generally conjures up images of snazzily dressed pros racing down the slopes in Aspen, there are actually lots of different types of skiing that can suit different needs and abilities. Prefer to climb a mountain rather than take a lift? Try Alpine Touring, where you put skins on your skis and ski uphill, then remove them and enjoy one long, exhilarating downhill. Would you rather glide through rolling hills in the countryside? Cross country skiing is definitely for you.
Snowboarding
Snowboarding emerged in the 1960s and is another way to travel downhill, only this time both feet are strapped into one, wider plank. The result is not unlike surfing or skateboarding, and makes a good winter sport for anyone who enjoys those activities.
Though snowboarders and skiers generally share the same terrain, they don't often see eye to eye, and each camp generally thinks their sport is superior. Where skiing is easier to learn but harder to get good at, snowboarding is more difficult to pick up (and often involves some painful falls) but easier to improve at once you've got the basics down. There aren't as many different variations of snowboarding as there are of skiing, but there are different techniques like carving, where you only use your edge, and lots of tricks in the terrain park on the half pipe. There are even splitboards made for skiing uphill then riding downhill in the backcountry.
Both skiing and snowboarding require a lot of gear and carry quite a bit of injury risk, but are great for improving your balance and concentration, strengthening your legs and core and boosting your mood.
Snowshoeing
If you're really not seeking the adrenaline rush of downhill skiing or snowboarding but love the idea of slow travel through a snowy alpine environment, snowshoeing might be the perfect alternative. Unlike skiing and snowboarding, snowshoeing doesn't involve a lot of equipment or speed. In fact, snowshoeing is really just a means to keep your hiking season going even in deep snow.
Snowshoeing is done in deeper snow rather than hardpack and involves attaching snowshoes to your feet over your hiking boots. Snowshoes feature a wide frame with netting which helps to distribute your weight over a larger area, reducing the pressure applied by your bodyweight, and allowing for 'flotation' on the snow. Snowshoes have been used by humans for many centuries, and were essential for fur traders and trappers living in areas with lots of snow.
Once you've got your snowshoes on and are dressed for winter hiking, you can grab your poles and head off on any snow covered trail, steep or mellow, and hike for as long as you like without sinking in.
Fat biking
Fat biking is a relative newcomer to the winter sports arena, exploding onto the scene just a few years ago as avid cyclists sought a way to keep training through the snowy months. Say goodbye to the days that your bike gets packed away in the garage come October and get yourself some fat tires. Kind of like how snowshoes distribute your weight over a wider base, big fat bicycle tires let you glide over snow instead of sinking in.
Fat bike tires can be up to five inches wide and allow you to explore snow-covered mountain biking trails that are usually off limits for half the year. That said, don't expect this to be easy. Fat biking is notoriously hard work although proponents argue the recovery is faster because it's not weight-bearing.
Ice climbing
If you're already a fan of rock climbing, you don't necessarily need to head to the desert to get your winter fix. Ice climbing involves similar gear in terms of ropes and harnesses, but you'll be ascending ice features such as frozen waterfalls and icy cliffs using gear like crampons and ice axes. It can be broadly divided into two categories: alpine ice climbing, where you will be in a mountain environment and may be attempting to cross a glacier or reach a summit, and water ice climbing, where you will be climbing a frozen body of water flow like a waterfall under a cliff.
Ice climbing, particularly water ice climbing, requires a lot of technical gear and skill and is generally a high risk, but exhilarating, pursuit. It definitely works all the same leg, core and upper body muscles as rock climbing and is a great way to stay in shape for the summer season.
Skijoring
If you're a dog owner and not really looking to get too out of puff, Skijoring may be for you. Skijoring, meaning "ski driving," is another recent import from Norway and entails being pulled along on skis by either a horse or a dog. In states that embrace winter sports like Colorado, Minnesota and Vermont, seeing a person being pulled cross country by their dog is becoming an increasingly common sight. While most winter sports aren't particularly dog-friendly, either because ski resorts aren't open to four-legged friends or you run the risk of running over your dog, skijoring is a winter sport you can enjoy with your canine companions.
If you happen to be the owner of a large, or two medium-sized dogs, all you need is cross country ski gear, harnesses for your pups and a rope to connect you to them and then you can let them do most of the work. Needless to say, dogs that like to pull such as huskies will be happier in this role, and you'll want to make sure your dog responds well to voice commands. Skijoring is great exercise for your dogs and a fun way for you to enjoy some fresh air.
Ice skating
Ice skating – gliding across a smooth, ice surface wearing boots with sharp blades – is believed to have begun in Finland some 4,000 years ago as a means to make it easier to cross country in winter. Today, you might associate it with Christmas at Rockefeller Center and while it's true that it's a winter sport you can enjoy in an urban setting, it can also be done on frozen lakes and ponds in the backcountry – you just want to be sure the ice is thick enough.
All you really need for ice skating is a pair of blades on your feet and while experts prove it can be extremely vigorous and skillful, you can just as easily cruise around with very little effort once you learn how to stay upright. And if you get really good, find some friends and turn it into a game of ice hockey.
Sledding
A winter sport where you sit down on a smooth, flat vehicle and whiz downhill, sledding is another recreational activity that was invented by ancient humans as a means of transportation. Though kids aren't required, if do you have kids, sledding is one of the funnest options when it comes to winter sports and it requires little gear or skill. Get a sled, find a slope and you're in business.
These days, sleds have come a long way from the plastic trays of our youth, some featuring brakes or steering while others are inflatable or designed to hold a whole family. Sledding looks like an incredible wholesome sport but can be a lot more dangerous than it appears. Make sure there's lots of space at the bottom of the slope to come to a full stop as you can pick up a lot of speed, check for dips and obstacles and if you're in a popular sledding area, make sure to leave other groups plenty of space.
Though it's really all about the downhill, you'll get plenty of exercise lugging your sled back up the hill for each turn.
All the latest inspiration, tips and guides to help you plan your next Advnture!
Julia Clarke is a staff writer for Advnture.com and the author of the book Restorative Yoga for Beginners. She loves to explore mountains on foot, bike, skis and belay and then recover on the the yoga mat. Julia graduated with a degree in journalism in 2004 and spent eight years working as a radio presenter in Kansas City, Vermont, Boston and New York City before discovering the joys of the Rocky Mountains. She then detoured west to Colorado and enjoyed 11 years teaching yoga in Vail before returning to her hometown of Glasgow, Scotland in 2020 to focus on family and writing.