The different types of skiing explained: terrain, techniques and gear
By Julia Clarke
Do you want to whiz downhill, glide uphill or skate cross country? Our quick guide to the different types of skiing help you figure out where to start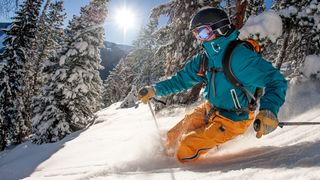 (Image credit: Daniel Milchev)
If you're considering downgrading your time at the gym this winter and making your outdoor adventures last year-round, you might be considering taking up skiing. With so many different types of skiing nowadays, however, it can be hard to know where to begin. We break down the different types of skiing in this article to introduce you to the variety of approaches and gear out there to help you determine which is best for you.
Humans have been using skis to get around for thousands of years, but it became a recreational sport in 18th century Norway and by the 1930s everyone was doing it. Today, North America alone has over 800 ski resorts drawing people from all over the world, and advances in technology have made ski gear highly specialized and efficient, opening up the sport to people of many ages and abilities.
Skiing is a fun, occasional vacation for some, but along with winter sports like snowshoeing, it also opens up a whole world of winter athletics and adventuring. As skiing becomes ever more popular, the sport has diversified, with thrill seekers devising different ways to get uphill, turn downhill and traverse the backcountry. Some types of skiing involve tranquil coasting through quiet, flat forests while others entail the speed racing down steep slopes you probably recall from 1980s ski movies. What all types of skiing have in common is that they require quite a lot of gear and at least some expertise, a bit of research is needed before you dive in.
If you think you're ready to pack the hiking boots away and try on some ski boots, we walk you through some of the most common different types of skiing out there so you can get a feel for what might be your best gateway into the world of skiing. All types of skiing below involve skis, ski boots and bindings that affix the two together, but they differ in terms of binding type, technique and terrain.
Alpine Skiing
Alpine skiing is the first style that comes to mind, even if your skiing experience starts and ends with the movie Hot Dog. It means downhill skiing (yes, there's also uphill skiing – more on that shortly) and involves attaching both the heel and toe of your ski boot to your skis via your bindings, so you'll be securely clipped in. Alpine skiing is primarily practiced at ski resorts where you'll pay for a lift ticket to ride a ski lift or gondola to the top of the mountain, then ski down. You'll be ushered downhill with the aid of gravity so this is usually a faster method of skiing, but you must learn to turn to control your direction and speed, not least because you'll be sharing the ski runs with others.
Telemark Skiing
Telemark skiing is another style of downhill skiing that requires a different binding and a fancier technique. Telemarkers use bindings that only secure the toe end of their boot to the ski, keeping the heel free. This allows them to adopt a different stance, more like a lunge with the downhill ski forward and knees deeply bent, which allows for some fun turns. It is, however, more difficult than regular Alpine skiing and requires more skill and practice. Teleskiing can take place at a ski resort or in the backcountry using skins (see Alpine Touring below).
Nordic Skiing (also known as Cross Country Skiing)
Nordic Skiing and Cross Country Skiing describe the same style of skiing, essentially using your own locomotion to travel across terrain that may be flat or hilly using movements like striding or skating, and often using your poles to help propel you forward. In this type of skiing, your heel is not attached to your bindings to allow freedom of movement. Nordic skiing can be a recreational activity or a form of transportation, and it's harder work than riding a ski lift up and zooming down. Nordic skiing often takes place in the backcountry, but there are Nordic Ski resorts and areas set up especially for this type of skiing.
Skate Skiing
Skate skiing is a technique of Nordic skiing where you point your skis outwards and alternate pushing off one leg and then the other. Imagine ice skating with skis on your feet and you've got the picture. We're including it as its own type of skiing because while Skate Skiing is Nordic Skiing, Nordic Skiing isn't necessarily skate skiing. Skate skiing is a great workout and it can be done anywhere you do Nordic skiing, while there are even special tracks designed just for skate skiing.
Alpine Touring
Usually called AT skiing for short or just referred to as Uphill Skiing or Skinning, these skiers like to earn their turns. To get uphill, you stick felt-like "skins" to the bottom of your skis so you can glide one ski then the other uphill without sliding backwards – make no mistake, this is quite a workout. One the way up, you'll just connect the toe end of your boot to the ski to free your heel and allow you to climb, then at the top, the skins come off and go in your backpack, you click your heel securely into your bindings, and down you whiz. Alpine touring is primarily used as a way to ski mountains in the backcountry that don't have lift access, but there are some ski resorts that allow uphill skiers out of hours.
Julia Clarke is a staff writer for Adventure.com. She is an author, mountain enthusiast and yoga teacher who loves heading uphill on foot, ski, bike and belay. She recently returned to her hometown of Glasgow, Scotland after 20 years living in the USA, 11 of which were spent in the rocky mountains of Vail, Colorado where she owned a boutique yoga studio and explored the west's famous peaks and rivers. She is a champion for enjoying the outdoors sustainably as well as maintaining balance through rest and meditation, which she explores in her book Restorative Yoga for Beginners, a beginner's path to healing with deep relaxation. She enjoys writing about the outdoors, yoga, wellness and travel. In her previous lives, she has also been a radio presenter, music promoter, university teacher and winemaker.
All the latest inspiration, tips and guides to help you plan your next Advnture!
Thank you for signing up to Advnture. You will receive a verification email shortly.
There was a problem. Please refresh the page and try again.