The hiking trail difficulty rating system explained
By Julia Clarke
Understanding the hiking trail difficulty rating system helps you to be confident and prepared on the trail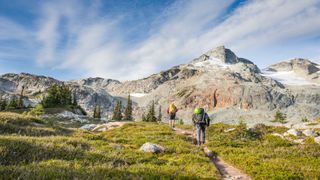 (Image credit: Cavan Images (Getty))
When you're looking up the trail description for your next hike, you will probably notice that in addition to details like trip length and elevation gain, the hike has been assigned a difficulty such as class 1 or 2 which may have left you scratching your head and wondering what, exactly, to expect. Here we take a look at the hiking trail difficulty rating system to help you understand your trail descriptions and make informed decisions about where to hike next.
As with rock climbing, different hiking trails are assigned different levels or grades to help classify their difficulty. Different countries use different systems, and the US and Canada have been using the Yosemite Decimal System since the 1950s. It was devised by the Sierra Club and comprises three parts that rate the difficulty level of walks, hikes and climbs.
The five 'classes' in the Yosemite Decimal System are used to rate both hikes and climbs with Class 1 being easiest and Class 5 being most difficult. Class 5 routes are all rock climbing routes, and these have been further subdivided into 14 smaller classifications, so for our purposes here, we'll just look at the first four classes since these cover hiking trails. These are helpful for you to gauge the difficulty level of the trail you plan to attempt, in addition to understanding what kind of clothing, and gear, is required for a safe and successful hike.
Class 1
These hikes will deliver easy, straightforward hiking, usually on a well-maintained and well-marked trail. You will gain elevation, but you won't require technical equipment to do it. These are accessible for all levels and abilities of hiker, but of course you'll want a good pair of hiking shoes.
Class 2
These hikes will not be as clearly marked. They will be a little more challenging and may take you off trail. You may have to use your hands occasionally for balance and you might encounter snow or talus. Class 2 hiking may have exposure, loose rock and steep scree. You'll definitely want good hiking shoes or boots and a map in case you lose the trail, and you may want trekking poles too.
Class 3
Class 3 hikes will involve some scrambling, or unroped climbing. Expect to use your hands and feet at points on these trails as you navigate steep, rocky or snowy terrain. You'll want confidence, navigation skills and you may even carry a rope for safety here.
Class 4
The most difficult hiking trails will involve steep and dangerous terrain and require upwards and downwards climbing using your hands and feet. You should carry a rope in case you need it because falls can be fatal here. You will probably need ropes, a harness and a helmet here. Anything more difficult than these trails is considered climbing, not hiking.
And there you have it. Next time you're planning a hike, check the class and plan ahead so you can feel confident and prepared on the trail.
Julia Clarke is a staff writer for Adventure.com. She is an author, mountain enthusiast and yoga teacher who loves heading uphill on foot, ski, bike and belay. She recently returned to her hometown of Glasgow, Scotland after 20 years living in the USA, 11 of which were spent in the rocky mountains of Vail, Colorado where she owned a boutique yoga studio and explored the west's famous peaks and rivers. She is a champion for enjoying the outdoors sustainably as well as maintaining balance through rest and meditation, which she explores in her book Restorative Yoga for Beginners, a beginner's path to healing with deep relaxation. She enjoys writing about the outdoors, yoga, wellness and travel. In her previous lives, she has also been a radio presenter, music promoter, university teacher and winemaker.
All the latest inspiration, tips and guides to help you plan your next Advnture!
Thank you for signing up to Advnture. You will receive a verification email shortly.
There was a problem. Please refresh the page and try again.