How I learned to love running: from dreading gym lessons to embracing ultras
Advnture writer Claire Maxted didn't love running at school but became a convert when she got into the mountains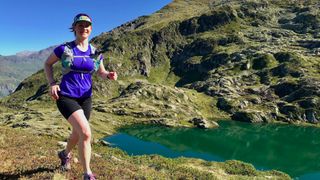 (Image credit: Claire Maxted)
It's an unlikely love story because, like a lot of people, I lived in fear of running at school. Rumors of 'the bleep test' in PE filled me with dread; house cross-country sent butterflies hammering round my stomach and sports day made me want to hide under the duvet and pretend I was sick. I wasn't even terrible at sport – probably pretty average – but I was one of those good kids who hadn't worked out how to evade the teachers so I tended to get roped into what seemed like all the running, especially the 1,500m, which nobody in their right mind wanted to do apart a few sporty types.
Who would have thought someone who hated running with a passion would end up editing a running magazine, writing a book extolling its virtues, doing ultra running and creating a whole YouTube channel about it?
How could anyone love running at school?
I've since worked out the reason why running wasn't fun back then – it was too much like hard work! It was always a competition, the aim being to run as fast as you could without puking, although puking was possibly preferable – you must have tried super hard! And being a ginger person (already a target with a huge fire on your head) my face always went the shade of an actual tomato, but with this weird Hitler mustache of white skin just under my nose. Classy.
Nope, aged 13 onwards, I hated running so much I developed a phobia – I'd get a physical reaction if I so much as thought about breaking into a jog. Panic welling up, heart thumping wildly, breathing speeding up, clammy palms, sweaty armpits, what a palaver! I did a lot of hiking instead, and mountain biking and swimming.
Fighting the flab… and the fear!
Thankfully at university in Manchester no one forced you to run, and there my new friends and I discovered cheap beer and late-night curries. Both were delicious and way more fun than running, but I noticed a bit of a gut forming. I knew running was the quickest form of exercise to burn the most calories, and I also really wanted to get into triathlons and adventure races, so I decided to tackle my phobia head on.
Like gradual exposure treatments for arachnophobia, I reasoned the more I just 'went for a little run' the less of a big deal it would be. So during uni and then at my first job at Trail – the hiking magazine I ran off and on for years – I did the Great Eastern Half Marathon and joined a running club with a friend, but running never seemed to get easier! I still thought the only way to run was as fast as you could until your legs and lungs were screaming at you to stop. I still dreaded running, but at least it was on my terms.
The lure of the mountain slopes
The real breakthrough came when I discovered I could merge my passion for hill-walking with running and signed up for a 15k race by the Lakeland Trails in the Lake District. I had always run through the woods and on the grass rather than pavements, but here I was running through beautiful mountains! The course from Coniston was rocky, grassy and muddy, with gasp-worthy views of Coniston Old Man and the surrounding jagged peaks.
At times it was too steep to run, and everyone walked. Here, finally was a type of running I could get on board with – fellow racers were chatting, encouraging each other on, admiring the views together and generally reveling in moving their bodies in whatever way they could through this stunning mountainous place. The downhills were a riot – speeding down full pelt, feeling as if I was flying. I definitely wanted more of this.
The rise of trail running
Little did I know, but this was the start of the rise in popularity of a sport called trail running. This bridges the gap between road running and fell running, where you hurl yourself up and down the mountain as quick as you can, not necessarily involving paths. Trail running isn't so extreme and takes place anywhere there are off-road surfaces from urban parks to canal tow paths and mountain tracks.
Back in the office at Trail magazine, plans were afoot from editor Matt Swaine. "You do trail running don't you Claire?" he said, "You can edit this mini-magazine as part of your career development." Yikes, but what an opportunity! The first Trail Running magazine sold so well it turned into a bi-monthly magazine – more yikes! But Matt had taught me well and the mag flourished.
Exciting invites to run or report on trail races all over the world came in thick and fast – the Dodo Xtreme 50k in Mauritius, the Otter Trail in South Africa, the UTMB in France, the Icebug Xperience in Sweden, Transvulcania in La Palma, the Manx Mountain Marathon 50k in the Isle of Man, the Dead Sea Marathon in Israel and the six-day Coastal Challenge in Costa Rica.
Stepping up to ultra running (it's all in the mind)
Trail running and racing is a wonderful way to see the world, meet interesting people and challenge yourself at the level you most enjoy. I loved the events abroad, but perhaps my proudest moments have been here in the UK: doing my first ultra, the Tour de Helvellyn, in 2012; giving my all to complete the Bob Graham Round in 26.5 hours in 2013; and really enjoying the three-day Druid's Challenge in 2014.
Since then I've DNF-ed the incredible eight-day Cape Wrath Ultra in 2018 and learned a great deal from it, following it with a fantastically beautiful and sociable 100 mile run around the Isle of Man over six days along the Raad ny Foillan coast path inn 2019, supported and joined by wonderful local runners, which was grand.
This year I'm excited to be getting back into ultra running after Covid and having a baby, and having decided to think of ultra running as ultra hiking (honestly, how you think about ultras makes them more manageable) , it all seems even more doable now. I love trail running especially because there's a real culture of having fun and a sense of freedom and adventure. Nothing makes me happier than discovering a new trail and running along it, wind in my bright red face and breathing in the fresh countryside air. No dread, no butterflies, just pure and simple bliss.
All the latest inspiration, tips and guides to help you plan your next Advnture!
The co-founder and former editor of Trail Running magazine, Claire now runs the YouTube channel Wild Ginger Running, creating films packed with trail- and ultra-running content. An award-winning journalist, writing for outdoor and adventure sports magazines and websites, her first book The Ultimate Guide to Trail Running 5k to 50k is out in January 2021. Claire also speaks and presents at events and races.