What is fell running? An introductory guide
Ever wondered "what is fell running"? Our resident running coach explains all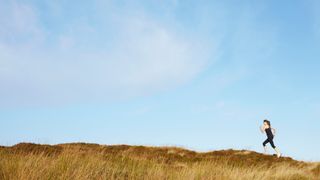 (Image credit: Getty)
Trail running is a sport that's becoming ever more popular across the world, and most people have a good understanding of what it entails, but what is fell running? Is it the same thing? Or is it harder? Do you need special equipment, fitness or skills, or is it simply a different name for trail running in a certain conditions or locations?
Let's start with a teaser: fell running is, in short, a specialised variant of trail running that is a little bit dirtier, a little bit gnarlier, and something that all lovers of outdoor running ought to try.
But before you go getting your best trail running shoes and best trail running socks ready, let us take you through the ins and outs of the the fell running experience to help you decide if it's for you.
What is fell running?: a short history
The term 'fell' is a northern English word meaning 'hill' or 'mountain', and fell running is a pursuit that's particularly associated with this region, which is also known for its hardy farmers and shepherds.
As a result of being on their feet all day – climbing and descending the steep, wet, rough and often pathless hillsides that dominate the local landscape in places such as the Lake District – the shepherds in these areas developed high levels of strength, fitness and endurance. Their work also required them to be able to safely navigate the hills, often in poor visibility.
In the 1800s, summer games were held and shepherds would compete against each other in foot races across the fells in order to prove who was the best. Those races led to the sport of fell running. Today the sport is open to anyone, and races are held anywhere that has hilly terrain, although the Lake District is still the traditional home of Fell Racing, with numerous races throughout the year.
So, in terminology at least, 'fell running' is particular to England, whereas in Wales, Scotland and Ireland the same pursuit is commonly called hill running. However, there is a distinct culture around fell running, which can be applied to running challenges and experiences elsewhere.
Trail running versus fell running
Trail running and fell running share several similarities in that they both take place off road, sometimes in upland or mountainous areas, and usually over rough ground. The main difference is that trail running is usually on well-worn paths – i.e. trails. In trail races the route will typically be indicated with arrows and way-markers, and the runner simply needs to look out for and follow these.
Fell running on the other hand, often takes the participant out over areas of upland without any paths, and race routes are usually unmarked – meaning that the runner has to know how to read a map and how to use a compass, and/or use local knowledge and intuition. In addition, many trail races will follow low-level routes, whereas fell races always visit the summits.
Trail running is widely popular right across the world, with big races attracting sponsored athletes and offering good prize money. In the UK, even if you win the most prestigious fell race, you'll probably take home a gift voucher from a local running shop, or a bottle of wine. Fell running is very much an amateur sport and runners certainly don't take part for the prizes (at one race, I once won a bottle of shampoo!) or a T-shirt (there won't be one). Equally, though, entry fees to fell running events are usually tiny – comparable to the price of a cup of tea or perhaps a pint of beer, just to cover admin – whereas you usually have to pay big bucks to enter a trail race.
How hard is fell running?
If you are simply going for a run in the fells, and choosing your own route, then it is as hard as you decide to make it. Actual fell races, though, are classified according to their height gain and distance. At the extreme end there are long races ascending several thousand feet that even the winner will take over three hours to complete. However, at the other end of the scale there are short races of only four or five miles that might take runners up to the top of the local hill and back. These often take place on summer evenings, sometimes from a local country pub and are very low key and friendly.
Although these races are registered with the Fell Runners Association (FRA) they could actually be classed as trail races; there is a certain amount of overlap in terms of difficulty between trail running and fell running.
The low-key nature of fell running makes it accessible to everyone, and you will see a range of ages and abilities – both male and female – at races. What used to be very much a male-dominated sport is becoming more popular with women, led by the likes of Nicky Spinks.
Any skills needed?
If you want to run in the remote mountains than you definitely need to be able to navigate. A seasoned hill walker who is used to being in the mountains in all weathers is much better suited to fell running than a fast road runner. Once you are happy that you won't get lost then you need the ability to cover steep, rough ground with confidence. Even the fittest fell runners walk up some hills so don't worry too much about fitness, however being able to run downhill over rough ground definitely takes practice.
What kit do I need?
Much depends on where you decide to run, the weather conditions and forecast, but depending on how deep the mud is on the day, you are going to need a good pair of mud-running shoes that can cope well with boggy terrain, or some decent trail running shoes.
Obviously running in the mountains is more serious than at lower level – the weather can be colder and wetter and you're further away from help. So even in good weather you should carry the best running jacket your budget will stretch to, a hat, and a pair of gloves. In worse weather or in winter its best to throw on your best base layer, and also to carry an emergency bivvy and headtorch.
If you choose to race, then the FRA stipulate what mandatory kit you need to carry depending on the category of race. This includes waterproofs, map, compass, whistle, hat, gloves and some emergency food. Runners tend to wear bumbags, race vests or backpacks to carry this in.
Some short summer races don't require this amount of kit, so a pair of shorts, a tee shirt and running shoes with a decent grip are all you need. Unlike some other sports the simplicity of the equipment means there is no advantage to be gained from being able to afford better kit. No carbon wheels required here, and as yet they haven't invented a fell running shoe with a carbon plate. Everyone is on an even footing – literally.
How do I start?
There are numerous fell running clubs and even standard running clubs may have a fell running section. Check the Fell Runners Association website to find your nearest and get in touch. Alternatively, just get together with some friends and explore your local area or further afield. Take sensible precautions regarding equipment and route choice and go off and explore. If you want to race you don't have to be a member of a club you can run as unattached'.
Races happen regularly through the year and they are cheap to enter (again check the FRA website for details and look out for a short race which is suitable for beginners). Some summer races are part of larger shows and are very family friendly with junior races and other attractions.
Give it a go
So you don't need a big budget and you don't need to be super fit to start fell running. Just don't be over ambitious at first, start easy and build up your skills. See you on the fells.
All the latest inspiration, tips and guides to help you plan your next Advnture!
An experienced, competitive, fell runner and UK Athletics coach, Dave specialises in fell and mountain running. His personal achievements include winning the 2015 English Fell Running Championships (V50 category) and completing the Bob Graham, Paddy Buckley and Charlie Ramsay Rounds. He has contributed reviews and training articles to magazines including Trail Running, Outdoor Fitness and the Fellrunner magazine. His most embarrassing moment was having a running shoe fall apart completely while high in the Lake District fells.