Great escapes: the least busy National Parks in the United States
Want to enjoy the wilderness without long lines? Find out where fewer folks go with our guide to America's least busy National Parks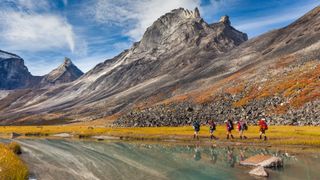 (Image credit: Getty)
The United States' National Parks are prime places to recoup, recharge, revive and, crucially, avoid the crowds. But this year, while their monumental landscapes remain unchanged, some have been particularly beset by crowded parking lots, long lines and over-busy trails.
But the good news is there's still a wealth of less-visited wilderness to explore. NPS Stats, the National Park Service's statistics website, lists the parks which have the most, and also the least, recreational visits.
The latest-available data* reveals that, of the United States' National Parks, the five most visited are:
Less busy parks
Yet the US has 62 officially-designated National Parks, so what about those at the other end of the list? Perhaps predictably the least visited are also the most remote. Of the top 10 quieter US National Parks in 2019, five were in Alaska, while one (the National Park of American Samoa) is outside continental United States.
We take a look at some of the quieter parks – wonderful wild places the more intrepid travelers among you might want to add to your list of adventurous destinations to explore before you die.
#62: Gates of the Arctic, Alaska
Tucked just inside the Arctic Circle, and with no roads, trails or cell phone signal, this is the least-visited park on the entire list. You can book tours with companies such as Quark Expeditions, but unsupported visitors to the Gates of the Arctic National Park need to be proficient in survival skills. The best way to explore the 8.4-million-acre park is via one of six officially designated Wild Rivers that wind through passes gouged out by glaciers. (Note recreational access to the key community of Anaktuvuk Pass was closed in 2020 due to COVID-19.)
#60: Lake Clark, Alaska
Boats and planes are the only ways to get to Lake Clark National Park, a pristine wilderness packed with volcanoes, mountains, sockeye salmon and lakes. It also has world-class bear viewing – sometimes as many as 20 in one place – thanks to all that plentiful fish.
#59: Isle Royale, Michigan
Sheltering just off the north shore of Lake Superior, Isle Royale National Park encompasses an archipelago of hundreds of islands. It's only open from mid-April to October, when the only ways to arrive are by seaplane, ferry or your own boat. Once there, you can explore 165 miles of trails, stay at 36 campgrounds and paddle apparently endless shores.
#58: North Cascades, Washington
It may be less than a 3-hour drive from downtown Seattle, but the North Cascades National Park has more than 300 glaciers and 400 miles of hiking trails, as well as countless lakes, snowfields and climbing routes. It's also home to some 200 species of birds, as well as gray wolf, wolverine and lots and lots of pikas.
#56: Dry Tortugas, Florida
The island city of Key West, at the very southern tip of Florida, is only 70 miles away, but the Dry Tortugas National Park has a magical, hideaway feel. That's partly because you can only get to the 100-sq-mi park by seaplane or boat (including a regular ferry). The islands are small, but there is a camping ground. A fantastic way to explore this park is by sea kayak or SUP. Boats and boards (which can be hired from Key West) need to be booked onto the ferry. Once there, depending on your level of experience, there are short trips around Garden Key to enjoy and longer adventures to islands such as Bush, Long and Loggerhead Keys. As well as highly memorable snorkeling, paddling and camping, you'll also find Fort Jefferson; one of the nation's biggest historic forts.
#53: Great Basin, Nevada
Arid Great Basin National Park is famous for extensive caves, groves of bristlecone pines and the Wheeler Peak Glacier, and there are more than 60 miles of developed hiking trails in the park. It's also home to some spectacular stargazing: Great Basin is an International Dark-Sky Park, which means camping out and gazing skywards on clear, moonless nights, brings memorable sweeps of twinkling constellations and grandstand views of the Milky Way.
#51: Congaree, South Carolina
With vast forests, rich in old-growth bottomland hardwoods, Congaree has some of the tallest trees in the eastern United States. The Congaree and Wateree Rivers flow into a floodplain which forms the perfect environment in which to fish, hike, kayak, canoe and camp.
Explore virtually
Each of the National Park websites listed above features virtual video tours or photo galleries of these remote wildernesses. The National Park Foundation, which supports the National Parks Service, has also compiled a wealth of virtual tours, 360-degree videos and live webcams which take you to the heart of the service's staggeringly diverse wild and historic spaces.
Recreate responsibly
If you're planning to seek out tranquil spaces in person, it's currently particularly important to be prepared. Park authorities and local communities ask us to recreate responsibly. This includes thorough planning, considering local communities, taking all trash home and leaving no trace. It also includes being prepared to follow mandates, rules and requests. These may range from delaying travel, pre-booking accommodation and undertaking low-risk activities, to wearing masks and keeping our distance socially. Which, you could say, if you're planning to get away from it all anyway makes perfect sense.
Please note:
We're focusing on protected places with National Park in their official name (on the website, it's one of the filters under Park Type).
The figures are from 2019 – the service says due to Covid-related park closures more recent data may be delayed.
All the latest inspiration, tips and guides to help you plan your next Advnture!
Sea swimmer, river paddler, hiker, wild camper and climber, Belinda is a guidebook author for Lonely Planet and produces podcasts for Ordnance Survey, for whom she is a GetOutside Champion. Belinda is also a media leader with the youth development charity British Exploring, which has seen her help lead wilderness expeditions to the Himalaya, Iceland and the Canadian Yukon. The latter involved some serious stargazing and northern lights viewing… while keeping a very careful eye out for bears.