Rocky Mountain National Park partially reopens
Two major wildfires that ravaged the park are under control but still not fully contained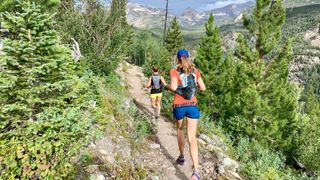 (Image credit: Getty)
With devastating wildfires under control thanks to a combination of firefighting efforts and favourable weather patterns, a portion of Rocky Mountain National Park reopened on November 6 and saw a small surge of traffic in the days that followed.
But several sections of the park, including those on the west side of the Continental Divide near the town of Grand Lake, will remain closed indefinitely due to damage caused by the East Troublesome and Cameron Peak fires. The park, located 75 miles (120km) northwest of Denver, was completely closed on October 22 because of aggressive fire activity.
The 193,000-acre East Troublesome fire raged into the park on October 22 and eventually jumped the Continental Divide and threatened the park's gateway city of Estes Park. The 209,000-acre Cameron Peak Fire – the largest in Colorado history – had previously caused damage in remote, northwestern sections of the park.
But a cold front that brought more than 15 inches of snow arrived just in the nick of time on October 25-26, helping tamp down and suppress the fires. But as of November 9, more than 650 firefighters are still on the scene in and around the park as neither fire is officially out yet. The East Troublesome Fire being reported as 47 percent contained and the Cameron Peak Fire at 92 percent containment. Combined, the two fires burned more than 300 homes and other structures.
Fire officials expect both fires to be fully contained by late November if weather conditions continue to trend colder and snowier.
Approximately 29,000 acres of the 265,000-acre national park were torched by the fires, resulting in damage to many trees, campsites and park structures. A full assessment of the damage will take weeks before a date for a full reopening can be determined, RMNP Public Affairs Officer Kyle Patterson said.
"We'll be able to know and understand more what impact it has had in the park, but we do know it has burned 29,000 acres," Patterson said.
Some roads, parking and trails in the Wild Basin, Longs Peak, Lily Lake, Twin Sisters, Lumpy Ridge areas of the park west of Peak to Peak Highway have reopened, as well as roads in the Fall River entrance up to the Many Parks Curve and the Endovalley Road.
Multiple areas remain closed on the eastern side of the park, as well, including U.S. Highway 36 past the Beaver Meadows Visitor Center to Deer Ridge Junction and Bear Lake Road. Closed trails include the North Boundary Trail, the North Fork Trail, Mummy Pass, Stormy Pass, Commanche Peak, and Mirror Lake Trails.
A line of vehicles waiting to get into the park's Fall River entrance were welcomed by green flashing arrows and "open" signs on November 8.
"It so amazing, I've missed my favorite backyard national park," said park visitor Linda Strauss from Estes Park. "I'm just so impressed with all the crews, all the fire personnel."
Park visitors have been alerted to be aware of smoke, wind, hazardous weather, and ongoing fire conditions while visiting. The reservation system that was put in place at the park over the summer was lifted in October prior to the park-wide shutdown.
Park officials have advised visitors to be aware and respectful of the closures in place.
"I did a short trail run on the trail to Ouzel Falls over the weekend and all seemed normal," said Caitlyn Vickers, who lives near Ward, Colo. "The fires didn't damage that area, but I could smell smoke. It just looked like a typical fall day with some snow and few other hikers or runners."
All the latest inspiration, tips and guides to help you plan your next Advnture!
Brian is an award-winning journalist, photographer and podcaster who has written for Runner's World, The Times, Outside, Men's Journal, Trail Runner, Triathlete and Red Bulletin. He's also the author of several books, including Kicksology: The Hype, Science, Culture and Cool of Running Shoes. He lives in Boulder, Colorado, and loves to run, bike, hike, camp, ski and climb mountains. He has wear-tested more than 1,500 pairs of running shoes, completed four Ironman triathlons, as well as numerous marathons and ultra-distance running races.