Molly Thompson-Smith on smashing stereotypes in climbing
We sit down with Molly Thompson-Smith to discuss the challenges of being a climber of color, coming back from injury and Olympic dreams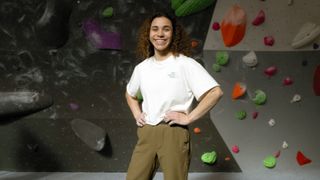 (Image credit: The North Face)
"My ideal climbing world is one where no one thinks, 'oh that's not somewhere I could see myself – no one looks like me,'" muses rock climber Molly Thompson-Smith over Zoom from her home in Sheffield, UK. As a mixed-race woman in a sport dominated by white men, she's had plenty of experience of feeling like an outsider, but instead of shrinking into the shadows, she's risen to the challenge, becoming an absolute climbing powerhouse in a very short space of time.
"I tend to enjoy the more powerful climbs or the ones revolving around finger strength because those are my strengths," she shares. "I like the burly stuff, it's not characteristically girly and I love challenging a stereotype."
Today, she's looking pretty relaxed and happy after a rock climbing trip in sunny Greece from which she just returned the day prior, and with five National Championship titles already under her harness, life seems pretty good for Thompson-Smith – but that's not to say there haven't been some hard-fought battles along the way.
"I was immediately hooked on climbing because it's so addictive."
First and foremost, Thompson-Smith grew up in west London, not exactly known for its easy access to the outdoors, so it's a bit of a miracle she even got into a pair of climbing shoes at all. But being a self-described "competitive, sporty kid," every birthday party she had revolved around a different sport. First there was handball, then at age seven came climbing at the indoor wall down the street from where her parents still live.
"I absolutely loved it. I was that kid that did not care at all about who else was enjoying this party. I just wanted another go."
A year later, aged eight, she joined the club at the Westway Climbing gym and kept going.
"I was immediately hooked on climbing because it's so addictive," she explains. "I love the diversity of climbing. I don't think I've found a sport that ticks all the boxes like it and that's why all the other sports pretty much dropped off the radar when I got to my teens."
"I was constantly worried about my appearance and trying to look like everyone else."
But even though she was skilled, passionate and quickly became good enough to start competing seriously, she soon discovered that the problems on the wall weren't the only ones she'd have to overcome.
"I'd have people touch my hair and say 'wow look how brown you are!' as if they'd never seen someone who wasn't white before," she recalls. "Obviously people come from different cultures and there's less diversity in certain countries, but it was definitely a challenge. I always felt like there was the climbing part to think about and then there was the 'fitting in' part to think about, so I straightened my hair constantly when I was growing up. I was constantly worried about my appearance and trying to look like everyone else."
As the saying goes, you have to see it to be it, and Thompson-Smith simply didn't see other women competing in rock climbing who looked like her. Where others might find this cause in itself to slope off into obscurity or find another sport, Thompson-Smith looked outside of climbing to find role models in athletes such as middle distance runner Kelly Holmes, and track and field star Jessica Ennis-Hill.
"They came from similar backgrounds and came from mixed families," she explains, and that inspiration was enough to help her build her confidence in addition to her skill.
"If I could be proud of my background and heritage then maybe I would inspire others"
"When I was maybe 18 I decided that I actually wanted to be different for the first time. I decided that if I owned it, it would be a much nicer experience, and if I could be proud of my background and heritage then maybe I would inspire some others to get involved, and then no other young girl or boy would feel like they needed to try to fit in."
Another factor that no doubt paid into this growth spurt in her self-confidence was simply how good she had got at climbing. By age 16, Thompson-Smith was number one in the world at lead climbing in the junior female category. Consequently she received a scholarship from Sky Sports, which meant that while the rest of her friends were applying to university, she was taking her passion to the professional level.
"Coming back from that injury was one of my biggest achievements."
Around this time, rock climbing had become an Olympic sport, spurring Thompson-Smith to set her sights on the ultimate prize. She moved to Sheffield to take advantage of the climbing scene there and the proximity to the Peak District for training. But while she chalked up more wins and made a name for herself on the world climbing stage, the inevitable happened and she ruptured three pulleys in one finger, a common danger of climbing, requiring surgery that came with a pretty bleak prognosis from her surgeon.
"Being told by the surgeon that I probably wouldn't climb again at the same level, that was a tough hill to climb," she reminisces. But over a grueling nine months, the same grit and determination that got her to number one had her committed to her rehab, and she slowly fought her way back to competition level, feeling stronger and wiser than ever.
"It reinforced how much I love climbing and made me appreciative of all the ways I can climb. It taught me how to listen to my body and my boundaries and limits and basically not to be cheeky and respect the way my body responds to training and basically whatever I do, my body has an answer. Coming back from that injury was probably one of my biggest achievements."
"The Olympic dream is not over."
Next up, it was time to train towards the 2020 Olympic Games in Tokyo, which you'll know by now were one of the many casualties of the pandemic. If you're anything like me, you watched the 2020 summer games – held in 2021 due to the pandemic – with even more astonishment than ever. Not only were these the world's best athletes, performing at their absolute peak, but they'd been sustaining that level of performance for well over a year as they waited for the games to be rescheduled. Thompson-Smith was one of those athletes kept in an agonizing holding pattern for the best part of a year as she waited for her chance to qualify.
"It was really stressful to have your dreams pushed back, everything is up in the air and you don't know what's going on. I think athletes are really good at either switching on or switching off, but to be in this middle ground? It was really mentally hard, but physically hard and trying to stay peaking for so long."
Though her Olympic bid wasn't ultimately successful for 2020, true to form, she hasn't given up.
"The Olympic dream is not over; there's always Paris and it is much closer than I realized with the Olympics being postponed. Three years suddenly feels a lot shorter than four. The Olympic qualification is next year and I feel like I'm still recovering from the Tokyo qualification process," she laughs.
"I want women to feel like they have the right to try whatever they want."
In the meantime, she's planning to continue to challenge those stereotypes on the wall.
"A passion of mine at the moment is first female ascents and trying climbs that are stereotypically male, burly guys routes, not for girls. I'm fed up with that. These labels are ridiculous. I just want women to feel like they have the right to try whatever they want and not be forced onto the girlfriend lines or the easy lines."
And don't worry – in between training for the Olympics and smashing stereotypes, she's still finding plenty of joy in climbing.
"I would still consider climbing to be a hobby and that's the best thing about climbing, in my opinion. You can literally take whatever you want from it. Some days it's my job, some days it's my mental escape, some days it's totally easy and I'm more drinking tea with my friends at the wall than I am climbing."
Molly Thompson-Smith is an athlete with The North Face and is currently ranked twelfth in the world in Lead Climbing. You can learn more about her at mollythompsonsmith.co.uk
All the latest inspiration, tips and guides to help you plan your next Advnture!
Julia Clarke is a staff writer for Advnture.com and the author of the book Restorative Yoga for Beginners. She loves to explore mountains on foot, bike, skis and belay and then recover on the the yoga mat. Julia graduated with a degree in journalism in 2004 and spent eight years working as a radio presenter in Kansas City, Vermont, Boston and New York City before discovering the joys of the Rocky Mountains. She then detoured west to Colorado and enjoyed 11 years teaching yoga in Vail before returning to her hometown of Glasgow, Scotland in 2020 to focus on family and writing.