How to start rock climbing outdoors: learn the ropes
Interested in moving from the wall to the crag? Read our guide to how to start rock climbing outdoors for tips on safety, etiquette and gear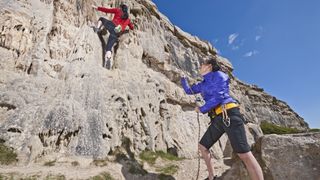 (Image credit: Cavan Images)
Whether you're getting bored of waiting for your local climbing wall to set new routes or simply curious about climbing on real rock, taking your rock climbing practice outdoors is a worthy goal. Outdoor climbing lets you marry your love of climbing with spending time in nature, after all, and it's often more thrilling and unpredictable than climbing in a gym. If you're ready to make the transition from wall to crag, read on for our tips on how to start climbing outdoors.
In comparison to other sports – say, hiking and skiing – climbers are lucky to have an indoor option so they can keep going year-round, but it seems a shame to spend all your time indoors when there's a great big world out there waiting to be explored. Climbing outside is a truly gratifying way to adventure in nature and will definitely make you a better climber, but it's also more dangerous than indoor climbing and requires some special preparation, more gear and expertise. The following are a few recommendations to help you prepare mentally and physically and make sure you stay safe while having fun.
1. Go with an experienced climber
This is the most important point so we're putting it first. No matter how good you are at climbing, you definitely don't want to just venture out on your own for the first time. Go out with an experienced climber to an area they're familiar with and let them show you the ropes, literally and metaphorically. It might seem strange if you're already a great climber, but trust us on this one.
At the indoor wall, anchors and top ropes are already set, but in nature, you'll have to build your own. This can be dangerous and it's not something you want to try to learn from a book. Let your more experienced partner set you up and lead. If you don't know anyone with this expertise, it's worth paying a guide or joining an outdoor clinic. Once you start climbing outdoors regularly, you're bound to meet other folk to hook up with.
2. Learn anchor building
You shouldn't be building anchors on your first go, but on the first few outings, walk up to the top of the route with your lead and let them teach you how to do it.
3. Beef up your climbing kit
Climbing indoors doesn't require much at all beyond a harness, belay device, chalk, climbing shoes and some stretchy clothes. Once you get outdoors though, you'll need the following gear to start:
Helmet: the risk of falls increases outdoors, especially if you get into trad climbing, so never climb outdoors without wearing a helmet.
Rope: obviously you'll need one climbing rope to start, and two if you want to progress to multi-pitch climbing. Your more experienced partner will have one you can use for the first venture or two.
Carabiners: once you start building anchors, you'll want at least four carabiners just for your anchor.
Nylon sling/quickdraws: also for your anchor, you'll want a nylon sling or two quickdraws.
Climbing bag: you'll need a bag big enough to carry your ropes and other gear. Large hiking backpacks may do, but consider one meant for climbing gear.
If you're already a bit lost reading this, head on over to our guide to climbing terms to get caught up.
4. Dress for the elements
At the gym, you can stroll around in your shorts, T shirt and climbing shoes quite comfortably, but just to get to an outdoor climbing spot, you'll usually have a bit of a hike ahead of you. Wear your best hiking shoes for the approach and carry your climbing shoes in your bag.
You'll also want to dress for the weather and climate. This might mean sun protection or a warm fleece for standing around in between climbs, but generally speaking you'll want more layers than at the climbing wall.
Finally, rock is abrasive and you'll want to wear some sturdy, long pants that have enough stretch for climbing and can hold up against the rock. We recommend the Keb Curved pants from Fjällraven but whatever you choose, it shouldn't be something you're too attached to as it will likely get shredded. You should also wear an old, long sleeved base layer to protect your arms a bit.
5. Bring a first aid kit
Speaking of abrasive rock, carry a first aid kit for scrapes and bangs. It's pretty common to leave a little skin and blood on the wall, but don't worry – you get used to it.
6. Have a backup plan
This might sound obvious, but you will need to have an eye on the weather forecast. If it's been raining a lot, or there's rain in the forecast, the rock will be more difficult to climb and more importantly, can be more likely to break off. Outdoor climbing is certainly more of a fair weather sport, so have a backup plan whether that means heading for the gym or going hiking instead.
7. Plan for a full day
It's easy to drop in to the climbing gym for a couple of hours and lots of them have nice facilities like snack bars and coffee shops to stay fuelled and take comfortable breaks. With outdoor climbing, you're likely to spend longer out there, especially if it's a more difficult location to get to in the first place. Make sure you come prepared, with plenty of water, snacks and sun protection.
8. Adjust your expectations
Once you get out there, it's a good idea to adjust your expectations of yourself as a climber so you don't get frustrated. Outdoor routes will be less uniform in terms of grades than indoor ones and a 5.10 outside may be significantly more challenging than one back at the gym. In fact, it's best not to give too much importance to grades at all.
Also, the routes won't be set for you and you'll have to find your own way up the wall, which will require a different set of problem solving skills and some patience if you're used to whizzing up the wall. It's best to just approach outdoor climbing as though it's a brand new activity – your indoor training will definitely serve you, but it will be quite a different experience.
9. Practise climbing etiquette
Much like the principles of Leave No Trace for hikers and campers, climbers have their own set of rules that largely revolve around being considerate of your fellow climbers and respecting the land. Read the climbers Pact before you go and make sure you're supporting the climbing community.
All the latest inspiration, tips and guides to help you plan your next Advnture!
Julia Clarke is a staff writer for Advnture.com and the author of the book Restorative Yoga for Beginners. She loves to explore mountains on foot, bike, skis and belay and then recover on the the yoga mat. Julia graduated with a degree in journalism in 2004 and spent eight years working as a radio presenter in Kansas City, Vermont, Boston and New York City before discovering the joys of the Rocky Mountains. She then detoured west to Colorado and enjoyed 11 years teaching yoga in Vail before returning to her hometown of Glasgow, Scotland in 2020 to focus on family and writing.