Is rock climbing dangerous? The risks and how to reduce them
Is rock climbing dangerous? We weigh up the dangers, describe the common risks and injuries and explain how to avoid them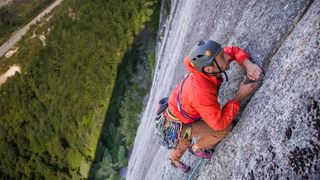 (Image credit: Alex Eggermont)
Is rock climbing dangerous? It's a common question and certainly the characteristics that make rock climbing appealing – scaling a vertical cliff with nothing but a thin line of rope between you and disaster – seem to the naked eye to be quite dangerous indeed. In truth, taking up any new outdoor activity involves more than just buying new gear and posting pics on Instagram to show everyone what a good time you're having. Recreating outdoors always comes with some level of risk (even hiking!) and it's worth considering the dangers that you're likely to incur so that you can make sure to have the appropriate safety training and gear.
That said, just because an activity is dangerous doesn't mean you should avoid it altogether. Rock climbing is great exercise and a fantastic way to explore the mountains. In this article we take a look at the risk level and common injuries associated with rock climbing to help you make up your mind about heading to the crag and to stay safe while you're doing it.
Is rock climbing dangerous?
A common way of answering this question is to say that you're more likely to get injured driving to the crag than when you're on belay, but is that actually true?
While data on climbing fatalities is spotty, an article for the American Journal of Preventive Medicine found that 40,282 patients in the US received emergency room treatment for rock climbing related injuries over an 18 year period. At 2,237 patients each year, that sounds like a lot, but if Statista is right in reporting that 10.28 million Americans went rock climbing in 2020, then the chances of ending up in the emergency room is about 2.5 per 1000 climbers or 0.25 per cent. Of course, it doesn't take into account more minor injuries that didn't require emergency treatment or the sad fact that many Americans skip medical treatment altogether due to lack of insurance.
Over on America's highways, the CDC reports that in 2012 alone more than 2.5 million Americans ended up in the emergency room after a car crash while data on traffic related injury rates averages more than 800 traffic accidents per 100,000 population. But note that the number is per 100,000 population not per 100,000 drivers, so it's not really possible to compare it with the climbing statistics. While there's no argument that driving a car is one of the most dangerous things you do on a daily basis, its dangers are increased because most of us do a lot of it. A lot more than, say, rock climbing. And that's where this comparison gets a bit fuzzy.
It's easy to use insurance data, petroleum sales and traffic cams to estimate how many cars are on the roads and for how long, but we don't truly know how many people go rock climbing and for how long and often they do it. We also don't have data on those minor injuries sustained that don't require medical intervention.
What makes more sense is to compare rock climbing to other sports, and this data gathered by Bandolier places the odds of dying while rock climbing well behind swimming, cycling and even running.
So, that was a long winded way of saying that rock climbing is not considered a particularly high risk sport and we really don't know how it compares to driving a car, but there are definitely risks associated with rock climbing as there are any outdoor activity. Let's face it, if there weren't, we'd all be spider-manning up El Capitan tomorrow.
What are the risks of rock climbing?
According to a study by the International Journal of Environmental Research and Public Health, rock climbing accidents account for 10% of all mountain accidents and are rare but potentially fatal. The following are some of the common risks associated with rock climbing according to the study:
Minor injuries
The majority of climbing accidents lead to minor injuries such as scrapes from the rock and strained or torn ligaments. Climbers most frequently injure their extremities, not internal organs. The predominant portion of injuries are to the head, neck, chest and abdomen.
Falling
Falling is the most common cause of climbing injuries and it usually happens when you're on the way up, not down. Lead climbers are at higher risk of falling than their partners. If you're leading, you're only as safe as the last piece of gear you placed, after all.
Improper use of equipment
Of course, human error accounts for some rock climbing accidents, whether that's not communicating with your partner properly, not tying in properly or not placing gear securely.
Gear failure
Though not common, it is possible for gear such as ropes, harnesses and anchors to fail. All of this gear should be purchased from reputable brands who are scrupulous in their safety manufacturing protocols.
Ankle injuries
Ankle injuries are common in bouldering, when you don't land on the pad correctly, and also for lead climbers who fall before the first piece of gear is placed. These are usually fairly minor strains and sprains.
Snow and ice
Snow and ice covered surfaces increase the probability of falling, and the length of the falls.
Weather
Changing weather conditions always increase danger in the outdoors, whether that's climbing a slick surface in the rain or dangerous conditions like lightning.
Falling rocks
Five per cent of injuries involved someone being hit by a falling rock.
How to stay safe when rock climbing
Just because rock climbing carries some inherent dangers doesn't mean you don't have a say in how safe you are. The following are some important steps you should take for staying safe when rock climbing:
Take rock climbing skills classes with a trained professional
Wear a helmet, even when on the ground
Take good care of your ropes by cleaning them and inspecting your ropes and other gear regularly
Wear well-fitting climbing shoes and harness
Climb with people you trust and communicate properly on belay
Check the weather before you go and stick to dry days for outdoor climbing
Climb indoors when the weather isn't playing ball
All the latest inspiration, tips and guides to help you plan your next Advnture!
Julia Clarke is a staff writer for Advnture.com and the author of the book Restorative Yoga for Beginners. She loves to explore mountains on foot, bike, skis and belay and then recover on the the yoga mat. Julia graduated with a degree in journalism in 2004 and spent eight years working as a radio presenter in Kansas City, Vermont, Boston and New York City before discovering the joys of the Rocky Mountains. She then detoured west to Colorado and enjoyed 11 years teaching yoga in Vail before returning to her hometown of Glasgow, Scotland in 2020 to focus on family and writing.