How to choose a climbing harness for protection and comfort
Our guide to how to choose a climbing harness covers the sizing, proper fit and different types of this important piece of safety equipment, plus when to replace yours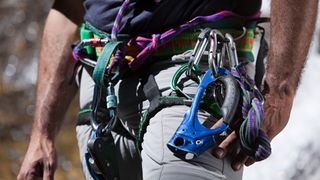 (Image credit: Image Source)
Unlike hiking, where you can probably ease in by wearing an old pair of trainers and make sure you really like it before you invest in a good pair of hiking boots, when it comes to rock climbing you want to make sure you have good gear before you even think about heading to the crag. In addition to a climbing helmet and well-fitting rock climbing shoes, you'll want to take some time to pick out the right harness for both safety and comfort. Our guide to how to choose a climbing harness covers size, fit and types of harnesses, as well as how long you should expect yours to last.
What is a rock climbing harness?
A rock climbing harness is an important piece of safety equipment for any time you are climbing using a rope, meaning pretty much any type of free climbing except for bouldering and free soloing. Today's climbing harnesses are padded belts with thigh loops that allow you to attach to your climbing rope, belay your partner and carry climbing gear. You'll need one whether you're going indoors or outdoors, sport, trad, crack or ice climbing, and even for canyoneering.
What is the lifespan of a climbing harness?
Because your climbing harness is a piece of safety equipment, you can't keep climbing with it forever. Though your harness will come with a lifespan recommendation from the manufacturer – usually about five years – these are guesstimates and the best course of action is to regularly inspect your climbing harness for signs of wear and tear.
Because your harness will most likely be coming into contact with abrasive surfaces often, a little fraying or pilling isn't necessarily cause for immediate concern, but if it's around the areas where you tie in to your rope or tie your belay loop, it's time to replace your harness. Some companies use different colored fabric underneath these points so you can easily see if there is deterioration. You should also check the waist and leg loops regularly, but these are of secondary concern.
What should I look for when buying a climbing harness?
In addition to getting the right size, fit and type of climbing harness, which we explain below, there are a few features that you'll want to consider in just about any climbing harness:
Padding: the more padding, the more comfortable the harness, which is important if you plan to do longer, multi-pitch climbs or ice climbing. That said, if you're mostly climbing indoors, you can save weight with less padding.
Adjustable leg loops: Different bodies come in remarkably different proportions, particularly when it comes to leg length circumference. For indoor climbing, elasticated leg loops will save weight and suffice, but for other types of climbing, make sure your harness has adjustable leg loops so you can ensure they aren't too tight, which will dig in and cut off circulation, or too loose to be functional and safe.
Gear loops: For outdoor climbing, get a harness with lots of gear loops in case you end up trad climbing, lead climbing or carrying a second rope. For indoor climbing, you won't need more than two gear loops.
How to choose a climbing harness
When you're ready to shop for a climbing harness, we recommend doing it in person, so you can try on multiple models and sizes. In many countries like the US, if you buy safety equipment like a climbing harness and return it, the company has to destroy it, so in the name of sustainability, try to pick the right one before you buy. Many climbing shops will allow you to test a harness by tying in and hanging on the rope, which will give you the best feel for how it will perform.
How to choose a climbing harness: type
You'll want to start by knowing what type of climbing you'll be doing and pick a harness specific to those needs. Different companies have different categories but you'll generally see different types of harnesses for gym, trad, alpine and ice climbing. Gym harnesses will be more lightweight, trad harnesses a bit more robust with lots of gear loops, alpine harnesses more basic and ice climbing harnesses are designed to withstand cold weather conditions. If you plan on doing a bit of a mix of indoor and outdoor climbing, your best option is a trad climbing harness which you can use for occasional indoor use and mountaineering.
How to choose a climbing harness: size
Most climbing harnesses come in simple sizing from XS to XL and will provide a sizing chart where you can use your waist and leg circumference to find the closest fit. You'll want to find the size where there is still room to adjust the harness to be both tighter and looser, meaning you don't want to be at the very top or bottom end of your size. Even though sizing varies slightly between different companies, you'll probably choose the same size harness each time once you find yours.
How to choose a climbing harness: fit
Once on and adjusted, your climbing harness should have a snug but comfortable fit and the waistband should not shift around much. It shouldn't press or pinch anywhere uncomfortably when you're moving around in it, so make sure to do so and mimic the movements you'll make on the crag.
The waist belt should sit just above your hip bones and you should not be able to pull it down once it's secured. Meanwhile, you still need to be able to slide a hand through the leg loops once they are adjusted.
Obviously, you'll be wearing your climbing harness over your clothes so make sure you try it on wearing clothes similar to those which you'll be climbing in.
Climbing harnesses come in gender-specific fits. This doesn't mean you have to pick the one according to your gender, however, just know that women's harnesses will generally have a higher waist loop and larger leg loops in proportion to waist circumference. You can and should try on both according to your body proportions.
All the latest inspiration, tips and guides to help you plan your next Advnture!
Julia Clarke is a staff writer for Advnture.com and the author of the book Restorative Yoga for Beginners. She loves to explore mountains on foot, bike, skis and belay and then recover on the the yoga mat. Julia graduated with a degree in journalism in 2004 and spent eight years working as a radio presenter in Kansas City, Vermont, Boston and New York City before discovering the joys of the Rocky Mountains. She then detoured west to Colorado and enjoyed 11 years teaching yoga in Vail before returning to her hometown of Glasgow, Scotland in 2020 to focus on family and writing.