The most inspirational walking films – including the movie that made me walk 1000 miles across Australia
Have you been motivated by a movie to take on an outdoor adventure? We take a wander through a selection of inspirational walking films featuring epic journeys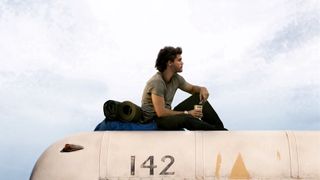 (Image credit: Into the Wild)
When I was a 24-year-old backpacker in Australia, I broke my ankle while drunk at a festival. The following day, I was due to meet my parents who'd flown out from the UK to meet me. Instead, they met me at my hospital bedside and spent half of their two-week holiday there. Along with two new metal plates and ten pins in my ankle, I was also riddled with horrendous guilt. Instructed to recline for six weeks the only thing I had to distract me from my self-pity was a stack of books and films.
One of those films had quite an effect on me. A few months later, my dad suddenly died. I struggled to deal with the grief and began self-harming. An accident gave me the wake-up call I needed, and to help me look forward, I drew inspiration from the character of Molly in Rabbit-Proof Fence – a film I'd watched while recovering in hospital.
Based on the true story of an indigenous Australian family's experience as members of the Stolen Generation, Rabbit-Proof Fence (2002), is an emotional film, and while watching it you're more likely to reach for a box of tissues than a box of popcorn.
It retells the story first narrated in the book Follow the Rabbit-Proof Fence, by Doris Pilkington Garimara, about the real-life experience of her mother Molly Craig – an Australian Martu Aboriginal woman who, along with her half-sister Daisy and cousin Gracie, were forcibly removed from their family and taken to the Moore River Native Settlement in 1931, before escaping and trekking 1,600km home.
The film, directed by Phillip Noyce, faithfully follows the three young mixed-race girls as they're separated from their families and taken to a settlement to be trained as domestic staff. Molly, the eldest at 13, engineers an escape and the girls set off to walk across Australia's most inhospitable environments, following the Rabbit-Proof Fence (a real fence, designed to prevent the spread of rapacious rabbits).
Chased by indigenous trackers, authorities and search parties, the girls trek a thousand miles home, succeeding in their quest largely due to Molly's determination, resilience and sheer grit. The landscape is intoxicating, the acting is sublime and Peter Gabriel's emotive soundtrack will not help you to keep your eyes dry.
Due to closeness in the timing of watching the film and losing my dad, Molly very much became a beacon of inspiration for me. So, in 2016, I returned to Australia to retrace the girls' journey, alone, and I was very fortunate to be taken into Molly's family when I finally made it to Jigalong.
It was a life-defining experience.
Here are five other inspirational walking films featuring incredible journeys that may leave you reaching for the map as the credits roll.
Tracks (2013)
Another Antipodean adventure, the scenery in Tracks will have you yearning to visit the brilliant rusty red dirt of the Australian desert. The movie adaption of Robyn Davidson's memoir, chronicles her real-life 1,700-mile journey from the Red Centre to the coast of Western Australia in 1977, while trekking with camels. The film captures the desert's magic impeccably. Tracks has you romanticizing over the landscape, laughing at the camels' characters, and crying at certain scenes as well… I won't spoil it for you, but you will also need a box of tissues for this film. I worked as a cameleer in the Simpson Desert after I walked the Rabbit-Proof Fence and Andrew Harper – a camel-trekking specialist, who lent some of his dromedaries for the production of Tracks – says he's always receiving emails enquiring about volunteering with camels from young women who have been inspired by Tracks. So be warned.
Into the Wild (2007)
This iconic adventure film has become a cult classic for many budding adventurers, despite – or perhaps because of – its very un-Hollywood ending. Into the Wild is based on the true story of Christopher McCandless who adopts the pseudonym Alexander Supertramp as he drops out of law school, renounces all his material possessions and hitchhikes across America, to trek through the wilds of Alaska. He revels in the simple beauty of the natural world, and ultimately takes up residence in an old school bus he discovers incongruously abandoned in the midst of the wilderness – which later became the focus of many pilgrimages undertaken by people inspired by the story (the bus was removed by the Alaska Army National Guard in 2020 because so many Into the Wild devotees were putting themselves in danger trying to hike to it). Based on a 1996 book about the odyssey of McCandless by writer Jon Krakaurer, the film sees director Sean Penn encapsulate Supertramp's personality by showing us the world as he saw it. It's poetic and tragic, and the incredible cinematography is accompanied by a gorgeous soundtrack by Eddie Vedder.
The Way (2010)
Based on the 2012 autobiographical memoir of the same name, Wild follows Cheryl Strayed (played brilliantly by Reese Witherspoon) as she decides to start a new life by hiking 1,100 miles along the Pacific Crest Trail (PCT), after experiencing a series of personal tragedies and surviving some serious drug abuse. Strayed was 26 years old and had zero hiking or outdoor experience in 1995, when she set off solo on the PCT. The subsequent story – as she braves Mojave Desert and hikes through California and Oregon to the Bridge of the Gods into Washington – in one of self-discovery, determination and growth. The cinematography is beautiful and made me twitch to visit the PCT.
A Walk in the Woods (2015)
A feel-good film, A Walk in the Woods is based on Bill Bryson's memoir about his attempt to hike along the 2,200-mile Appalachian Trail with an old friend (played by Nick Nolte in the film). Bryson, who was 46 when he made the trek, is played by a 79-year-old Robert Redford, who loved the book so much he was determined to turn it into a film. So it inspires all ages to get up and out for a long walk. The film is cheesy in places, strips out a lot of Bryson's wit and I found the cinematography disappointing considering the stunning landscapes they traversed, but it is a joyful movie nonetheless.
The Way Back (2010)
A survival film based on the 1956 book The Long Walk: the true story of a trek to freedom by Polish prisoner of war Slavomir Rawicz. The screenplay for The Way Back was written and directed by Peter Weir (Picnic at Hanging Rock) and stars Ed Harris, Colin Farrell, Jim Sturgess and Saoirse Ronan. It follows the extreme trials and tribulations of a group of escapees from a Soviet Gulag during WWII, as they walk 4,000 miles to freedom, through Siberia, around Lake Baikal, across the Gobi Desert and large part of Mongolia into the mountains of the Himalaya to reach British India. It's an inspiring story, slightly tainted by the fact that it's now widely believed Rawicz never made any such journey. The story told in the book had long been questioned, but evidence unearthed in a 2006 radio documentary by BBC journalist Hugh Levinson, and by American researcher Linda Willis, appear to definitely disprove the account by Rawicz. However, several researchers believe that that adventure described in The Long Walk may well have genuinely been made, if not by Rawicz, by another Polish man (one contender, named Witold Glinski, told his story in 2009). With all the potential participants and witnesses now dead, it likely the truth will never fully come out, which is why the film was titled The Way Back and not The Long Walk. But it's a good film about an epic walk nonetheless, and the original story inspired modern explorers including Benedict Allen, Cyril Delafosse-Guiramand (who spent 15 months following the escape route described in the book and acted as technical director for The Way Back) and Andrew Lloyd, who also attempted to recreate the journey.
All the latest inspiration, tips and guides to help you plan your next Advnture!