Into the Wild bus approaches its last stop
The bus made famous by inspirational book Into the Wild has been removed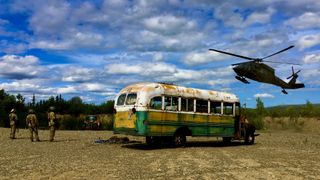 (Image credit: Alaska National Guard, photo by Brent Goodrum, DNR)
The bus made famous by the inspirational book Into the Wild has been removed from deep in the Alaskan back country by the Alaska Army National Guard.
Jon Krakaurer's 1996 international bestseller Into The Wild documented the tragic fate of Christopher Johnson McCandless and in many editions featured a photograph of Bus 142 on the cover.
In 1992 McCandless died of starvation inside Bus 142 after hitchhiking to the Alaskan Stampede Trail. Krakaurer then retraced the man's steps over a two-year period from his graduation until his death. The tale of McCandless's travels, ascetic lifestyle and journal notes became an inspiration for people around the world, and that is where the issue around the bus has arisen.
In recent years the Magic Bus (as McCandless rechristened it) had become a dangerous tourist attraction, luring people into need of rescue and – in two cases – death. Corri A Feige, Department of Natural Resources Commissioner, said of the bus's removal as part of a training exercise: "We encourage people to enjoy Alaska's wild areas safely, and we understand the hold this bus has had on the popular imagination. However, this is an abandoned and deteriorating vehicle that was requiring dangerous and costly rescue efforts, but more importantly, was costing some visitors their lives. I'm glad we found a safe, respectful and economical solution to this situation."
Into The Wild spawned two films in 2007 – a drama directed by Sean Penn, also called Into The Wild, and the documentary The Call Of The Wild. Jon Krakaurer told The Washington Post: "I wish the bus could have remained how it was… but I wrote the book that ruined it."
There have been no details given about Bus 142's eventual fate, but given that people would risk life and limb to visit it we at Advnture hope that it might find its way to a museum or travelling exhibition so that others will continue to be inspired by McCandless's tale, as well as gaining an understanding of the dangers of going into the wilderness unprepared.
All the latest inspiration, tips and guides to help you plan your next Advnture!