What is thru-hiking: how to walk some of the world's greatest trails end-to-end
Don't like retracing your steps? Find out what thru-hiking is and take on classic long distance trails that can be tackled from start-to-finish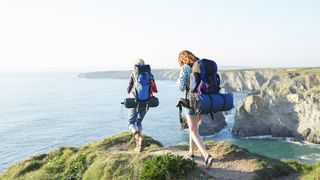 (Image credit: Getty)
So what is thru-hiking? No, it's not when you're through with walking. It's essentially walking end-to-end trails of the long-distance kind, as opposed to out-and-back hikes or circular routes.
Classic thru-hikes include the 2653-mile (4,270km) Pacific Crest Trail (PCT) and 2,200-mile (3500km) Appalachian Trail in the US. In the UK, Alfred Wainwright's 182-mile (293km) Coast to Coast is a wonderful thru-hike across northern England. While continental Europe has routes like the Camino de Santiago in Spain, the Kungsleden in Sweden and the Lycian Way in Turkey, as well as a network of long-distance E-hikes that cross multiple countries.
These days, the world's really epic thru-hikes are rites of passage for serious backpackers, and a whole mythos has built up around the physical and mental challenges involved in doing the most iconic routes. Those who have completed them make much of the spiritual and character-building benefits of taking on such huge hikes. For many people, completing one of these routes will be one of the most memorable and rewarding challenges of their lives.
What's the appeal of thru-hikes?
Thru-hiking has much the same appeal as regular walking trips: the desire to move through the natural environment under your own steam. It's just more so. The extended nature of most classic thru-hikes means that the physical and mental challenges are all magnified and there's a sense of deeper immersion in the natural environment. Rather than doing a day or two on the trail, or even a week, the really classic thru-hikes are about spending weeks or even months hiking. Many thru-hikers also choose to walk solo, which further intensifies the experience, although many iconic routes will have many people on them at one time, and solo thru-hikers will often find companionship by traveling together for sections.
Besides the physical and mental preparation needed for such mammoth undertakings, the really big thru-hikes also require considerable pre-planning to organize food and water drop-offs, and transportation back from the trailhead at the far end, something that appeals to the planning geeks among us.
Ways to do thru-hikes
The standard thru-hiking experience is to do the trail all in one hit. However, many of the classic routes are very time consuming to complete; for example, the Pacific Crest Trail, on average, takes most hikers about five months to complete. If you've got a young family, a job or other commitments, getting this kind of time off may be impossible, so many people will walk thru-hikes in shorter sections. Some will also 'flip flop' walking routes by doing them in an odd order, to avoid crowds, get the best weather or make the most of seasons (such as the color of the trees in fall). While thru-hiking in shorter sections means you lose the feeling of extended immersion, you still get to experience the route and, for some people, because it's less physically and mentally intense, it may be far more enjoyable.
Should I do a thru-hike?
If you've ever gotten to the end of a hike and, instead of being obsessed with getting a shower and catching up on Netflix, thought I just want to keep going, then thru-hiking could be for you.
While there are plenty of examples of people just jumping right into the deep end of thru-hiking, it's probably best to build up your experience and fitness. If you want to thru-hike solo, it's also worth spending some time on your own and seeing if you like it, because it's definitely not for everyone.
Most thru-hikes are quite well waymarked, but it can be easy to stray from the trail in some conditions and circumstances, so making sure you know how to read a map and how to use a compass is highly recommended.
Classic thru-hikes
The following is just a taster of some of the world's greatest thru-hikes. For most people, there's probably more than a lifetime's worth of walking here, but there are also many others that can be found around the globe.
Appalachian Trail, USA – Traversing the Appalachian Mountains on the east coast of America, this route takes hikers 2,200 miles (3500km) between Springer Mountain in Georgia and Mt Katahdin in Maine.
Australian Alps Walking Track, Australia – While it's 'only' 410 miles (655km), the AAWT packs in the vertical, taking in 30 summits on its way from Tharwa in the Australian Capital Territory to Walhalla in Victoria.
Continental Divide Trail, USA – Traversing the Rocky Mountain Range from north to south, the CDT runs 3,100 miles (5,000km) north to south across the USA from Alberta in Canada to Chihuahua in Mexico.
Heysen Track, Australia – Starting at Parachilna Gorge in the remote Flinders Ranges, the Heysen Track travels 750 miles (1,200km) south through the semi-arid country of South Australia, finishing at Cape Jervis on the Fleurieu Peninsula.
Hokkaido Nature Trail, Japan – This epic hike explores the varied terrain of Hokkaido, Japan's northernmost island, including lush forest, glaciers and steaming volcanic mountains over its 2,848-mile (4585km) length.
Pacific Crest Trail, USA – Probably the most famous thru-hike, the PCT goes for 2653 miles (4270km) down the east coast of America, from the Mexican border to the Canadian border.
Southwest Coast Path, UK – The UK's longest national trail follows a spectacular coastline – including the famed World Heritage-listed Jurassic Coast – for 630 miles (just over a thousand kilometers) from Minehead in Somerset to Poole Harbour in Dorset.
Te Araroa, New Zealand – Te Araroa, Maori for 'long pathway' traverses the Land of the Long White Cloud from north to south, taking trampers (to use the Kiwi word for hikers) 1,875 amazing miles (3,000 incredible kilometers) through the landscape that was famously used for filming the Lord of the Rings trilogy.
Bibbulmun Track, Australia – The Bibbulmun takes bushwalkers (to use the Australian term for hikers) 625 miles (1000km) across the gorgeous southwest coast of Western Australia, from Kalamunda near Perth to Albany in the south.
Great Himalayan Trail – While this trail is still under construction, when it's finished this 2,815-mile (4,500km) trail will traverse the entire Himalaya range from Kashmir to Tibet, passing through India, Nepal and Bhutan, making it the world's longest and highest mountain trail. It's an ambitious route and only those with mountaineering skills should attempt it.
All the latest inspiration, tips and guides to help you plan your next Advnture!