6 adventure films to watch this December
Our pick of snow and ice themed adventure films for when you're sick of cheesy Christmas movies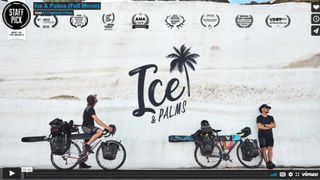 (Image credit: Ice & Palms Film/ Vimeo)
Sick of watching Christmas movies and arguing over whether Die Hard or Frozen is a better Christmas movie? (Answer: Frozen is set in August.) Well here is out December selection of outdoor and adventure films to watch!
This month we'll focus on a snow and ice theme (well, 'tis the season and all that). You should be able to stream all of these films free online. At the time of writing, the links are good to go. But obviously things change on the internet, so if you're reading this from the future, you might need to do a little search. Anyway, without further ado…
Compelled by Jack London's assertion, that "any man who is a man can travel alone", Ben Page sought an adventure of perfect solitude. That led him to a winter journey, cycling into the Canadian Arctic. Ben highlights the harsh truths of travelling in such a formidable environment.
When I first watched this film at Banff on tour, I was suddenly struck mid-film: this is entirely self-filmed. Which means that every single long shot of powering through the snow was captured solo. Get bike out of shot. Walk a long way to set up camera. Walk back, also out of shot to avoid footprints. Cycle across the shot. Walk back to pick up camera. As if cycling across the Arctic wasn't impressive enough!
The Redstone Pack is a multi-award winning short film about dogsledding – a lesser considered outdoor activity! "What began as an impromptu leap into the world of dog sledding, Aaron Natoniewski's methodical approach to the sport and understanding of his dogs has inspired a team of sled hounds unlike any other." The film forms part of the Life on the Western Slope commercial series.
Clearly I have the word 'frozen' on my mind! Frozen Mind is a freeriding story about pro snowboarder Victor de Le Rue, as he tests the limits of what is possible. The Red Bull film shows him challenging himself against unforgiving, ice-covered slopes of Chamonix.
"Frozen Mind is not just a film based on snowboard/ski performance. It is above all a story of friendship and a journey of discovery as the two men take unique paths in order to conquer the same objectives."
Skiers on bicycles. Ice and Palms is a short documentary, following the journey of Jochen Mesle and Max Kroneck. The two skiers bikepack across the alps, skiing iconic mountains along the way – with no motorised assistance allowed!
"The two friends have travelled the world for many mountainous adventures, but while skiing in distant locations this idea grew in their minds: a ski expedition that starts right on their own doorsteps. Six weeks, 1.800 km, 35.000 vertical meters and a dream come true. After pedaling and skiing through Germany, Austria, Switzerland, Italy and France, they reached the beach in Nice in early June 2018."
There's always snow on Everest, right? The Ghosts Above, a film by Renan Ozturk, follows the journey of a team up Everest who don't want to make the summit. Instead, they are looking for the body of Andrew Irvine, Mallory's companion on their 1924 attempt at Everest. Mallory's body was found in 1999 but no one knows if he reached the summit before he died. Irvine has never been found and is said to have a Kodak camera in his pocket. If the film contained a summit photo it would rewrite history.
"Three National Geographic Adventurers of the Year embark on a ski and kayak mission across Greenland. Using kite skis, they tow their whitewater kayaks over 1,000km of ice."
I loved this film. As part of Red Bull's Explorer series, it's almost an hour long. But it's definitely worth carving out the time to watch if you like adventure into the unknown. After planning their kayak descent using Google Earth, the team set out to cross Greenland for the river's source only to find that everything is not as planned.
All the latest inspiration, tips and guides to help you plan your next Advnture!
An adventure writer based on Dartmoor, England, Emily is an active member of Mountain Rescue and a summer Mountain Leader, but loves all things adventure – before her third birthday she had lived on three continents. Founder of Intrepid magazine, she works to help break stereotypes about women in the outdoors. Her expeditions have included walking all Dartmoor's 119 tors in a single two-week outing, cycling to Switzerland and back, and riding the Rhine from source to sea.