Best running books: 21 brilliant reads for runners
When you're recovering from hurling yourself about on the trails, pick up one of the best running books you can read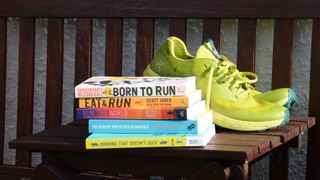 (Image credit: Pat Kinsella)
The path people take to their first trailhead can often be waymarked by the best running books. A particularly inspirational story can encourage the reader to go for an off-road run, just to see what all the fuss is about. Many go on to become addicted.
Here's our guide to the best gateway drugs available on a bookshop shelf (or site) near you: 21 brilliant books about running on the rough stuff.
Skyrunner by Emelie Forsberg
A wonderful insight into the hard training and much-loved character of one of the world's best trail runners, with Emelie's own strength workouts, inspirational advice, delicious recipes and yoga moves.
Bunion Derby: the 1928 Footrace Across America by Charles B. Kastner
The extraordinary true story about a 3,400-mile transcontinental running race from Los Angeles to New York, which saw men from all walks of life – penniless immigrants, millionaires and international athletes – compete for 84 consecutive days along a course that would become Route 66. Running around 40 miles a day, participants struggled across mountain ranges and deserts (and the black runners endured dreadful abuse in the Jim Crow separatist states) from the Pacific to the Atlantic coast. An excellent read and undoubtedly one of the best running books.
Eat & Run by Scott Jurek
A fascinating insight into one of North America's best endurance athletes, his journey into ultra running, becoming veggie then vegan for performance and running with the Tarahumara, plus all his favorite recipes.
Running with the Buffaloes by Chris Lear
The classic story of a fall cross-country season that never grows old. Author Chris Lear was embedded as a member of the University of Colorado cross country team in 1998 as it prepared to make a run for the NCAA Division I title behind All-American Adam Goucher. But as the season unfolds, the story becomes so much more than about just running. The death of No. 2 runner Chris Severy and the team's ability to carry on in the face of adversity unfolds as a compelling tale about courage, heartache and the bonds of teammates. More than 20 years later, it's one of the best running books for anyone who has ever been a part of a high school or college cross-country team.
Shoe Dog by Phil Knight
In perhaps the deepest look ever into the inner workings of Nike, company founder Phil Knight serves up a heartfelt story about how the world's biggest athletic shoe and sportswear brand got started and rose to enormity from very humble beginnings. For anyone who has ever worn a pair of Nike sneakers (the Nike Wildhorse 6 is one of our best trail running shoes), this is an inspiring read that tells a story intertwined with tales about world-class athletes, passionate entrepreneurship and the pressures of a growing global business. It includes a deep look into the mind of co-founder Bill Bowerman, legendary runner Steve Prefontaine and, of course, Knight himself. Nike, Knight and Bowerman changed everything about modern sports through the lenses of performance, sponsorship, hype, culture and cool.
Running for My Life by Lopez Lomong with Mark Tabb
This wasn't a well-known book when it was published, but it's a great autobiography about Lopez Lomong, who was one of the 'Lost Boys' who escaped the perils of South Sudan to become a world-class distance runner and a two-time U.S. Olympian. As a child, he was captured by rebel soldiers and beaten and abused before escaping and running for three days to reach safety at a refugee camp in Kenya. He eventually was adopted by an American family after writing a touching essay as a teenager about what he would do if was given the chance to live in the United States. He would go on to become a two-time NCAA champion at Northern Arizona University, the flag bearer for the U.S. Olympic team at the 2008 Olympics in Beijing, a five-time U.S. champion, a 3:51 miler and one of the best American distance runners of all time.
Run the World by Becky Wade
Plenty of post-grads travel abroad after getting out of college, but Becky Wade went on an immersive journey with her running shoes when she finished college in 2012 and turned it into an inspiring memoir. With the funding and support of the Thomas J. Watson Fellowship, Wade logged 3,500 miles and tapped into the running scene in England, Ireland, Sweden, Finland, Switzerland, Ethiopia, Australia, New Zealand and Japan. Her earnest involvement in the running culture of those countries helped her become a more complete runner and set her on the path to becoming a professional marathoner. Wade provides insights about her curiosity for traveling and her determination as a runner into a compelling page-turning story about her life-changing expedition.
Finding Gobi by Dion Leonard
Not your average running book - this isn't about people turning their life around and rediscovering themselves through running, it's the heartwarming true tale of an ultrarunner who finds a running mate in the most unlikely of circumstances. In 2016, Dion Leonard, an Australian living in Edinburgh, travels to China to take part in a grueling 155-mile race across the Gobi Desert. Roughly midway, a little stray dog begins to run with him, and keeps pace for nearly 80 miles. A bond is formed, and after the race Leonard discovers can't leave his new best buddy behind.
A Year on the Run by Damian Hall
A beautifully illustrated, very entertaining set of running stories to inspire you through 365 days of running by a hill-hiker turned record-setting ultrarunner. Hall, a journalist (and Advnture.com contributor) rediscovered running in his mid 30s, found out he was pretty damn good at it, and has since set multiple FKTs, represented Britain at the Trail World Championships, won international races including the Ice Ultra in Arctic Sweden, and placed fifth at the world-class Ultra Tour du Mont Blanc in 2018.
Run or Die by Kilian Jornet
A fantastic way to get a good understanding of what makes the world's top trail runner tick, with stories that take you close to the bone. Jornet's first book is inspiring, scary and fascinating in equal measure.
The Rise of the Ultra Runners: A Journey to the Edge of Human Endurance by Adharanand Finn
Having already explored the phenomenon of Kenyan marathoners (in Running with the Kenyans) and Japan's running culture (in The Way of the Runner), here journalist and author (and Advnture.com contributor) Finn dives headfirst into the world of ultrarunning, examining the history of the pursuit and blending that with entertaining first-person experiences of his own.
Adventureman by Jamie McDonald
After spending a large part of his childhood in hospital, with doctors warning that he may never walk again, McDonald defies the odds spectacularly and becomes a record-setting endurance and expedition runner who has run right across Canada and the USA, visiting hospitals and raising money for sick children en route. This is his humorous account of running the equivalent of 200 back-to-back marathons from one side of Canada to the other, wearing the same increasingly smelly superhero suit every day.
Running That Doesn't Suck: How to Love Running (Even If You Think You Hate It) by Lisa Jhung
Let's face it: Running isn't always fun and it doesn't always feel great. And yes, a lot of people hate it. But author Lisa Jhung is here to tell you that you don't have to hate it because it doesn't have to suck. The longtime journalist and trail runner has penned a great book for those people who struggle with running, either from a physical point of view or from a mental outlook. In this smartly written and creatively illustrated paperback, Jhung offers simple but encouraging insights about why you should stick with running, as well as crafty techniques to motivate you to keep training. She blends tell-it-like-it-is honesty with humor and storytelling to lighten the burden of running and make the daily burden of running less of a grind and more of an enjoyable passion.
Running Home: A Memoir by Katie Arnold
For a lot of people, running is more than just a simple act of daily exercise and actually something that winds up being woven through the fabric of their entire life. Although this is a book about running, it's mostly an inspiring story about overcoming grief and rediscovering yourself. Katie Arnold writes about the grief of getting over her father's death, getting closure on the separation of her parents and numerous challenges of her childhood. She eventually rekindled her own love for running and found the more of her true self she invested in it, the better she became at it. Eventually, she became competitive and won the 2018 Leadville 100 trail running race, one of the most difficult and competitive ultra-distance races in the world. She ran to heal her grief, to outpace her worry that she wouldn't live to raise her own daughters. She ran to find strength in her weakness. She ran to remember and to forget. Ultimately, she ran to live.
Born to Run by Chris McDougall
The original trail-running book that inspired so many people to start running barefoot or in minimalist shoes. A hugely engaging account of top American ultrarunners racing Mexico's incredible Tarahumara people.
The Runners Cookbook by Anita Bean
Over 100 tasty, healthy recipes designed to fuel runners to peak performance and recovery, from athlete and qualified sports nutritionist Anita Bean. Readers also get advice on all aspects of diet and calorie intake for running distances ranging from 5k to ultra, and tips on supplements and common mistakes to avoid.
Running Free of Injuries by Paul Hobrough
The best advice and exercises for preventing and rehabbing the most common running injuries from foot to lower back from Hobrough, physio to world-class, record-breaking runners Steve Cram and Paula Radcliffe.
There's No Map In Hell by Steve Birkinshaw
A hugely eye-opening biography from one of Britain's most-loved endurance athletes. Birkinshaw overcame childhood setbacks to become a top orienteer, adventure racer and break Joss Naylor's 38-year-old record of running 214 Wainwright summits.
The Pants of Perspective by Anna McNuff
A hugely entertaining account of McNuff's 148-day, 3000km run from north to south New Zealand along the wild Te Araroa trail, wearing her brightest running tights and learning about the power of resilience and self-belief.
Feet in the Clouds by Richard Askwith
Warning: this book may inspire you to take on the ultimate fell-running challenge, the Lake District's 65-mile, 42 summit Bob Graham round. This is journalist Askwith's journey into fell running including an engaging history of the sport.
It's a Hill, Get Over It by Steve Chilton
A must-read for anyone interested in the history of British mountain, off-road and fell running (before trail running was invented). Chilton's book is a hugely well-researched and detailed encyclopedia for the sport.
All the latest inspiration, tips and guides to help you plan your next Advnture!
Brian is an award-winning journalist, photographer and podcaster who has written for Runner's World, The Times, Outside, Men's Journal, Trail Runner, Triathlete and Red Bulletin. He's also the author of several books, including Kicksology: The Hype, Science, Culture and Cool of Running Shoes. He lives in Boulder, Colorado, and loves to run, bike, hike, camp, ski and climb mountains. He has wear-tested more than 1,500 pairs of running shoes, completed four Ironman triathlons, as well as numerous marathons and ultra-distance running races.