The best compass 2023: find your way with the finest standard navigational tools
A compass is essential for navigating through the wilderness confidently and effectively, and here are eight of the best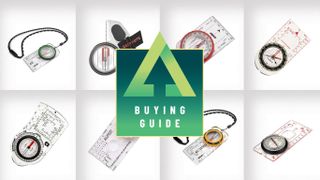 (Image credit: Future)
The best compass is a reliable and rugged little tool, in many ways your best buddy when navigating through the wilderness. Unlike your smartphone or GPS device, it is not averse to challenging winter conditions. Its battery doesn't drain alarmingly fast in a blizzard, just when you need it most. In fact, it doesn't have a battery at all.
Compasses use the Earth's magnetic field to point you in the right direction, which means they can be used anywhere in the whole wide world, once you've got the skills to use them effectively. The best compasses also come packed with features that also help you to interpret their sidekick: the map. The ability to wield both a map and compass with confidence in the outdoor environment is not only useful and satisfying, it's also a reassuring safety net for when (not if) other technological aids fail you.
In fact, we wouldn't set foot on the trails without a topographical map and one (or even two) of the best compasses in our hiking backpack. Being able to navigate quickly and effectively across tricky terrain, even when fog or mist descends, is a useful skill. It will greatly enhance your next hike, backpacking trip or wild camping adventure – as well as boosting your outdoor credentials.
To help you get your bearings (see what I did there?), in this guide we start with the best baseplate compasses – the stalwarts of hiking navigation – before moving on to our favorite orienteering compass, which is ideal for adventure races and the like. Whether you're heading for the wilderness wearing your best hiking boots or lacing up your trail runners for an ultra, there's a compass here for you.
The best compasses
The best baseplate compasses
The standard against which all other baseplate compasses are measured, the Silva Type 4 is a highly regarded, expedition-proven navigational tool
Specifications
Dimensions:
128 x 60mm / 5 x 2.4in
Scales:
1:25k, 1:40k, 1:50k
Reasons to buy
+
User-friendly design
+
Needle settles quickly
+
Practical baseplate markings with 1:20k, 1:25k and 1:50k scales
Reasons to avoid
-
Cheap lanyard
-
Bezel not the easiest to grip
Silva's Expedition Type 4 is arguably the definitive baseplate compass, used for everything from Mountain Leader training courses to international expeditions. It is lightweight and sits easily in the hand, with an oil-damped needle that is weighted for use in the northern hemisphere (magnetic equator and magnetic south variants also available). Orienting arrows and lines, the direction of travel arrow and degree markings on the dial are all crisp and clear, as are the Romer scales on the baseplate, in 1:25k, 1:40k and 1:50k.
The bezel shows the four cardinal compass points plus numeric 20-degree increments, with hashing every 2 degrees. There's also a declination scale marked inside the capsule, which you'll need to remember to use to allow for magnetic declination where this applies. The bezel turns easily and smoothly, though unlike some other Silva models it lacks an easy-grip rubberized housing. The compass features luminescent markings too, enabling low-light use.
Sturdy, practical and with a premium feel, the Finnish-made Suunto M-3 has the edge over other compasses in its price bracket
Specifications
Dimensions:
61 x 120 x 14mm / 2.4 x 4.72 x 0.55in
Scales:
1:20k, 1:24k, 1:25k & 1:50k
Reasons to buy
+
Clear, crisp dial
+
Excellent lume for low-light use
+
Needle settles quickly
+
Easy-grip bezel with cardinal and inter-cardinal points
+
Friction feet for use with a map
+
Includes 1:20k and 1:24k scale distance markings as well as 1:25k and 1:50k
Reasons to avoid
-
Lacks 1:40k scale distance markings
-
No Romers for easy grid ref finding
The M-3 is Finnish brand Suunto's answer to Silva's classic Type 4. It's a sturdy and practical baseplate compass that feels better-built than the Type 4, with a superior bezel that offers easy-grip knurling and numerical degree markings every 20 degrees, plus 2-degree hashing. It's also marked with both cardinal and inter-cardinal points. The lack of 1:40k scale markings means it wouldn't be our first choice for use with maps of that scale, although it does have both 1:20k and 1:24k scales, which are commonly used in countries other than the UK, especially Europe and the USA. There are also 1:25k and 1:50k scale distance markings. As such, it's one of the best compasses for international adventurers.
The M-3 is slightly shorter and squatter than most full-sized baseplate compasses, but it sits snugly in the palm. The oil-damped needle settles quickly and is weighted for the northern hemisphere. The capsule can also be adjusted for declination, meaning that once set you can forget about it for the duration of your trip (unless you move to a new location with a different declination, of course). In low-light conditions, the M-3 is definitely the best compass of all those tested here. The luminescent bezel is easy to read, while the needle, bearing indicator and direction of travel are all lumed. The supplied lanyard is a good-quality cord with a plastic clip, an adjustable neck slider and a metal key that is used to adjust the declination (so keep it safe).
A universal compass with a good range of high-performing features
Specifications
Dimensions:
132 x 71 x 13mm / 5.2 x 2.8 x 0.5in 5 x 2.4in
Scales:
1:24k, , 1:50k, 1:62.5k
Reasons to buy
+
Needle tilts to 20° for accurate use anywhere in the world
+
Tool-free declination
Reasons to avoid
-
Compass can pop out of its baseplate and is hard to reinstall
GPS is an amazing tool. But GPS signals can be lost in remote locations, where a compass is always at the ready. The TruArc is an excellent option for adventurers who travel to both the northern and southern hemispheres, as it can be calibrated for either.
This compass saves time and reduces error with tool-free declination adjustment that allows the needle of your compass to point to magnetic north while the bearing on your compass bezel is offset. The degree reading off the bezel factors in declination, so you don't have to do the math. The TruArc 10 has one-degree azimuth ring markings – something that's rare in compasses in this price range – and Romer scales on the baseplate. It also has a magnifying glass over the bezel to make the bezel marks easier to read.
A compact baseplate compass with clear, practical markings and a knurled, rubberized bezel for high grip in all weather
Specifications
Dimensions:
110 x 60mm / 4.3 x 2.4in
Variants:
Magnetic Equator, Magnetic South, Magnetic North
Reasons to buy
+
Clear, straightforward design
+
Needle settles quickly
+
Knurled, rubberised high-grip bezel
Reasons to avoid
-
Simple baseplate markings
-
Lacks 1:40k scale
-
No Romers for easy grid ref finding
-
Limited lume for use in low-light conditions
The Silva Ranger is a compact baseplate compass that minimises weight and bulk whilst giving you all the essentials you need in a navigational tool. This is a great compass for day hikes. It features 1:25k and 1:50k measuring scales plus ruled mm, a magnifier for use with a paper map, a lumed direction of travel indicator and an easy-to-read bezel with a rubberised, high-grip knurled housing.
There's a clear bearing indicator and orienting arrow, as well as two-colour orienting lines within the capsule, along with a declination scale. The oil-damped needle is clearly marked and weighted for northern hemisphere use, settling quickly. You also get a useful scale lanyard, which can be placed alongside non-linear paths and tracks on the map to measure distances more accurately.
The best budget compasses
Well-built and well-priced, this is a practical, versatile and inexpensive tool for all-round navigation when hiking and hillwalking
Specifications
Dimensions:
128 x 60mm / 5 x 2.4in
Scales:
1:25k, 1:4k, 1:5k
Reasons to buy
+
User-friendly design
+
Needle settles quickly
+
Practical baseplate markings with 1:20k, 1:25k and 1:50k scales
Reasons to avoid
-
Flimsy lanyard
-
Bezel not the easiest to grip
-
Lacks friction feet for use with a map
-
No declination scale
This is a classic baseplate compass that is almost identical to the Silva Expedition Type 4. It is exactly the same size and shape, with the same bezel and capsule design as well as an oil-damped needle. It works really well with the most common UK maps since the baseplate Romers are helpfully given in 1:50k, 1:40k and 1:25k scales. These also run in both directions (eastings and northings) too. There are also distance markers down the sides of the baseplate in 1:50k and 1:25k scales. This is arguably an improvement on the mm and inches rulers of the Type 4.
A circular magnifying aperture also makes it easier to read place names, contours and spot heights or discern landscape features on a map. The needle itself is reflective, as is the upper section of the bezel, to aid navigation in low-light conditions. The crisp, clear dial is marked in degrees, showing the four cardinal compass points plus numeric 20-degree increments, with hashing every 2 degrees. There are also secondary 'mils' markings inside the bezel (for military-style navigation), though no declination scale. The bezel turns easily and smoothly, though it isn't quite as easy to grip as those with rubberised housings, especially if wearing gloves. The baseplate also lacks friction feet to help prevent it from sliding around when placed on a map. Still, for the money, this is one of the best compasses you can buy.
This budget buy is great value and makes a decent beginner's compass for those just starting out on their navigation journey
Specifications
Dimensions:
125 x 60 x 15 / 4.9 x 2.4 x 0.6 in
Reasons to buy
+
Practical baseplate markings with 1:25k and 1:50k scales
+
Useful magnifying aperture for use with a map
Reasons to avoid
-
Slightly stiff bezel
-
Dial not the easiest to read
-
Lacks friction feet for use with a map
-
No declination scale
This low-cost baseplate compass is likely to attract value-conscious hillwalkers as well as those on a tight budget. With baseplate markings in mm and inches as well as scale measurements in 1:50k and 1:25k, it works well enough with Ordnance Survey maps. The magnifying aperture also makes it easier to read place names, contours and spot heights or discern landscape features. The chunky needle isn't quite as elegant or precise as slimmer needles, but hey, it points north, and that's the most important thing. It's a little more important with this compass to ensure it is perfectly level in order to ensure a consistently accurate reading. But it did the job in the hills perfectly well, and at this price we can have no real complaints.
The best compasses for orienteering
This thumb compass is ideal for orienteers and adventure racers on a budget, offering fast and reliable direction-finding plus a couple of useful extras that might just give you the edge
Specifications
Dimensions:
90 x 80mm / 3.5 x 3.1in
Reasons to buy
+
Rubberised thumb grip keeps both map and compass firmly in your grasp
+
Stable needle that settles quickly
+
Available in both right- and left-hand models
+
Features rotating bezel with orienting lines
Reasons to avoid
-
Thick black bezel can obstruct details when overlaid on a map
-
Some users may find distance markings superfluous
Thumb compasses for competitive orienteering are specialist tools, and as such they are not cheap. As usual however, sporting goods giant Decathlon has come up with a high-spec, comparatively low-cost model that undercuts rivals from many of the best-known brands. It is significantly cheaper than equivalent models from Silva or Suunto, yet it feels like a premium product rather than a budget offering, coming in a sturdy protective case, while remaining compact, lightweight and robust. The chunky acrylic plate has a rubberised, high-friction grip inlay and an elastic thumb strap to keep it firmly attached to your hand.
The capsule has a rotating bezel marked with orienting lines, while the needle is well-balanced and settles quickly – vital when moving quickly over uneven ground. The plate extends beyond the thumb, with a graduated scale that can be used easily with 1:50k or 1:25k maps. Helpfully, the Racer 900 is also available in both right- and left-hand models, depending on which hand you prefer to hold your map and compass in. If you're prepping for a race and your nav will need to be on-point, this little thumb compass might just give you a vital edge.
How to choose the best compass
As with almost all outdoor kit, the best compass for you will depend on a number of factors – not least, your intended use and your level of navigational ability. (Our expert 'How to use a compass' guide explains the basics.)
When it comes to different types of compass, most people will be best served by a baseplate compass, while orienteers and lightweight specialists might go for something lighter, such as a thumb compass. For extremely precise navigation, especially in tactical or military settings, specialist mirror compasses or lensatic compasses are often used.
Compass type
Button compasses: The cheapest and most straightforward compasses, these are small and portable. They're generally only useful in survival scenarios, giving rough compass directions, rather than being suitable for detailed navigation.
Baseplate compass: The most common type of compass for general outdoor use, easily used in conjunction with a paper map for route-planning, route-finding and even emergency use (since the Romer scales on a baseplate compass can be extremely helpful when giving an accurate grid reference to emergency services).
Orienteering compasses: Worn on the wrist or thumb, these are designed to be used quickly and efficiently on the move, with or without a map. They generally feature simplified, uncluttered baseplates and dials as well as stable, balanced needles that settle quickly. These features enable the user to swiftly determine the direction of travel rather than follow an accurate numerical bearing. They're ideal for competitive navigation and running events or adventure races, though may not be the best compass for hiking and hillwalking expeditions.
Mirror compass: A mechanical compass fitted with a mirror, usually installed on a hinged lid. With the lid open at 45 or 90 degrees, the mirror reflects the compass dial. This enables the user to sight a direction or an object with the compass dial and housing visible at the same time. With the mirror lid fully opened to 180 degrees, you also have a longer straight line for determining the direction of travel and for map-work. A mirror also enables signalling over long distances by flashing reflected sunlight, while the lid provides extra protection when closed and stowed away.
Lensatic or military compasses: Lensatic compasses are made up of three parts: cover, base, and reading lens. The cover protects the compass and also incorporates the sighting wire, which helps you determine direction. The base consists of the compass dial, bezel, and the thumb loop. The latter is used for stability to obtain a more accurate reading. The reading lens folds out, providing a highly accurate means of obtaining a bearing.
Compass features
This will depend entirely on the type of compass you choose. We've focused on the features of a baseplate compass, which is the most common and generally the most useful compass for the majority of outdoors users – though many of these features also apply to other types of compass. You won't learn techniques like how to take a bearing without having a good understanding of these features.
Bezel: The bezel of a good baseplate compass should be primarily marked in degrees rather than mils (unless you're using it for military applications). It should have clear and easy-to-read markings, including degree hashing (usually in 2-degree increments) as well as the four cardinal compass points. The bezel should rotate easily and precisely, without sticking or jamming, though it shouldn't spin freely either. A knurled edge is also useful as this makes it easier to grip in cold conditions or if wearing gloves.
Needle and capsule: The needle should be clearly marked, with a magnetised end (usually coloured red or orange) that points north. Ensure the needle rotates freely but settles quickly, without sticking, wobbling or jumping around. It will be set in a circular capsule filled with a clear solution – in the cheapest compasses this is a liquid, but in superior compasses it is a viscous damping oil, which helps to reduce erratic needle motion. The capsule housing should have an orienting arrow and vertical orienting lines. These are especially useful when lining a compass up with the grid lines of a map. It may also have a declination scale. Note: most compass needles are weighted for northern or southern hemisphere use, so you'll need a model suitable for the place you do most of your hiking. The exception is a global compass, which has a specially balanced needle that can be used anywhere. Some users think that compasses with globally balanced needles tend to settle faster too, regardless of location.
Baseplate: The baseplate on the best compasses will invariably have some sort of Romer scale and/or distance markings. It is useful if these are shown in the same scale as used on your map, whether 1:50k, 1:40k or 1:25k. Look for Romer scales that are marked in two directions (vertically and horizontally), which can then be used to obtain both eastings and northings on a map without needing to turn the compass. A magnifier is also useful for reading the details of a map, such as place names, contours, spot heights and topographical symbols. The baseplate should also feature a distinctive and obvious direction of travel arrow to aid navigation on the ground. This should align with an index line or index pointer, marked either on the baseplate or behind the bezel, which makes it much easier to read off a bearing.
Lume: 'Lume' refers to any parts of the compass marked with luminescent paint for use in low-light conditions. This feature is extremely useful for night navigation. Ideally, the direction of travel arrow should be illuminated, as should the upper portion of the bezel (to aid reading off a bearing) and of course the compass needle, which is typically reflective.
Advanced compasses – especially military versions – may be powered by a tritium light source, a radioluminescent light-emitting isotope. This is even more effective than luminescence alone, but comes with an increase in cost.
Lanyard: A lanyard is a useful addition to a baseplate compass, since it allows you to hang it around your neck or attach it to pack straps. This makes it less likely to get dropped, lost or broken. Look for a compass with a good-quality lanyard cord – or at least a compass with a large lanyard mount (a hole in the baseplate) so you can upgrade it to 550 paracord or similar if preferred. Some compasses have a scale measuring lanyard too, usually in 1:25k and/or 1:50k. This is extremely useful for measuring non-linear distances on your map (eg if following footpaths or bridleways), though remember to account for ascent too, using a rule such as Naismith's.
Size and weight
The smallest button compasses are so-called because of their small shape and size. You can even fit one to a watchstrap. However, their navigational use is limited except in emergency situations.
Wrist and thumb compasses are also designed to be very lightweight and compact, since they are primarily used for competitive navigation – whether orienteering or adventure racing.
The most accurate mirror and lensatic compasses are generally robustly made to ensure they are rugged enough for military and tactical applications. Inevitably, the tougher components also add weight and bulk.
As such, the baseplate compass is generally the most useful navigational tool for hikers and general outdoor users. It balances navigational utility with weight, portability and overall practicality. Most will fit easily in an outstretched hand and weigh around 50g, making them a very efficient bit of kit.
All the latest inspiration, tips and guides to help you plan your next Advnture!
An outdoors writer and editor, Matt Jones has been testing kit in the field for nearly a decade. Having worked for both the Ramblers and the Scouts, he knows one or two things about walking and camping, and loves all things adventure, particularly long-distance backpacking, wild camping and climbing mountains – especially in Wales. He's based in Snowdonia and last year thru-hiked the Cambrian Way, which runs for 298 miles from Cardiff to Conwy, with a total ascent of 73,700 feet – that's nearly 2½ times the height of Everest. Follow Matt on Instagram and Twitter.