Our favorite adventures: Advnture writers celebrate their top wilderness experiences
To celebrate Advnture's third birthday, our regular writers recall their best ever adventures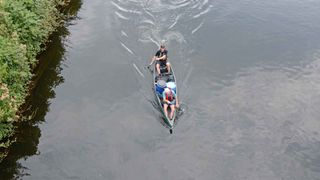 (Image credit: Pat Kinsella)
Happy birthday to us! It's exactly three years since Advnture first launched and we're in the mood to celebrate.
Since July 2020 we've been giving you the best outdoor buying advice, telling you everything you need to know about getting out into the wilderness. And because our writers love exploring the world's trails, mountains and waterways as much as you do, it felt entirely appropriate to celebrate our big day by recalling the exciting adventures that made a lasting impression on us.
We hope you enjoy reading about our favorite outdoor memories as much as we enjoyed making them – and Happy Advnture Day!
Kayaking on Lake Tahoe
For our honeymoon, my husband Matt and I took a road trip from Los Angeles to San Francisco. A few of our planned adventures were curtailed by the 2013 government shutdown, which started during our final day at Yosemite and put the kibosh on our plans to visit the giant sequoias, but Lake Tahoe was incredible.
It was September, the weather was perfect, and the lake was just amazing. The British lakes and canals where Matt and I had kayaked and paddle boarded before were all a healthy shade of brown, but Tahoe was stunningly blue, and so clear you could see right down to the bottom despite its incredible depth.
We went out with a guide named Robin, who shared her favorite Tahoe trivia as we paddled out, watching fish gliding below us and marvelling at the mountains soaring overhead. The weather was a little windy, and we were able to ride a wave back to shore for a picnic before heading out again for the afternoon. We spent much too long there and ended up driving through much of the night to our next stop, but it was worth every moment.
We've just celebrated our 10th wedding anniversary, and perhaps for our silver one we'll return to Tahoe for another day on those sapphire waters.
Cat Ellis, editor
Exploring the West Highland Way
I've had adventures all around the world, and between canyoneering in Utah and kayaking in Vietnam, it's truly impossible to choose a favorite one. So I've picked the adventure that calls me back again and again, and that is Scotland's West Highland Way.
This 96-mile long distance trail starts five miles from my front door, and I can walk to the trailhead if I want to. From there, it heads north to lovely Loch Lomond, through haunting Glencoe and finally alights in Fort William. I'm certainly biased, but I do think that Scotland is the most beautiful country in the world and The Way delivers some of the most dazzling views, from lush forests and glittering lochs to windswept moors and rugged highland peaks.
I've thru-hiked it and section-hiked it and day-hiked it. I've hiked it in summer and winter. I've wild camped and stayed in fabulous hotels along it, and done loads of wild swimming the various lochs, rivers and waterfalls that you pass along the way.
I think my favorite thing about the West Highland Way is that if you want to make it more challenging, you can fast pack it or run, but it's also accessible to fairly novice hikers and you see folks of all ages and abilities on it. It might just be the most democratic hiking trail in the world.
When you next visit Scotland, spend a day, a night or a week on the West Highland Way and you'll feel like you never want to look at a screen ever again – it might not be the most daring or challenging adventure out there, but it's a true bucket list adventure.
Julia Clarke, staff writer
Canoe-camping on the River Barrow
Picking your best ever adventure is like trying to name your favorite album – it's impossible to pin down, but I'm going with a canoe-camping trip along the River Barrow I did with my old man.
Part of a trio of waterways known as the Three Sisters (along with its smaller siblings, the Suir and Nore), the Barrow is Ireland's second-longest river, after the broad, majestic Shannon. Dad grew up on the banks of the Shannon and we'd explored lots of rivers together, but as he was drifting into his eighth decade, we both knew this would (probably) be our last proper paddling trip.
We spent five brilliant days, under surprisingly blue Irish skies, paddling through a historic and bucolic landscape, on a river that flows freely with a rich mix of myth, legend, wildlife and adventure.
Overlooked by the moody Blackstairs Mountains, the Barrow wends through six counties in central Ireland. Its serpentine course is punctuated by castles and the occasional town, including Athy (birthplace of Antarctic explorer Ernest Shackleton). But it also flows through little-visited forests, rich farmland and majestic meadows, where we wild camped on the riverbank.
After launching just below the junction with the Grand Canal, at Monasterevin (optimistically known as 'Ireland's Venice'), we paddled 80km downstream to New Ross, where the river meets the saltwater of the Celtic Sea. En route, we bypassed the locks by shooting the weirs that rush around them, an exciting experience in a fully laden canoe, packed to gunwales with camping equipment.
The best section came just after the beautiful village of Borris, where we ran a series of rapids through a seemingly endless tunnel of trees, as iridescent kingfishers skimmed across the water.
On the final night we camped on a little island just past Graiguenamanagh, by a musical weir above St Mullins, where the Barrow becomes an estuary. To catch the outgoing tide, we launched before dawn, and navigated the stout-dark water by headtorch for several hours.
The tide turned before we reached New Ross, but the Barrow had one last gift. Paddling hard against the incoming flow, we looked up to see a family of otters cavorting around in the water just a few feet ahead. Magical memories.
Pat Kinsella, consulting editor
Running the Trotternish Ridge
The best adventures require a few essential ingredients in my opinion – and these include a good route (preferably somewhere new), scenic views, and the company of upbeat and like-minded friends.
One of my most memorable hill runs of recent years, which included all the above and more, saw me traversing the Trotternish Ridge on the northern peninsula of the island of Skye in Scotland.
The ridge – described by many as Tolkien-esque – was formed millions of years ago when volcanic lava flowed over an underlying bed of sedimentary rock. The rock gave way and fractured along a north-south fault line. Then, massive blocks of rock slid towards the sea and left behind the jagged landscape seen today.
The overall result is a long arc of steep cliffs, grassy craters, rolling hills, high crags and rocky pinnacles.
As a group of seven friends, we completed the 28km rugged run, with almost 2000m of total elevation, from the north of the ridge (near Flodigarry) to the south. We passed several famous geological gems including The Quiraing, the Old Man of Storr and Needle Rock, and finished the adventure just below the Old Man.
We enjoyed stunning views of the ridge itself, the dramatic coast and sea, and many high mountains of the north-west mainland.
We were also blessed with fine weather and plenty of sunshine, and apart from the major geology attractions, we saw very few people the entire day.
If you would like to follow in my footsteps visit Walk Highlands or sign up for the annual Trotternish Ridge Race.
Fiona Russell
Climbing Gran Paradiso
Watching tiny figures inch their way across the glacier towards Mont Blanc from the safety of Aiguille Du Midi viewing platform in 2012 undoubtedly kindled something. I'd spent the week trekking the spectacular Tour du Mont Blanc but seeing these mountaineers dwarfed by the vastness of the Mont Blanc massif made me realise that, as much as I loved hiking, I wanted a taste of alpinism too.
So, my first 4,000-metre alpine peak in 2019 was an adventure I'll never forget, very much the realisation of a dream. The peak in question was Gran Paradiso, a majestic giant and jewel in the crown of the national park it shares its name with. At 4,061 metres, it's the highest mountain completely within Italy and is an excellent objective for burgeoning alpinists.

Having camped in the valley, my friend Mirek and I hiked up to Rifugio Federico Chabod through the summer heat. After a hearty Italian meal and a fitful sleep, we were up at 3am for the summit push. Crossing the glacier as the dawn sun illuminated the distant Mont Blanc massif was something I'll never forget. Neither will I forget the depths of the many crevasses that lined the route, particularly as we'd decided not to rope up – not something I'd now recommend and, in hindsight, a mistake.
To top it all off, gigantic views across the Alps towards the likes of the Matterhorn and the Monte Rosa group were revealed from the summit. What an experience!
Alex Foxfield, contributor
Trekking and flying in Milford Sound
"Why are so many of these hikes linear?" I complained to my hiking buddy Kate as we looked at the huge map in front of us at the tourist office in Queenstown, New Zealand. First world problems, eh? The super-famous, spectacularly beautiful Milford Track was sold out, so, reluctant to do too much out-and-backing, we devised our own sort-of circular route so we could 'tramp' (the NZ word for hiking) for a whole week and still see this famous fjord.
We hiked up Caples Track, clambering up steep hills laddered with exposed tree roots with our full packs full of seven days' worth of food and sleeping gear. At the junction with the Routeburn Track we ran/hiked its length in a day because the only hut we could book was at the end of the route. After hiking back again the following day we hitched a lift to Milford Sound with two mad Swedish guys.
The plane flight was astounding – jagged peaks scraping the horizon, dazzling, blue glaciers tipping off towering cliffs into foaming, white waterfalls, reflected perfectly in the still fjord below. After slap up meal and a quick email to worried parents to confirm we were still alive (the Christchurch earthquakes had sadly happened while we were incommunicado on the trail), we hitched back to the trail. We returned via the Greenstone Track, undulating through lush, green pastures beside a winding river, a nice easy couple of days to end one of my favorite adventures.
Claire Maxted, contributor
Wild camping in Carneddau
My favorite adventure is a one-night wild camping trip in Eryri's Carneddau. It was a spontaneous return to the great outdoors following the relaxing of lockdown restrictions back in 2020. And though it was only a short trip – one that required no flying, no advanced bits of kit, and little planning – it stands out in my mind as the most enjoyable outdoor experience I've ever had, beating adventures up Indonesian volcanoes, numerous Alpine summits, and Scottish winter mountaineering escapades.
The route for this trip was a circular hike up over the peaks of Pen yr Ole Wen, Carneddd Llewelyn and Carnedd Dafydd. The walk itself was around 18km long and easily doable in a day. Due to months of being stuck inside watching the news on repeat, however, we decided to make the most of it, splitting the walk up into two days so we could properly take our time. And this is exactly what we did. We stopped to take in the views every time a new angle opened up, and we took the time to chat to every other person we bumped into on the trail.
Later that day, we pitched our tents on the shores of Lake Ffynnon Llugwy, cooked some food, opened a bottle of whisky and sat up late under the stars. It was simple, spontaneous and utterly enjoyable – and an experience that proved to me how you don't need to go far to have the time of your life.
Craig Taylor, contributor
All the latest inspiration, tips and guides to help you plan your next Advnture!
Launched in July 2020, Advnture is the ideal destination for anyone who loves the great outdoors. Whether you're into epic hikes through the wilderness, camping trips with the family, climbing with your friends, or looking for a trail running personal best, our team of experts will point you in the right direction, with top buying advice and in-depth guides to help you get the most of your time in the backcountry.