Running and the pelvic floor: we get to the bottom of your questions
We speak to an expert and physical therapist about running and the pelvic floor to better understand this mysterious group of muscles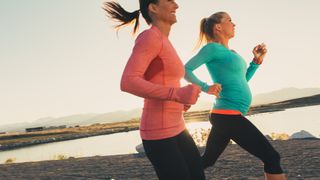 (Image credit: Getty)
In recent years – and not a moment too soon if you've been experiencing pelvic pain and discomfort – there has been increasing attention on the pelvic floor. Most of us can probably imagine roughly where the pelvic floor might be and we've all heard that you want to keep it strong and supple, because a weak pelvic floor can cause embarrassing and painful symptoms. But beyond that, the pelvic floor is really a bit of a mystery to many of us. Where exactly is it and what does it do? What happens when it's weak and how do you strengthen it? And what about running and the pelvic floor?
Whether you're getting back to running after pregnancy or have been experiencing pelvic pain and dysfunction, you might be wondering if – and how – running affects your pelvic floor. We sat down with physical therapist and pelvic floor expert Dr Amanda Olson to find out what you can do to support your pelvic floor so that you can keep pulling on your best trail running shoes and hitting your goals.
After completing her doctorate in physical therapy 14 years ago, Olson seriously injured her pelvis and pelvic floor in a cliff jumping incident in Oregon. You don't need all the gory details, but just imagine jumping 40 feet into smooth water and landing seat first and you'll get the picture. The accident could have been deadly, but instead resulted in six months of rehab with a pelvic health physical therapist, which paved the way for several big changes in Olson's life. First, she was able to recover to the extent that she has since run marathons and given birth to two babies naturally. Second, the experience was so profound that she decided to quit pediatrics and retrain to become a pelvic health physical therapist herself.
Today, Olson offers pelvic health education, makes pelvic health devices for her company Intimate Rose and recently co-authored a research paper on postpartum running and pelvic health that was published in the Journal of Women's Health Physical Therapy.
What is the pelvic floor?
Let's start with the basics. The pelvic floor is a group of muscles that is in the shape of a diamond in both women and men. It starts at your pubic bone in the front of your pelvis and then it swings wide to connect to your two sitting bones before coming back to your tailbone. The pelvic floor muscles support your pelvic organs – your bladder and rectum, and in women, the vagina and uterus – so it's pretty important. Further, Olson explains that the pelvic floor participates as part of your inner core to help support the spine and hips.
"When we move, the pelvic floor is engaging and relaxing to allow us to move and bend over and pick things up, and still maintain good support of those organs."
Basically, you're utilizing your pelvic floor muscles all the time, and much like your abdominals, their integrity and health become increasingly important when you pick up the pace and start bounding down the trail.
Why is it important to strengthen the pelvic floor?
Like any muscle, the muscles of your pelvic floor can be strengthened or weakened, and additionally, they can also be excessively tight, or hypertonic. Weak or hypertonic pelvic floor muscles often occur as the result of surgery, childbirth or even as Olson explains, due to illnesses like Covid where you might be coughing a lot, which can cause strain. So it's important to note here that while most of the focus of pelvic floor research is on women who have experienced childbirth, all women and men can be affected too.
The ramifications of weak pelvic floor muscles are quite far-ranging, according to Olson, and include:
Incontinence, especially during coughing, sneezing and running.
Pelvic organ prolapse, where one of the organs sinks down into the pelvic bowl.
Sensation of pressure in the pelvis.
Pain and discomfort during sexual intercourse.
Understandably, Olson says that the symptoms of pelvic floor dysfunction can be quite distressing, but as she's experienced herself, you don't have to live with them forever.
Does running strengthen the pelvic floor?
A 2021 survey of 1,379 women published in the International Urogynecology Journal found that postpartum women who participate in running do have a higher prevalence of symptoms of postpartum disfunction, such as incontinence, than postpartum women who participate in Cross Fit. However, according to Olson there's not a one-to-one correlation between the two.
"The act of running can engage the hips if someone is running properly. The other side of that is if somebody has bad biomechanics, or bad running mechanics, they may be moving their hips and their pelvis in a way that can have some negative consequences on the pelvic floor itself."
When it comes to postpartum running, her research paper notes that pregnancy and childbirth do produce changes in the muscles and ligaments of the pelvic floor, and returning to running should involve a readiness screening and personalized rehabilitation plan. On its own, running hasn't been found to be inherently bad for your pelvic floor, but if you are concerned about weak pelvic floor muscles, you'll want to work with a physical therapist or other coach who can examine your running gait and make sure you're not moving in a way that might negatively impact your pelvic floor muscles.
I have a weak pelvic floor when running, what can I do?
If you are experiencing signs and symptoms of weak pelvic floor muscles, Olson urges you to first and foremost see a pelvic physical therapist to get a proper diagnosis and understand what the driver of the issue is.
"If the pelvic floor muscles are weak, maybe after having a baby or having surgery, or after having an illness where you were coughing a lot, that might be a driver where you need to strengthen and re-coordinate the muscles and get better endurance of them."
However, Olson cautions that just because you are experiencing symptoms such as pain and dysfunction, it doesn't necessarily mean that weakness is the main cause.
"It's also possible that the pelvic floor muscles are too tight, and they lack flexibility. So when you're running, the pelvic floor muscles are stiff and little bits of urine are leaking out because they're not forming this nice trampoline, like a sling with each and every running step. "
So for that reason, different drivers would require an evaluation by a specialist in order to determine the best action for you.
What does it mean if I have pelvic floor pain after running?
As with any pain condition, if you're experiencing pelvic floor pain after running, it's important to consult a medical professional, because as Olson advises that there are several possible culprits.
Because the pelvic floor is a group of muscles, they can develop so-called "knots" and tender points just like you might have experienced in the muscles of your neck, shoulder or even glutes and these points can get exacerbated by the movement and impact of running.
Then again, there's the issue of the muscles of your pelvic floor being overly tight, or hypertonic, the cause of which isn't totally understood but many researchers such as those that work with the Continence Foundation of Australia speculate that it may be associated with psychological factors like stress and anxiety in addition to the other physical factors we've discussed.
Finally, it may be that your running form – or the technique with which you approach your movement – is the problem.
"It's possible that you don't have good mechanics of your pelvis when you're running. And so when you're going out, and especially going for a longer run, you're putting undue strain on one side or the other, or the pelvic floor muscles don't have adequate endurance. So they're getting fatigued, and they can become sore with that, interestingly, and that's especially true after childbirth or surgery."
Should I stop running if I have pelvic floor pain?
If you are a runner and experiencing pelvic floor pain you may be concerned about getting a diagnosis in case it prevents you from running. After all, those of us who run, love to run. Here, Olson advises that there are a lot of different philosophies regarding whether or not to stop running, but not to jump to the worst case scenario. The first factor to consider is whether or not there's what she called a "red flag," such as a stress fracture, or serious breakdown in your running form.
"If you feel like you can go out and get a couple of minutes of running in in a safe way that's not flaring up to the point where you're having serious repercussions, I still work with you in that capacity, so I don't necessarily take it away. But I like to educate you that it's okay to do this thing that you love. But let's not push it beyond a barrier where you're paying for it for the next three days."
As a runner herself, Olson says she understands that nobody wants to be told not to run, particularly because, as she discusses in her research paper, there are so many good psychological and physiological health benefits, including reduced risk of premature mortality and cardiovascular disease, improved endurance, and weight management.
"We're all going through such a tough time. So we don't want to take away someone's coping mechanism. But the education needs to be in place that if you're starting to feel pain at mile three, let's do two miles."
What can I do to strengthen the pelvic floor?
Of course, each case will be unique according to the drivers behind your pelvic floor dysfunction, but a visit to a pelvic floor specialist like Olson may result in being given exercises such as Bird Dog, where you're on your hands and your knees and you reach one arm and the opposite leg out, single leg bridge and squats, all with proper form, to help engage your core, pelvic floor, glutes and hips.
Once you've got re-established strength and stability in those types of exercises, you can expect to incorporate dynamic movements where you'll focus on keeping good engagement of your pelvic floor and maintaining a proper pelvic position, like hopping, jumping and lateral movements perhaps using a resistance band to strengthen the sides of your hips as well as your pelvic floor.
"The reason why the hips are so important is not just in service of running, but they actually share a fascial plane or a tent wall with the pelvic floor muscles. So we can train them together to make the process go faster and to get them having good strength and endurance of the muscles that help you to be a better runner too," explains Olson.
For more, Olson offers several video guides including one on pelvic floor and core stability for runners where you can receive expert guidance from home.
All the latest inspiration, tips and guides to help you plan your next Advnture!
Julia Clarke is a staff writer for Advnture.com and the author of the book Restorative Yoga for Beginners. She loves to explore mountains on foot, bike, skis and belay and then recover on the the yoga mat. Julia graduated with a degree in journalism in 2004 and spent eight years working as a radio presenter in Kansas City, Vermont, Boston and New York City before discovering the joys of the Rocky Mountains. She then detoured west to Colorado and enjoyed 11 years teaching yoga in Vail before returning to her hometown of Glasgow, Scotland in 2020 to focus on family and writing.