The world's best marathons: 10 great races over 26.2 miles
The best marathons for exploring incredible landscapes, spotting famous landmarks, and soaking up the local culture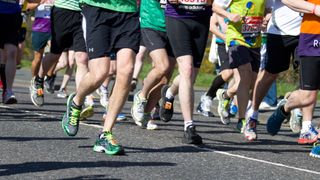 (Image credit: Getty)
Whether you dream of posting your fastest ever time or just completing 26.2 miles, the marathon holds a special allure for runners. Not only is it a great physical challenge, once you've been bitten by the bug, you can use races as a way to see the world and have an adventure.
Here we've selected 10 of the world's best marathons, from the iconic London marathon all the way to the slopes of Mount Everest. There are marathons on trails, roads, through the jungle, in famous cities, up thousands of steps, in the dark and even around forgotten temple ruins. One of these races will have you lacing up your best running shoes and getting stuck into that first marathon training plan in no time.
Tromsø Midnight Sun Marathon, Norway
When? June 18, 2022
Why? Close to the longest day of the year, the Tromsø Midnight Sun Marathon (opens in new tab) starts at 8:30pm – yes, pm, because the sun never dips down past the horizon at this time of year in this part of Norway, at 69 degrees north and 350km above the Arctic Circle. One of the most spectacular entries on our list of the world's best marathons, this unforgettable race takes you on a fantastic tour of this small island city, crossing long, high bridges and running past boats moored in the marinas, all with a stunning backdrop of snow-covered mountains gleaming in the midnight sun. What a night to remember!
Khmer Empire Marathon, Cambodia
When? August 7, 2022
Why? Connect with your inner Indiana Jones to run this marathon through the incredible Angkor Wat temple complex, the largest religious monument in the world. This was the capital city of the Khmer Empire in Cambodia from the 9th to the 12th century, and the Khmer Empire Marathon (opens in new tab) starts in front of the Central Sanctuary – an iconic temple with intricately carved, cone-shaped stone turrets topping the steps, columns, and rooftops. You run past stone carvings of gods and deities, intriguing decorated doorways and temple ruins part-devoured by jungle plants and ruled now by cheeky macaques. This is a marathon run through history.
Marathon des Châteaux du Médoc, France
When? September 10, 2022
Why? So you've heard of a beer mile, right? Welcome to the wine marathon! Arguably the world's best marathon for oenophiles, this French speciality is one of the longest marathons in the world due to its 23 wine tasting stops. Celebrated for its carnival atmosphere, with most competitors running in fancy dress, the Marathon des Châteaux du Médoc (opens in new tab) visits several scenic vineyards where you can try their best grape-based offerings, along with various delicious cheeses, biscuits, waffles and crackers before staggering to the next stop, serenaded by local bands all the way round. It's a pity the cut off is 6.5 hours, as we're sure most runners would rather wait a while to consume the oyster and steak courses in the final few miles. You even get a bottle of wine in your goodie bag!
TCS London Marathon, United Kingdom
When? October 2, 2022
Why? It's the ultimate marathon dream, running the London Marathon (opens in new tab) with 40,000 people, from world elites like Eliud Kipchoge and Brigid Kosegei, to people dressed as bananas and toilets – all while basking in all those quintessentially British sights on a car-free course. It's packed full of landmarks, from the start in Greenwich Park to its finish near Buckingham Palace, and you can marvel at historic sailing ship the Cutty Sark or shiver at the Tower of London from Tower Bridge at the halfway point. Enjoy the London Eye, Big Ben and the Houses of Parliament, and save some energy to wave at the Queen as you pass Buckingham Palace before tearing down the Mall in the finish of a lifetime.
Otter African Trail Run, South Africa
When? October 8, 2022
Why? This coastal trail marathon isn't for the faint of heart, with four river crossings, 11 huge climbs with around 7,000 steps, and a total ascent of 2,400m. Each year this awesomely rugged race through indigenous forest changes direction. 2022 is an Otter year, which means running from east to west along the Indian Ocean coastline, starting in Storms River and finishing in Natures Valley. 2023 will be a Retto year, meaning the route is revesrd. The final wobbly bridge across the final stretch of water to the Otter African Trail Run (opens in new tab) finish line is a spectator's dream and the competitor's nightmare – don't stumble now!
Polar Circle Marathon, Greenland
When? October 29-30, 2022
Why? One of the world's best marathons and definitely one of the coldest, the chilliest 26.2-mile race on earth invites you to crunch through the snowy slopes of Greenland to a backdrop of glaciers, shaped by the wind into frozen waves in a still, silent sea of shimmering blue ice. Hats, gloves, and even a full face balaclava are a must for these memorable miles in sub-zero temperatures through the arctic tundra, breathing in the super fresh, cool air and revelling in the untouched natural beauty of the place. Will you see a musk ox or an arctic fox on the iconic Polar Circle Marathon (opens in new tab)? There's only one way to find out...
TCS New York City Marathon, USA
When? November 6, 2022
Why? The pull of the New York Marathon (opens in new tab) will be irresistible to some runners, keen to be part of the 50,000 strong thronging the streets of the Big Apple in spectacular style. The roar of the crowd and the sights and sounds of all five boroughs of New York City and those iconic skyscraping views will have you savouring every one of those 26.2 miles. Highlights include the the world's longest suspension bridge, Verrazzano-Narrows, the Williamsburg Savings Bank Tower with its huge clock face, the Empire State Building, Fifth Avenue, Columbus Circle and huge crowds cheering you to the finish line in the iconic Central Park.
Shotover Moonlight Mountain Marathon, New Zealand
When? February 18, 2023
Why? This is one of New Zealand's most breathtaking trail marathons, with plenty of high, skinny ridge running through the mountains of Ben Lomond Staton near Queenstown. The terrain is constantly changing on this 42km course through historic gold mining country as you run past the rusty remnants of this historic past. The Shotover Moonlight Mountain Marathon (opens in new tab) offers ups and downs through tussocky grasslands, beech tree forest, mountain ridges, descents on loose scree, an exhilarating ladder climb next to a waterfall and a tunnel to run through down in the valley. The final section past Moke Lake, reflecting the green and brown mountainside right back at you is a fantastic reward.
Great Wall Marathon, China
When? May 20, 2023
Why? Who wouldn't want to pit themselves against a whopping 5,164 steps along the Great Wall of China in this epic marathon? Some are even as high as your knees and at times you need your hands to help with the climbing. Starting from Yin and Yang Square in the old Huangyaguan fortress, you climb for the first 5km cheered on by spectators to finally meet the wall. Running the Great Wall Marathon (opens in new tab) is both heaven and hell, with so many steps (did we mention it's 5,164 in total?) but surrounded by jaw-dropping views of the wall snaking off into the green, mountainous distance. The final descent down the infamous 'Goat Track' steps will test those quads for sure!
Everest Marathon, Nepal
When? May 29, 2023
Why? Since the Nepali earthquake of 2015, the world's highest mountain, Everest, has been remeasured as almost one meter higher at 8848.86m, so the Everest Marathon (opens in new tab) organizers are now celebrating their race's presumably slightly higher start at basecamp at the foot of this epic mountain. Don't worry, the route doesn't go up Everest – runners start at around 5,356m of altitude at the Khumbu Icefall and weave their down the Sherpa trails past tea houses, possibly yaks, prayer flags, scrolls and painted rocks, all with a horizon of soaring, toothy white peaks through the Khumbu valley to finish at the vibrant mountain town of Namche Bazar.
The co-founder and former editor of Trail Running magazine, Claire now runs the YouTube channel Wild Ginger Running, creating films packed with trail- and ultra-running content. An award-winning journalist, writing for outdoor and adventure sports magazines and websites, her first book The Ultimate Guide to Trail Running 5k to 50k is out in January 2021. Claire also speaks and presents at events and races.
All the latest inspiration, tips and guides to help you plan your next Advnture!
Thank you for signing up to Advnture. You will receive a verification email shortly.
There was a problem. Please refresh the page and try again.