Running after pregnancy: 10 tips to get you back on the road after your baby's arrived
You may need to take your time, but our guide can help you return to running after pregnancy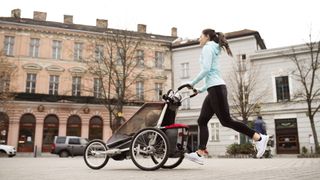 (Image credit: Getty)
"Oh yes, I started running two weeks after little Horatio was born. It was easy!" Where running after pregnancy is concerned, rest assured new moms, this is very much not the norm. Pregnancy and birth takes a major toll on the pelvic floor and abdominal muscles, and returning to running should in most cases be taken slowly so as to work with the repairing body rather than cause further damage.
Getting back to running after pregnancy varies so much from person to person so the most important thing is to take things at your own pace without comparing yourself to others. No one has the same pregnancy, birth and post-birth circumstances so everybody's journey will be completely different.
However, it's understandable that moms can feel pressure to rush back to running, either from just wanting to feel normal again after feeling like an elephant for the last few months to scrolling through social media and seeing other moms doing more running, earlier.
Before you start any of the exercises here, get the all clear from a medical professional first. So here are the basic guidelines for getting back to running after pregnancy.
1. Wait a bit
At least 12 weeks after birth is recommended. Research in the British Journal of Sports Medicine states that "15-30% of first time moms will experience urinary incontinence," and horrifyingly, "One in five first time moms complain of faecal incontinence at one year after giving birth." They suggest recovery times of four to six months may even be in order for the pelvic floor after vaginal births, and six to seven months for the abdominal muscles (stomach area) after a caesarean section. During this time a program of low impact gradually moving to higher impact exercise and strengthening exercises should be used.
2. Strengthen up
Pelvic floor exercises (kegels) are not interesting or fun, but they're vital to stop you peeing on the run. To engage your pelvic floor imagine stopping yourself going for a wee and farting so both areas are tensed up. Hold for five seconds then release. Build up to 5-10 at a relaxed pace while sitting down 2-3 times a day. For C-section recovery work on your core with gentle exercises like deep breathing from the diaphragm while lying down, kneeling down and up, glute bridges, squats and lunges. Build up to 10 of each once or twice a day. Avoid sit ups, press ups, lifting heavy weights and twisting until you're healed fully.
3. Check your bra size
Especially if you're breastfeeding, your boobs might have gone crazy, so make sure you have the right size of running bra to cater for the increased size. Some bras are compatible with nursing with clips to unhook the cup, however the only high impact bra for larger boobs that is compatible with breastfeeding is the Enell Sports Bra due to its front opening. You'll feel a whole lot comfier and cared for with a properly fitting bra. You birthed a tiny (or not so tiny) human – you deserve it!
4. Go easy on yourself
It's easy to get stuck scrolling through Instagram looking at other new mom runners achieving amazing things a few months or even a few weeks after giving birth. Elite athlete moms in particular seem to bounce back sooner than regular runners so please, please try not to compare yourself when running after pregnancy. You are not any less of a person because you can't run for four months, six months, or even a year or more after you've given birth. Talk to other moms experiencing the same lows and frustrations about running as you to help you get through this time, and throw yourself into your recovery or a different hobby with gusto (if you have the energy!).
5. Do other exercise!
Exercise is fantastic, especially as runners we rely on it to improve or maintain our mental health and feel good about ourselves, so just because you're advised not to run yet doesn't mean you should miss out. There are loads of fun low-impact workouts available free on YouTube, from five-minute sessions to whole hours that you can sneak in during nap time without even leaving the house. Walking, cycling (once you're comfortable enough down there) and swimming (once any wounds are healed) are also fantastic ways to feel the burn and get out of breath without the impact. Use the time to work on your whole body running strength or do those injury prevention exercises you keep meaning to do.
6. Eat well
Make sure you eat enough to avoid RED-S (Relative Energy Deficiency in Sport) especially if you're breastfeeding. Now is not the time to worry about losing weight unless you're clinically obese or have been advised to make this a priority for other reasons by a medical professional. Focus your precious energies instead on eating nutritious healthy foods including lots of leafy green veg.
7. Get a running stroller or baby backpack
You don't have to run yet with your running stroller or pushchair, but getting one of these and/or a baby backpack are both fantastic ways to make sure you do loads and loads of walking. Set yourself a target like 5km or 5 miles a day. Nap your baby in the stroller, and you can adventure off the beaten track for miles. Pop them in the backpack and you have an instant strength workout while hiking!
8. Have a post-partum check-up
If you're still having problems with pain and/or leakages after the 12 week period (or earlier if you're concerned), book in with a dedicated pelvic floor physio for a Mommy MOT. Yes you will be prodded down there (again!) and no, it's not fun, but at least you'll get to the bottom of your troubles and come out with a plan of exercises for a quicker recovery. It's money well spent.
9. Actually do the exercises from your check-up
So many people pay for the check-up or (in the UK) wait for the NHS equivalent, and then don't actually do the exercises. Set a reminder in your phone to do them at a convenient time. There are also apps you can use to track your progress, make it more fun and nudge you to keep going like Kegel Trainer, Squeeze Time and Easy Kegel.
10. Return gradually
It might be maddening for the mom that's still super fit and enthusiastic but leaky, but don't overdo the running after pregnancy too soon and undo all the good work you've done. Doing a couch to 5k program isn't a bad idea, with walking and running combined, or start running round your garden, then the block, then add on half a mile or a kilometer each time. Be patient and easy on yourself; you will get there, we promise.
All the latest inspiration, tips and guides to help you plan your next Advnture!
The co-founder and former editor of Trail Running magazine, Claire now runs the YouTube channel Wild Ginger Running, creating films packed with trail- and ultra-running content. An award-winning journalist, writing for outdoor and adventure sports magazines and websites, her first book The Ultimate Guide to Trail Running 5k to 50k is out in January 2021. Claire also speaks and presents at events and races.