Plus-size hiker? Check out our expert tips for choosing the best gear
If you're a plus-size hiker, you'll want to check out these expert tips for choosing the best gear to help you get out and move in the outdoors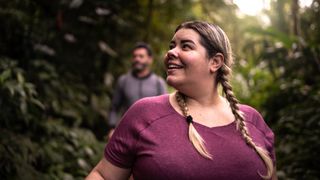 (Image credit: FG Trade)
If you're a hiker and you require clothes bigger than a US women's size 14, you may unfortunately have experienced a major barrier in accessing the outdoors comfortably – not being able to find decent hiking clothes like hiking pants and fleece jackets that fit you.
According to Denver-based Raquel Vélez – owner of Alpine Parrot, a clothing company geared towards plus size hikers – a lack of suitable clothing options is the single biggest factor keeping people of size off the trails.
"It's a physical barrier to entry for a lot of people. If it wasn't for my absolute fascination and love for the sport of skiing I would have quit because the gear options were so bad," Vélez, who wears a size 16, tells Advnture.
Vélez grew up in a Puerto Rican family in New Jersey, which – she explains – is another way of saying she did not grow up in the outdoors.
"If you talk to anyone who is from an immigrant family or who has any sort of poverty in their ancestry, the idea of voluntarily sleeping on the ground outside is not the definition of success. Why would you do that? We have a house, we worked very hard for this house."
However, in her 20s, Vélez moved to California and started to dip her toes into nature a little. One weekend in Tahoe, she chaperoned her husband on a ski day since she was worried for his safety and ended up falling for the sport herself.
"It was a life changing experience. I absolutely fell in love with skiing. I had dreams of the wind in my face as I was flying down the mountain. I have not missed a single ski season since."
Like many of us, she initially learned to ski in clothes she already owned: sweatpants under rain pants and a hoodie under a rain jacket. But as her infatuation developed from a casual encounter to a sport that she wanted to pursue, Vélez realized she needed proper gear.
"I at least needed pants that weren't going to allow snow to go down my backside, because when you're learning you end up in the snow a lot. So I went to my local outdoor gear outfitter and nothing was in my size."
For reference, the average American woman wears a size 14 and in the US, anything above a 14 is usually considered plus-size, encompassing almost two-thirds of women. In the UK, where there is a different sizing system, plus size refers to any size above an 18, accounting for about a third of UK women. Many outdoor brands either don't cater to plus size at all, or have extremely limited and low quality options, according to Vélez.
Giving everyone access to the outdoors
With her background in mechanical engineering, Vélez decided that rather than give up on the outdoors, she would fix things. In the same weekend that she learned to ski, she also learned to sew. Then she spent five or six years learning to make her own patterns.
In February 2020, right before lockdown, Vélez left her day job as a mechanical engineer to focus on Alpine Parrot. The small company's mission is simple – give everyone access to the outdoors, especially people of size and color, so that they can experience the joy of nature. Today, Alpine Parrot is in the process of engineering hiking pants for plus-size hikers sizes 14-24, and are working on going up to size 30.
"68% of American women aren't being served."
In addition to her own experiences, Vélez explains that she had three primary reasons for starting the business, the first being the social implications of getting more people outdoors.
"68% of American women are a size 14 and up and they want to participate in the same things as everyone else and we're not giving them that opportunity."
If we can get that 68% of women outdoors, Vélez points out that there will be massive economical benefits.
"If 68% of American women aren't being served, you're literally leaving two thirds of the money on the table!"
And finally, there are huge environmental reasons for inclusivity in gear manufacturing.
"People save the things they love. If they don't know that they love the environment, why would they bother to try to save it? They're not going to sign the petitions or call their lawmakers because it doesn't matter to them because they've never been exposed to it."
"The more we normalize different shapes and sizes, the sooner the obstacles will start to fall."
The good news is many major outdoor brands are starting to come around to a more inclusive approach. Some of Vélez's personal favorites for plus-size outdoor gear are Alder Apparell, Outdoor Research, Plus Snow and Alpine Curves while UK outdoor clothing brand Craghoppers also caters to women from UK size 8-20.
"It's not necessarily that we 'tailor' to plus-size hikers but we are an inclusive not exclusive brand. We want everyone – whatever their size, shape, background – to be able to enjoy the outdoors. No one should be excluded from that," says Craghoppers Product Development Manager Maddy Fenby Taylor.
Meanwhile, UK brand Berghaus currently offers its outdoor gear going up to a women's size 20 and men's XXL with product manager Demi-Louise Procter saying it needs to be a priority for all outdoor brands.
"We really want to help anybody access the outdoors. It doesn't matter what size or shape you are, there is joy to be had outdoors. If there is something preventing an individual from getting outside, we want to deliver a solution. The more we normalize all different body shapes and sizes in the outdoors, the sooner the obstacles will start to fall down."
However, as Vélez points out, plus-size gear isn't just about bigger sizes. So what exactly should you be looking for when it comes to plus-size hiking gear?
Fit
First off, Vélez explains that when it comes to plus-size gear, it's not just about being bigger – it also needs to fit well and be comfortable, something that not all brands have historically understood.
"Five or six years ago a bunch of companies attempted to make plus-sizes and it crashed and burned because they started with bad assumptions, made bad products, nobody bought it and then they walked away saying there is no market here and the reality is the market is here, they just did a bad job," Vélez recalls.
Rather than simply making clothes bigger, Alpine Parrot has two different fit styles called Mountain, for people who have a smaller waist and bigger hips, and River, for people who have more of a closer alignment between waist and hips.
"We recognize that people come in different shapes as well as in different sizes," says Vélez.
In terms of comfort, Taylor suggests looking for clothing with some stretch, which is going to make you feel great and be unrestrictive but also something that protects you from the elements and is made from moisture-wicking material.
"When designing our products we consider how the design works on all sizes. We consider sleeve lengths, button spacing, we add modesty buttons to most of our women's shirts to prevent gaping, we look at panelling position and shaping and length," said Taylor.
Proctor recommends looking for items with a good range of adjustable features.
"We have products with waist adjustment, as well as the more standardized hem adjustment, which allows the consumer to adapt the jacket to their body shape more easily."
Movement
Once you've found a brand that caters to plus-size hikers, and has gear you like the look of, the next step is to take the time to try clothing on and make sure it allows you to move properly.
"Avoid anything that feels too tight and doesn't move with your body. Make sure when you're trying on clothes that you sit down in it, squat in it, do lunges. Hiking is movement, so you need to be able to move in your clothes," advises Vélez, who emphasizes that you should really take the time to find clothing that won't chafe your skin, causing discomfort on the hiking trail.
Weight restrictions
For so-called "hard goods" such as skis and snowshoes, there may be weight limits placed on gear, and while you want to make sure they can handle your weight and size comfortably, Vélez explains that these are not all necessarily written in stone.
"There's some things that will say that there's a weight limit and it's kind of not true, like snowshoes for example. Their weight limits are really for the perfect experience but let's say you're 350lbs and the snowshoes are rated for 325lbs? You're fine, it's okay, you'll just sink a little more into the snow but you're still going to have a hugely fun time."
On the other hand, she says, for an item like a hammock, you want to make sure it is in the right range for your weight.
Ultimately, Vélez explains, you might have to put in a little more work to get outdoors: "It does mean you have to be a more conscientious consumer."
However, given the incredible benefits of spending time in nature, it will absolutely be worth it.
All the latest inspiration, tips and guides to help you plan your next Advnture!
Julia Clarke is a staff writer for Advnture.com and the author of the book Restorative Yoga for Beginners. She loves to explore mountains on foot, bike, skis and belay and then recover on the the yoga mat. Julia graduated with a degree in journalism in 2004 and spent eight years working as a radio presenter in Kansas City, Vermont, Boston and New York City before discovering the joys of the Rocky Mountains. She then detoured west to Colorado and enjoyed 11 years teaching yoga in Vail before returning to her hometown of Glasgow, Scotland in 2020 to focus on family and writing.