Best hiking pants: for year-round expeditions in all conditions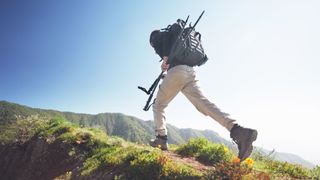 (Image credit: Getty)
You might find yourself eyeing up the best hiking pants available, especially as winter is approaching. Gone for another year are the days when you could pull up a pair of shorts and be off into the wilderness. The coming of autumn means that you'll be demanding a lot of your hiking pants. Come winter's wilder weather, you can expect rain, snow, wind, hail... and the cold. That bone-deep cold that only the mountains seem to hold in their indifferent rocks.
Fortunately, the best hiking pants meet your winter needs with aplomb, batting back the elements with interest and still looking stylish enough to stay on for that post-hike drink in front of a roaring fire. These days, pretty much all of the best hiking trousers are windproof and some feature waterproof qualities to rival the very best waterproof jackets.
Not all hiking pants are waterproof; most are merely water resistant, featuring a DWR coating. It's an important distinction and something to look out for. Many professionals opt for hiking trousers coupled with waterproof overtrousers when things turn biblical, but this comes at quite a price. However, with models like Mountain Hardwear's Stretch Ozonic Pant, you can just about get away with one layer.
Let's not forget about the protection that the best hiking pants can give you. If you joyously leap with abandon towards technical, snowy scrambles or love nothing more than leaving the path behind and going 'off-piste', you'll thank your hiking trousers for the shield they provide you with against the occasional graze against the rocks, which happens so much easier when the mountain is coated in white. Just as with your down jacket, your hiking pants are the last line of defence against the harsh winter elements. Read on to choose the pair that's right for you...
The best hiking pants: our top ten picks
The best hiking pants for all conditions
Mountain Hardwear Stretch Ozonic Pant
Durable, waterproof, lightweight leg protection that performs everywhere from the streets to the peaks
RRP: $150 (US) / £120 (UK) | Style: 2.5-layer shell pants | Gender specificity: Men's & Women's versions available | Sizes (men's): S-XXL, available in short, regular, long lengths | Sizes (women's): XS-XL, available in short, regular, long lengths | Weight: 279g / 10oz | Materials: Water-resistant Dry Q Technology (100% nylon) | Colors (men's): Dark storm / Black | Colors (women's): Dark Storm / Black / Light Army | Compatibility: All-weather protection for hiking, climbing, camping, backpacking
Water and wind-proof
4-way stretch fabric for easy movement
Long cuff zippers
Abrasion resistant
Integrated belt
Only one pocket
Take care with sizing
Lightweight and extremely compact for easy stashing when not in use, the Stretch Ozonic pant lives up to its name. A tailored design and adjustable elastic waistband dial in a comfortable fit and avoid the boxy appearance of other waterproof hiking pants. Using 2.5 layer Dry.Q technology to keep you dry, the fabric also offers much appreciated 4-way stretch that accommodates movement in wild, uneven terrain.
Mountain Hardwear's proprietary fabric is soft and doesn't scare away the wildlife by sounding like a crinkly crisps bag in the field. Abrasion resistant fabrics add durability season after season. A secure zippered waterproof thigh pocket keeps valuables safe, dry and close at hand. Transitioning to different apparel when the rains stop and the weather improves, full-length zippers make changing fast and easy. The rain pants roll up into a small bundle that doesn't take much room in your daypack. With these pants you won't mind venturing out of your tent on a rainy day.
Rugged, fully featured and great-value multi-activity pants with a trim cut and plenty of stretch for demanding outdoor adventures
RRP: $109 (US) / £95 (UK) | Style: Hybrid cargo | Gender specificity: Men's and women's versions available | Sizes: men's: XS-XXL, available in short and regular leg lengths; women's: XS-XXL, available in short and regular leg lengths | Weight (Men's): 600g / 21.1oz | Materials: Main fabric: Polyester (65%) & cotton (35%); Stretch panels: Nylon (88%) & elastane (12%) | Colors: Black, Jetblack, Mustard, Rusty Orange, Autumn, Dusty Blue, Peacemaker, Deep Teal, Dark Olive, Pine Green, Black/Red, Grey/Orange, Grey/Anthracite, Hunter | Compatibility: Three-season hiking, camping and backpacking
Tough and rugged main fabric
4-way stretch panels for easy movement
Plenty of pockets
Ventilation zips
Slim cut won't suit everyone
Not the lightest
This Swedish brand's legwear has really created a stir in outdoor circles recently – and for good reason. The GP Pro trousers are rugged outdoor pants with a hybrid construction that incorporates softshell panels alongside a burly polycotton main fabric. The former features four-way stretch, while the latter adds abrasion-resistance at key areas like the knees and seat. Together, they offer good breathability and durability, while being reasonably quick drying too. The polycotton reinforcements can also be waxed for added weather-resistance – just like fellow Swedish gearmaker Fjällräven's much-loved G-1000 fabric.
Build quality is solid, with all main seams double or triple-stitched for strength. All zips are high-quality YKK branded. These trousers aren't lacking in features either, with mesh-lined ventilation zips at the thigh, two roomy zipped thigh pockets, a zipped back pocket and two hand pockets. The waist is semi-elasticated, with a button closure, a zip fly and belt loops. Double-layer panels at the knees are designed to accommodate knee pads. There's also a scuff patch at the instep and press studs at the hems for a closer fit, as well as integrated lace hooks to attach them to boots. In fact, the GP Pro pants are very similar to premium outdoor trousers from other Scandi brands such as Haglofs, Sasta and Fjallraven, while being far more reasonably priced.
Although our test pair were no-nonsense black, it's also worth noting that they come in a kaleidoscope of colourways and a wide range of both men's and women's sizes. As of summer 2021, they are also now available in two different leg lengths, short and regular. There's no long leg yet, but as is common with many Scandi brands, even the regular leg is a generous 33" inseam in the men's version.
The Revolution Race GP Pros are as good as any outdoor trousers on the market, but they come in at a far more reasonable price than some of the other 'premium' brands out there. These hiking pants are exceptionally durable, exceptionally comfortable and exceptionally good value.
Exceptionally tough yet comfortable outdoor trousers that are well-suited to forest or moorland hikes, as well as camping and bushcraft activities
RRP: $210 (US) / £160 (UK) | Style: Cargo | Gender specificity: Men's and women's versions available | Sizes: Men's: EU 46–60, regular leg only; women's: EU 32–46, regular leg only | Weight (Men's): 500g / 17.6oz | Materials: Main fabric: recycled polyester (65%), organic cotton (35%), wax- and Nikwax Cotton Proof treatments; Reinforced panels: Kenytex (93% polyester, 7% Kevlar) | Colors: Orange / Dark olive / Forest green / Sea blue / Black | Compatibility: Three-season hiking, camping and backpacking
Tough and rugged main fabric
Sustainably made
Comfortable
No leg vents
No stretch
Expensive
Keen camping and bushcraft types will love these rugged outdoor trousers, as will hikers who relish crashing through the heather on long moorland walks or exploring little-used forest footpaths.
Finnish brand Sasta is best known for making seriously tough kit for the sorts of activities and pastimes that Finns traditionally love – namely, hunting, fishing and general outdoors life. So, if your typical day might involve a morning spent foraging for chanterelles in the forest before whiling away an afternoon chopping firewood for the winter, the Jero trousers are for you. Perhaps it's no surprise that bushcraft legend Ray Mears loves 'em.
They're also made with sustainability in mind, since the main fabric is a polycotton blend of recycled polyester and organic cotton. This is pre-treated with PFC-free Nikwax water-repellent solution for added weather resistance. The trousers are reinforced at the knees and ankles with Kenytex panels for durability – a tough polyester fabric that incorporates Kevlar fibres (yes, the same stuff that is used to make bulletproof vests). That gives a clue as to just how durable these pants are. A stretch gusset in the crotch also permits a little extra flexibility. Other features include articulated, pre-shaped knees, a large, zipped thigh pocket with a secondary press-stud storm flap and Velcro-adjustable tabs at the ankles and calves. Hidden lace hooks are fitted to allow you to attach them to boots too. Keeping these trousers up is also a belt-and-braces affair – literally – since as well as being fitted with belt loops, they also have twin sets of buttons to fit braces. The waistband is semi-elasticated for a more forgiving and comfortable fit.
Stretchy and stylish town-to-trail trousers, Sherpa's Guide Pants are everyday chinos that stay cool and comfortable whether you're going for coffee or heading out on a family hike
RRP: $80 (US) / £80 (UK) | Style: Chino | Gender specificity: Men's versions only | Sizes: 30-38", short/regular/long leg | Weight (Men's): 500g / 17.6oz | Materials: Cotton (73%), nylon (24%) and spandex stretch twill (3%) | Colors: Kharani / Tamur River | Compatibility: Late spring/summer/early autumn hiking, trekking and outdoor wear
Stylish
Comfortable and stretchy
Durable and well-made
Not very weather-resistant
Not designed for technical use
We love it when a pair of pants turns up that can do double-duty, whether you're trekking across town or hiking local trails. The Sherpa Guide Pants are a case in point. Despite their name, these aren't technical mountain pants designed for high-level routes. Instead, they're stylish and well-made chinos with a contemporary straight cut plus a few added extras when it comes to performance and comfort. This makes them well-suited to more strenuous activities than simply sitting around drinking coffee.
The overall design points to Nepalese brand Sherpa's outdoor heritage: these pants feature articulated knees and a gusseted crotch for greater mobility and comfort. A seamless back waistband ensures no irritation or chafing. Similarly, the fabric – despite being mostly cotton twill – also incorporates nylon for added abrasion resistance and a little spandex for stretch (and is rated UPF 50 for full solar protection). So, they're soft, practical and comfortable, but easier to move in compared to standard chinos. Reinforced jeans-style hand pockets and additional ankle panels also ensure better durability if and when you do hit the trails. Lastly, a low-profile back thigh pocket is designed to hold your smartphone, which is a thoughtful touch that makes these pants even better equipped for modern life.
Possibly the perfect 'everyday outdoor' pant, these super-comfortable cotton twill stretch chinos are the ideal daily wear for adventurous types who love to go from town to trail.
Fjällräven Keb Trousers
A stylish and highly featured pair of hiking pants, which talk the talk and walk the walk
RRP: £225 (US /) £200 (UK) | Style: Cargo | Gender specificity: Men's and women's versions available | Sizes: Regular leg length, medium fit, 42–60 waist | Weight (Men's): 610g / 21.5oz | Materials: Main garment Fjällräven G-1000 Eco: polyester (65%), cotton (35%) / Reinforced areas: polyamide (63%), polyester (26%), elastane (11%) | Colors: Camo camp & laurel green / Navy & light olive / Deep forest & laurel green / Black & stone grey / Blue & stone grey / Chesnut & acorn / Stone grey & lava / Black / Navy & Uncle blue | Compatibility: These are good all-round performers, which will look after your legs all year, while you concentrate on the trails
Excellent ventilation
Great storage capacity
Hard wearing and protective
Massive range of colors
Stylish
Eco friendly
Relatively expensive
Quite heavy
No back pockets
Vulpine Swedish brand Fjällräven produce a wide range of excellent outdoor-orientated pants, but the Kebs are a particularly good performer on hiking trails. Made mainly from Fjällräven's G-1000 Eco material (fluorocarbon-free impregnation, organic and recycled) – which provides a good level of protection from scratchy and stinging plants, plus jagged rocks – they also have enough elastane in them to move dynamically with you when you're walking.
Openings at the knee also help provide an excellent level of maneuverability, and can be used to house kneepads. Reinforced in all the right areas (knees, backside, pockets), they are really robust and will last a long time even with repeated use on the toughest of trails.
Besides hand pockets at the front, they have a big cargo-style pocket on each thigh, both protected with a flap that can be shut with poppers. One of these thigh pouches is large enough to slide a topo map into, while the other features a zipper, so you can securely stash the things you really don't want to lose, like car keys, phone and credit card.
While these are quite thick walking pants, there are large zippered vents on the side of the thighs and also on the calves, so you can let plenty of air in and heat out if the going gets hot on the hills. A band with poppers allows you to adjust the bottom of the trousers, so you can pull them in tight and prevent ingress of snow and mud, and there's are hooks for attaching to boots. The belt hoops are substantial, and there's a handy gear loop on the ones to either side of the fly.
Best technical hiking pants
Patagonia Altvia Alpine Pants
Dynamic and eco friendly adventure pants for approach hikes and climbing escapades
RRP: $149 (US) / £130 (UK) | Style: Soft shell climbing and approach-hiking pants | Gender specificity: Men's & Women's versions available | Sizes (men): Slim fit, waist sizes 28–40 | Sizes (women): Slim fit, waist sizes women's 2–14 | Average weight (men): 340g /12oz | Average weight (women): 323g / 11.4oz | Materials: Main: 4.7oz recycled polyester (86%) & elastane dobby (14%); Panels: 4.5oz recycled nylon (85%) & recycled elastane (15%) | Colors (men): Black / Plume Grey | Colors (women): Black / Upwell blue | Compatibility: Approach walks, climbing, scrambling and all sorts of adventures above the treeline
4-way stretch
Good thermal properties
Made mostly from recycled materials
Durable
Great looks
Ankle hem adjuster a bit fiddly
No map pocket
Integrated belt quite basic
Made almost entirely from recycled materials, and certified as fair-sewn, these Patagonia pants combine superb functionality with excellent performance levels and environmental credentials. And they look and feel great to wear, whether you're lounging around in camp or at the crag, or putting them through their paces on technical alpine trails or rock-climbing routes.
The main fabric on the body of the pants features four-way stretch, so they do not impede your movement whatsoever, and there are protective scuff panels in various areas, such as the inner legs. Designed with climbers firmly in mind, the Altvia has a high waistband and an articulated cut which means they are comfortable to wear with a harness, even for extended periods.
They have four pockets – one on each side, one on the right buttock and another on the right thigh – all of which zip shut, so you won't lose anything important no matter what moves you pull. The thigh pocket is more modest sized than the thigh pouches on other trousers on tent, but it's not intended for packing maps or anything too large.
The Altvia come with an integrated belt, albeit a pretty basic one, and the waist fastening method is a popper. These pants are warm enough to wear in most conditions and have been treated with a PFC-free DWR (durable water repellent) coating that will keep you dry in all but heavy downpours.
Best water-resistant hiking pants
Montane Prism Pants
High-performing insulation for your legs during alpine adventures or for post-activity thermal protection
RRP: £130 (UK) | Style: Insulated legwear | Gender specificity: Unisex | Sizes: S–XXL | Weight (Men's large): 295g / 10.4oz | Materials: Primaloft Silver Eco Insulation 40g/sqm, plus Pertex Microlight outer fabric | Colors: Black | Compatibility: Perfect for people who get active in challenging conditions such as mountainsides, or who need high-performing thermal gear
Extremely warm
Lightweight
Very packable
Comes with Pertex stow sack
Relatively expensive
Too specialist for many
Care required when washing
Packing a huge heat punch for their weight, Montane's Prism pants are designed for one thing: keeping you toasty, whether you're engaged in a bid to get to the top of a frigid peak, you've just run an ultra and need to wrap up warm because the heat is leaking out of you now you're no longer moving, or if you're sitting around in basecamp in freezing cold conditions. And for performing these tasks, they are excellent.
The Primaloft Silver Eco Insulation they're stuffed with has awesome thermal properties, trapping a massive amount of air, which is then warmed by your body. The Pertex Microlight outer fabric is fairly tough too, and it boasts Durable Water Repellency (DWR), making them a practical pair of pants to use on the move in really cold conditions.
The knees are articulated, and they're designed with a diamond crotch, to facilitate ease of movement in active situations. The waist is elasticated, and you can tighten it with a drawcord. A large zipper on the trouser ends enables you to open them up and pull them on over the top of boots, if need be, and you can tighten the ankle hem around footwear with a series of poppers.
There are some reflective details on these pants, in case you need to be located in the dark. There are no pockets in these pants, or gaps for accessing pockets in undergarments, because their lightweight/thermal properties would be compromised by such features.
Páramo Cascada II Trousers
Wear-all-day waterproof trousers that are soft and comfortable, with excellent venting options
RRP: $215 (US)/ £155 (UK) | Style: Waterproof hiking pants | Gender specificity: Men's & Women's versions available | Sizes (men): XS–XXXL (short, reg and long leg lengths in S/M/L sizes) | Sizes (women): XS–XXL (short, reg and long leg lengths in S/M/L sizes) | Average weight (men): 481g / 17oz | Average weight (women): 478g / 16.8oz | Materials: Nikwax Analogy (PFC-free 100% polyester), guaranteed Fair Trade | Colors: Dark grey | Compatibility: Ideal for hiking and hillwalking in fluctuating temperatures and changeable weather
Versatile ventilation
Extremely soft and comfortable
Effective weatherproofing
Ethically and sustainably made
Fabric not the most durable
No back or thigh pockets
Limited color options
The Cascada IIs are a great solution to the perennial problem of having to pull on rain pants whenever a downpour threatens. They are designed to be worn all day, but these aren't your regular walking trousers. They are completely waterproof, being constructed with the Nikwax Analogy directional system.
This combines a closely-woven, water-repellent face fabric with a pump liner that pushes water away from the body to keep you dry and comfortable – from both seeping rain and your own sweat. This construction makes them a little thicker and heavier than most trousers, but on the flip side they're super soft and comfortable, with excellent venting options to dump heat fast.
The liner also adds a welcome boost of warmth in cool conditions. As such, they're ideally suited to general hiking and hillwalking in mixed conditions and fluctuating temperatures, not least because they're impressively quick drying too.
Best waterproof pants for hiking
Outdoor Research Helium Rain Pant
Pants for exploring and playing in rain, hail or shine
RRP: $119 (US) / £110 (UK) | Style: Waterproof over trousers | Gender specificity: Men's & Women's versions available | Sizes (men's): S-XXL | Sizes (women's): XS-XL | Weight (men's): 190g / 6.7oz | Weight (women's): 173g / 6.1 oz | Materials: Pertex Shield Diamond Fuse 2.5L, 100% ripstop nylon | Colors (men's): MeBlack / Coyote / Pewter | Colors (women's): Black / Light Pewter; | Compatibility: Best suited for 3-season hiking, trekking and backpacking all weathers
Lightweight
Very packable
Ankle zippers
Gusseted Crotch
Seam-taped waterproof/windproof
Wide pant bottoms
Confirm sizing
A long-time favorite of many hikers, OR's updated Helium pants are constructed from a 2.5 layer, tear resistant ripstop fabric with Bluesign approved Pertex Shield Diamond Fuse. Fully seam-taped, windproof and breathable – with a HH (hydrostatic head) rating of 3,000mm, and an MVTR (Moisture vapor transmission rate) of 20,000 – the pants will keep you comfortable and dry when the skies open and the rain pours down.
Details like an elastic waist and draw cord, gusseted crotch and ankle zippers help tailor the fit to suit your body. Lightweight doesn't mean fragile, though. In fact, these pants will stand up to a hard day on the trail. When the weather improves, the back pocket serves as a stuff sack. Everyone who loves the outdoors needs rain protection in their gear collection. Matched with a companion Helium jacket, this is a great way to stay dry.
Sprayway Nakuru / Berbak Rainpants
No-nonsense rain pants with an accommodating fit and reliable Gore-Tex waterproof-breathable performance
RRP: $150 (US)/ £110 (UK) | Style: Waterproof overpants | Gender specificity: Men's (Nakuru) & Women's (Berbak) versions available | Sizes (men): S-XXL (short and reg leg lengths) | Sizes (women): UK 8-18/US XS-XXL (short and reg) | Average weight: 335g / 11.8oz | Materials: 2L Gore-Tex (40D PFC-free polyester) | Colors: Black | Compatibility: Hillwalking and hiking in wet weather or changeable conditions
Accommodating comfort fit
Reliable waterproofing
Velcro ankle adjustment
Two-layer construction limits packability
Slightly hot
A little heavy
The Nakuru (men's) / Berbak (women's) Rainpants from well-established British outdoor brand Sprayway are classic hillwalkers' overtrousers made from a soft and supple but reasonably robust 40-denier polyester face fabric. They're finished with a protective PFC-free durable water repellent (DWR) treatment and utilise a two-layer construction, which means the fabric is bonded to a waterproof-breathable membrane, in this case Gore-Tex.
That ensures solid waterproof performance and reasonable breathability, putting them a cut above cheaper rainpants that use own-brand, PU-based membranes. Inside, they have a taffeta and mesh drop liner to protect the Gore-Tex membrane and wearer aid comfort. As a result, they rarely get clammy, though they might get a little warm.
The semi-elasticated waist has a simple but effective drawcord adjustment, while ½ length side zips ensure easy on and off over all but the chunkiest walking boots. Velcro ankle adjustment ensures a secure seal around your footwear.
Best hiking pants for summer
Royal Robbins Active Traveler Zip-and-Go Pants
The transformer pants, which go from long to short pants in seconds, and repel bugs while they're at it
RRP: $115 (US) / €100 (EU) | Style: Convertible long-to-short pants | Gender specificity: Men's | Weight (Men's large): 303g / 10.7oz | Materials: nylon (94%), spandex (6%) | Colors: Asphalt / Falcon / Khaki | Compatibility: Ideal for taking traveling on walking holidays in warmer climates
Versatile
Lightweight
Packable
Comfortable
Lightweight material not massively durable
Leg zips can fail
Possible to lose a leg
When you're embarking on a multiday hike in summer, when the conditions look a little unpredictable, or if you're heading off on vacation and don't want to take too much luggage, convertible walking pants can be a godsend.
When the weather is wild, or the nettles are high, wear these as long pants for the protection they offer, but when the sun comes out, the temperature rises and you want to feel the breeze on your knees, simply undo a couple of zippers and voila! You're there in a pair of 9.5in shorts. Just don't forget where you then stash the leg ends, or lose one along the trail…
This feature isn't the only benefit the Zip-and-Go pants offer, though – they're also impregnated with Insect Shield, which repels mosquitoes, ticks (see: how to avoid tick bites) and other annoying insects. Made with stretchy nylon, they're breathable, durable and quick drying too, and the fabric is specially designed so it won't stick to your skin. The ankle hem can be tightened with a bungy.
There are pockets aplenty, including hand pockets, a zipped thigh pocket and two back pockets. These trousers are designed for men, but Royal Robbins' Women's Bug Barrier Jammer Zip 'N' Go Pant is very similar in design (it converts to a capri), features and price.
What to look for in the best walking pants
What makes one pair of pants the best hiking pants for you is a very subjective thing, and the design features and materials that perfectly suit one person's needs might not be ideal for another. The biggest factor in all of this is, of course, where and when you go hiking most often.
If you do almost all your wild wandering in summer, or when the weather conditions are good, then a pair of breathable pants (see: breathability ratings explained and what to wear hiking in hot weather) made from a lightweight material – perhaps with the option of transforming them into shorts – will be the best hiking pants for you. You might also want to consider instead opting for a pair fo the best hiking shorts.
But, if you intend to go bagging high peaks in the off-season then, obviously, you will need a pair of technical pants that offer much more thermal protection, and perhaps some rain pants too.
However, all that said, there are some factors that are worth considering whatever style of hiking you intend to do, which we'll cover below.
Comfort
Whatever you're doing in the outdoors, it's important to be comfortable in your clothes. Pay close attention to the fit of your prospective trousers, and the materials they are made from. Make sure they're going to be warm (or cool) enough for the conditions and terrain you're planning to walk in. There's no point buying the most technically advanced pair of pants on the market if they're totally over specced for the hike you're going on, as you'll overheat and feel a bit silly. You wouldn't wear thick winter hiking socks in the height of summer, so don't make that mistake with trousers. Many of the best hiking pants will also feature vents, so you can dump some of that heat and let in some fresh air.
Stretch
If you're planning on incorporating rock climbing and technical scrambling in your hiking adventures, it's always good to have a bit of dynamic stretch in your pants. Even things like a bit of clambering over the odd stile or wall, can lead to tears (definitely a double meaning here) and leave you exposed in a way you probably won't like. Look for a percentage of elastane or spandex in the material make-up of your trousers, and any mention of four-way stretch is a good sign.
Protection
Generally speaking, the thicker the material used in your hiking trousers, the more protection they will offer you from everything from the sun (check the Ultraviolet Protection Factor – UPF – rating) and sharp sticks and stones, through to biting insects and stinging or prickly plants. There is a weight penalty to pay for this protection of course. Some lightweight hiking pants are impregnated with insect repelling agents. Many of the best walking pants feature reinforced panels that will both protect you, and improve the lifespan of the trousers.
Wild weather
Many of the best hiking pants have been treated with a DWR (durable water repellent) coating, which means they won't absorb water during light rain showers. Some will also be windproof, which will greatly improve their capability to keep you warm.
Waterproof overtrousers are designed to go over your hiking pants and can be a good option if you know you're heading into territory that's liable to be wet.
Pockets
Like with the best day packs and hydration packs, these days the functionality of multiple pockets is something manufacturers go for when designing hiking pants.
Of course you shouldn't be wandering around on rocky or precipitous trails with your hands shoved in your pockets, but having storage in your pants is important in all kinds of scenarios. If you still like to carry a paper topographical map, then many of the best walking pants come with cargo pouch big enough to stash said map (plus compass) so you can keep it to hand at all times.
Alternatively, you might want to put a small water bottle in that space, or a GPS device, or your phone. Having at least one pocket with a zip is always a benefit, so you can securely store things you really don't want to lose, like your car keys and credit card. Rain pants for hiking often don't have pockets, but will feature gaps so you can reach the pockets in the pants you're wearing underneath.
Other features
Pants may seem like very simple pieces of apparel, but the best hiking pants will actually offer a massive array of little features that can improve your experience on the trails and in the hills. Some have hooks for attaching to your boots to keep the leg material in place; others have gear loops for attaching things like compasses or an integrated wipe in a pocket for cleaning sunglasses and camera lenses. Some walking pants come with an integrated belt, but often these are pretty basic.
All the latest inspiration, tips and guides to help you plan your next Advnture!
Thank you for signing up to Advnture. You will receive a verification email shortly.
There was a problem. Please refresh the page and try again.