Best hiking pants: for day walks, hill hikes, multiday treks, backpacking escapades and alpine adventures
By Pat Kinsella
The best hiking pants for tackling trails across any sort of terrain, in all sorts of conditions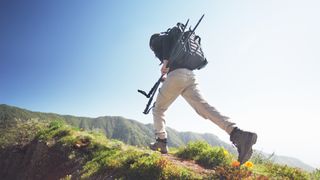 (Image credit: Getty)
When you're hiking in the wilderness, whether wandering along a country or coastal path or tackling a tall peak along technical trails, leg covering is an important consideration.
A lot depends on what sort of adventure you are taking on, and in what sort of conditions, but at an absolute minimum, the best hiking pants need to be comfortable and stretchy enough not to restrict your movements as you take on ascents and clamber across rocky landscape.
The best hiking pants should offer some shielding from aggressive flora (such as nettles and thorns) and fauna – protecting your legs from mosquitoes, ticks and other bitey beasts.
The best pants for hiking can also help you cope with whatever the elements throw at you – preventing your legs from becoming too cold in adverse conditions, and from getting sunburnt when the sky is clear. If you're apt do to do your hiking in wet weather, a DWR coating that sheds water could come in handy, too (see What is DWR?).
And, of course, the best hiking pants ought to offer some level of functionality, in terms of storage capacity in pockets, where you might want to stash anything from maps to a phone. And a dash of style is ideal too, for when you leave the trailhead.
The best hiking pants: our top ten picks
The best hiking pants for all conditions
Fjällräven Keb Trousers
A stylish and highly featured pair of hiking pants, which talk the talk and walk the walk
RRP: £225 (US /) £200 (UK) | Style: Cargo | Gender specificity: Men's and women's versions available | Sizes: Regular leg length, medium fit, 42–60 waist | Weight (Men's): 610g / 21.5oz | Materials: Main garment Fjällräven G-1000 Eco: polyester (65%), cotton (35%) / Reinforced areas: polyamide (63%), polyester (26%), elastane (11%) | Colors: Camo camp & laurel green / Navy & light olive / Deep forest & laurel green / Black & stone grey / Blue & stone grey / Chesnut & acorn / Stone grey & lava / Black / Navy & Uncle blue | Compatibility: These are good all-round performers, which will look after your legs all year, while you concentrate on the trails
Excellent ventilation
Great storage capacity
Hard wearing and protective
Massive range of colors
Stylish
Eco friendly
Relatively expensive
Quite heavy
No back pockets
Vulpine Swedish brand Fjällräven produce a wide range of excellent outdoor-orientated pants, but the Kebs are a particularly good performer on hiking trails. Made mainly from Fjällräven's G-1000 Eco material (fluorocarbon-free impregnation, organic and recycled) – which provides a good level of protection from scratchy and stinging plants, plus jagged rocks – they also have enough elastane in them to move dynamically with you when you're walking.
Openings at the knee also help provide an excellent level of maneuverability, and can be used to house kneepads. Reinforced in all the right areas (knees, backside, pockets), they are really robust and will last a long time even with repeated use on the toughest of trails.
Besides hand pockets at the front, they have a big cargo-style pocket on each thigh, both protected with a flap that can be shut with poppers. One of these thigh pouches is large enough to slide a topo map into, while the other features a zipper, so you can securely stash the things you really don't want to lose, like car keys, phone and credit card.
While these are quite thick walking pants, there are large zippered vents on the side of the thighs and also on the calves, so you can let plenty of air in and heat out if the going gets hot on the hills. A band with poppers allows you to adjust the bottom of the trousers, so you can pull them in tight and prevent ingress of snow and mud, and there's are hooks for attaching to boots. The belt hoops are substantial, and there's a handy gear loop on the ones to either side of the fly.
Craghoppers Kiwi Pro II
Lightweight walking trousers made from recycled materials
RRP: £55 (UK) | Style: Classic trouser | Gender specificity: Men's and women's versions | Weight (Men's large): 340g / 12oz | Materials: Recycled stretch polyamide (96%), elastane (4%) | Colors (men): Black / Dark lead / Dark khaki / Dark navy / Pebble | Colors (women): Desert sand / Potent plum / Graphite / Dark navy / Black / Mid khaki | Compatibility: Wear the Kiwi IIs when hiking or climbing in relatively warm conditions
Good price
Recycled material used
Lightweight and easy to pack
High degree of stretch
No vents
No reinforced sections
Waist button might come loose or drop off
Made mostly from recycled material, the Kiwi II is a comfortable, lightweight and smartly designed pair of hiking pants, perfect for summer strolls on relatively easy terrain, but also agile and technical enough to wear on much more technical scrambles. Each pair is made with around 280g/10oz of recycled fabric.
There are four pockets in these trousers – two hand pockets, one rear pocket and a sizable thigh pocket, large enough for some maps – and all have zippers, so you can secure the contents. One of the pockets also boasts a sunglasses wipe – a handy little feature that can be used to clean watch and phone screens too. As well as being environmentally friendly, the fabric is nice and stretchy, offers UPF 40+ sun-protection and is splash proof. Even when they do get wet through, these trousers dry out extremely quickly.
There are belt hoops, but the waist (fastened with a button) is also slightly elasticated so you don't need to add weight with a belt if you don't want to. Although the material seems lightweight, it's more robust that it looks and this product is guaranteed for life (reasonable life of the garment, not the length of your life).
Best technical hiking pants
Helly Hansen Odin Huginn pant
Ready for anything hiking trousers that will stroll purposefully through all conditions
RRP: $180 (US) / £160 (UK) | Style: All-season technical adventure pants | Sizes: S–XXL | Weight (Men's large): 570g / 20oz | Materials: Face: 100% Polyester / Back: 100% Polyurethane | Colors: Navy / Black / Warm olive | Compatibility: 4-season hiking, trekking and mountaineering
High performing
Durable
Relatively expensive
Only 3 pockets
A highly technical pair of performance pants, the Odin Huginns are named after a Norse god, so they have plenty to live up to. Fortunately, like most things made by this gnarly Norwegian brand – which produces gear for playing in the planet's most extreme environments – they are well up for it.
An all-season garment, the Odin Huginns' thermal properties are excellent. Made with a softshell finish, with a gusset in the crotch and articulated knees, these trousers are also dynamic enough to give you a full range of movement whatever activities you are engaged in out there. The fabric is water repellant – treated with Durable Water Repellency (DWR) – and it's also windproof and breathable, so there's a full range of protection from the elements.
There are zippered pockets on both sides, and another zippered pouch just above the knee on the right leg – although it's not large enough to comfortably take a folded map. The lower leg opens up with a long zip, to accommodate large boots, and the ankle hem (which also has boot hooks) can be tightened with the use of poppers.
Patagonia Altvia Alpine Pants
Dynamic and eco friendly adventure pants for approach hikes and climbing escapades
RRP: $149 (US) / £130 (UK) | Style: Soft shell climbing and approach-hiking pants | Gender specificity: Men's & Women's versions available | Sizes (men): Slim fit, waist sizes 28–40 | Sizes (women): Slim fit, waist sizes women's 2–14 | Average weight (men): 340g /12oz | Average weight (women): 323g / 11.4oz | Materials: Main: 4.7oz recycled polyester (86%) & elastane dobby (14%); Panels: 4.5oz recycled nylon (85%) & recycled elastane (15%) | Colors (men): Black / Plume Grey | Colors (women): Black / Upwell blue | Compatibility: Approach walks, climbing, scrambling and all sorts of adventures above the treeline
4-way stretch
Good thermal properties
Made mostly from recycled materials
Durable
Great looks
Ankle hem adjuster a bit fiddly
No map pocket
Integrated belt quite basic
Made almost entirely from recycled materials, and certified as fair-sewn, these Patagonia pants combine superb functionality with excellent performance levels and environmental credentials. And they look and feel great to wear, whether you're lounging around in camp or at the crag, or putting them through their paces on technical alpine trails or rock-climbing routes.
The main fabric on the body of the pants features four-way stretch, so they do not impede your movement whatsoever, and there are protective scuff panels in various areas, such as the inner legs. Designed with climbers firmly in mind, the Altvia has a high waistband and an articulated cut which means they are comfortable to wear with a harness, even for extended periods.
They have four pockets – one on each side, one on the right buttock and another on the right thigh – all of which zip shut, so you won't lose anything important no matter what moves you pull. The thigh pocket is more modest sized than the thigh pouches on other trousers on tent, but it's not intended for packing maps or anything too large.
The Altvia come with an integrated belt, albeit a pretty basic one, and the waist fastening method is a popper. These pants are warm enough to wear in most conditions and have been treated with a PFC-free DWR (durable water repellent) coating that will keep you dry in all but heavy downpours.
Best hiking pants for summer
Royal Robbins Active Traveler Zip-and-Go Pants
The transformer pants, which go from long to short pants in seconds, and repel bugs while they're at it
RRP: $115 (US) / €100 (EU) | Style: Convertible long-to-short pants | Gender specificity: Men's | Weight (Men's large): 303g / 10.7oz | Materials: nylon (94%), spandex (6%) | Colors: Asphalt / Falcon / Khaki | Compatibility: Ideal for taking traveling on walking holidays in warmer climates
Versatile
Lightweight
Packable
Comfortable
Lightweight material not massively durable
Leg zips can fail
Possible to lose a leg
When you're embarking on a multiday hike in summer, when the conditions look a little unpredictable, or if you're heading off on vacation and don't want to take too much luggage, convertible walking pants can be a godsend.
When the weather is wild, or the nettles are high, wear these as long pants for the protection they offer, but when the sun comes out, the temperature rises and you want to feel the breeze on your knees, simply undo a couple of zippers and voila! You're there in a pair of 9.5in shorts. Just don't forget where you then stash the leg ends, or lose one along the trail…
This feature isn't the only benefit the Zip-and-Go pants offer, though – they're also impregnated with Insect Shield, which repels mosquitoes, ticks (see: how to avoid tick bites) and other annoying insects. Made with stretchy nylon, they're breathable, durable and quick drying too, and the fabric is specially designed so it won't stick to your skin. The ankle hem can be tightened with a bungy.
There are pockets aplenty, including hand pockets, a zipped thigh pocket and two back pockets. These trousers are designed for men, but Royal Robbins' Women's Bug Barrier Jammer Zip 'N' Go Pant is very similar in design (it converts to a capri), features and price.
Best water-resistant hiking pants
Keela Scuffer Pants
Tough pants for rough-and-tumble trail days in any conditions
RRP: £80 | Style: Classic trousers | Gender specificity: Men's and Women's versions | Sizes (men): Short–Long, Xs–3XL | Sizes (women): Short–Long, 8–20 | Weight (Men's large): 544g / 19oz | Materials: Nylon (65%), Polyester (24%), Spandex (11%) | Colors: Iron / Navy / Black | Compatibility: Ideal for people who walk in places where conditions can be rough, tough, chilly, or highly changeable
Basic belt included
4-way stretch
Robust material with good thermal properties
Relatively heavy
Limited pocket capacity
All synthetic materials
Made with thick and fairly heavyduty materials, the Scuffers will – as the name suggests – take a fair beating on rough, rocky surfaces and still come back for more. You certainly don't need to be too precious about these pants – they will look after you on tough and technical terrain more than you need to look after them.
The thermal properties are good on these trekking pants, but if things get a little too warm there is a mid-sized vent on each thigh, for dumping heat and letting in a breeze – and these are backed with mesh so your skin isn't exposed. Made with a fairly large amount of spandex, they stretch impressively to give you a full range of movement when you need it.
The Scuffers come with a belt (although it's extremely basic), but the waist (which does up with a popper) is also elasticated, so you can dispense with the belt in most circumstances, so long as you have got the correct size. There are three pockets – two on the sides and one on the bum, all of which are zippered for peace of mind when you're carrying something vital in them. The leg ends open and close right up with a zipper and Velcro fastener, so you can fit any kind of boot on no matter how chunky it is.
Berghaus Winter Fast Hike Trousers
Rough weather pants for walking on the wild side
RRP: £112 (UK) | Style: Cold-weather trouser | Gender specificity: Men's | Sizes: 32–38 waist | Weight (Men's large): 632g / 22.3oz | Materials: Polyamide (96%) & elastane (4%) | Colors: Black / Navy | Compatibility: Cold-weather clambering and hill hiking in wintery conditions
Excellent thermal properties for cold-weather hiking
Excellent stretch
Good vents
Lower leg expansion gussets to accommodate boots
Limited pocket storage
Integrated belt not brilliant
Make a swishing noise as you walk
Made with a thicker material than most others on test, the brushed mesh and microfleece fabric featured in these hiking pants will keep your legs warm even on the chilliest of morning walks, and are ideal for four seasons.
In summer they will be too warm for sea-level hikes, but people exploring the higher hills and peaks of the Alps or the Rockies will appreciate the extra thermal heft. And if you do get a bit sweaty beneath the belt, there are two long side zips that open up vents along the thighs, backed by a mesh so your skin isn't fully exposed.
Storage space is a bit lacking, with a hand pocket on each side and one shallow thigh pocket that zips closed – the theory being, perhaps, that you will likely be wearing these pants with a jacket (which will provide better pockets). The included, semi-integrated belt is a bit average too, and if it comes out (which it can during washing) it's a bit of a pain to rethread.
However, on a more positive note, these pants have plenty of stretch and don't restrict your movement at all. The waist is styled high, to prevent the ingress of snow, and there's a zippered gusset at the end of each leg so you can fit them over chunky, high collared winter or mountaineering boots. The reinforced lower leg sections make them more robust, but they do rub together noisily when you walk.
Montane Prism Pants
High-performing insulation for your legs during alpine adventures or for post-activity thermal protection
RRP: £130 (UK) | Style: Insulated legwear | Gender specificity: Unisex | Sizes: S–XXL | Weight (Men's large): 295g / 10.4oz | Materials: Primaloft Silver Eco Insulation 40g/sqm, plus Pertex Microlight outer fabric | Colors: Black | Compatibility: Perfect for people who get active in challenging conditions such as mountainsides, or who need high-performing thermal gear
Extremely warm
Lightweight
Very packable
Comes with Pertex stow sack
Relatively expensive
Too specialist for many
Care required when washing
Packing a huge heat punch for their weight, Montane's Prism pants are designed for one thing: keeping you toasty, whether you're engaged in a bid to get to the top of a frigid peak, you've just run an ultra and need to wrap up warm because the heat is leaking out of you now you're no longer moving, or if you're sitting around in basecamp in freezing cold conditions. And for performing these tasks, they are excellent.
The Primaloft Silver Eco Insulation they're stuffed with has awesome thermal properties, trapping a massive amount of air, which is then warmed by your body. The Pertex Microlight outer fabric is fairly tough too, and it boasts Durable Water Repellency (DWR), making them a practical pair of pants to use on the move in really cold conditions.
The knees are articulated, and they're designed with a diamond crotch, to facilitate ease of movement in active situations. The waist is elasticated, and you can tighten it with a drawcord. A large zipper on the trouser ends enables you to open them up and pull them on over the top of boots, if need be, and you can tighten the ankle hem around footwear with a series of poppers.
There are some reflective details on these pants, in case you need to be located in the dark. There are no pockets in these pants, or gaps for accessing pockets in undergarments, because their lightweight/thermal properties would be compromised by such features.
Páramo Cascada II Trousers
Wear-all-day waterproof trousers that are soft and comfortable, with excellent venting options
RRP: $215 (US)/ £155 (UK) | Style: Waterproof hiking pants | Gender specificity: Men's & Women's versions available | Sizes (men): XS–XXXL (short, reg and long leg lengths in S/M/L sizes) | Sizes (women): XS–XXL (short, reg and long leg lengths in S/M/L sizes) | Average weight (men): 481g / 17oz | Average weight (women): 478g / 16.8oz | Materials: Nikwax Analogy (PFC-free 100% polyester), guaranteed Fair Trade | Colors: Dark grey | Compatibility: Ideal for hiking and hillwalking in fluctuating temperatures and changeable weather
Versatile ventilation
Extremely soft and comfortable
Effective weatherproofing
Ethically and sustainably made
Fabric not the most durable
No back or thigh pockets
Limited color options
The Cascada IIs are a great solution to the perennial problem of having to pull on rain pants whenever a downpour threatens. They are designed to be worn all day, but these aren't your regular walking trousers. They are completely waterproof, being constructed with the Nikwax Analogy directional system.
This combines a closely-woven, water-repellent face fabric with a pump liner that pushes water away from the body to keep you dry and comfortable – from both seeping rain and your own sweat. This construction makes them a little thicker and heavier than most trousers, but on the flip side they're super soft and comfortable, with excellent venting options to dump heat fast.
The liner also adds a welcome boost of warmth in cool conditions. As such, they're ideally suited to general hiking and hillwalking in mixed conditions and fluctuating temperatures, not least because they're impressively quick drying too.
Best rain pants for hiking
Sprayway Nakuru / Berbak Rainpants
No-nonsense rain pants with an accommodating fit and reliable Gore-Tex waterproof-breathable performance
RRP: $150 (US)/ £110 (UK) | Style: Waterproof overpants | Gender specificity: Men's (Nakuru) & Women's (Berbak) versions available | Sizes (men): S-XXL (short and reg leg lengths) | Sizes (women): UK 8-18/US XS-XXL (short and reg) | Average weight: 335g / 11.8oz | Materials: 2L Gore-Tex (40D PFC-free polyester) | Colors: Black | Compatibility: Hillwalking and hiking in wet weather or changeable conditions
Accommodating comfort fit
Reliable waterproofing
Velcro ankle adjustment
Two-layer construction limits packability
Slightly hot
A little heavy
The Nakuru (men's) / Berbak (women's) Rainpants from well-established British outdoor brand Sprayway are classic hillwalkers' overtrousers made from a soft and supple but reasonably robust 40-denier polyester face fabric. They're finished with a protective PFC-free durable water repellent (DWR) treatment and utilise a two-layer construction, which means the fabric is bonded to a waterproof-breathable membrane, in this case Gore-Tex.
That ensures solid waterproof performance and reasonable breathability, putting them a cut above cheaper rainpants that use own-brand, PU-based membranes. Inside, they have a taffeta and mesh drop liner to protect the Gore-Tex membrane and wearer aid comfort. As a result, they rarely get clammy, though they might get a little warm.
The semi-elasticated waist has a simple but effective drawcord adjustment, while ½ length side zips ensure easy on and off over all but the chunkiest walking boots. Velcro ankle adjustment ensures a secure seal around your footwear.
What to look for in the best walking pants
What makes one pair of pants the best hiking pants for you is a very subjective thing, and the design features and materials that perfectly suit one person's needs might not be ideal for another. The biggest factor in all of this is, of course, where and when you go hiking most often.
If you do almost all your wild wandering in summer, or when the weather conditions are good, then a pair of breathable pants (see: breathability ratings explained and what to wear hiking in hot weather) made from a lightweight material – perhaps with the option of transforming them into shorts – will be the best hiking pants for you. But, if you intend to go bagging high peaks in the off-season then, obviously, you will need a pair of technical pants that offer much more thermal protection, and perhaps some rain pants too.
However, all that said, there are some factors that are worth considering whatever style of hiking you intend to do, which we'll cover below. For a more in-depth look at these considerations, check out how to choose hiking pants.
Comfort
Whatever you're doing in the outdoors, it's important to be comfortable in your clothes. Pay close attention to the fit of your prospective trousers, and the materials they are made from. Make sure they're going to be warm (or cool) enough for the conditions and terrain you're planning to walk in. There's no point buying the most technically advanced pair of pants on the market if they're totally over specced for the hike you're going on, as you'll overheat and feel a bit silly. Many of the best hiking pants will also feature vents, so you can dump some of that heat and let in some fresh air.
Stretch
Whether you're planning on incorporating rock climbing and technical scrambling in your hiking adventures, or the route you're following just involves clambering over the odd stile or wall, it's always good to have a bit of dynamic stretch in your pants (otherwise they're going to rip and leave you exposed in a way you probably won't like). Look for a percentage of elastane or spandex in the material make-up of your trousers, and any mention of four-way stretch is a good sign.
Protection
Generally speaking, the thicker the material used in your hiking trousers, the more protection they will offer you from everything from the sun (check the Ultraviolet Protection Factor – UPF – rating) and sharp sticks and stones, through to biting insects and stinging or prickly plants. There is a weight penalty to pay for this protection of course. Some lightweight hiking pants are impregnated with insect repelling agents. Many of the best walking pants feature reinforced panels that will both protect you, and improve the lifespan of the trousers. If buying a pair of repellent-free pants, be sure to check out our guide to the best insect repellents.
Wild weather
Many of the best hiking pants have been treated with a DWR (durable water repellent) coating, which means they won't absorb water during light rain showers. Some will also be windproof, which will greatly improve their capability to keep you warm. Combine there with one of the best waterproof jackets or best women's waterproof jackets, and you'll be ready to tackle all weathers.
Pockets
Of course you shouldn't be wandering around on rocky or precipitous trails with your hands shoved in your pockets, but having storage in your pants is important in all kinds of scenarios. If you still like to carry a paper topo map, then many of the best walking pants come with cargo pouch big enough to stash said map (plus compass) so you can keep it to hand at all times. Or you might want to put a small water bottle in that space, or a GPS device, or your phone. Having at least one pocket with a zip is always a benefit, so you can securely store things you really don't want to lose, like your car keys and credit card. Rain pants for hiking often don't have pockets, but will feature gaps so you can reach the pockets in the pants you're wearing underneath.
Other features
Pants may seem like very simple pieces of apparel, but the best hiking pants will actually offer a massive array of little features that can improve your experience on the trails and in the hills. Some have hooks for attaching to your boots to keep the leg material in place; others have gear loops for attaching things (compass, rope, whatever) or an integrated wipe in a pocket for cleaning sunglasses and camera lenses. Some walking pants come with an integrated belt, but often these are pretty basic.
Writer, editor and enthusiast of anything involving boots, bikes, boats, beers and bruises, Pat has spent 20 years pursuing adventure stories. En route he's canoed Canada's Yukon River, climbed Mont Blanc and Kilimanjaro, skied and mountain biked through the Norwegian Alps, run an ultra across the roof of Mauritius, and set short-lived records for trail-running Australia's highest peaks and New Zealand's Great Walks. He's authored walking guides to Devon and Dorset, and once wrote a whole book about Toilets for Lonely Planet. Follow Pat's escapades here.
All the latest inspiration, tips and guides to help you plan your next Advnture!
Thank you for signing up to Advnture. You will receive a verification email shortly.
There was a problem. Please refresh the page and try again.