Does Couch to 5k work? We check out the benefits of the popular fitness app
Does Couch to 5k work? We talk to fans and critics of the celebrated running app to find out if it's an effective training plan, or a fad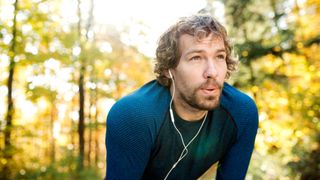 (Image credit: Halfpoint)
Does Couch to 5k work? Chances are, if you're on social media, you have at least one friend who has extolled its benefits. Taking up running is a great idea for many of us – it's free, it delivers amazing physical returns like weight loss in addition to mental health benefits and it doesn't require much apparatus besides a pair of the best trail running shoes. But as we all know, just because you don't need access to a gym or specialized equipment to take up running, that doesn't mean it's easy.
There are lots of barriers to prevent people from getting out on the trail – according to Run Britain, some of the main obstacles include lack of time, motivation and fitness to begin with. That helps explain why so many people have turned to the popular Couch to 5k app to help them get moving, which provides simple coaching through an easy-to-follow systematic plan that claims to be the easiest program to follow for those wanting to run 5km. But does it actually work to build a healthy, dedicated running habit, or is it just another fitness fad that people do in January before returning to the couch?
What is Couch to 5k?
Couch to 5k is a free program that guides total beginners towards running five kilometers on the road, trail or a treadmill with three 30-40 minute workouts per week over a nine-week period. It started out as a program written by Josh Clark of Cool Running for his mother in the mid-'90s. In 1996, he shared it on his running website Kick! and since 2016, it's been offered in the form of a free app called C25k which has been downloaded millions of times, while spinoff apps like the NHS Couch to 5k app in the UK saw millions of downloads during lockdown alone.
"Congratulations on taking your first step to a healthier life," reads the welcome screen of the app when you first open it. The first step is a brisk five minute walk to warm up followed by alternating 60 seconds of jogging with 90 seconds of walking for 20 minutes. Pretty easy.
The program then continues to alternate walking and running intervals to build strength and endurance slowly. By week five, you're alternating five minutes of jogging with three minutes of walking and by week nine, you're running five kilometers without stopping.
"I like the way it's broken into manageable steps, and increases gradually. It's pretty straightforward and easy to follow," says Northampton, Massachusetts-based radio presenter Jaz Tupelo, who used the app herself and then for a friend to help her train to run a 5km.
In addition to the training plan, the app provides voice coaching, telling you when to start running and when to go back to walking, so you don't need to use a stopwatch. Nowadays it also offers curated playlists for your run, or you can use your own music and the voice feedback automatically lowers the volume when it's time to give an instruction.
Does Couch to 5k work?
According to C25k, millions of users have completed the program, but does that mean they actually became regular runners after week nine? For Heather Dahlen of Burnsville, Minnesota, Couch to 5k was exactly the catalyst she needed to make running a habit.
"I started using it in July 2018 and by September 2018 I was running 3-4 miles without stopping," says Dahlen, who went on to join a running group after the program ended.
One of the aspects that seems to make Couch to 5k so effective is its slow progression, which makes what can seem like a really daunting goal – running five kilometres – pretty achievable, because even a total beginner gets to focus on the small parts, rather than the whole picture. Dahlen found that the incremental progression really helped her cement running into her routine because it actually made her do less in the beginning.
"It was easy to follow and did not let me do too much too fast, which meant I saw great results at the end. Had I just started running on my own, I don't think I would have paced myself and done interval training. I'd "run" on my own a few times in my 20s and 30s but would just go out and run until I couldn't, then walk back. Running never became a habit until CT5K. The app lets you do just enough each week to see progress and want to go out and do it again."
Not only does the approach allow you to break your training up into bite-sized chunks and build stamina slowly, many users find this helps them to avoid common running injuries, which can present when you do too much, too soon.
"I liked it as you slowly increased the intervals between running and walking as your fitness and stamina increase. This helped avoid any injuries such as the dreaded shin splints," recalls Leanne Thursby of Earby, England, while physical therapist Dr Richelle Caya uses it in her professional practice at Montri Wellness in Chicago.
"I often recommend it to patients when discussing the importance of progressions," explains Caya, referring to the practice in athletic training of gradually increasing load, distance or time to give your body time to adapt. This reduces strain on your body and overreaching, which can lead to overtraining syndrome.
Though there hasn't been a widespread study pointing to the effectiveness of Couch to 5k, there are lots of smaller case studies that suggest it can be really helpful for people wanting to get into running. NHS doctor Sophie Bates wrote about a group program she implemented at her hospital in 2013 for the British Journal of Sports Medicine. In her follow-up survey, she found that 88.9% of respondents had completed the program. A year later, 87.5% reported that they were still running, with 62.5% running at least once a week, while 44.4% had gone on to take part in running events such as local park runs, other 5K events, and 10K and half marathon races. Though the focus group was small, those are some pretty encouraging results.
Of course, there are those for whom the app doesn't work, but through our own interviews we largely found that they were people who simply don't enjoy running, no matter the training, such as Lynsey Divers of Glasgow, Scotland who says she was on the fence about it after trying it out.
"It definitely works and helps to build up stamina and lung capacity however it didn't turn me into someone who runs. I still don't enjoy running and would rather do pretty much any other exercise. I also found that in the earlier weeks it wasn't really challenging enough so I would end up running myself – or walking – after it was finished."
Finally, there were those who downright despised the whole experience, like Andrea Folger of Savage, Minnesota, who decided she was better off going at a slower pace, for a longer distance.
"I hated it. I hate running and decided to honor that part of myself and abandon it. I'd rather walk five miles than run one."
And perhaps that's the beauty of Couch to 5k – at its best, it turns you into a regular runner but when it fails, it encourages you to find something else to scratch that itch to get moving. So if you're one of those for whom Couch to 5k didn't work, try our article on how to start hiking and see if your first step towards a healthier lifestyle would be better off taken while wearing hiking boots.
All the latest inspiration, tips and guides to help you plan your next Advnture!
Julia Clarke is a staff writer for Advnture.com and the author of the book Restorative Yoga for Beginners. She loves to explore mountains on foot, bike, skis and belay and then recover on the the yoga mat. Julia graduated with a degree in journalism in 2004 and spent eight years working as a radio presenter in Kansas City, Vermont, Boston and New York City before discovering the joys of the Rocky Mountains. She then detoured west to Colorado and enjoyed 11 years teaching yoga in Vail before returning to her hometown of Glasgow, Scotland in 2020 to focus on family and writing.