The best sports bra for running: essential gear for staying comfortable and supported while on the tracks and trails
By Casey Blaine published
Our selection of the best sports bras for running, offering runners a mix of fit, function and fashion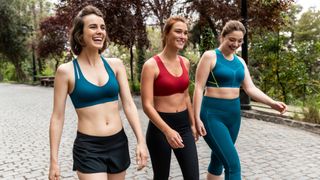 (Image credit: Brooks)
The best sports bras for running are simply fundamental – literally and figuratively. Whether you're crushing track repeats, cruising dirt trails or sweating it out on the roads, this key piece of gear is essential to your active lifestyle. As the layer closest to your skin, a well-designed sports bra for running performs the critical task of supporting delicate tissue, keeping breasts from excessive, sometimes-painful movement. Furthermore, the modern sports bra offers a host of other plusses, including sweat wicking and temperature control, soft and comfortable materials, sneaky storage and aesthetic appeal. With all the great choices out there, squashing down your breasts into a single, shapeless blob is, in a word, barbaric, not to mention completely unnecessary.
For testing, we selected a range of high-quality sports bras for running, in a variety of materials, styles and price points. We looked closely at comfort, compression, fabrics and fit – also assessing if a bra was better suited for a smaller or larger chest. When it comes to sizing, note that many brands have their own approach to sizing, which can also vary by type of bra. For example, a pure compression bra might be sized using a XS-XL scale, while a bra with built-in molded cups may be sized using chest and cup measurements, for example, 34B. Many product websites offer a sizing guide to help you find the fit best suited to your shape. Bottom line: a well-built, well-fitting sports bra for running is as crucial to feeling great on the run as your kicks. Here's a roundup of the best ones currently out there.
The best sports bras for running you can buy today
Gymshark Speed Sports Bra
Look for high coverage from this budget-friendly, stylish showstopper
RRP: $40(US) / £30 (UK) | Sizes: XS-XL | Colours: Teal Lagoon/Dusty Pink/Black | Materials: 80% Nylon, 20% Elastane | Support: Medium
High coverage
Soft materials
Handy storage
Great value
Underband feels tight
Hard to conceal under tank tops and tees
With this high-coverage bra, you don't have to choose between comfort and cool. The stylish high neck and extended torso offer more coverage than a typical running bra, and we felt comfortable wearing it as a stand-alone piece. (Good thing, because the design makes it hard to conceal under tanks and tees.) Made from silky-smooth fabrics, the Gymshark Speed Sports Bra feels absolutely luxurious against the skin. A clasp-in back and half-zip up front make for an easy on/off. The zipper also helps control body temperature – zip up for cold starts and ease the zipper down as you heat up on the run (although note that lowering the zipper lessens breast support). If you tend to chafe at the armpit when material cuts in close, you'll love the deep under-arm swoop. The underband felt tight, but the material is smooth and didn't chafe. There is a sneaky phone pocket in the racerback that even has a hole for headphones. Support is technically 'medium', but we ranked it 'high' for smaller breasts, offering plentiful hold and compression, with minimal movement. However, runners with larger breasts should try this on before buying to ensure it offers a sufficient level of support.
Lululemon Enlite Bra Zip Front
A super-secure and supportive bra that is functional, cute and comfortable
RRP: $108.00 (US) / £88 (UK) | Sizes: 30C - 40DD | Colours: many | Materials: Ultralu | Support: High
Easy on/off
Excellent stay-put support
Flattering, super-comfortable cut
Straps hold some damp
Combining a butter-smooth feel with serious support, the lululemon Enlite Bra Zip Front may quickly become your go-to. We loved its super-easy on/off, thanks to the full-zipper closer. The robust zipper is covered by smooth fabric, and while we were aware of it, particularly its metal stops, it didn't cause any problematic rubbing or chafing at the breast bone. The uber-smooth fabric isn't just comfy – it is a solid high-impact performer, stretching and flexing with you, all the while keeping bounce and movement to a minimum. We loved how it stayed in place, never riding up or shifting. The material was impressively sweat-wicking in the cups, although less so on the straps, which retained some moisture. The scoop neck and molded cups create a natural feminine shape, and we loved not having to fuss with removable pads. The short cut of the bodice is also a winner, leaving plentiful space for lungs and ribs to expand and breathe. While the price tag is high, you can be confident of getting a lot of miles out this high-quality, super-wearable bra.
Brooks Dare Strappy Run Bra
With its barely there fit and feel, this bra is so comfortable, you'll forget you're wearing it.
RRP: $60(US)/ £50 (UK) | Sizes: 30AB-40AB | Colours: Arctic/Black/Lapis | Materials: Body: Dri Layer 63% nylon, 37% Spandex Spacer/Cups: DriLayer 100% Polyester | Support: High
Smart simplicity
Flattering silhouette
Seamless design
Not as supportive as some tested
Limited sizes (AB only)
Some moisture-retention
If you're like us, and can't wait to fling off a constrictive sports bra once you're done running, then this bra will come as a pleasant surprise. The Brooks Dare Strappy Run Bra is so comfy and unrestrictive, we found ourselves wearing it on and off the run. While the compression and support are a tad less than in some bras tested, if you are smaller up top (and that's key, as the bra only comes in size AB), the support and hold are suitable for running, though adjustable straps might have helped to further individualize and snug the fit. That said, the bra's seamlessness – no hooks, eyes, adjusters or other metal or plastic bits – is one of its charms. The strappy design is stylish, with a plunging V-neck; a low cut at the arms; and an airy back, all of which help make you feel liberated on the run. A molded uni-cup gives a nice, natural swell at the breast, without shifting or crinkling removable pads to fuss with. While we adored the smooth, soft feel of this fabric, it wasn't as wicking as some tested, with the cups holding onto damp after harder workouts and warmer temps.
Adidas Don't Rest Sport Hack Bra
The strong performance of this supportive, well-ventilated bra is as bold as its design
RRP: £37.95 (UK ONLY) | Sizes: 2XS - 2XL | Colours: Power Berry/Black | Materials: 70% recycled polyester, 19% polyester, 11% elastane interlock | Support: Medium
Comfortably snug
Good ventilation
Stylish design
Great value
Fussy pads
Shoulder straps may be loose on narrow shoulders
With its pullover design and removable pads, the adidas Don't Rest Sport Hack Bra has a traditional style, but it is anything but stodgy. We gave it high points for comfort, support, and a colorful, bold look that designers say was "inspired by the city at night." The support is technically 'medium', but smaller-chested testers ranked it 'high', with more than enough compression and hold to stand up to running's dynamic movements. A meshy racerback and swooping cut under the arms make it highly wearable, airy and nonrestrictive. The underband felt a bit tight at the ribcage but, thanks to the soft, stretchy material, didn't create problematic friction. Breasts are separated and padded, giving them some nice definition rather than an unappealing compressed look. The pads are a bit of a hassle to remove and reinsert, but that's the best way to clean them. Thick shoulder straps give the bra an urban, chic look, though they are fashion, not function, lending a cool factor, not support. They look great peeking out from a tank, though one tester with narrower shoulders found that they slipped down a bit. Overall, this is a sharp-looking, supportive and functional sports bra for running at a very competitive price.
Runderwear The Original Support Runderbra
Comfortable and exceptionally moisture-wicking, this no-nonsense gear gets it done on the run
RRP: $70 (US) / £50 (UK) | Sizes: 28A-38E | Colours: Black/Black, Pink/Black, Cyan | Materials: 68% Polyamide, 32% Elastane | Support: High
Adjustability
Wide range of sizes
Excellent sweat-wicking
Nicely stretchy
Pads are a little fussy
Pullover bras can be a hassle to put on, but this one makes it a lot easier, thanks to nicely stretchy materials and a clasp in back that opens up extra space. Also refreshing is the extensive range of sizes, which means whether large- or small-chested, you're likely to find a perfect fit. The support is a mix of compression and encapsulation, and we liked the natural look (two boobs rather than one flattened mound) and the secure hold, which was supportive without feeling constrictive. The materials are soft, as well as smart. When you sweat on the run, your bra is the first to get wet and the last to dry. This design employs a clever mix of materials – a wicking fabric against the skin, with meshy panels layered on top in strategic spots to keep you cool. The system worked well, and among the products tested for this guide to the best sports bras for running, the Runderwear The Original Support Runderbra kept us driest. We weren't fans of the removable pads, which got creased after one washing. The website did not mention removing them to wash by hand, but experience tells us that would be best.
Under Armour Infinity High Bra
Adjustable, uber-light, comfy and flattering, this bra ticks every box
RRP: $60 (US) / £50 (UK) | Sizes: XS-XL | Colours: Black/Purple Dust/Dash Pink | Materials: 87% Polyester/13% Elastane | Support: High
Lightweight materials
Very breathable
Easy on/off
Adjustable
None
If we were designing a bra to delight the widest swathe of runners, it would look a lot like the UA Infinity High Sports Bra, which offers a dream mix of solid support, smooth and wicking fabric, and an elegant shape. The moulded cups are much easier than fussing with removable pads and offer a more natural silhouette – not lumpy or misshapen the way pads can be. While the bra comes in standard sizes of XS-XL, the fit is made more bespoke with adjustable crisscross straps as well as four sets of multitier hooks-and-eyes on the broad, stretchy underband, all of which allow you to better customize the fit and support. We appreciated how this bra encapsulated and supported without suffocating, and in fact, has a refreshingly light, airy feel, thanks to super-lightweight, sweat-wicking fabrics, and thin, perforated cups that allow air to flow through. The icing on the cake is how easy it is to put on and remove, especially as we have a feeling we'll be doing that a lot with this go-to bra.
Brooks Dare Scoopback Run Bra
You'll find smooth, supple, seamless support in this high-coverage bra
RRP: $70 (US) / £55 (UK) | Sizes: 30AB-40DD/E | Colours: Rosewood /Black / Lapis /Fluro pink / Asphalt / Multi stripe, Ash | Materials: Body: DriLayer. HorsePower Spacer 63% nylon/37% spandex/Cups: DriLayer. 100% polyester | Support: High
Highly adjustable
Easy on/off
High coverage
Flattering silhouette
Support is less than some
Some moisture-retention
Underarm cut might create friction for some
If you're looking for smooth, seamless support along with high coverage, then look no further than Brooks Dare Scoopback Run Bra. First and foremost, we fell hard for this easy-to-love material, which is silky-smooth and luxuriously soft against the skin. The bra's easy entry and exit also gets high marks. A stretchy, broad back strap with multiple fasteners means you put this on like a regular bra and then have plentiful choice as to how snug or tight to make it. Adjustable shoulder straps further dial in the fit. Support felt more 'medium high' than 'high', with a bit of bounce on the run, though the bra's adjustability helps you modify the hold somewhat. We loved the look and ease of the molded uni-cup, which has a flattering, natural contour. The cup got fairly damp after harder workouts, but there is strategic ventilation in front and in back, which helps air things out. If your inner arms or side boobs are chafing trouble spots, be aware that this high-coverage design cuts in quite close to the armpit.
Adidas Don't Rest Badge of Sport Glam-On Bra
A breathable back panel means excellent, stay-dry support at great value
RRP: $45 (US) £34.95 (UK) | Sizes: Range of standard and plus sizes | Colours: Black/Purple/Pink | Materials: 70% recycled polyester, 19% polyester, 11% elastane interlock | Support: Medium
Well ventilated
Quick drying
Great value
Some rough materials
A classic compression bra functions by basically hugging close to the body to keep the breasts from moving around. That compression can offer varying degrees of comfort and support depending on a bra's fit and your breast size. The support of the Adidas Don't Rest Badge of Sport Glam-On Bra felt more 'medium-high' than 'medium' for both small and larger chests, without too much mashing and flattening thanks to stretchy material and (removable) pads. As for comfort, the fabric is pleasantly soft and smooth against the skin, with the exception of the underband, which is of a coarser, more compressive material. That band felt a bit uncomfortable at first, but after a few wears and washings, the roughness was much less noticeable. The bra was well-ventilated with a generous mesh panel in back, and also impressively sweat-wicking, whisking away moisture from the skin better than bras with higher price tags. The racerback style allows for a good range of movement, and we loved the additional cross-back straps, which added style.
What to look for when buying a sports bra for running
As women, we may come in all shapes and sizes, but we all have breasts, and those jiggly, soft-tissue mounds need special attention during exercise, especially the high-impact motion of running. Whatever the size of your breasts, they – and you – will benefit from a well-made, well-fitting sports bra for running. A good running sports bra is not simply a nice-to-have, but rather, a necessity. Can you get away with running in a regular bra? Maybe in a pinch, depending on the fit and style. But a regular bra is definitely not designed to provide the degree of support, movement control, chafing prevention, heat management and other elements that high-impact sport demands. Let's take a look at the most important elements to consider:
Movement control
When you run, your whole body moves, including your breasts. Lateral movement as well as bouncing up and down can be an awkward and downright painful experience. A good sports bra holds your breasts in place, limiting movement by using either encapsulation or compression. An encapsulation bra supports each breast separately inside a cup, similar to a regular bra, while a compression bra presses both breasts tightly against the body to limit movement. For those with a larger chest, compression may not offer sufficient hold, making encapsulation effective, while those with smaller breasts may not perfectly fill the built-in molded cups, making compression the better-fitting option. A bra offering a mix of both compression and encapsulation – often with adjustable straps – can be an appealing option for all sizes, compressing to the chest while at the same time cupping each breast, offering higher comfort and a more-natural shape (read: no uni-boob).
Support
Sports bras typically offer one of three levels of hold: low, medium, and high. Running is a high-motion sport, and the bra you wear should be constructed for that. But that doesn't mean you necessarily have to rule out all medium support bras, especially if you are smaller-breasted. High-impact bras certainly have the highest degree of compression and support, along with other special features such as more supportive straps and underbands. But medium support bras can be quite suitable for runners with smaller chests and – bonus – they tend to be more comfortable than a high-impact bra.
Moisture management
Running is a sweaty affair, so look for a breathable sports bra made from materials that help manage sweat or whisk it away like it never happened. Some fabrics do this better than others. Cotton and cotton blends are considered no-nos because they hold moisture, which can lead to a soggy, uncomfortable bra. Moisture-wicking fabrics pull moisture away from your skin to the exterior of the fabric, where it can more easily evaporate. Wool, nylon and high-tech polyesters are great options to look for.
Anti-chafing materials and design
Any gear that relies on its ability to hold you in place during high-impact movement largely by staying close to your skin is going to be a candidate for chafing. Your running sports bra's material and cut are crucial. A common complaint about sports bras is that they irritate delicate skin, particularly in high-chafe areas such as at the breast, under the armpit, or along the underband. Material, especially in areas that see significant friction due to the natural running motion, should be soft, stretchy, and as seamless as possible. Look for generous cuts at the armpits, which allow you to pump your arms as you run without chafing against material, and a seamless, soft underband. Steer clear of bras with rough seams or poorly constructed pieces.
Fit
The benefits of a great running sports bra are only effective if the bra actually fits you correctly. A good start is knowing your chest circumference and cup size, but be aware that many brands have their own sizing system, which can differ from your typical size in a regular bra. Trying a sports bra on and taking it for a little 'test-drive' at the store, such as jogging in place and jumping up and down, is the best way to understand a bra's fit on your unique form. If you purchase online, look for sizing guides on product websites, which will help you choose the best fit on their particular products.
A seasoned writer and editor in the endurance sport space, Casey has worked with top athletes and coaches on training books and memoirs. A regular contributor to Women's Running, she especially loves writing about running and hiking adventures, which have taken her on trails around the world – including to the Indian Himalaya, the DMZ in Korea and the Tibetan Plateau. She lives in Colorado, where she's slowly chipping away at hiking all the state's '14er' mountains.
All the latest inspiration, tips and guides to help you plan your next Advnture!
Thank you for signing up to Advnture. You will receive a verification email shortly.
There was a problem. Please refresh the page and try again.