Running while pregnant: top tips for staying active while you're expecting
Can you keep running during pregnancy? We ask an expert for their advice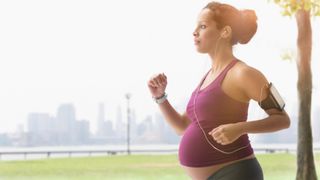 (Image credit: Getty)
"Have you heard about Jane? She ran a parkrun personal best in the morning then had a water birth with no drugs in the afternoon!" If you're running while pregnant, you may find yourself told all sorts of supermom stories like this, and it's fantastic for Jane if she really was able to do this. However, the majority of women who go running during pregnancy will find themselves somewhat curtailed as the bump grows, and it's natural and fine to lower your running expectation levels for a while.
For some runners it can be very hard to let go of the performance levels you worked so hard to attain before you got so darned big, tired, and had a properly functioning bladder. But don't worry, if you're pregnant right now and mourning your loss of running freedom, we promise you it does all return after a while once your gorgeous little bundle is a bit older.
Yes it sucks, but stay positive. It's only a year or so of your nice long life, and perhaps avoid moaning about the hardships of running during pregnancy (or not) to anyone who has experienced baby loss or can't have kids. Let's get this into perspective mamas. Us womb-endowed folk just have to get on with it, take each day as it comes and run, jog or walk when it feels okay to do so.
Here's all the advice you need for running while pregnant from pre and postnatal fitness trainer Jess Parson, founder of Bumps, Bairns and Buggies.
Run your own journey
"Firstly, it's sensible to keep in mind that everybody is different and it's important to not compare yourself to anyone else, even your old self," advises Jess. "Throughout your pregnancy, try to stay in your own lane and not compare to fellow running friends, or those you follow on social media. Furthermore, try to avoid comparing yourself to your previous pregnancies too. For example, I ran up to six or seven months with my first, and then barely ran at all with my second because my circumstances were different."
How much running should I do during pregnancy?
The guidelines are for exercise, but if you're a runner, that may be your first choice. Jess says, "At least 150 minutes of exercise per week is recommended throughout pregnancy, and within this it's advised that you include a couple of strength workouts – roughly 30 mins long."
"If you were a runner before, then medical professionals would advise that it is safe for you to continue through pregnancy, providing you feel okay," says Jess. "It is less advisable to start running from scratch, perhaps save it for after baby has arrived."
If you have any of the diagnosed conditions below Jess highly recommends speaking to a medical professional before continuing to run:
Severe anaemia
Preeclampsia
Bleeding
Placenta previa
Cervical cerclage
Certain types of heart and lung disease
Multiple pregnancies (twins)
Risk of premature birth
How hard should I push myself when running while pregnant?
Jess says, "When it comes to exertion levels, a good guide is being able to maintain a conversation or aiming to work at an effort level of around 7/10. Some will work to heart rate but this isn't always accurate. If it is a particularly warm day then take this into consideration. You don't want to risk over-heating, particularly in the first trimester. Run early in the morning before it gets too warm, or walk, cycle or swim instead.
"Pregnancy isn't a time for breaking PBs – and this can be hard to get used to – but I would really advise seeing running during pregnancy as something that is there purely for enjoyment, to give you headspace and maintain, rather than improve, fitness levels."
Do more than just running
As runners we are always aware that doing strength work will be fantastically beneficial for our form, fitness and efficiency, however many of us don't prioritise these workouts. Why not use pregnancy as a time to do more of these often neglected but important sessions?
"Including strength workouts from the beginning of your pregnancy will also have lots of benefits both pre and postnatally," says Jess. "If these are led by pre- and post-natal fitness specialists, then even better, as they will be able to provide modifications and guidance throughout. Pilates is a great exercise option, as is swimming – particularly during the latter stages of pregnancy when running might not feel as comfortable."
Jess's advice for each trimester
First trimester
"During the first trimester, you can usually keep up your existing exercise routines and running should feel okay. Some people may worry about the increased risk of miscarriage but there is no evidence to support this. I would say it is very much a personal choice. I suffered consecutive miscarriages after my son, so it made me a bit more anxious so I decided not to run, but like I said there is no evidence to support the claim that running, or exercise in general, causes miscarriage.
"Morning sickness and tiredness may affect energy levels so please listen to your body and rest when you need it. Energy levels should pick up, and morning sickness ease as you head into the second trimester. Perhaps running may now seem more appealing and you can give it a go, but take note of how your body feels and build things back up gradually."
Second trimester
"As you move through the second trimester, modifications may need to be made, particularly if you develop pelvic girdle pain (PGP), a common symptom of pregnancy. Running may no longer feel comfortable if this is something you are experiencing. You could try running on softer surfaces, or reducing your mileage but I would probably advise a break from running if you are in pain.
"Your breasts will start to change, mainly get larger, as you progress through pregnancy, getting ready for milk production, so I would highly recommend getting a well fitting sports bra. If you can go to someone to get measured, and fitted properly then this is something I would advise.
Third trimester
"The third trimester might be the time when you make the most modifications. These will be made to mainly protect the core and pelvic floor, and will take into consideration your growing bump. At this stage you can continue to run and exercise as long as it feels comfortable to do so. The weight of your bump will be putting extra pressure on your pelvic floor which might mean extra pee stops. It could be a good idea to plan your routes with suitable pit stops or stay close to home. Try to avoid cutting out fluids, but instead sip water, and make sure you go to the toilet before you set off. You will need to hydrate before, during, and after your run and remember to eat afterwards.
"Runs may now be more run/walk style and this is ok. If you are a trail running then your stability may decrease as you enter the latter stages of pregnancy so please bare this in mind when choosing your routes. At this stage, it's important to not be too hard on yourself. If it feels uncomfortable or you are regularly experiencing discomfort, then perhaps this is your body's way of telling you it's time to hang up the running shoes until after baby's arrival. If the discomfort is rare then perhaps it might just be that you need some extra rest days. Walking is a great replacement for running at this point as long as that is comfortable too."
And finally...
Jess has these wise words to leave you with regarding running while pregnant. "I hope that you have found this article useful. And just to remind you again, this is your pregnancy, and your journey. You need to do what's right for you and your baby, not anyone else. There will be plenty of opportunity to get back to running once little one has arrived safe and well and you have recovered."
Good luck! And once your baby's arrived, check out our guide to running after pregnancy.
About Jess Parson
Jess Parson is a mum of two from Aberdeenshire, an entrepreneur who runs Bumps Bairns and Buggies – fitness classes for pre and postnatal mums with no childcare worries as the little ones come along too. Jess shares advice, inspiration, short workouts and promotes the benefits of exercise on maternal mental health through her Instagram and Facebook pages.
All the latest inspiration, tips and guides to help you plan your next Advnture!
The co-founder and former editor of Trail Running magazine, Claire now runs the YouTube channel Wild Ginger Running, creating films packed with trail- and ultra-running content. An award-winning journalist, writing for outdoor and adventure sports magazines and websites, her first book The Ultimate Guide to Trail Running 5k to 50k is out in January 2021. Claire also speaks and presents at events and races.