Why can't I sleep after a long run?
Why can't I sleep after a long run? We speak to a sleep expert to get to the bottom of this common phenomenon and help you to drop off faster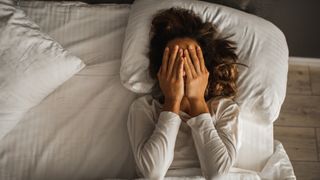 (Image credit: Oleg Breslavtsev)
Arriving home after a long run or a big race, you kick off your trail running shoes, take a long, hot shower, and sit down to a massive, carb-loaded meal. Soon enough, you crawl into bed and feel your achy muscles relaxing into the soft mattress. You've literally been fantasizing about this moment for hours, but when you close your eyes, you keep seeing the trail in your mind and instead of sinking into a deep, soundless sleep, you find yourself unable to drift off. If you're a long distance runner, you may have experienced this moment countless times. So what gives? Why can't I sleep after a long run, you might be asking yourself, when your body and mind are, without question, exhausted after all those miles on your feet?
To get to the bottom of this common phenomenon, we consulted Dr. Abhinav Singh (MD, FAASM), Medical Review Expert at SleepFoundation.org and Medical Director of the Indiana Sleep Center, and it seems the answer boils down to two surprisingly simple factors. First, there's the fact that your nervous system has been in supercharged mode all day.
"Strenuous exercise leads to activation of the adrenergic or sympathetic system," explains Singh, who says that strenuous activity can lead to insomnia when it occurs too close to sleep. In other words, the adrenaline and mental focus that you rely on for hours to keep you moving competitively are functions of your sympathetic nervous system, which is more commonly known as your "fight or flight" response. The sympathetic nervous system dilates your pupils and increases your breathing and heart rate, great for when you're trying to set a new Fastest Known Time, but not so helpful when you want to get into the Land of Nod.
Of course, the sympathetic response serves a really important function when you're on the trail – you're able to run past exhaustion and keep your focus as you fight your way to the finish line, but switching into relaxation mode doesn't always occur just because the race is over. It actually takes another component of your nervous system, known as the parasympathetic nervous system (or "rest and digest") to kick in to allow your body and mind to calm down, according to Live Science. Often, you're in the fight or flight response mode without even realizing it, and some of us need more than just kicking our feet up and chugging a cold beer to really unwind.
"Have a wind down routine," advises Singh. "Both mind and body need to revert. A meditative relaxation may be a useful wind down routine."
Put another way, there's a big difference between being exhausted and collapsing vs unwinding and relaxing. Being a little more tightly wound might be what makes you a competitive force on race day, but it can come with more difficulty dropping off too. If that sounds like it describes you to a T, try these relaxation resources for runners before bed to help activate the relaxation response:
But let's say you are well-versed in relaxation techniques, a zen runner of the road if you will, and are still having trouble dropping off after a long run – what else could be going on? Singh says a really simple physiological response that might be to blame, and that's your body temperature.
"Your body has to cool down in order for sleep to begin," explains Singh, and of course, exercise of any kind increases your body temperature as your muscles generate energy through movement. Additionally, dehydration also raises your temperature, and is an inevitable consequence of endurance running. As explained in an article on exercise and sleep, moderate exercise won't have an affect on your sleep as long as it finishes at least 90 minutes before bedtime, however endurance exercise is a different kettle of fish altogether, which is one of the reasons you often see elite athletes sitting in ice baths for recovery.
"Stay hydrated, have a cool down routine," suggests Singh. After all, as we explained in our article on alcohol and running, sleep is an important part of your training because it's when that all-important recovery takes place.
Spending 10 or 15 minutes in an ice bath will definitely help to lower your body temperature, but it might not be possible or sound too relaxing to you right before bed. However, there are other measures you can take to help yourself cool down properly after a long run:
Leave as much time as possible between the end of your run and bedtime.
Avoid alcohol after your run, as this can dehydrate you and raise your body temperature.
Hydrate with cool liquids such as cool peppermint tea which tricks the body into feeling cool.
Chew ice cubes.
Avoid very spicy foods as well as fatty foods and those containing complex carbohydrates as those are harder to digest and raise your body temperature according to Time.
Take a cool or cold shower.
Use ice packs on your legs to reduce inflammation and cool you down.
Change into loose fitting cotton clothing.
Turn on air conditioning and fans at home and in your bedroom.
All the latest inspiration, tips and guides to help you plan your next Advnture!
Julia Clarke is a staff writer for Advnture.com and the author of the book Restorative Yoga for Beginners. She loves to explore mountains on foot, bike, skis and belay and then recover on the the yoga mat. Julia graduated with a degree in journalism in 2004 and spent eight years working as a radio presenter in Kansas City, Vermont, Boston and New York City before discovering the joys of the Rocky Mountains. She then detoured west to Colorado and enjoyed 11 years teaching yoga in Vail before returning to her hometown of Glasgow, Scotland in 2020 to focus on family and writing.