How to fall asleep anywhere: try these 4 methods
Tired of tossing and turning in your tent? We guide you through how to fall asleep anywhere with four tried-and-tested relaxation techniques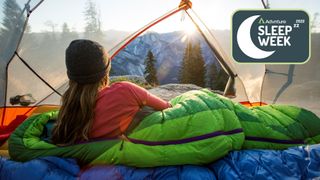 (Image credit: Getty / Future)
Camping is having a moment, and consequently you might have been spending lots of time tossing and turning in your tent lately, irritated that you can't fall asleep even after a long day of hiking. Don't worry – in this article, we guide you through how to fall asleep anywhere with four tried-and-tested relaxation methods.
As camping enthusiasts, we've spent more than our fair share of time researching and writing about the best sleeping bags, sleeping pads and camping pillows to help you catch a good night's sleep outdoors. But let's be honest – no matter how much time and money you spend building the perfect sleep system, sleeping at camp is never going to be quite the same as it is in your own bed. There's the hard ground, the cold nights, the blinding hot sunrises, the rain, the wind, the birds and the buzzing of bees on the other side of your tent wall. All of this is made worse if you're a light sleeper to begin with.
Furthermore, if you're backpacking, it's especially common to think that you'll crash out the moment your head hits your pillow after all that walking carrying a heavy backpack, but it turns out that there's a difference between being tired and being relaxed. In fact, when you've been moving all day long, it can take a while for your mind to stop moving and let your body relax.
Regardless of the cause, waking up groggy is annoying at the best of times, never mind when you have a long day of vigorous activity ahead of you. There are lots of reasons why you might not be able to fall asleep instantly, but one of the most important things you need to do to make way for sleep is to provoke the relaxation response, which is a function of your parasympathetic nervous system (PNS). In direct contrast to the 'fight or flight' response of your sympathetic nervous system, the PNS functions in a state commonly referred to as "rest and digest" and causes contraction of your pupils to stimulate the sleep hormone melatonin, decreases your heart rate, lowers blood pressure, all making ideal conditions for sleep.
Thanks to recent research on the vagus nerve, the main component of the PNS, researchers have discovered that you can essentially activate the PNS response by regulating physiological functions like your breath and heart rate. But how do you decrease your heart rate and lower your blood pressure without medication, you ask? The good news is that there are lots of simple techniques for this that you can do from inside your sleeping bag, the key is finding the one below that works for you.
1. The military sleep method
According to the Sleep Foundation, the military sleep method has been used by some service members to ensure enough sleep for combat since World War II. This simple technique helps many users fall asleep within two minutes, however the key is to practice it regularly for up to six weeks, so it's a good idea not to wait until you've pitched your tent to try it out.
Relax all the muscles of your face, head and neck.
Relax your shoulders, arms and hands, letting them relax on either side of your body.
Take an inhale and a long exhale to relax your chest.
Relax your legs from your thighs down to your calves, then your ankles and feet.
Clear your mind of thoughts for 10 seconds. It might help to visualize a relaxing scene that you've witnessed on your adventures, like swinging in a hammock under a tree, watching the waves rolling in to shore or looking at clouds drifting across the sky.
When thoughts arise, don't get discouraged – just let them arise and drift away. If visualization doesn't come easily to you or it creates strain or anxiety, try repeating 'don't think' to yourself over and over.
2. Diaphragmatic breathing
Even though research on how you can regulate your vagus nerve function with your breath has just begun in the scientific community, yoga practitioners have been using breathing techniques to regulate their nervous systems for centuries. There are countless breathing techniques in yoga, but the key to using your breath to fall asleep lies in making your breathing deeper and slower, in particular your exhale, which will slow down your heart rate.
To fall asleep at camp, try simple diaphragmatic breathing, which has been indicated in reducing stress in a 2017 study in Frontiers in Psychology, paving the way for better sleep. Your diaphragm is the primary muscle used in respiration, however many of us don't use it much at all, breathing a shallow breath into our upper chest instead. The study indicates that shallow breathing may be an underlying cause of anxiety, and using your diaphragm to breathe ensures a deeper, fuller breath.
Place one hand on your upper chest and the other on your abdomen, just below your rib cage. This is where your diaphragm is.
Breathe in slowly and deeply through your nose so that your abdomen expands, causing your hand to rise – do this without strain. The hand on your chest shouldn't move.
Gently contract your abdominal muscles as you exhale gently through pursed lips, so that your abdomen moves in and you feel your hand lower.
Repeat this cycle for two to three minutes, then relax your breath and your body.
3. Body scan meditation
A body scan meditation is a time-tested mindfulness-based stress reduction technique that has been cited in reducing insomnia in a 2010 research paper in the Journal of Clinical Psychology. A body scan focuses your mind and allows you to notice any unconscious tension in your muscles that might be keeping you from relaxing fully and falling asleep.
First, gently deepen your breath, without any strain.
Feel your entire body sinking into your sleeping pad.
Bring your awareness to your feet. Relax your feet. Bring your awareness to your calves. Relax your calves. Bring your awareness to your thighs. Relax your thighs.
Continue your body scan in this way, moving slowly up your body from your legs to your head, noticing and relaxing each region of your body.
When the body scan is complete, once again feel your entire body and invite it to relax.
4. Progressive muscle relaxation
The practice of progressive muscle relaxation is quite similar to the body scan, only it is a little more active. This may be effective if you can really feel that muscle tension (perhaps from hiking many miles carrying a heavy backpack) is what's causing the problem. A 2020 study found that progressive muscle relaxation reduced anxiety and improved sleep in Covid-19 patients. The progressive muscle relaxation technique involves tensing regions of your body then releasing them in conjunction with deep breathing to facilitate relaxation.
Tense up all the muscles in your face and hold for 10 seconds, then release your muscles with an exhale. Breathe deeply for several seconds.
Tense up your shoulders for 10 seconds then release your muscles with an exhale. Breathe deeply for several seconds.
Continue tensing and relaxing in this way, moving through your arms and hands, abdomen, buttocks, legs and feet.
When you have completed tensing and relaxing your entire body, feel your whole body relax into the ground.
This article is part of Advnture's Sleep Week 2022 (running from Monday 22 August to Sunday 28 August), our in-depth look at how to choose the best gear for sleeping outdoors and get a better night's rest in the backcountry.
All the latest inspiration, tips and guides to help you plan your next Advnture!
Julia Clarke is a staff writer for Advnture.com and the author of the book Restorative Yoga for Beginners. She loves to explore mountains on foot, bike, skis and belay and then recover on the the yoga mat. Julia graduated with a degree in journalism in 2004 and spent eight years working as a radio presenter in Kansas City, Vermont, Boston and New York City before discovering the joys of the Rocky Mountains. She then detoured west to Colorado and enjoyed 11 years teaching yoga in Vail before returning to her hometown of Glasgow, Scotland in 2020 to focus on family and writing.