Meditation for runners: how sitting still can improve your momentum
We uncover five areas where meditation for runners can optimize your endurance, efficiency and confidence on the trail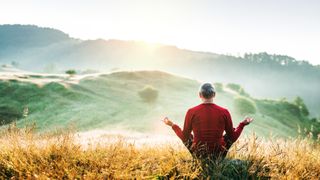 (Image credit: Halfpoint Images)
In recent years, the conversation around performance in running has broadened significantly beyond just having the best trail running shoes and refining techniques such as gait and pace in your training. More holistic topics such as scheduling rest days, recovery methods like foam rolling and even mindfulness and meditation for runners have become more mainstream, and famous athletes such as basketball's Michael Jordan and Olympic runner Deena Kastor have sworn that meditation improves their performance.
There are plenty of emerging studies that tout the benefits of meditation, with the National Institutes for Health publishing studies implicating it in pain management, stress reduction, lowering blood pressure, reducing inflammation and more. With these types of potential benefits, it seems like meditation is a great idea for everyone, but is there evidence that it is specifically useful for runners? After all, running is all about forward momentum and meditation involves sitting still, so can there really be a link between the two?
Can meditation help with running?
Though there hasn't yet been a large-scale study on how meditation benefits runners, there has been research that indicates it for athletic performance generally, such as one 2020 study of 46 athletes published in the journal Neural Plasticity that found that a five-week mindfulness program improved coordination, endurance and cognitive function. Further, some studies like a 2015 study in Cortex have found that mental repatterning and creative thinking is boosted when your brain is operating in the relaxed Alpha state, which is correlated with techniques like meditation and deep relaxation.
All of this sounds promising for trail running, which requires you to be able to navigate uneven terrain at high speed and over long distances, which is both mentally and physically taxing, so we took a closer look at the research and found five key areas where meditation may be of benefit to runners.
Concentration
Running is about much more than physical training. Anyone who has attempted a long distance trail run or a race knows that the old adage of mind over matter rings true. Trail running is a fairly complex task that requires moving your body quickly and efficiently over uneven terrain, and losing focus can slow you down, or worse, lead to injury.
Particularly if you're working on improving at a particular aspect of running, such as your pace or distance, you'll want to approach your running with a clear, focused mind that's neither reliving the past or anxious about the future. A 2018 study of 40 college students for the Frontiers in Human Neuroscience journal concluded that even a brief meditation of as little as 10 minutes improves attention span, suggesting that regular meditation might be better than zoning out with your headphones in when you're on the trail.
Proprioception
In our article on proprioception for runners, we discussed how having a well-developed sense of body awareness and coordination is especially important for trail running, because it helps you respond to your changing environment, maintain balance and remain injury free.
There are physical practices to help you improve proprioception, which we outline in that article, but it turns out that meditation is also highly indicated in improving proprioception and balance as demonstrated in a 2020 study on Parkinson's patients by the Perceptual and Motor Skills journal. Basically, spending some time sitting in meditation improves your sense of your body in space, which is a skill you can carry over onto the trail.
Endurance
Another area where we found some promising research for runners was in the field of endurance. Sticking with it on a long trail run after all comes down to a combination of physical fitness and mental toughness. You need a well-trained cardiovascular and musculoskeletal system of course, but there's a mental aspect to endurance that simply can't be overlooked. Basically, runners need an ability to cope with challenge and suffering or they'll quit long before they get to the finish line.
Fortunately, coping with suffering is at the very heart of meditation, going all the way back to Buddha who renounced his family and possessions and sat under a Banyan Tree for seven years to figure out how to live with suffering. Fast forward to today and a 2021 study in the journal Evidence-Based Complementary and Alternative Medicine confirmed that implementing a 90-minute mindfulness session once a week for eight weeks improved pain tolerance in athletes who also avoided negative coping behaviors such as avoiding sport and experienced increased mental toughness in endurance sports. So, that time when you're sitting silently and doing nothing could actually carry you further down the trail in the long run, and no need to do it for seven years straight either.
Stress and anxiety
The number one reason people start meditating in the first place is to help with stress relief. Lots of people also take up running to cope with stress and anxiety, seeking the runner's high, but of course if you start to get competitive in running, it can also have the opposite effect.
Pre-race jitters are normal, but you might be able to help channel that nervous energy better with meditation, according to a 2014 study in the Journal of Clinical Psychiatry which found that Mindfulness Based Stress Reduction techniques may have a beneficial effect on anxiety symptoms and also improve stress reactivity and coping skills. The idea is if you meditate a little, you can spend less time worrying about your performance and more time enjoying the run.
Confidence
Finally, it's no secret that confidence plays a big role in athletic performance. Sometimes, you surprise yourself with what you can do, but on some level, if you don't believe you can accomplish something, you're less likely to try and more likely to quit early. A 2009 study published in the Journal of Cognitive Psychotherapy found that not only did MBSR techniques like meditation decrease anxiety, they can improve self-esteem. So that ten minutes on the cushion might give you the boost you need to up level to that longer distance run.
How do you meditate for running?
Meditation for running really comes down to finding a meditation style that works for you so you can reap the most benefits. After all, if you're practicing a style that you don't really like – or believe in – you're less likely to see results. There are lots of different styles of meditation, so below we've outlined a few more common and better researched techniques that you can try out and see which one you click with. And perhaps most importantly, while meditation is usually depicted in the media as being something you need to be able to sit cross legged for, you can do it sitting in a chair or propped up in bed – which might just be ideal for tight runner's hips.
Concentrative meditation: this style of meditation involves focusing on a single object, such as your breath, a repeated phrase known as a mantra, or even gazing at a candle flame. Concentrative meditation can be great if you tend to become distracted and are looking to improve your mental focus.
Mindfulness meditation: this style of meditation is derived from Buddhist practices and involves a variety of techniques, but the main principle is to become aware of your thoughts rather than reacting to them. This could be great if you tend to fall foul to patterns of negative self talk before or during a run.
Transcendental meditation: this is a specific technique where you internally repeat a mantra that is given to you by a teacher. The power of this technique might be in its regularity, as it is practised for 20 minutes twice a day, and studies suggest that it improves resistance to stress and executive functioning, so this might be a good all-round for runners.
Visualization meditation: commonly used by athletes to improve performance, this style involves visualizing positive images and ideas and using positive affirmations while in a relaxed state. This can be powerful if you tend to experience doubt or loss of confidence in your performance.
Should I meditate before or after running?
There are no studies on whether the effectiveness of meditation changes if you do it before a run versus afterwards, so the best approach is probably to do it when it works in your schedule, otherwise it will increase stress. Some athletes swear by doing it ahead of a big race or game to get them in the right headspace, but there's also an argument for doing it afterwards to help unwind, such as during your post-run yoga session.
Remember – lots of the studies we cited applied meditation only once a week and saw good results, so it's probably less an instant results formula as it is about getting the accumulated benefits of doing it regularly.
All the latest inspiration, tips and guides to help you plan your next Advnture!
Julia Clarke is a staff writer for Advnture.com and the author of the book Restorative Yoga for Beginners. She loves to explore mountains on foot, bike, skis and belay and then recover on the the yoga mat. Julia graduated with a degree in journalism in 2004 and spent eight years working as a radio presenter in Kansas City, Vermont, Boston and New York City before discovering the joys of the Rocky Mountains. She then detoured west to Colorado and enjoyed 11 years teaching yoga in Vail before returning to her hometown of Glasgow, Scotland in 2020 to focus on family and writing.