Climbing Everest: "a wild and scary obstacle course"
We speak to author and mountaineer Vivian James Rigney about the immense challenges – and exquisite beauty – he experienced getting to the summit of mount Everest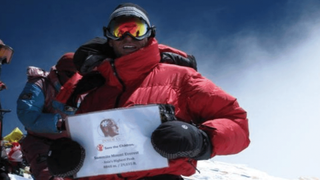 (Image credit: Vivian James Rigney)
In May 2010, Vivian James Rigney was at Base Camp on the Khumbu glacier preparing to summit Everest when a commotion broke out.
"We heard the Sherpa shouting in the background and we learned that they'd discovered a crevasse – because basically at Base Camp you're camped on a moving glacier and because it's cracking all the time you have these movements – and where the glacier had cracked and torn open, they'd discovered a human arm."
The shocking discovery turned out to belong to one of a couple of climbers who had fallen into a crevasse way higher up in the Khumbu Icefall back in the 1960s. The Sherpa were able to extract the climbers, perfectly preserved, and perform a small ritual ceremony for them before contacting their families, who until that day believed them to be lost forever.
"I remember it brought everything home to me there at Base Camp – if that happens to me, just the thought of your family getting a phone call, years in the future, that we have found your brother or your son." Rigney recalls of the incident, which brought his expedition to the top of the world into a sobering perspective.
"It's not just about me, it's about my family. They're going through this with me. And it must be exponentially more difficult for them than for me, and I hadn't really connected the dots on that before that occurrence. So that was a wild moment."
Though he recalls that day as the scariest in his six-year mission to climb all of the Seven Summits – the highest peaks on every continent – Rigney admits that his entire Everest journey was riddled with obstacles, describing the experience as "like a crazy ultra marathon that never ends".
"Everest is like a crazy obstacle course. Every day is obstacles, obstacles, and your life is under threat. Once you leave Base Camp, everyday basically stuff that you really want to avoid, and you're constantly aware of that."
In fact the obstacle course began months before arriving at Base Camp, with the signing of a waiver agreeing for his body to be disposed of in a crevasse if he perished during his attempt, as so many do. It continued with receiving the shocking news of the avalanche death of his would-be Everest guide, as he was waiting to depart for Nepal from JFK. And it concluded with frostnip, severe emaciation and memory loss which plagued him for months after his return to New York City.
Rigney recounts all of these challenges and many more in his new book, Naked at the Knife-Edge, with a frankness that chips away at the sheen of summiting the world's highest peak and exposes the frequent misery and brutality that plague the whole process, from the months spent away from family and friends to the physical challenges of spending time somewhere humans are simply not meant to be.
"There's trauma involved in climbing Everest, and I think it takes quite some time to kind of marinate and recover and come full circle."
So long, in fact, that it's taken Rigney, an Irish immigrant to New York City, 12 years to figure out the story he wants to tell. While most of his colleagues released books within 18 months of the expedition, Rigney percolated on his climb for over a decade, and it wasn't until the pandemic that he was catapulted back in time to his struggles at the summit and felt compelled to reflect on his experiences for others.
"In the very first two weeks of the pandemic, sirens going off in the streets below me in Manhattan, no travel, I felt that sense of vulnerability that I felt on Everest. It was this kind of out-of-body experience of feeling very alone, family in Ireland, they're locked up, I'm locked up and all these things I cannot control that are happening around me right now. And it brought me back to Everest. There's so much you cannot control and I needed to make peace with that."
When it came time to write his memoir, the experience of being totally out of control and learning to navigate that terrifying sensation when his life was at stake turned out to be the driving force that shaped his telling of a story that has otherwise been told before many times since Edmund Hillary and Tenzing Norgay's first ascent. Rigney is a verified mountaineer, but he's also an executive coach and in that role was used to helping people overcome their own limitations and barriers. Finding himself on a mountain and unable to do the same for himself was a huge awakening, and deeply humbling.
"It's like you go through some Milky Way and you have to break through a barrier in order to really understand that letting go is the only choice you have. And that makes you feel very exposed. Because it's unfamiliar in our city life," he reflects.
Ultimately, he was able to lean on his training in introspection as a coach to get him to the summit and down safely, which he describes as the top priority of the expedition and not, as you might imagine, getting to the top.
"I had to realize how much energy I was hemorrhaging when I wasn't in control. And then you realize, well, nothing matters if I don't come down to one piece."
Within his harrowing tale, however, are moments of immense clarity and the astounding beauty of Nepal that shine through, like a break in the storm. A butterfly landing on his backpack during his summit climb as it migrates over the Himalaya. The piercing blue sky. The teamwork required for success and survival in the most challenging conditions imaginable. His eyes light up at the recall of these moments that made the brutal journey worthwhile, if not exactly pleasurable.
"Just going through the hike into Base Camp is phenomenal. Going through Nepal, seeing the villages, the people, the Sherpa, it's purely inspirational. Just the things you're going to see that no one else will see. You feel very special, even if it's scary."
Despite the markedly brief period spent at the summit – just 15 minutes out of the entire two month process which takes up a mere two pages of his book – he's able to glean the value of such a barbaric and unlikely quest.
"When you are up there, you do have a moment of elation that you are above everything on the planet and you're the nearest point to being an astronaut that you will ever be. You have this feeling of immense beauty when you're above everything."
Ultimately, Rigney's tale is one of reckoning – coming face-to-face with his brother's death and trying to prove himself to his mountaineering father as well as the importance and value of working with others – and it probably won't convince you to buy some crampons and attempt Everest any time soon. It does, however, shed light on what mountaineering takes from the climber as well as what it gives, with a brutal honesty that perhaps we need more of in an Instagram-filtered world.
Vivian James Rigney is President and CEO of Inside Us LLC, a boutique executive coaching consultancy operating throughout five continents. Learn more about him at vivianjamesrigney.com
All the latest inspiration, tips and guides to help you plan your next Advnture!
Julia Clarke is a staff writer for Advnture.com and the author of the book Restorative Yoga for Beginners. She loves to explore mountains on foot, bike, skis and belay and then recover on the the yoga mat. Julia graduated with a degree in journalism in 2004 and spent eight years working as a radio presenter in Kansas City, Vermont, Boston and New York City before discovering the joys of the Rocky Mountains. She then detoured west to Colorado and enjoyed 11 years teaching yoga in Vail before returning to her hometown of Glasgow, Scotland in 2020 to focus on family and writing.