Who was Tenzing Norgay? The first Sherpa mountaineer to summit Everest
Who was Tenzing Norgay? We take a look at the life and achievements of the Sherpa who was one of the first two climbers to reach the top of the world.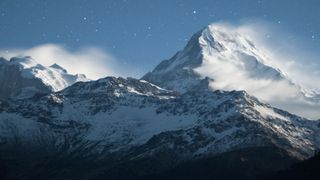 (Image credit: Yifei Fang)
You've no doubt heard of Edmund Hillary, immortalized in mountaineering history as the first climber confirmed to set foot on the summit of Mount Everest. But if you've ever seen any images from his historical conquest, you know he wasn't alone that day. In fact, he could not have made it to the top without the help and guidance of Sherpa Tenzing Norgay, who was with him every gruelling step of the way. So who was Tenzing Norgay and why is he important?
Who was Tenzing Norgay? The world's best known Sherpa
Tenzing Norgay is arguably the world's best known Sherpa. Sherpa is a Tibetan ethnic group native to the most mountainous regions of Tibet, Nepal and India. Sherpas are largely regarded as elite mountaineers with consummate expertise in climbing the Himalayas. Their adaptation to the high altitude environment there in addition to unusual fortitude and knowledge of the terrain makes them invaluable to those seeking the elusive summit of Everest.
In Norgay's case, he was unique in several regards. While many Sherpas had helped carry equipment for Western climbers before, Norgay was the first to express a fierce ambition to actually reach the summit. He is often quoted as saying, "I needed to go. The pull of Everest was stronger for me than any force on earth." For the Sherpas, the hulking peak of Everest standing at 29,031 feet is not an opponent to be conquered, but rather a goddess to be worshipped. This unusual personal drive combined with impressive competence in mountaineering demonstrated by his six previous Everest expeditions earned him a spot on Hunt's successful 1953 attempt.
Perhaps more importantly, without Norgay, Hillary would most certainly have died before achieving his groundbreaking feat. Shortly before beginning their ascent, the two were climbing down some dangerous icefall to return to base camp when the block of ice Hillary stepped on broke off and sent him hurtling towards a crevasse that would have claimed his life if not for Norgay tightening the rope between them and stopping his fall. This quick thinking act secured Norgay's reputation as a skilled mountaineer and his position as Edmund's partner on the expedition.
Who was Tenzing Norgay? A mountaineer in the making
Tenzing Norgay was born in Nepal around 1914 – the exact date of his birth is not on record, but after 1953 he decided to celebrate his birthday each year on the anniversary of his Everest summit. The son of a Tibetan yak herder, Norgay was one of 13 children. According to his autobiography, he became enamored with Everest after he went to work for a Sherpa family in the Everest region Khumbu as a child.
However in these early days, his future as a mountaineer was not set in stone – according to the book Life and Death on Mt Everest: Sherpas and Himalayan Mountaineering by Sherry B Ortner, he was initially sent away to the Tengboche monastery to become a monk, but decided that a monastic life was not for him and returned home. He later ran away to Kathmandu before finally making his way to Darjeeling where he cemented a career in mountain expeditions.
Norgay's first opportunity to join an Everest expedition came in 1935 when, at the age of 20, he was invited to join the British Mount Everest reconnaissance expedition by English mountaineer Eric Shipton. He took part in five subsequent quests for Everest summits before his ultimately successful finish which Hillary wrote gave him great appeal and confidence when it came to tackling the mountain.
The first summit of Everest
In March 1953, Norgay was one of 20 Sherpas who set up basecamp on John Hunt's expedition. Along with a team that included over 400 support staff, the expedition took about three months to complete, with Norgay and Hillary setting out for the summit on the morning of May 29 after two others in the group had been turned back days before. They overcame the final near-vertical pitch of rock and ice using only ice climbing gear and the rest as they say is history. The pair became the first to reach the highest point on earth at 11:30am, where they spent 15 minutes taking photographs before beginning their long descent.
Controversy and lack of recognition
Upon returning to India, both Hillary and Hunt received knighthoods from Queen Elizabeth II for their efforts, while the final pitch to the summit was known as Hillary Step until it was destroyed by an earthquake in 2015. Controversially, Norgay was not knighted and received the lesser George Medal instead for accomplishing the same victory as Hillary. This apparent snub has been the focus of growing disquiet among the Sherpa community over the following decades, and was chronicled in the 2015 documentary film Sherpa which explores the lack of recognition given to the Sherpas who facilitate western climbers' success. Norgay's own family has requested that the British government give him a knighthood, and the lack of official recognition has been cited as proof of prejudices of the British establishment at the time, while rumors circulate that it was the Indian government who intervened in any potential knighthood.
Though there has also been some speculative controversy regarding their relationship and who actually reached the summit first, both parties have conceded that while Hillary took the first step, they summited as a team. Of Norgay, Hillary said while speaking on the 50th anniversary of the summit in New Delhi: "Teamwork got Tenzing and me to the top of Everest," leaving no doubt as to the significance of Norgay's contribution.
Legacy of a Sherpa
Norgay died in 1986 and though he may not yet have been recognized as Hillary's equal in mountaineering, he has undoubtedly left his mark on the climbing community. Since his summit, there are now reported to have been over ten thousand summits of Everest. And records are regularly broken for reaching the summit by men and women from all corners of the globe.
Though he did not complete any further summits of Everest, he went on to establish Tenzing Norgay Adventures in 1978, a company providing trekking adventures in the Himalayas which is now run by his son Jamling. His legacy of climbing continues through Jamling, who joined Peter Hillary, Edmund's son, in climbing Everest in 2003 on the 50th anniversary of their fathers' climb.
All the latest inspiration, tips and guides to help you plan your next Advnture!
Julia Clarke is a staff writer for Advnture.com and the author of the book Restorative Yoga for Beginners. She loves to explore mountains on foot, bike, skis and belay and then recover on the the yoga mat. Julia graduated with a degree in journalism in 2004 and spent eight years working as a radio presenter in Kansas City, Vermont, Boston and New York City before discovering the joys of the Rocky Mountains. She then detoured west to Colorado and enjoyed 11 years teaching yoga in Vail before returning to her hometown of Glasgow, Scotland in 2020 to focus on family and writing.