The best crampons 2023: tested for sure-footed traction on frozen terrain
Winter adventures in the hills call for specialist kit, so finding the best crampons for your mountain mission is essential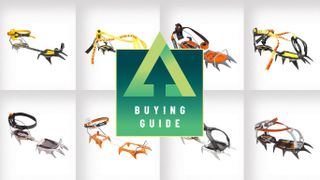 (Image credit: Future)
The best crampons can be a lifesaver. Literally. Snow- and ice-covered hills and mountains present a serious challenge for even the most experienced hillwalker or mountaineer. Most obviously, conditions on the ground change drastically, increasing potential risks when ascending or traversing hillsides, mountainsides and ridges. On frozen terrain, even the burliest winter hiking boots offer less reliable grip underfoot, making slips and trips more likely, which could turn into a more serious slide or fall – with serious consequences.
To improve traction and keep feet securely planted on snow and ice, a pair of crampons is a winter hillwalking essential. Crampons are used in conjunction with the an ice axe for added safety and security in the mountains. And, just like ice axes, a range of different types are available, from classic 10-point C1 crampons designed for winter hillwalking and glacier hiking right through to fully automatic C3 crampons with modular front points for technical ice climbing.
Here, we've focused on the lower end of the technical scale – the sort of crampons you might wear for days out on frozen fells or snow-covered minor mountains.
In these situations, you'll normally want a 10- or 12-point flexible crampon fitted with either a C1 strap-on binding or a C2 semi-automatic binding. See our guide at the foot of the page for a comprehensive explanation of these different styles and classifications.
The best crampons
Best 12-point crampons
A tried-and-tested classic that has proven its ability in mountain ranges all over the globe, combining a rugged and robust build with versatile steep-ground performance
Specifications
Materials:
Painted nickel chrome molybdenum steel, ABS plastic, nylon webbing
Reasons to buy
+
Easy and precise fit
+
Extremely robust and reliable
+
Fit almost all most boot sizes
+
Available in strap, semi-auto or fully automatic step-in bindings
Reasons to avoid
-
Towards the heavier end of the spectrum
-
Not the most compact when stored in a pack
-
Longer points require more careful footwork
Grivel call their classic G12 model "the king of crampons" – a big boast, but a justified one. This design has been tried and tested in mountain ranges all over the world, with numerous first ascents to its name. Widely regarded as the ultimate workhorse crampon, it's a popular choice with mountain guides from the Alps to the Cascades.
As a conventional 12-point mountaineering design, it has the technical capability to work on low-angled and steep ground alike. It also comes in three binding options: Cramp-o-matic (C3 step-in), New-matic (C2 or semi-automatic) and new classic (C1 flexible bails). These qualities ensure it is both versatile and adaptable, while offering compatibility with a multitude of different winter hillwalking and mountaineering boots.
The focus is squarely on rugged reliability, so they're also straightforward to fit and adjust. Performance is excellent whether walking on snowy slopes, kicking into hard ice or negotiating mixed terrain. The fact that they can do it all so competently is testament to their supreme versatility. In short, if you're after one pair of crampons for a wide variety of winter adventures, then the G12s are one of the strongest options on the market.
A lightweight and highly adaptable 12-point mountaineering crampon that works well across a range of terrain
Specifications
Materials:
Painted hardened steel, ABS plastic, nylon webbing
Reasons to buy
+
Lightweight
+
Easy and secure fit
+
Available in strap (Flexlock) or semi-auto / fully auto (Leverlock) bindings
+
Adaptable and versatile design
+
Fit almost all most boot sizes
Reasons to avoid
-
Anti-balling plates susceptible to wear
The classic 12-point, all-steel design of the Vasak crampons provides good stability and bite on a range of different frozen terrain. Performance is certainly comparable to leading rivals from Grivel or Black Diamond. However, the Vasaks are a little lighter than most of their competitors, and arguably a little more versatile and adaptable too.
One thing we particularly like about these crampons is the fact that the linking bars have two sets of holes. This enables a more precise fine-tuning of fit, and their shape also means they work better with boots that are more offset or asymmetric at the toe. In addition, all the current models in Petzl's comprehensive crampon range are fully modular. The major advantage of this is that if you buy new boots, or start to climb at a higher grade, you can effectively upgrade your existing crampons to suit, rather than having to buy a completely new pair. Given the cost of most winter climbing kit, that's an undoubted benefit.
They have a clean profile that translates into a snug and secure fit with a wide range of boots. In the mountains, we also appreciated their streamlined design and lower weight. They also compress down neatly, which reduces bulk when stored in a pack. The only potential drawback we noted – in common with other users – is that on mixed terrain, the Petzl anti-balling plates tend to show more wear more quickly than most others. It's a minor trade-off compared to the solid performance and relatively low weight that these crampons deliver, though.
A robust and sturdy 12-point crampon made from high-grade stainless steel that's ideal for classic mountaineering routes and winter scrambles
Specifications
Materials:
Stainless steel, ABS plastic, nylon webbing
Reasons to buy
+
Easy and precise fit
+
Well-made and durable
+
Available in strap, semi-auto or fully automatic step-in bindings
Reasons to avoid
-
Middling in terms of weight
-
Supplied link bars only fit boots up to a UK 11 / US 12. For larger sizes, you'll need longer length bars (sold separately)
The Serac is one of the most popular 12-point crampons around, and we can see why. With versatile horizontal front points, classic secondary points and stable rear points, it's a design well-suited to winter mountaineering from low to mid-grades, even on moderately steep ground.
Added versatility comes from the fact that three different binding systems are available for use with all classes of boot, from flexible B1s up to fully rigid B3s. The latest version also has a slightly reshaped front section with a curved frame to reflect the more pronounced "rocker" of most modern boots, resulting in a closer fit for added stability and less snow build-up.
We tested the C2 Clip version, fitted with a front bail and a rear heel lever, which proved easy to put on and remained secure in use, with no heel lift thanks to the precise micro adjustment on the rear clip. The integrated anti-balling plates work well to shed snow and ice underfoot. The front points feel robust and reliable (and are pretty sharp straight out of the box), while the secondary points are fairly aggressive, aiding stability. The Seracs are also made from rust-resistant stainless steel, a plus for durability.
All in all, these are well-designed and sturdy crampons, rightly regarded as one of the best-performing designs for classic mountaineering.
4. Climbing Technology Nuptse Evo
Value-driven 12-point mountaineering crampons that are reliable and solid all-rounders, with more technical capability than a pure hillwalking crampon – but without a scary price tag
Specifications
Materials:
Tempered painted steel, ABS plastic, nylon webbing
Reasons to buy
+
Great value
+
Solid all-round performance
+
Available in strap, semi-auto or fully automatic step-in bindings
+
Supplied with storage bag
Reasons to avoid
-
Points aren't the longest or most aggressive
-
Heaviest crampons on test
With a classic 12-point design but a surprisingly low price point, Climbing Technology's Nuptse Evo crampons are ideal for winter adventurers on a budget. Available with strap, semi-automatic and fully automatic step-in bindings, they work well with B1, B2 and B3 boots. Despite their lower cost, the CT Nuptse Evo crampons are also supplied with a simple crampon bag as standard. It isn't flashy, but it does the job, and saves having to buy a case separately (or risk your crampons tearing up the rest of your kit bag).
Admittedly, when it comes to materials and finishing, these crampons do not seem to be quite as refined as higher-end rivals. But the steel is of good quality, tempered and painted in a matt gray finish for added protection from corrosion. And though they're the heaviest crampons tested here, the difference in weight between these and most rivals isn't significant enough to leave you heavy-legged at the end of a long mountain day.
They have a good range of adjustment, with a fit that is fairly easy to fine tune. They're supplied with effective anti-balling plates, and though the points aren't the longest, they are a competent performer even on moderately steep ground, being particularly well-suited to negotiating icy ridges, frozen gullies and similar "classic" mountaineering terrain.
Although the design isn't exactly revolutionary, they employ tried-and-tested characteristics to create a competent all-round mountaineering crampon. They seem well-made and durable too, so we think they represent exceptional value for money.
Best 10-point crampons
A sturdy and reliable 10-point crampon that is the perfect choice for winter hillwalking and mountain trekking above the snowline
Specifications
Materials:
Painted nickel chrome molybdenum steel, ABS plastic, nylon webbing
Reasons to buy
+
Lightweight
+
Easy and secure fit
+
Robust and reliable
+
Fit almost all most boot sizes
+
Wide version for ski mountaineering or telemark boots
+
Available in strap or semi-auto bindings
Reasons to avoid
-
Not suitable for more technical terrain
The G10 is Grivel's classic 10-point crampon, intended for general mountaineering use. The tried-and-tested design comes in two versions: the New Matic clip binding (with a front bail and rear leverlock for boots fitted with a heel welt) and the versatile New Classic strap binding (for any B1-rated boot). Both versions are easy to fit and adjust, thanks to a sliding, flexible steel bar with a spring-loaded locator, which will fit boots from EU size 35 to 46 (UK size 2.5 to 12). Longer bars, sold separately, are available for larger sizes. In addition, a wider version of the G10 is also available, designed for use with broader ski mountaineering or telemark boots.
The G10 crampons are constructed from the same steel as the rest of Grivel's steel crampon range, making them both strong and durable. They use the same antibot system underfoot too, which ensures minimal snow build-up. The points are fairly short, aiding balance on uneven frozen terrain with a mix of rock and ice. But they are still sturdy enough to bite well in hard-packed snow – although as a 10-point crampon, note that the G10s are not designed for more technical use on steeper ground.
When used as intended, they have few drawbacks, which makes them the perfect choice for winter hillwalking when conditions demand a true crampon rather than just a set of ice grippers or micro spikes (such as those from Yaktrax and Kahtoola).
Swipe to scroll horizontally
Best crampons comparison table

| | | | | |
| --- | --- | --- | --- | --- |
| Crampons | RRP | Weight | Materials | Style |
| Grivel G12 | $199.00 (US) / £149.95 (UK) | 970g / 34.2oz | Painted nickel chrome molybdenum steel, ABS plastic, nylon webbing | 12-point crampons |
| Petzl Vasak | $169.95 (US) / £130 (UK) | 842g / 29.7oz | Painted hardened steel, ABS plastic, nylon webbing | 12-point crampons |
| Black Diamond Serac | $147.95 (US) / £130.00 (UK) | 860g / 30.3oz | Stainless steel, ABS plastic, nylon webbing | 12-point crampons |
| Climbing Technology Nuptse Evo | £100.00 (UK) | 1040g / 36.6oz | Tempered painted steel, ABS plastic, nylon webbing | 12-point crampons |
| Grivel G10 | $160.00 (US) / £111.95 (UK) | 770g / 27.2oz | Painted nickel chrome molybdenum steel, ABS plastic, nylon webbing | 10-point crampons |
How to choose the best crampons
The first thing worth repeating here – as with our guide to the best ice axes – is that specialist winter kit isn't much use if you don't know what to do with it. Learn how to walk in crampons and use an ice axe confidently and capably before heading off into snow-covered mountains with a load of expensive, shiny new gear. However, if you already have the knowledge and skills but need a few pointers to help you decide on the best spikes for you, here's an overview of the key features to consider.
Types of crampon
Crampons should carry a CE and/or a UIAA rating, certifying their compliance with relevant safety legislation.
There are different types of crampon and they are generally classed as either C1, C2 or C3, with helpfully matches up with the corresponding B1 / B2 / B3 ratings of most winter hillwalking and mountaineering boots.
A C1 crampon has strap-on bindings at both the toe and heel, usually consisting of two flexible plastic bails and a webbing strap. Most modern crampons feature separate front and rear steel frames joined by a flexible sprung steel or rigid steel bar. They'll usually have 10 points, but some models designed for slightly more technical terrain have 12 points. The configuration of these points is eight underfoot (four at the heel and four at the forefoot), with a pair of front points and, in the case of 12-point crampons, an additional pair of secondary points.
A C2 crampon is primarily designed for use with B2 boots, which feature a stiffened midsole with a three-quarter or full-length shank and a heel welt (a pronounced ledge at the heel of the boot). As such, a C2 crampon (sometimes referred to as a semi-automatic crampon) has a rear binding fitted with a clip or lever, and a flexible bail or basket at the toe. C2 crampons are usually fitted with 12 points.
A C3 crampon is a technical mountaineering or climbing crampon, designed for use with fully-stiffened B3 boots, which have both a heel welt and a toe welt. This offers a secure fit with the corresponding heel and toe clips of a C3 crampon, sometimes called a fully automatic or step-in crampon. A C3 crampon usually has 12 or 14 points, and may have modular front points that can be switched from dual points to monopoints for tackling challenging ice climbs.
For winter hillwalking with traditional B1 boots, you'll want a 10-point C1 crampon. For classic mountaineering, you'll want a 12-point crampon – if your boots have a stiffened midsole and a heel welt, go for a C2 crampon.
Generally it's a good idea to take your boots along before buying a set of crampons, in order to check compatibility and make sure they fit together well. You're looking for a secure fit at both heel and toe, with ideally minimal gaps between the sole of the boot and the frame of the crampon.
Materials
Most crampons are made of either high-grade steel or aluminum, though some hybrid crampons use a mix of steel and aluminum components to reduce weight whilst maintaining long-term performance and durability.
That's because steel is generally more robust than aluminum. As such, it is generally used for the majority of hillwalking and mountaineering crampons, particularly those that will see a fair bit of use (and abuse).
Aluminum crampons, on the other hand, are used for weight-critical activities, notably ski mountaineering and Alpinism. They're extremely lightweight, but comparatively less durable than steel crampons. This makes them more suitable for occasional use or specialized adventures and expeditions.
Since we're primarily concentrating on winter hillwalking and classic mountaineering, all the crampons in this round-up are made of steel, though of various different types. They mostly differ in terms of their alloy composition – with varying amounts of other metals in addition to iron and carbon, the core components of steel. This affects their properties in terms of toughness, hardness and resistance to fatigue (especially in low temperatures). One example is stainless steel, which contains a minimum of 11% chromium, often combined with nickel, to help resist corrosion. This has some obvious benefits, namely that it minimizes rust. On the other hand, stainless steel crampons are harder to sharpen (and crampons should be kept sharp to maximize their performance).
Weight and packed size
When winter hillwalking and even when mountaineering in mixed terrain, it's unlikely that you'll get out of the car, strap on your crampons and set off for the day. Often, you'll only need to put them on for particularly snowy or icy sections of a route. This means that crampons will typically spend a fair bit of time stashed in your pack. So, it's useful to have a pair that are not too heavy that store away neatly to minimize weight and bulk.
With this in mind, it's also well worth investing in a crampon bag (sometimes called a crampon safe) to stop the points of your crampons tearing up the rest of your kit – your best down jacket, for example. Crampon crowns (a chain of plastic covers that fit over the points) are another alternative, though in our experience they're a better option for long-term storage than for use on the hill, as it's fiddly to take them on and off (especially with numb fingers and your best hiking gloves).
Weight is also a consideration when wearing the crampons, as a heavy pair will sap the energy in your legs, leaving you weary and footsore.
Sizing and adjustment
Most modern hillwalking and mountaineering crampons are designed to adjust to fit a wide range of boot sizes. However, some crampons are easier than others to adjust – ideally, look for a tool-less mechanism that enables quick and efficient fine-tuning.
Adjustment is normally made via a series of holes in the linking bars or flex bars of crampons. The spacing of these holes dictates how precise a fit you can get. Some crampon bars have a single row of holes for simplicity, while others have offset bi-position bars. The latter can enable a better fit with boots that are particularly offset.
Anti-balling plates
Most crampons are supplied with anti-balling or "antibot" plates. These flexible plates are fitted to the underside of the crampon frame and are designed to prevent snow collecting and compacting underfoot. They're a critical feature in most snow conditions, so make sure that your crampons have them or can be fitted with them, and secondly that they can be easily replaced should they get lost or damaged.
All the latest inspiration, tips and guides to help you plan your next Advnture!
An outdoors writer and editor, Matt Jones has been testing kit in the field for nearly a decade. Having worked for both the Ramblers and the Scouts, he knows one or two things about walking and camping, and loves all things adventure, particularly long-distance backpacking, wild camping and climbing mountains – especially in Wales. He's based in Snowdonia and last year thru-hiked the Cambrian Way, which runs for 298 miles from Cardiff to Conwy, with a total ascent of 73,700 feet – that's nearly 2½ times the height of Everest. Follow Matt on Instagram and Twitter.