What is frostbite? How to spot it and prevent it
What is frostbite? We look at the causes, signs and symptoms of frostbite so you know the risk factors and what to look out for when you're exploring in winter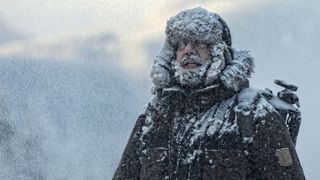 (Image credit: DieterMeyrl)
Big cold weather events like "bomb cyclones" might induce panic on the roads, but they're cause for celebration among winter sports enthusiasts. High winds, bone chilling cold and deep snow make for epic adventures, but they also increase your risk of dangerous health conditions like frostbite. So what is frostbite, exactly, and when does it occur?
Despite popular belief, frostbite isn't limited to hardy mountaineers climbing the world's most dangerous mountains or explorers trekking through Antarctica. In fact, a single storm in February 2021 saw a record number of people hospitalized with frostbite in Denver, with 26 people being treated in one day at a single hospital. Frostbite is a real concern for anyone who likes spending time outdoors in cold weather and what presents as a minor skin injury can quickly turn serious if you don't take immediate action. In this article, we take a look at the causes, signs and symptoms of frostbite so you know the risk factors and what to look out for when you're exploring in winter.
What is frostbite?
If you do a lot of winter hiking or skiing, you may be all-too familiar with seeing a patch of odd-colored skin pop up on a friend's face. That's when you know it's time to get indoors, fast, otherwise the next stop on your adventure is frostbite.
Frostbite is an injury to the skin caused when the skin and its underlying tissues freeze, preventing blood, oxygen and nutrients from reaching the affected areas. It can also affect your joints and organs by restricting blood flow. Though frostbite can occur when your skin comes into direct contact with frozen surfaces or liquids, the most common cause of frostbite is cold-weather conditions, making it a real concern for hikers and skiers during the winter months. Making matters worse, you often don't know you have frostbite, because it's usually accompanied by numbness so you can't feel it.
Frostbite tends to occur in areas like your fingers, toes, ears, nose and cheeks and can range in severity from temporary discomfort like pins and needles to permanent skin damage such as numbness and neuropathy. Serious complications can occur from severe frostbite, including infections and gangrene.
When does frostbite occur?
Frostbite can occur outdoors as a result of not wearing appropriate clothing for the weather, prolonged exposure to cold temperatures and it can happen quite quickly in extreme cold temperatures. According to the Mayo Clinic, you are at higher risk of frostbite when the temperature is below 5°F/-15°C and the risk is accelerated when it is windy – when there is a wind chill of -16.6°F/-27°C frostbite can occur in under 30 minutes. Though exposed skin is especially vulnerable to frostbite, you can also get frostbite in areas that are covered by clothing.
There are other risk factors that make you more susceptible to frostbite, such as older age, poor circulation and dehydration. If you've had frostbite before, you're more likely to experience it again in the same location.
What happens if you have frostbite?
According to the Cleveland Clinic, frostbite occurs in three stages:
Frostnip: the initial stage results in cold and numb skin followed by a prickling sensation. This stage does not result in permanent damage.
Superficial frostbite: in this stage, there will be discoloration of the skin and it may appear hard and waxy. The skin may turn white, yellow, blue, red, purple, brown or grey and start to feel warm, burn or sting. You may experience blistering after warming up and there may be some permanent numbness or other nerve damage in the area.
Severe frostbite: if the frostbite progresses, it affects the underlying tissues. The skin will appear white or blue/grey and lose all sensation, and you may become clumsy in your movements. After blistering, the tissues die and the skin will turn black and harden. In this case, the dead tissue may need to be removed.
Does frostbite go away?
If you take action as soon as you experience frostnip, by getting indoors, removing wet clothes and warming up, there should be no further damage to your skin. However, once the frostbite progresses it can cause permanent damage.
How do you treat frostbite?
The best way to treat frostbite is to avoid it in the first place. Stay indoors when there is extreme cold or wind chill in the forecast and wait for it to warm up before you hike or ski.
If you are heading out on a winter adventure, take the following measures to protect yourself from the risks associated with frostbite:
Know what to wear for winter hiking and dress properly moisture wicking base layers, insulating mid layers and waterproof and windproof out layers. Cover as much skin as possible with a pair of the best hiking gloves, a hat, and face mask.
Hydrate properly before, during and after your hike. Remember that you may not feel as thirsty when it's cold, so carry a hydration pack and sip frequently.
Go out with a friend so you can keep an eye on each other's skin.
If you're out on a winter hike or skiing and you get frostnip, the key is to get indoors immediately, remove any wet clothes and warm up slowly using blankets and warm water. Be careful not to use hot water as if you are numb, you may not realize it if you get burnt.
If you suspect you have frostbite, you should seek medical attention. While you're waiting for help, follow all of the same directions for frostnip and don't touch or scratch the injured skin, which may cause further skin damage.
All the latest inspiration, tips and guides to help you plan your next Advnture!
Julia Clarke is a staff writer for Advnture.com and the author of the book Restorative Yoga for Beginners. She loves to explore mountains on foot, bike, skis and belay and then recover on the the yoga mat. Julia graduated with a degree in journalism in 2004 and spent eight years working as a radio presenter in Kansas City, Vermont, Boston and New York City before discovering the joys of the Rocky Mountains. She then detoured west to Colorado and enjoyed 11 years teaching yoga in Vail before returning to her hometown of Glasgow, Scotland in 2020 to focus on family and writing.