Belgian dentist sets world record in World Backyard Challenge
31-year-old Karel Sabbe wins 2020 World Backyard Challenge – "it's a lot different than your typical ultra"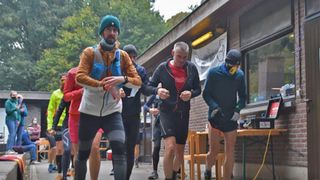 (Image credit: Brian Metzler)
There were a few dental patients left in the lurch in Belgium this week because Karel Sabbe was out running.
The 31-year-old Belgian dentist was busy setting a new world record in a quirky discipline of endurance running that involves completing a 4.166667-miles loop every hour for as long as possible until there is only one person remaining in the race. Sabbe won the global event known as the World Backyard Challenge by running 312.5 miles (502.9 km) over a three-day period that ended on October 20.
'Backyard' ultrarunning races are a unique and extremely challenging type of event originated by 66-year-old, cigarette-smoking Gary Cantrell (AKA Lazarus 'Laz' Lake, whose other notorious races include the Barkley Marathons) on his small farm in Bell Buckle, Tennessee, several years ago. His original Tennessee race is called 'Big's Backyard Ultra', a reference to his dog named 'Big' and the fact that the entire event was held on his property.
What makes it especially unique is that it's not a race about running fast, but purely a battle of attrition. It requires there are least two runners active, and once one is forced to retire from fatigue, the race is over and other is named the champion. As such, it allows men and women to compete together without the need for gender-specific divisions, given that speed and power are not factors as they are in typical running races.
In a few short years, the small and peculiar event has attracted some of the toughest and most notable ultrarunners in the world and stretched the boundaries of human endurance.
Two years ago, Sweden's Johan Steene outlasted American Courtney Dauwalter by completing 68 laps, or 'yards' as they're known in 'backyard ultra' vernacular, to win the event and set a new world-best mark. That's roughly 279.17 miles (449.2 km) completed by way of 40- to 55-minute laps and only 5 to 10 minute bouts of sleep every hour for nearly three days.
"It's more of a mental game than anything else," said American Maggie Guterl, who was the overall champion at Big's Backyard Ultra in 2019 with 60 yards and 250 total miles (402.3 km). "Ultimately you have to have the training to back it up, but it's a cool format and a lot different than your typical ultra."
Backyard goes global
Because this year's event in Tennessee was limited because of the Covid-19 pandemic and related travel limitations, Cantrell engaged race directors around the world to host events in numerous countries that could be held simultaneously. So as 14 American runners ran laps around the clock in Tennessee, 286 additional runners ran simultaneously in similar events in 20 countries around the globe, including Canada, France, Australia, Japan, Ukraine, Singapore, Ireland and the United Kingdom.
The event was virtually linked by a live updated leaderboard of American runners, a live updated international score card on Google Sheets and a start/finish line livestream video feed on Facebook. Several thousand people tuned in to watch the event, including nearly 1,000 in the wee hours of the morning on October 20 as participants dwindled and suspense started to grow.
The race officially began at 5 a.m. CDT on October 17 in Tennessee (11 am in Belgium, GMT +2) and, impressively, 206 runners made it through the 24-hour mark. But by the 36-hour mark on Sunday, only 58 remained.
Keep in mind, none of the runners were running the 4.166667-mile loops very fast – the paces ranged from 9:30 to 12 minutes per mile – but fatigue, cramping, blisters, sleep deprivation, nutrition, hydration and numerous other challenges made it difficult to keep going.
After 48 hours, the field of runners was down to 14 hardy individuals from the US, Belgium, German, Sweden and Mexico. But an additional half day of running – 12 more laps in 12 hours – only seven remained. At that point, it was Dauwalter and Harvey Lewis competing in the US, Sabbe and Merijn Geerts running in Belgium, and Tarahumara runners Juan Contreras, Miguel Lara Viniegra and Perdió Parra competing on a course in Mexico.
The American runners ran a semi-technical singletrack trail loop on Cantrell's property for 11 hours during the day, followed by a paved out-and-back road section for 13 hours during the night. The Belgian runners had been running a single 4.1667-mile loop on concrete and dirt paths for the first day and a half of the competition, but they were forced to run a modified course of seven short laps around a building in a park from midnight to 5 a.m. local time because Belgium had imposed a strict country-wide curfew as a Covid-19 safety precaution. Meanwhile, the Mexican runners were running on a technical, hilly course with a lot of rocks and trail debris while wearing their homemade sandals.
After Juan Contreras dropped out after yard 62, his countrymen two more yards before Miguel Lara Viniegra completed lap 63 and retired for sixth place, meaning Perdió Parra was the Mexican champion after he finished his 64th and final lap, good enough for a fifth-place showing with 266.67 miles completed.
From there, it was a tenacious duel between the American team and the Belgian team and unique because each set of runners was working together to some extent – for the international team title, but also to keep their race going – and also competing against each other. All four runners looked strong for several more laps, but at about 2:15 am.
CDT, the very sleep-deprived Lewis started but didn't finish the 68th yard and Dauwalter did, giving her the US title with 68 yards and 283.33 miles (455.9 km) completed.
"Wow, what that was fun," said the 35-year-old Dauwalter, one of the world's top female ultrarunners who lives in Golden, Colorado. "I had a good routine and got a lot of rest. And Harvey was amazing."
But it also meant she would be relegated to third place overall as both Sabbe and Geerts continued running.
Sabbe had been working hard to run fast, 40- to 45-minute laps so he could sleep more, whereas Geerts ran slower laps and only slept a few minutes, if at all, over the final 24 hours or so, and that caught up with him.
The event finally concluded when Sabbe completed the 75th lap in about 50 minutes and Geerts didn't show until after the hour expired. That allowed Sabbe to lay claim to the 2020 Backyard World Championship individual title. Geerts was credited with the 'assist' by finishing runner-up with 74 yards.
"It was my first time doing this type of event, so I wasn't sure what to expect," said Sabbe, an accomplished ultrarunner who resides in Anzegem, West-Vlaanderen. "But just like going for an FKT or an ultra like Barkley, you wind up in the suffer zone. You just have to dig deep and carry on. It's the only thing you can do."
Sabbe finished at about 2 p.m. and looked like he could have continued running had Geerts been up to the task. He had been trying to sleep 5 to 10 minutes on each lap. But he said he was glad to have finished as successfully as he did, and, as it turns out, he already had to reschedule some of his dental appointments.
"That was a fun and challenging way to run," Sabbe said. "For the next backyard ultra and the next event in Tennessee, runners will be shooting to go behind 75 hours and that means they will likely into another night. That will make it even more tricky next time because it will go so much longer."
All the latest inspiration, tips and guides to help you plan your next Advnture!
Brian is an award-winning journalist, photographer and podcaster who has written for Runner's World, The Times, Outside, Men's Journal, Trail Runner, Triathlete and Red Bulletin. He's also the author of several books, including Kicksology: The Hype, Science, Culture and Cool of Running Shoes. He lives in Boulder, Colorado, and loves to run, bike, hike, camp, ski and climb mountains. He has wear-tested more than 1,500 pairs of running shoes, completed four Ironman triathlons, as well as numerous marathons and ultra-distance running races.