How to fall bouldering: 3 techniques to reduce injury
We discuss how to fall bouldering as well as common bouldering injuries and how to position your crash pads correctly to help keep you safe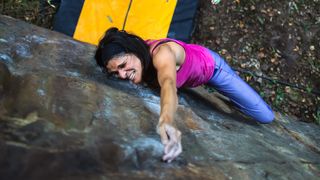 (Image credit: Getty Images)
The best part of bouldering is how simple it is. You don't need to mess around with building top anchors or rigging your belay device; instead, you just show up in your climbing shoes, throw down a crash pad and start climbing. However, the very minimalism that drew you to bouldering in the first place is also the source of most of bouldering's injuries. With no ropes to break your fall, when you let go of the rock, you're going with gravity, and even though you've laid your crash pads out, there's still plenty of room for injuries to occur.
Knowing how to fall bouldering is a crucial safety skill that you want to understand before you try to tackle your first problem. In this article, we discuss some common bouldering injuries, how to position your crash pads correctly and three falling techniques to help keep you safe.
What are some common bouldering injuries?
On the whole, bouldering seems a lot safer than other types of rock climbing such as trad climbing where you're only as safe as the last piece of gear you placed and falls can take you down a long way. In bouldering, your longest fall is only likely to be 10 - 15ft and you have a soft landing. However, falling that short distance is more than enough to cause some damage. In fact, according to the New Jersey Department of Health, a 200lb person who falls just six feet will hit the ground with almost 10,000lbs of force. As a result, some common bouldering injuries include:
Twisted and sprained ankles from landing incorrectly
Whiplash
Finger and hand injuries from trying to grab onto the rock
Shoulder and wrist injuries from trying to land on your hands
How to arrange your bouldering crash pads
First, you'll want to set up your crash pads properly. The job of the crash pad is to absorb the initial impact of your body meeting the earth, so while you're not aiming to roll off it and hit the ground, that may happen. If you set your pads up correctly and learn how to fall, that usually won't be an issue as you'll be moving slowly by then.
Stand under the problem you're about to attempt and assess the areas where you're most likely to fall. Position your crash pads under that area. If there are two areas where you might fall, make sure the thickest pad is under the highest fall. Follow these guidelines when positioning your bouldering crash pads:
Your pads don't have to be on perfectly level ground as they have enough give to absorb your weight.
You can stack pads one on top of the other for more protection.
Make sure there are no gaps between crash pads.
If you have two crash pads next to each other, lay a thinner pad on top of the divide to reduce your risk of falling through.
Move any large rocks or branches from the edges of the mat that you could hit your head on.
Check your pad positioning before every attempt as pads will move with each fall.
Don't be tempted to stash anything like keys or water bottles onto your crash pad, as these can cause injuries too if you land on them.
Don't sit on the crash pads while someone else is climbing.
How to fall bouldering
A long bouldering fall of 15ft takes just over half a second, which isn't a lot of time to prepare. This is why it's a good idea to start bouldering inside, in a gym with lots of soft landing pads where you can practice falling.
Once you start climbing, there are a few ways to fall depending on the situation. For all types of fall, you want to find a nice balance between being completely relaxed, where you could get whiplash, and really tense, where your tendons and ligaments might bear the brunt of the impact. If you're about to make a dyno move where you're likely to fall, train yourself to look down first and ensure that your pads are going to be beneath you.
1. Landing on your feet
You should never try to stick your landing and stay upright, as your joints will absorb a lot of impact in that position, but if you're on a vertical part of the boulder, it will most likely make the most sense to initially land feet first. Take your feet wide, bend your knees and tuck your chin to your chest. As soon as your feet hit the mat, bend your knees more, let your bum come down and roll down onto your back. Try to end up on your back with your knees into your chest.
2. Landing on your back
If you're on a roof when you fall, chances are you're going to fall directly onto your back. Don't try to grab onto the rock as this can cause finger and hand injuries. Just let go, keep your arms and legs up so you're not tempted to reach out and try to break your fall with your arm. Tuck your chin to protect your neck and try to let your back absorb the impact. When you land, you might roll to one side if the mats are on uneven ground – in this case, you can either hug your arms and knees into your chest to control the roll, or you may be able to hug your knees in but take your arms wide and slap your hands down to prevent the roll from occurring.
3. Landing on your front
This is definitely the scariest option. Landing on your front is not ideal but can happen when you're trying to stick a dyno move. The danger is that you try to use your arms or legs to prevent the fall, but it's better to keep them out wide, turn your head to one side to protect your neck and nose and land belly first. Engage your core muscles to support your spine.
All the latest inspiration, tips and guides to help you plan your next Advnture!
Julia Clarke is a staff writer for Advnture.com and the author of the book Restorative Yoga for Beginners. She loves to explore mountains on foot, bike, skis and belay and then recover on the the yoga mat. Julia graduated with a degree in journalism in 2004 and spent eight years working as a radio presenter in Kansas City, Vermont, Boston and New York City before discovering the joys of the Rocky Mountains. She then detoured west to Colorado and enjoyed 11 years teaching yoga in Vail before returning to her hometown of Glasgow, Scotland in 2020 to focus on family and writing.