Best hiking water bottle: for hiking, trekking, backpacking and all your adventure needs
With our choice of the best hiking water bottles for walking, which you can sip or glug to slake your thirst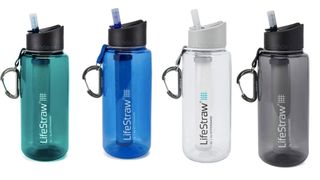 (Image credit: LifeStraw)
You don't have to be hiking in a desert to find yourself needing the best hiking water bottles. Even in modest temperatures, a slight incline can lead to sweating, the body's primary way of maintaining its optimal temperature. For evidence, just feel your back after wearing a backpack for a couple of hours. Water bottles provide an easy, tried-and-tested way to carry liquid and keep topping up your fluid levels. This is vital both to maintain normal muscle function and to stay mentally sharp. Because dehydration impacts your thought processes, too, and you don't want to be navigating with a muddled mind.
Some water bottles make it easy to drink on the go, while others focus on keeping liquids chilled – some can even filtrate water to remove harmful bacteria. All of our selection should prove reliable and never leak in your pack.
Environmental issues come into play here, not simply in avoiding single-use plastic water bottles, but also in choosing bottles made from recycled materials and steering clear of certain chemical nasties.
We've used the metal, screwtop (and seemingly indestructible) Sigg bottles for years, the dents and scratches acting as a biography of walks and camping trips. But if you don't want to stop for a swig, a bottle with a sports spout or straw makes it much easier to drink on the go, and the plastic CamelBak and Nalgene bottles provide brilliant options that don't taint the taste of the water.
LifeStraw Go 1-litre (34oz) water bottle and filtration system
A clever two-stage filtration bottle that purifies water to make it safe for drinking
RRP: $59.95 (US) / £49.95 (UK) | Volume: 1l/34oz | Other available sizes: 650ml/22oz, 700ml/22oz | Weight: 245g/8.6oz | Colours: Steel / Dark teal / Blue / Clear / Grey
Filters water collected en route
Comes with karabiner
Durable and BPA free
Relatively expensive
New from LifeStraw, this 1-litre/34oz bottle is an up-sized version of their excellent Go 2-Stage 650ml/22oz bottle, for extra thirsty adventures. This ingenious two-stage filtration bottle transforms almost any non-salt water source into clean, safe and tasty drinking juice without using chemicals or batteries, by forcing it first through a membrane microfilter (which lasts for up to 4,000 litres – or over eight years of continuous use) and then an activated carbon filter (with a lifespan 100 litres) – both of which can be replaced. The bottle is BPA free, and the filtration system protects against 99.999999% of bacteria, 99.999% of parasites and microplastics and chlorine, organic chemical matter, dirt and cloudiness – plus it improves the taste. There's also the new Go Steel version (£64.95), which is made with stainless steel and features double-wall vacuum insulation that keeps liquids cool for hours.
CamelBak Chute Mag 750ml (25oz)
A tough bottle that keeps the mouthpiece clean when not in use.
RRP: $14 (US) / £16 (UK) | Volume: 750ml /25oz | Other available sizes: 0.4-litre/12oz, 0.6-litre/20oz, 1-litre/32oz, 1.5-litre/40oz | Weight: 169g/6oz | Colours: Oxford, Spectra, Cardinal, Charcoal, Clear, Hunter, True Blue, Deep Magenta, Grapefruit, Lava and Lupine
Magnetic cap stows away conveniently while drinking
Wide mouth makes it easy to add ice cubes and clean bottle
Carry handle
Mouthpiece is a little fiddly for a deep clean
Designed for everyday use, the Chute has a robust handle on its lid for ease of carrying, which makes it simply to attach to a pack with a karabiner if you don't want to store the bottle in a pocket. The bottle itself is a stiff (unsqueezable) plastic that is free from BPA, BPS and BPF, and comes in an impressively wide range of colours. When you do want to drink, the magnetic cap attaches to the side of the bottle, out of the way, and there's a satisfying flow of water. Drink over it's important to screw the cap back on fully to avoid leaks. After use the bottle can be cleaned in a dishwasher without the plastic becoming brittle. Dismantling the mouthpiece for a deep clean is a little fiddly, but rarely needs doing if you only drink water.
CamelBak Eddy+ 750ml (25oz)
The sport spout on this bottle makes drinking on the fly easy
RRP: $14 (US) / £18 (UK) | Volume: 750ml/25oz | Other available sizes: 400ml/12oz, 600ml/20oz, 1-litre/32oz, 1.5-litre/40oz | Weight: 169g/6oz | Colours: Oxford, Spectra, Cardinal, Charcoal, Clear, Hunter, Deep Magenta, Dusty Lavender, Yellow, Lava and True Blue
Flip-up bite valve
Wide mouth makes it easy to add ice cubes and clean bottle
Carry handle
Internal straw can be easy to lose
The Eddy+ uses the same bottle as the CamelBak Chute, but with a different top, making it easier to drink one-handed. Just flip up the bite valve with your teeth and tongue and take a drink. With the valve in the down position the bottle is leak-proof, and even with it open it's spill-proof if you knock it over on the desk at work. Out on a walk it delivers a welcome, steady flow of water, graduated by how hard you draw on the valve – there's no way to squeeze the bottle for a faster flow. It's worth noting, however, that reviews on CamelBak's own website moan that a newly-designed bite valve is proving less robust and reliable than the valve it replaced, and as with any exposed valve it's liable to pick up dust and dirt from the trail and your pack.
Nalgene Wide Mouth 1-litre (32oz)
This bottle is a long-standing favourite of walkers and comes in a wide range of colours
RRP: $12 (US) / £14 (UK) | Volume: 1-litre/32oz | Other available sizes: 500ml/16oz, 1.5-litre/48oz | Weight: 177g/6.2oz | Colours: Aubergine, Blue, Cadet, Cerulean, Clear, Clementine, Cosmo, Glow Green, Grey, melon Ball, Olive, Orange, Pear, Pomegranate, Purple, Red, Seafoam, Spring Green, Trout Green, Surfer, Woodsman
Extra-wide mouth makes it easy to add ice cubes and clean bottle
BPA/BPS Free
The wide mouth can make drinking a messy affair!
If any plastic bottle can enjoy iconic status it's the Nalgene Wide Mouth, which has become something of a design classic. Excellent longevity and a leak-proof construction have made it a favourite of walkers for years, while a kaleidoscopic choice of colours means there's an option to suit whatever you wear or carry. The bottle itself is BPA- and BPS-free, doesn't taint the taste of water, and is easy to clean, whether by hand or in the dishwasher. The volume scale along the side makes it straightforward to track how much you have drunk, while the wide mouth makes it easy to use as a useful storage capsule for other kit on flights, and for dunking a purification straw when drinking 'wild' water. Paying extra for the 'Easy Sipper' lid makes drinking directly from the bottle a tidier affair.
Hydro Flask Wide Mouth 1-litre (32oz)
A tough, insulated stainless steel bottle to keep your drinks cool on the trail
RRP: $45 (US) / £38 (UK) | Volume: 1-litre/32oz | Other available sizes: 1.5-litre/40oz | Weight: 430g/15oz | Colours: Cobalt, Hibiscus, Sunflower, Black
Robust stainless steel construction
Insulated to keep cold drinks cool and hot drinks warm
Wide mouth for convenience
Heavier than plastic bottles
Relatively expensive
The cooler a liquid the more palatable it is, and the more likely you are to drink it, so it's worth considering a stainless steel flask as a water bottle. There is a weight penalty, but it's not as big as you'd imagine, and with a lifetime warranty it's easy to justify the extra cost of the Hydro Flask. In terms of practicality, it's worth noting that the steel has an anti-slip coating, and the insulation avoids condensation forming on the outside of the bottle. As a water bottle the wide mouth is easy to fill, and the insulation offers the opportunity to carry hot drinks or soup, too. An alternative lid with a straw is available for an extra $9.95 for drinking on the go.
The seemingly indestructible bottle for backpacking expeditions
RRP: $23 (US) / £16 (UK) | Volume: 600ml/20oz | Other available sizes: 1-litre/32oz, 1.5-litre/40oz | Weight: 108g/3.8oz | Colours: Smoked pearl, Deep magenta, Dark Blue, Black, Red, White, Alu, Mustard
Virtually indestructible bottle
BPA Free
Easy to drink from narrow mouth
Narrow mouth is harder to fill and clean
Drop it, bash it, drive over it… every scratch, dent and ding only seems to enhance the everlasting appeal of the classic Sigg water bottle. There's even one on display in New York's Museum of Modern Art. The aluminium bottle is light and utterly secure – you can even fill it with fizzy drinks and they won't bubble out. The interior lining in no way taints the taste of water, and the finger-space lid makes it easy to carry or hang off a pack. It is, however, a two-handed business to unscrew the cap, and experience suggests that cap and bottle are easily separated in busy kitchens. An alternative 'Active Spout' is available for walkers who want to drink on the go. The only issue is cleaning the bottle, especially if you fill it with a sugary drink, although Sigg does sell Bottle Clean tablets.
Sigg Water Bottle Total Clear
A glass-like plastic bottle that's great for the office or trail
RRP: $11.63 (US) / £14 (UK) | Volume: 500ml/17oz | Other available sizes: 750ml/25oz | Weight: 132g/4.65oz | Colours: Anthracite, Blue, Berry, Red, Green
Single-handed use
Wide mouth opening
Easy to drink from narrow mouth
Limited choice of sizes
As at home on the trail, desk or in the gym, the Sigg Total Clear is every inch the modern water bottle. It may offer one-handed opening, handy for drinking on the go, but its spout uses a smart belt and braces approach to avoid leaks. A thumb press releases a catch, which in turn releases the drinking spout, so there should be no chance of inadvertent spillages. The bottle is made from neutral-tasting, BPA-free plastic, it's dishwasher safe, and its wide mouth makes it easy to fill (including with ice cubes) and to clean. The top also acts as an effective hook – carry the bottle with a couple of fingers on the trail, or karabiner it to your rucksack.
Lifeventure Tritan 650ml (22oz)
A great value bottle with a little extra volume
RRP: $9.52 (US) / £10 (UK) | Volume: 650ml/22oz | Other available sizes: 750ml/25oz | Weight: 126g/4.4oz | Colours: Blue, Graphite, Green, Pink
Easy-to-use flip-top mouth piece
Wide mouth opening
Competitive price
Take care when cleaning not to lose small lid seal
Hand wash only
The Tritan in the Lifeventure's name refers to the top-of-the-range Tritan plastic used in its construction. It's the same impact-resistant, taint- and odour-resistant material used by most of the premium bottle manufacturers, and comes at a great price from Lifeventure. The outside of the bottle has a tactile, rubberised finish, so it shouldn't slip through sweaty hands, and the flip-top cover over the spout makes one-handed use easy, before clicking back in place to create a leak-proof seal. A volume calibration scale up the side helps you track how much you have drunk or how much to dilute energy powders, and the 650ml capacity offers a useful 30% extra volume over half-litre bottles while fitting easily into the same rucksack pockets.
Brita Fill & Go Active 600ml (20oz)
Enjoy the purer taste of filtered water wherever you walk
RRP: $25.49 (US) / £13.20 (UK) | Volume: 600ml/20oz | Other available sizes: 1-litre/32oz | Weight: 170g / 6oz | Colours: Fresh lime, Fresh blue, Fresh berry, Fresh purple
Filtered water on tap
Wide mouth opening
Competitive price
The cost of filters adds up
A microdisc filter in the lid of this German-designed bottle turns tap water into filtered water as you drink. It's not a solution for backcountry water purification, but it can improve the taste of your tap H20. The pull-out mouth piece makes the bottle easy to operate with one hand, although you'll need two hands if you decide to keep the protective cap in place. Each filter lasts for about four weeks, and a pack of six extra discs costs $20 (US) / £28.60 (UK) from Brita. A neck loop offers an alternative carrying option, and the lid and mouth piece dismantle for cleaning (it's also dishwasher safe). The bottle is made from BPA-free plastic, and it's squeezy to accelerate water flow.
CamelBak Podium Ice
Keep your drink cooler with this insulated bottle
RRP: $25 (US) / £23 (UK) | Volume: 620ml/21oz | Other available sizes: none | Weight: 152g/5.4oz | Colours: Fiery red, Black, Lake blue
Keeps drinks cold
Lock-out spout
Free of BPA, BPS and BPF
Just one size
No cover on the spout
Designed primarily to fit in a bottle cage on a bicycle, this gel-insulated bottle also slips just as neatly into the side pockets of most backpacks. It's effective at keeping water chilled for much longer than a standard bottle (CamelBak claims up to four times as long), and delivers an excellent flow rate through the spout (boosted by squeezing the bottle). The spout twists to seal, preventing leaks, and single-handed use is very easy, although with no cover over the mouth piece it is vulnerable to fluff and muck from your pack. After use the wide top makes it easy to clean; we've been using one for three years and it still performs faultlessly.
Klean Kanteen Insulated Reflect 600ml (20oz)
Keep your drink iced with this insulated bottle
RRP: $41 (US) / £38 (UK) | Volume: 600ml/20oz | Other available sizes: 800ml/27oz | Weight: 369g/13oz | Colour: Silver
No paint, ink or plastic
Keeps drinks cold for 20 hours and iced for 40 hours
Compatible with other lids
Heavy
Sling the Klean Kanteen into the freezer the night before an expedition and you can enjoy an iced drink the following evening when you pitch camp. Did anyone say G&T? Double-wall vacuum insulation keeps liquids cold for 20 hours and iced for 40 hours, so your drink will be refreshingly chilled no matter how high the mercury rises. Just three 'ingredients' go into the bottle – stainless steel, bamboo and food-grade silicone – so it should outlast most rivals, and continue delivering taint-free drinks for a hiking lifetime. With no paint, plastic or coating it's also environmentally friendly. The bamboo cap looks attractive, but it would be more practical to upgrade to a compatible Sport Cap (£5.95/$6.95) with spout for drinking on the go.
What to look for when buying a water bottle
Volume
It may sound daft, but how much liquid a bottle can hold is really important. Viewed in isolation bottles all tend to look a similar size, but there is a significant difference between 0.5-, 0.75- and 1-litre volumes. The smaller bottles are easy to use one-handed and slip easily into the side pockets of a rucksack, while bigger bottles allow for longer adventures.
Material
Stainless steel bottles should last forever, even if you have to replace lost or damaged caps. But they are a bit heavier and they will rattle terribly in a cage on a bike. Plastic bottles have amazing longevity these days, impart no taint or flavour to the drink, and are light and easy to handle.
Lid
A wide mouth makes it much easier to fill a bottle with ice cubes, and means an insulated bottle can also be used as a canister for hot food. Narrower tops are neater for drinking. Most bottle manufacturers offer a range of different lids for the same bottle – screw top, pop-up spout, straw etc.
BPA etc
There's a growing awareness that some plastics contain chemical components that are best to avoid for health reasons. Most premium plastic bottles are free of BPA, BPS and BPF (bisphenol A, S and F), but it's worth checking the label.
Insulated
Chilled drinks taste like nectar on a scorching day, but there are other ways to make water more palatable (hydration tablets, squash, fresh fruit) if you don't want the extra bulk and cost of the insulation.
Cleaning
Wide mouth water bottles are much easier to clean, which is a particular benefit if you prefer sugared drinks. Bottles with narrower bottle tops may need a special brush to clean the bottom. Alternatively, a number of bottle manufacturers also make cleaning tablets that will give bottles a more thorough clean.
After spending a decade as editor of Country Walking, the UK's biggest-selling walking magazine, Jonathan moved to edit Outdoor Fitness magazine, adding adrenaline to his adventures and expeditions. He has hiked stages or completed all of the UK's national trails, but was once overtaken by three Smurfs, a cross-dressing Little Bo Peep, and a pair of Teletubbies on an ascent of Snowdon. (Turns out they were soldiers on a fundraising mission.)
All the latest inspiration, tips and guides to help you plan your next Advnture!
Thank you for signing up to Advnture. You will receive a verification email shortly.
There was a problem. Please refresh the page and try again.