Types of belay device: the tools that keep us safe on the crags
With different types of belay device out there, we look at the pros and cons of each and consider which you should use for different styles of climbing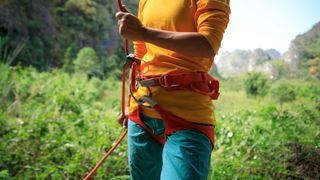 (Image credit: Getty)
Before there were different types of belay device, climbers and mountaineers would commonly run the rope around their bodies and rely on the friction this created to hold a fall. As you can imagine, back in the day there were plenty of accidents caused by climbers taking a serious fall and yanking their hapless partner off along with them.
Other techniques employed back then included using natural rock features like spikes to create the desired friction. However, as anyone who has climbed in ranges like the Isle of Skye's Black Cuillin will know, sharp rock can be unkind to even the best climbing ropes. While body belays and natural features are still used by mountaineers and scramblers, today we are fortunate to have a wide choice of belay devices. Different types of belay device can be used to make potentially serious climbing situations a whole lot safer.
Whether you are heading to the local crag or grabbing your hiking backpack and setting off on a mountaineering expedition, the chances are you will be equipped with some form of belay device. This essential piece of equipment is a mainstay in the climbing and mountaineering world. But with so many different types of belay device, which one is the right fit for your adventures?
Types of belay device
Broadly speaking, there are two types of belay device: manual braking devices and assisted braking devices. Once you know and understand how to belay with one, you should be able to apply these skills to the other.
Manual braking devices are the workhorses of the belaying device world. Efficient, simple and designed for all scenarios, from winter mountaineering to summer single pitch, they are incredibly useful. They work by taking a bight of the rope and bending it into an S-shape, thus creating friction and adding to the grip strength of the belayers' hand. The rope is threaded through the device and clipped into a locking carabiner. Many manual braking devices have "teeth" (also known as friction grooves) that grip the rope when it is held in the braking position, maximising friction.
An assisted braking device will pinch the rope in the event of a fall, creating friction regardless of the action of the belayer. They are most used for sport climbing and indoor climbing and different devices are often designed for specific applications or climbing styles. Popular models, like Petzl's Grigri, which is synonymous with assisted braking devices, use camming mechanisms to lock the rope against the device.
Types of manual braking devices
Most manual braking devices are tubular, often with a narrow V-shaped slot that squeezes the rope over the friction grooves. They usual include a wire loop which is clipped into the locking carabiner.
Figure 8 belay devices, such as the Black Diamond Super 8, are the simplest and lightest devices around and are great for rappelling, which is what they were originally designed for. They don't feature a V-shaped slot or teeth, so don't create quite as much friction as tubular devices.
Manual braking devices: the pros and cons
The obvious advantage of a good manual braking device is that it can be used throughout the year, in all conditions and for all climbing and abseiling situations. They are also lightweight, which is a real boon if you are taking on long multi-pitch trad climbing routes or serious mountaineering lines. Another plus is the simplicity of a manual device: they are straightforward to use, easy to inspect and once you know how to use one, you pretty much know how to use them all.
As the name suggests, a manual braking device depends on the person using it to hold a fall correctly. Human error can lead to an accident more readily with a manual device, as opposed to an assisted braking device, which adds an extra layer of security. A manual device also requires that a suitable rope thickness and an appropriate carabiner are paired with it to work effectively.
Types of assisted braking devices
Arguably the most well-known of all types of belay device is the Petzl Grigri, which revolutionized belaying in rock climbing situations when it was first released in 1991. Although more complicated and pricier than manual braking devices, the Grigri makes it much easier for the belayer to deal a fall with thanks to its camming mechanism, which locks the rope against the device if it moves too quickly. It is a great choice for beginners to rock climbing. Other similar devices include the Edelrid Eddy.
Assisted braking device: the pros and cons
In their advice on assisted braking devices, the German Alpine Club don't mince their words: "Wherever people are involved, mistakes are made!" Perhaps it's a nod to the Russian linesman who awarded England's third goal in the 1966 World Cup Final, though more likely it's alluding to the fact that human error can lead to a potentially fatal accident when using a manual belay device.
For this reason, they recommend the use of assisted braking devices, which take some of the responsibility off the belayer. However, assisted braking devices are not without their disadvantages. For a start, they are more complicated to set up and operate, so human error can still be a factor in an accident. Devices like the Grigri are not recommended for use in sub-zero conditions, as they are not ideal for icy, wet ropes and are difficult to deal with in gloves. They are also more expensive and heavier than their manual braking counterparts.
All the latest inspiration, tips and guides to help you plan your next Advnture!
Alex is a freelance adventure writer and mountain leader with an insatiable passion for the mountains. A Cumbrian born and bred, his native English Lake District has a special place in his heart, though he is at least equally happy in North Wales, the Scottish Highlands or the European Alps. Through his hiking, mountaineering, climbing and trail running adventures, Alex aims to inspire others to get outdoors. He is currently President of the London Mountaineering Club, training to become a winter mountain leader, looking to finally finish bagging all the Wainwright fells of the Lake District and hoping to scale more Alpine 4000ers when circumstances allow. Find out more at www.alexfoxfield.com