How to get better at bouldering: top tips to improve your technique
Our advice for how to get better at bouldering helps you overcome obstacles so you can solve more problems on the rock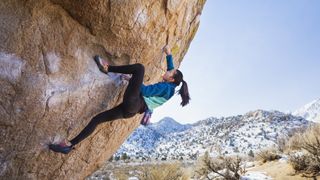 (Image credit: Don Mason)
Whether you're new to bouldering or a seasoned climber who's hit a plateau, learning how to get better at bouldering helps you maintain a fresh approach when it comes to scaling rock.
When you first start out with bouldering, it can seem like you're in a non stop state of progression. Every day is new, exciting and extra challenging. Some climbers need bouldering advice from the very start, while others make loads of progress in the beginning but inevitably reach the dreaded plateau. Regardless of where you stand, if you don't feel like you're moving forward in bouldering or the same old problems are starting to feel a bit ho hum, you'll want to check out our tips on how to get better at bouldering, which help you overcome obstacles so you can solve more problems on the rock.
Our tips include straightforward and practical approaches to help you advance your bouldering technique, including ideas for a training schedule, so you can keep growing on the rock.
1. Train your weaknesses
This one really goes for any sport. Whatever you're doing repetitively is what you're getting good at and there's great value in focusing on your strengths. That said, for a more well-rounded approach, you also need to work on your weaknesses. Every climber gets strong at a particular type of climbing. If, for you, that means you're already great at small crimps and big, static moves, train open hand problems and dynamic moves.
2. Vary how you train
Of course you want to stick to the stuff you enjoy, but the way to improve and advance is by varying your training, which is why cross training is so popular these days.
As an example, if you boulder four days a week, try this approach:
Day 1: work on mileage with 4x4s. Do four problems one after the other, four times – make the sequences easy, hard, harder, easy – and rest for four minutes between sets. Make the hardest set a couple of grades down from your usual best grade and make the sets follow the same sequence of difficulty as the problems.
Day 2: work on your weaknesses.
Day 3: work on any harder problems.
Day 4: have fun and just do your favourites.
For more ideas, read our article on how to train for climbing.
3. Rest/listen to your body
This one shouldn't need to be said but, especially when you're trying to improve, you may push yourself too far chasing your goals. Make sure to practise recovery with our yoga for rock climbing sequence, take total rest days and don't push your body into depletion or injury.
4. Watch people better than you
They say you can't learn by osmosis and indeed, bouldering is a very tactile sport, however it is helpful to watch better climbers than you and see how other people approach problems. This can help you see problems and moves from a different perspective, and give you fresh ideas for your approach and technique. Plus, it's a good way to use the time when you're resting in between problems.
5. Don't get hung up on grades
Climbing grades are helpful to give you an idea of how difficult a route is likely to be, but they're relative to the area they're in and also somewhat subjective. Solving a problem at a higher grade might indicate a level of progress, but they're also not necessarily an accurate indication of how good you really are.
6. Don't get discouraged if you occasionally regress
Progress is never linear. In fact, the only way to really develop your skills is to come up against a new problem that tests your skills and cognitive abilities and requires you to figure out a new pattern or approach. If it seems like you're regressing, you're actually just about to make a breakthrough.
7. Set goals
There's lots of data out there to support goal setting when it comes to developing skills. When you feel like you are plateauing, set a new goal. This can be a grade-related goal, a specific problem you want to nail, or it could even be related to an upcoming bouldering trip or competition. This gives you something specific to work towards and a clear set of skills you need to refine in order to get there.
8. Have fun
It's easy to forget why you started bouldering once you get fixated on improving, but bouldering is not only about performance. It's a fun way to meet new people and get outdoors, so don't get too serious and miss the point.
All the latest inspiration, tips and guides to help you plan your next Advnture!
Julia Clarke is a staff writer for Advnture.com and the author of the book Restorative Yoga for Beginners. She loves to explore mountains on foot, bike, skis and belay and then recover on the the yoga mat. Julia graduated with a degree in journalism in 2004 and spent eight years working as a radio presenter in Kansas City, Vermont, Boston and New York City before discovering the joys of the Rocky Mountains. She then detoured west to Colorado and enjoyed 11 years teaching yoga in Vail before returning to her hometown of Glasgow, Scotland in 2020 to focus on family and writing.